This year will be my third Tramlines Festival on the trot. I buy tickets every year the second they come out and then excitedly await the prestigious line up.
The Line Up for 2020 was announced at 6pm on Tuesday, after a few teasers were released. I squealed and sent jake a thousand exclamation points.
For me, Tramlines is my favourite festival. I've been to Y Not, V Festival and Lakefest but nothing comes close to Tramlines.
Last year, I had to miss the Friday evening, but this year, I'm going for the whole blooming weekend!
Last year mum and dad got day tickets for the Saturday, traveling home on the Sunday after grabbing brunch.
If you've not already bought your tickets, then here are nine reasons why you should book them right now! There are a number of weekend and day tickets left, but you'll have to be quick.
The Line Up
Obvious one, really. But the reason I'm more than happy to blindly purchase tickets because I know the line up will be brilliant. In previous years I've seen Johnny Marr, Noel Gallagher, Miles Kane, Reverend and the Makers, The Courteeners and Blossoms.
It's always a brilliant mix of high profile alternative artists, and smaller independent ones gaining traction in the industry. This year those gaining attention include Pale Waves, The Blinders, The Orielles, Sheafs and Twisted Wheel – and that's just from what's been announced so far.
Headlining the three-day festival is the mighty Ian Brown of The Stone Roses, Catfish and the Bottlemen and Madness. I saw Stone Roses back when they played the Etihad in 2016, and I saw Catfish at Castlefield Bowl and it was magical. My parents won tickets to see Madness at Uttoxeter race course last year and I was so jealous, so I'm thrilled they're on the lineup for Sunday.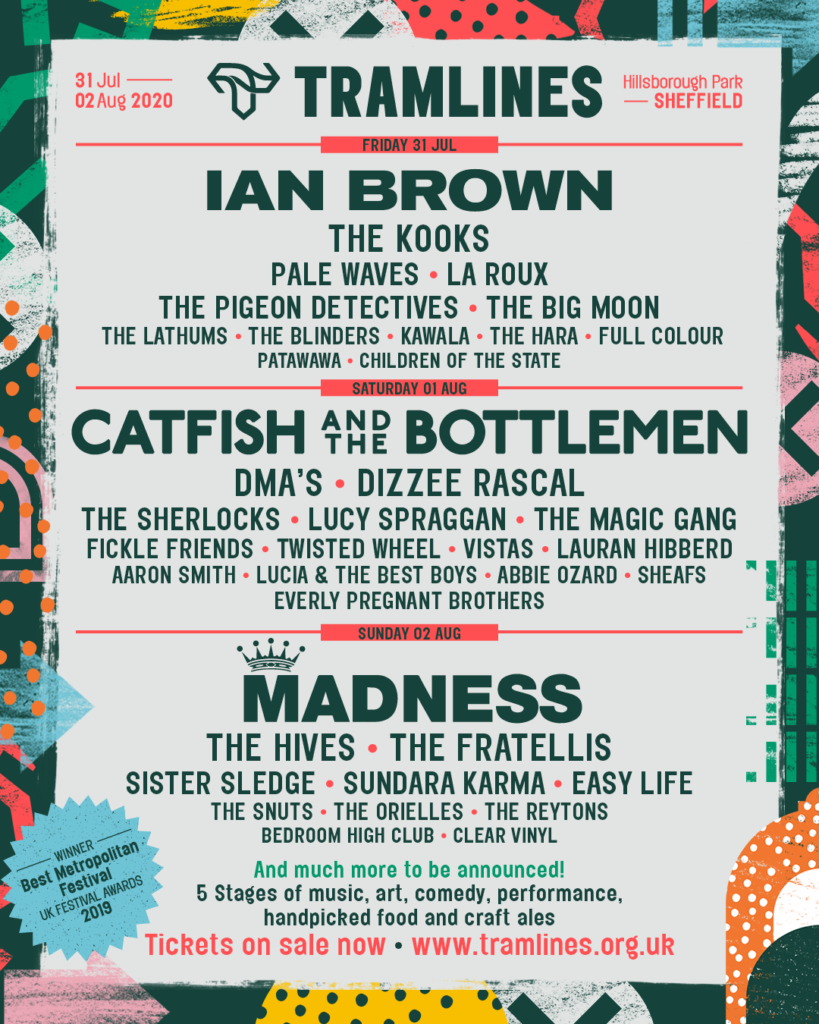 The Street Food
I love nothing more than trying all of the different foods between artists. There's everything from greasy cheesy burgers and Yorkshire wraps, to churros and donuts. Most of my money goes on food because I just want to sample everything!
I get excited to see my favourite companies like Easy Cheesy, but also discovering new street foods.
You can read a little more about what I ate at Tramlines last year here.
The Bars
Jake and I don't tend to spend a lot of time at the bars because time spent waiting at the portaloos is time wasted! We did get a voucher for a free beer last year, and it was so refreshing as the weather was boiling!
There are always tables to sit around, which it great if you just need to rest your legs for five and don't fancy sitting on the grass.
The Alternative Activities
There's something going on in every nook and cranny of Tramlines, whether it's a cinema in a forest, or circus activities. It's a very family-friendly festival, but not so much that the family-friendly element is in your face – perfect for someone like me who isn't a huge fan of children. I'm happy to go and chill out and watch a Disney movie in a deck chair like the mature adult I am!
The Cleanliness
Never have I been to a cleaner or tidier festival. Really. At the end of each day, the rubbish is nowhere near as bad as other festivals. Hillsborough Park is always gleaming the following morning. In previous years, people have been able to earn cash by recycling multiple plastic cups – and I saw tonnes of kids walking around litter picking to fund their next donut!
The Stalls
As you enter the festival, there are tonnes of stall holders selling beautiful vintage clothes, flower crowns and hand painted leather jackets. There's so much on offer, with stalls for face painting, glittering up and braiding too!
As there is so much to do, it really breaks the festival up. I recommend buying on Friday night and taking it back to your hotel, though. That way you don't have to carry it all weekend and it doesn't sell out.
The No Camping
This, to me, is bliss. At Y Not festival, Jake and I discovered our tent wasn't waterproof… you know, the year the whole festival got rained off. Not a very pleasant experience waking up drenched with a soggy sleeping bag.
Tramlines is a no camping festival – which I thing certainly helps the litter aspect. People don't get as lairy as they know they'll have to make it back to their hotel. Last year we stayed at Quality Hotel Sheffield North, which was a short Uber trip from Hillsborough park. It also makes you feel so much more human the next day after being able to shower and sleep in an actual bed (with hotel pillows!)
The Prices
I'm still utterly gobsmacked at the Tier 1 price of Tramlines tickets. I had difficulty accessing the site on ticket day due to the volume of people trying to gain tickets, but managed to get two Tier 2 tickets for under £70 each.
Similarly, the cost of travel, food and other fun bits don't rack up too much cost either, with your average meal being between £6-10 at the festival. I always get a big breakfast at the hotel, opting for festival topped chips or something quick for dinner, and a bigger meal for tea. I probably take around £100 with me, and never spend that much – treat it as a holiday!
The Festival Fashion
If you can't dress like a crazy circus lady at a festival, then when can you? Festival fashion is blooming fabulous and anything goes. Last year I wore my rainbow unitard with gigantic flower crown, and okay, I probably looked a little out-there, but certainly not out-of-place and received so many compliments from people.
On the Sunday, I opted for a slightly more relaxed outfit featuring a bodysuit and midi skirt.
This year, I would really like to do a blog on festival fashion at Tramlines, and photograph festival goers in their get-ups and see where they're all from!
The Atmosphere
Tramlines is a super friendly festival and the atmosphere is amazing. The security are always super friendly and on hand to help. In the times I've been, I've never witnessed any trouble and it's an all-round positive vibe. I have always found that people are looking out for each other, and it's certainly different to the every-man-for-themselves feel at other festivals. It's more community focused and bringing people together through arts and culture.