AD – this blog post features press samples and affiliate links – all views are my own
I love a perfume that makes a statement. One where people feel compelled to tell you that you smell great, and beg for you to reveal the secret scent.
It's important for me that a perfume makes a lasting impression – and I won't just head out and buy a bottle unless I love it.
For example, when I was in Paris, a shop assistant sprayed La Vie Est Belle by Lancome on me, and I fell in love. Days later I was still thinking of the fragrance and had to have it, and now each time I wear it, it reminds me of my trip.
Other bold scents I love include Roberto Cavalli's self-titled perfume, and Georgio Armani Si.
But one brand that hit the nail on the head with every single fragrance is Shay and Blue. I've built up a collection of six perfumes – as well as a number of hand creams knocking around the house.
Each scent in their collection is totally different from the rest – individual, recognisable, and gorgeous. I'm confident I could pick Shay and Blue fragrances out of a blind line-up.
Shop this post*
Shay and Blue Salt Caramel
This is the first fragrance I tried from Shay and Blue after it was gifted for a collaboration – the one that got me hooked on the brand.
The award-winning fragrance is inspired by sea salt caramel truffles and is good enough to eat.
It's a warm, deep fragrance which gives off waves of caramel, vanilla and sandalwood – it's almost like freshly made popcorn at the cinema. Sweet and salty.
It's rich and luxurious, and perfect for those Autumn/Winter months.
Shay and Blue Blood Orange
For those of you that enjoy a citrus fragrance, then Blood Orange is the one for you. At first it's a fresh burst of zesty orange, but dries down into a more woody fragrance. With a blend of sultry musk, charred woods and leather, it's easily a unisex fragrance.
I've got the 30ml bottle, which is a great travel size or for throwing into your handbag, car or office desk for a midday refresh.
Shay and Blue Black Tulip
If floral is more your thing, then you'll love Black Tulip. It's super creamy, and floral without being harsh – it's soft and velvety.
Its top notes are snowdrops and cyclamen, with heart notes of Black Tulip and plum – scents to welcome in the spring.
At the base, you'll find white chocolate and soft woods, which finish it absolutely perfectly.
Shay and Blue Blacks Club Leather
For a super luxe, sophisticated and sultry fragrance, try out Shay and Blue's elite scent – Blacks Club Leather.
Okay, this is a pricier bottle, with a tag of £85, whilst other 100ml bottles are just £55 – but it's worth it.
I came across the fragrance in the Shay and Blue Discovery Box I bagged for £25. I received a 2ml sample which I spritzed sparingly onto my wrist, and I couldn't stop smelling it all day. After that – I couldn't stop thinking about it all week, and decided to splurge.
Blacks Club Leather is 'the aroma of the London private member's club'. It's full and rich, smelling of a crackling fireplace, worn leather, old books, brandy and tobacco.
It's decadent and alluring and I can't get enough of it.
Shay and Blue Framboise Noire
This is another of the discovery box finds, and the 10ml bottle makes it the perfect night-out size to slip in a clutch bag.
Framboise Noire is a red and black berry fragrance with woody scents, comparable to a vintage red wine.
I'm not massively keen on the top notes, but once it's settled into the woody base, it's lovely.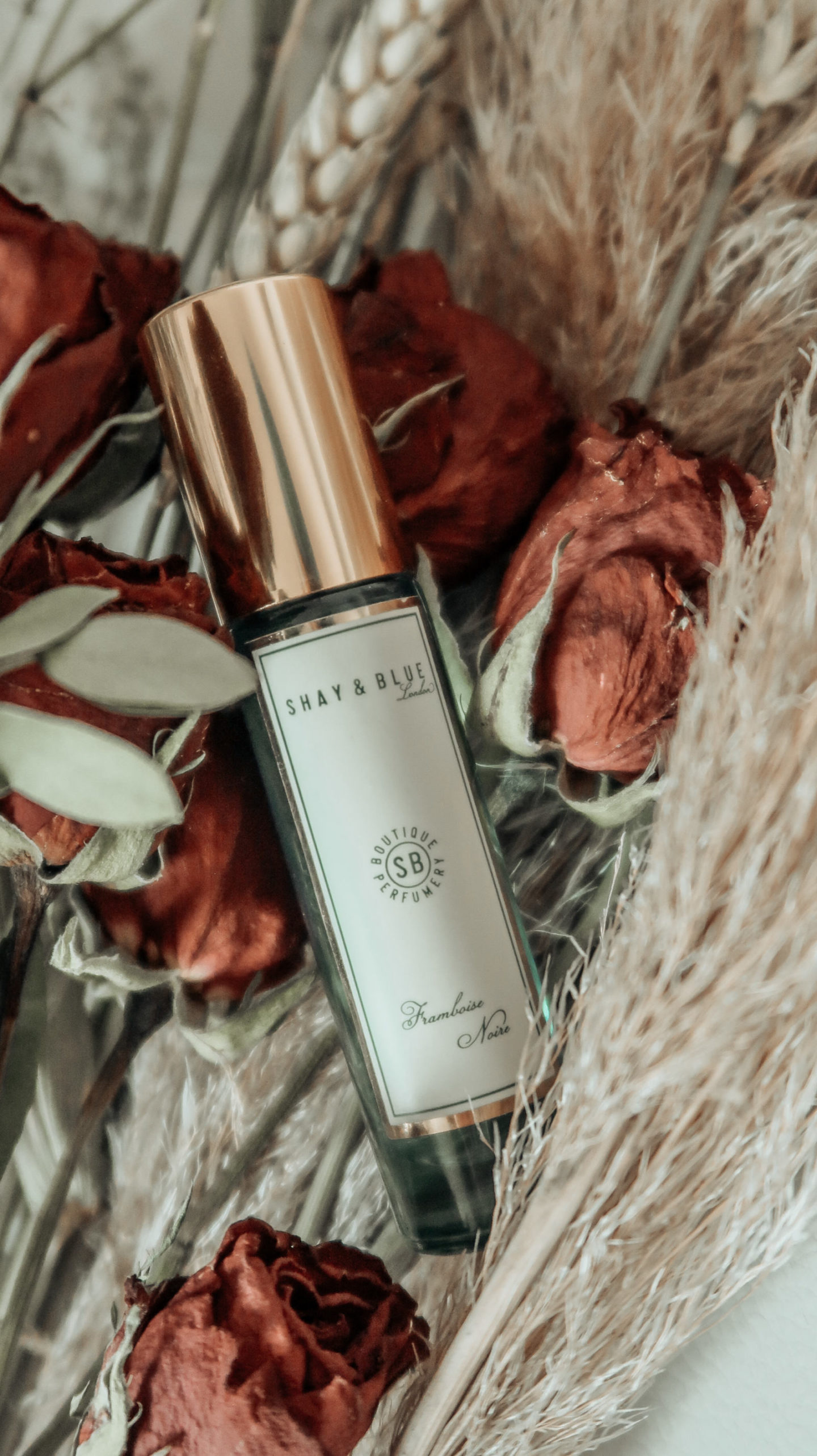 Shay and Blue Blackberry Woods
The clue is in the name, this autumnal scent will make you feel like you're taking a country walk, blackberry picking at dusk to make your own jam.
There are notes of lemon and neroli for freshness, starting off woody, but landing sweet.
This is one of the fragrances I always get complimented on, as it's super easy to wear for everyday.
Which perfume sounds like your favourite?
To see the rest of my perfume collection, check out my IGTV below: