I really think that in times like this, you've got to try and find the joy and positivity in the small things. Appreciate everything you have. It's like being a kid again – you've got to get excited about the cardboard box. Think outside of it and build a fort.
I've been recording weekly vlogs and trying to maintain a positive attitude throughout lockdown, and it's really helped with the situation.
Here are a few of the things I've been up to that have had a positive impact on my mental well-being in this strange time.
Subscribed to Disney Plus
Oh what beautiful timing. Disney Plus couldn't have launched at a better time. I subscribed through O2, meaning I only pay £3.99 a month instead of £5.99. I've since watched Christopher Robin, Hercules, Lady and the Tramp, The Lion King – all of my childhood favourites.
Settling down to watch a Disney movie is like a little hug, and certainly makes you forget about the outside world for an hour and a half.
Nadine Wilde Virtual Weaving Workshop
This workshop was initially going to be held at The Slamwich Club, but Covid-19 had other plans. Reluctant to cancel, Nadine came up with the idea of a virtual workshop on Zoom. She dropped us off a loom, tools and bag of yarn on our doorsteps, giving a quick wave from the window.
I had so much fun learning to weave, and it was such a mindful practice. Nadine even created a playlist for us to listen to whilst we worked away. I created a weave in varying shades of pink to hang up in my office.
Virtual pub quizzes and drinks
Houseparty, Whatsapp, Facebook Messenger, Google Hangout – they're all valuable social tools that have allowed the nation to stay connected when we are all in separate homes. I'm lucky to live with my parents, who have been keeping me company. But I haven't seen my boyfriend in over a month, and only seen my siblings from the bottom of their driveways.
Each Sunday, we hold a family pub quiz, and on Tuesday's I play along with my colleagues. We also have a regular coffee club and pub night. I've had virtual girls nights, virtual date nights – all of which have really lifted my spirits after. It's so nice to just chat, laugh and have a whinge with the people we love.
Read books and joined an online book club
I wanted to read more books this year, and now have plenty of time to do it. Since lockdown, I've read Anna K, How to Break Up With Fast Fashion and Twas the Nightshift Before Christmas.
I still have The Binding, A Good Girls Guide to Murder and Daisy Jones & The Six on my read list, with some books in my Amazon basket ready and waiting.
Sometimes you just need a little escapism in the form of a great page turner.
I recently joined the Dook Club book club, hosted by Medi Painting artist Charlotte, and dyslexic yoga teacher Kirsty. It's a super inclusive and accessible club and they've been hosting their meetings virtually as we can't meet up at the usual independent eateries.
Yoga in the sun
With my gym closed and limited equipment at home, I've taken to rolling out the mat and having a stretch. There's something so peaceful about rising with the sun and feeling the warmth on your face as you stretch up into a sphinx pose. I know, I sound like a hippy – but try it. It's a nice feeling.
Can't say I've done this every day – most days I'm not up until past 10. But even then, it's still nice to take the time to stretch.
Some of my favourite routines are from Yoga with Adrianne and Yugen Yoga.
Baked treats
Flour has been like golddust in the supermarkets since every Nigella, Mary and Berry decided they were going to become domestic goddesses and bake their own bleeding bread. But luckily, our baking box is usually quite well stocked and we already had some in.
Mum made banana bread for herself and dad, and you can view that recipe here. But I also made a blooming gorgeous cheesecake and some cookies – both salted caramel of course.
Spent time with my dogs
Phoebe and Frank are loving having us all at home for all of the cuddles, treats and attention. I've been teaching them some new tricks and tiring them out in the garden. They've been getting in on photo shoots, TikTok videos and enjoy watching Disney Plus with me.
Saved money
Since there's nowhere to spend it. I'm going to forget my PIN number at this rate! Since lockdown began I have bought no new clothes in an attempt to break up with fast fashion, and haven't purchased any takeout food or petrol. Might as well put it in a pot for a post-Covid blow-out!
Wore cosy pyjamas and knitwear
I've lived in my knitwear collection most days – we like to call it cosy chic. A balloon sleeved cardigan over jeans and a tee is a classic, put together look that's still mega comfortable. Alternatively, so are new pyjamas.
Wore my favourite dresses and jumpsuits
Because sometimes I just feel better when I look my best – even if it means snapping labels off clothes I was saving for best, or dusting off a frock. Getting all dressed up with nowhere to go can actually feel pretty empowering.
Organised my jewellery, makeup, hair accessories and skincare
I've gone overboard with acrylic storage and pretty trays. My jewellery is neatly stored in my gorgeous blush Stackers jewellery box. Makeup is now housed in a tidy acrylic drawer set. MY scrunchies sit in an acrylic cylinder, around which my headbands wrap. And my skincare is tidied away into a basket, or standing on a resin tray for easy access.
Ordered Bloom and Wild flowers
I love arranging flowers – it's another really therapeutic activity. Since £2.50 tulips from Sainsbury's are no longer an option, I ordered myself some Bloom and Wild babies. Since they started to go past their best, I've dried a few to add to my pampas grass. Jake also sent me a bunch, and I always dry out one flower from every bouquet he buys me.
Sent friends and family gifts
Jake got an Easter Egg in the post, nan got some Bloom and Wild flowers. Mum and dad also got some chocolates, even though we're all cooped up together. I also sent my friends Leah and Anya a Papier notebook each, because it's nice to have a pick me up.
Twitter has been a sea of Amazon wishlists, and gifting the odd face mask or bathbomb here and there has cheered me up, and I've also had some lovely surprises through!
Ordered treats for rescue dogs
Speaking of Amazon wishlists, the rescue centre where we got Phoebe and Frank from have one. They got a delivery of 120 Dentastix – one for each dog – as it's getting increasingly more difficult for them to re-home their residents at the moment, meaning they're relying more so on donations.
Planted seeds
Mum and I recently planted some coriander, basil, garlic chives, regular chives and tarragon in a trough and they're sprouting nicely. It's nice to have something to nurture and to watch grow. To remind us of life, and how we need to protect it. Deep, right? We've also got some chilli to plant, and have emptied what compost we could from our compost bin to make way for more. It's a real shame we dug out our rhubarb patch, really.
Got my beauty treatments
I do my hair toss, check my nails, baby how you feelin? Good as hell! I've got my Nails at Bear press on nails, alongside my Eylure brows and lashes – I'm not sure what more I need to feel myself. And hey, since I'm barely doing anything, at least I won't snap a nail.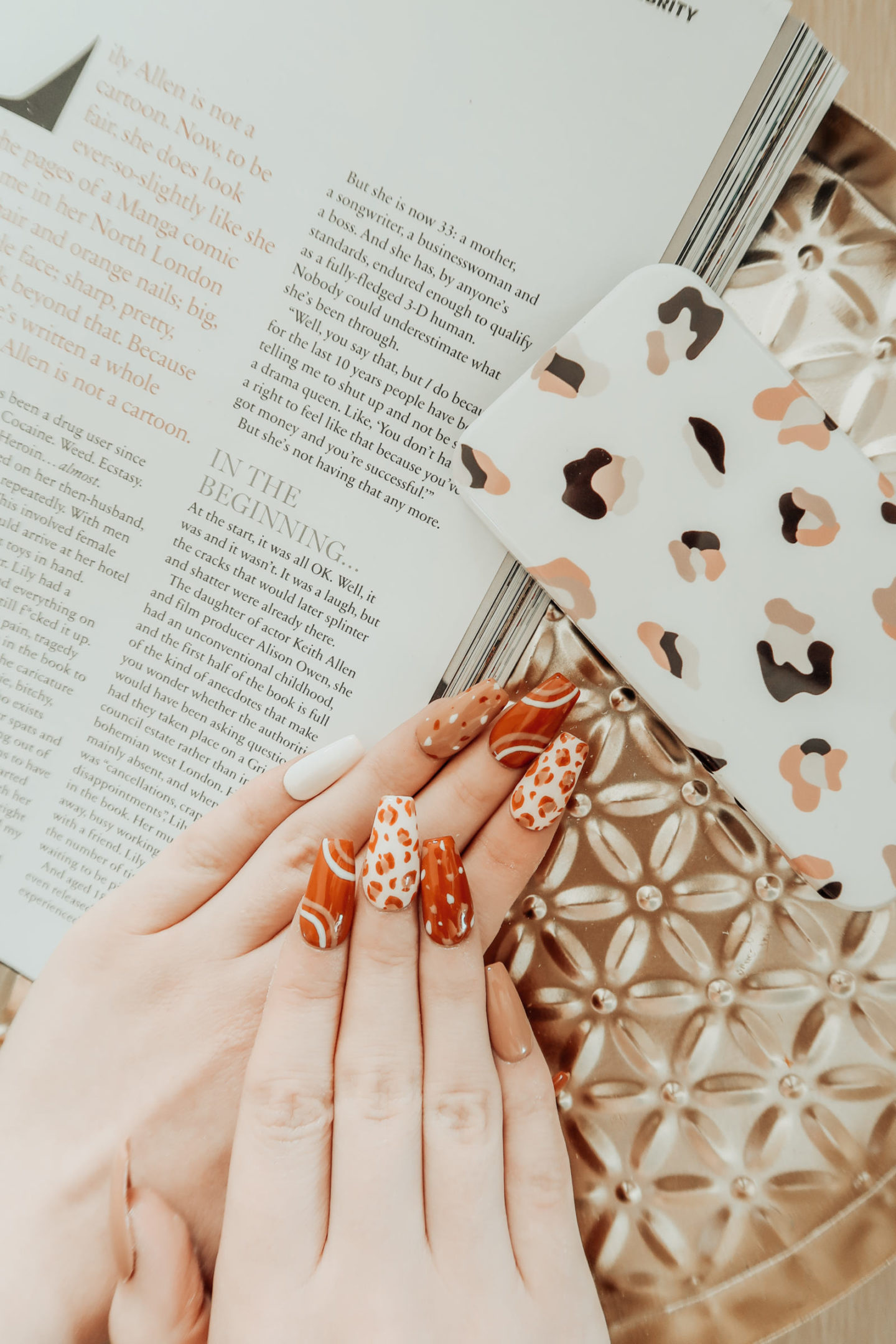 Made a pair of earrings
It appears I've taken a liking to wool-related crafts. I stocked up on some wool and embroidery thread, and after watching a few IGTV videos I gave it a go myself. I had bee searching for a pair of earrings to go with this cardigan with little success – so I made my own!