The #trending: beauty from home Latest In Beauty box has arrived and is packed full of goodies to make lockdown that little more glam.
The box contains 15 products of the skincare, makeup and hair care varieties.
It cost me £30, which is double what I would usually spend on a monthly beauty box. However, this is a one off box with triple the amount of products in your average beauty subscription, so I felt justified in splurging a little. Plus I was able to view the products before purchasing, and knew there were a few brands I was itching to try. I find there's nothing worse than dropping £15 on a beauty box full of 'surprises' to be met with the same kind of products as the month before.
It's nice to have an element of choice, and that's exactly what Latest in Beauty do with their monthly subscription. You can choose the amount of products you want, and get to choose those products from an even longer list, meaning you can try the brands you've been dying to trial for a fraction of the price, instead of going 'ahh, another peach nail polish I won't wear, seeing as I get monthly manicures.
Anyway, back to the Beauty from Home edit. Here are my first impressions as I unboxed them.
Makeup
Florence by Mills – built to lash mascara
Millie Bobby Brown, what an idol. I was very excited for her Florence release, but never got round to testing it out. To be honest, I figured it was aimed at a slightly lower target age range. That said, this mascara is really lovely. The lilac packaging is clean and looks cute on my makeup stand, and the branding is simple, but stylish.
Its RRP is £14, which is almost half the total cost of the box. You can already see how great the value for money will be.
A year ago, I would have never even looked at a mascara wand of this shape and material, as I always preferred the thin plastic combs, but I've grown to love them. When I first tested the mascara I was blown away by the results. The wand catches the smallest of hairs and made my lashes look thicker and longer. I'll be using this as my everyday mascara for the foreseeable future!
Nudestix gel colour lip and cheek balm
I've seen a few bloggers talk about Nudestix before and they sounded great. This one is in the shade Rebel – and I love the name, seeing as I have a 'rebel rebel' tattoo.
The texture is super creamy and glides on very smoothly. The shade is a mid-pink with a beautiful shimmer which is perfect for summer. It's very hydrating and certainly helps keep my lips feeling soft thanks to the gel formula.
This is another full sized product that retails at £20 – I've already got products worth more than what I paid.
Max Factor colour elixir lipstick
Hello red lippy, I've not seen you since Christmas!
This Max Factor lipstick is in the shade Ruby Tuesday, and is an pink-red toned lip colour. Its ingredients contain the highly nourishing Shea, avocado and aloe butters for a creamy texture.
The satin finish is a welcome change to my usual matte lipsticks, and feels creamy on the skin. It applies smoothly and evenly, with help from the bullet shaped tip which aids application.
Whilst I don't often opt for a red lip, this one isn't too bold, and could be pulled off for everyday looks. You can apply more gently for a softer look, too.
No-mo stache facial razor
I've seen more and more of these types of products on the market recently. I initially purchased one from Superdrug for tidying my brows, but have since used them to banish peach fuzz. This one is pink, which I love, as well as safer than others I've seen, due to it closing in half.
I use these to exfoliate the top layer of my skin by using an oil based product (like Dermalogica Precleanse), before gliding it over where I want to remove hair and dead skin. It's a bit like blackhead extraction – a bit gross, but deeply satisfying. One of the main benefits is that your skin glows and your makeup goes on so much smoother.
Hair care
Hask rose oil and peach deep conditioner
This product is ideal for those of us who didn't get an emergency haircut before lockdown. My last haircut was before Christmas, and my ends aren't thanking me for it. I've been trying to care for my hair by washing it less, and taking the time to really wash it when I do.
It states to be for colour treated hair, so ideal for those looking to keep dyed locks looking fresh. This is a full sized product, and there seems to be a lot of product in the sachet. I think I would be able to get at least two uses from it!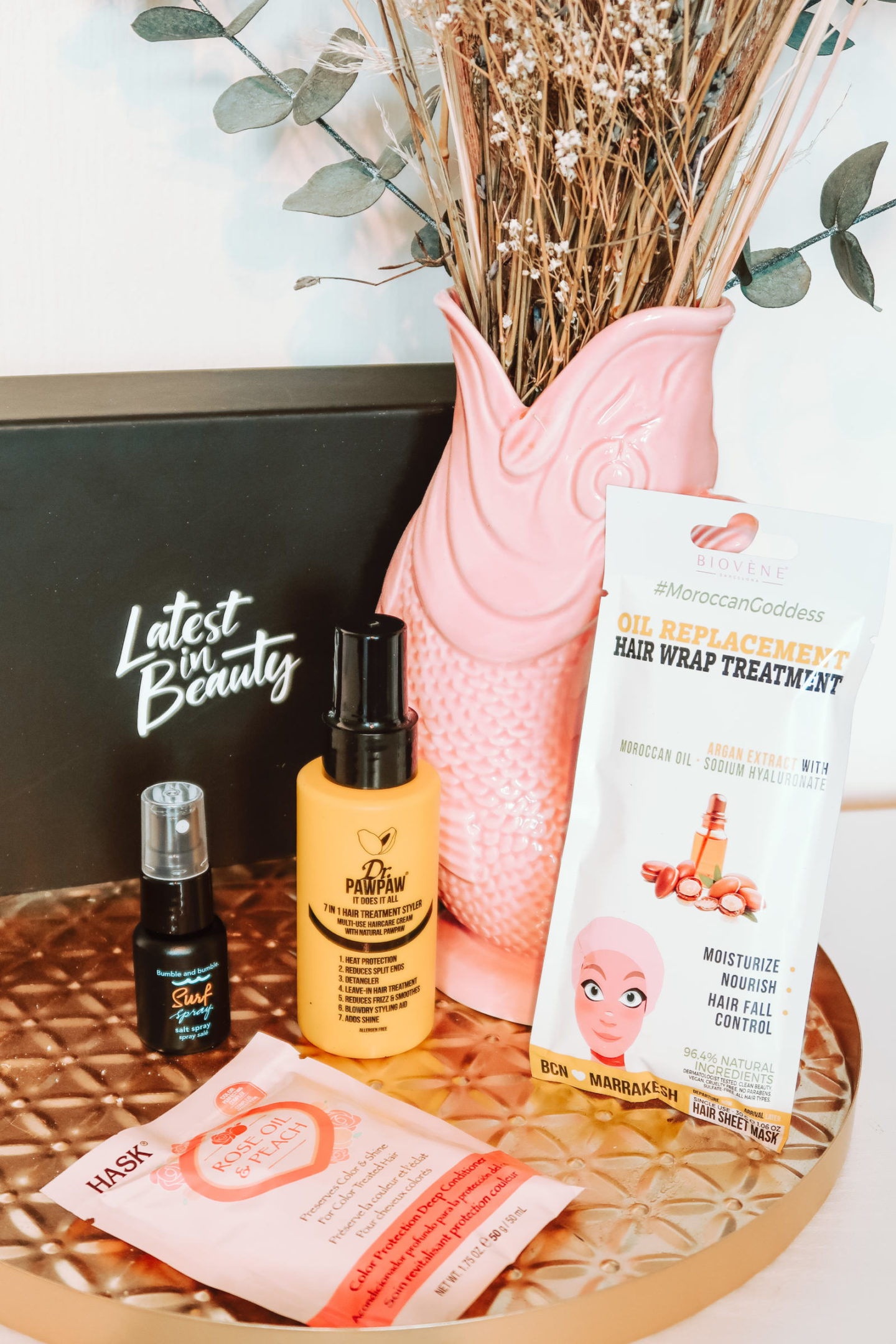 Dr PawPaw does it all 7-in-1 hair treatment
I love how versatile Dr PawPaw products are. I use their multipurpose balm as a lip salve, highlight and to smooth down baby hairs.
The 7-in-1 hair treatment styler claims to be a heat protectant, to reduce split ends, detangle, be a leave-in treatment, styling aid, reduce frizz and add shine. The only one I would instantly dispel is reducing split ends – you can't fix a split end.
This product sounds simple and effective, and certainly something I will use regularly. It's another full sized product, so will hopefully last me quite a while. I'll be spritzing it after my bath to protect it from the heat of the hairdryer, and fingers crossed it works some magic.
Biovene Barcalona hair wrap treatment
There was a choice of three of these hair wraps, and the one I received was the oil replacement wrap. The other two potential options were thermal repair and hydrate protect. As someone with naturally oily hair, I'd have liked the option to select which of these hair wraps I received to suit my needs.
The wraps are akin to a sheet mask, or those foot masks that feel like you've dumped moisturiser in a Tesco carrier bag. To use, you apply the wrap, massage in the product, and then rinse it out. I feel like this would be really nice for a little at-home spa day, but not a product I would seek to purchase or use regularly.
Bumble and Bumble surf spray
I love the 'just-came-out-of-the-sea-look-how-fab-my-hair-is' look. Surfer chic. Salt spray is a great alternative to dunking our head in the ocean. This one is a sample size, but that's no bad thing. It means it's a great travel sized product for when we can go on holiday again.
Skincare
Trilogy makeup be gone cleansing balm
This is probably the only product in the box I won't use, purely due to the fact I already have cleansers I love. It has a light fragrance and reminds me a bit of The Body Shop chamomile cleansing balm. You can get 20% off on their website until November using the code BFHTRILOGY, making the full sized product just £16.40.
Lacura caviar illumination day cream
I've heard some really good things about Aldi's own brand skincare products, as they're usually dupes of far more high end brands. Due to the name caviar, I expected this product to have a gel like/beaded formula, but it is just your average day cream. It's nice and creamy and feels really nice on my skin to give it a bit of a moisture boost.
Oh K! Jeju mineral hydrogel mask
I love a hydrogel mask, and Oh K! is one of the most popular Korean-inspired beauty brands. The mask is packed with seaweed, prickly pear, tea plant and hyaluronic acid for brighter skin. The mask is split in half horizontally, which makes it easier to get it to fit the contours of your face. I often struggle with sheet masks as the proportions are way off, so having an element of flexibility with this mask is amazing.
You can currently get 20% off orders over £10 with code LIB20 until July.
Kiehl's midnight recovery concentrate oil
The Kiehl's midnight recovery concentrate oil is usually £40 a bottle, so the Latest in Beauty box is the ideal opportunity to try before committing to buy. This sample sized product has a few uses in it, and should be used before bed. It's an anti-aging product which works overnight whilst you sleep, and the lavender fragrance is a lovely touch to the bedtime routine.
Glamglow products
I'm going to talk about this trio of products together. I received three Glamglow products in the box, including the Glamglow supercleanse cleanser, Glamglow berryglow probiotic recovery mask and Glamglow superserum 6-acid refining treatment.
The supercleanse is a cream-to-foam cleanser packed with three different charcoals to help draw out toxins. The berry face mask smells delicious and aims to strengthen skin. Just apply an even layer and remove after 10 minutes for a fresher looking face. Lastly is the 6-acid refining treatment to plump skin and reduce the look of fine lines.
You can get 20% off at Glamglow using LATESTIB20 until December.
A nine of the total 15 products in the Latest in Beauty Beauty from Home box were full sized products, with the rest being generous samples that you can use more than once. The total value of the box is well over £100, so great value for money and provides the ideal opportunity to try out products you might have thought about buying before.
Watch my IGTV unboxing below.