Woore Fruit Farm, near Keele, is a beautiful trip out between Spring and Autumn. The farm operates for seasonal fruit picking between May and October, so Jake and I took a visit this July.
Woore Fruit Farm has a very helpful infographic on their Facebook page which lets you know what's best to harvest, and when. In July, you have the pick of strawberries, raspberries, blackcurrants and tayberries. I'll certainly be returning later in the year for some plums, apples and pumpkins! What's really handy about their Facebook page is that it's been regularly updated to let visitors know if they're all picked out, or if their fruit is ripening.
When we arrived at Woore Fruit Farm, we parked on the big car park and walked towards the reception. There were empty punnets waiting ready to go, and a friendly dalmatian wagging their tail at new guests. Jake and I wandered past the fishing lake towards the raspberries, growing in tunnels. The raspberries were the easiest to pick, with quite a few ripened and ready. We knew that there wasn't going to be a lot of fruit to pick due to the weather having been too cold the previous week, but we had mostly just gone for fun and the atmosphere. It's a lovely place to walk around regardless of whether you're trying to get a full punnet of fruit.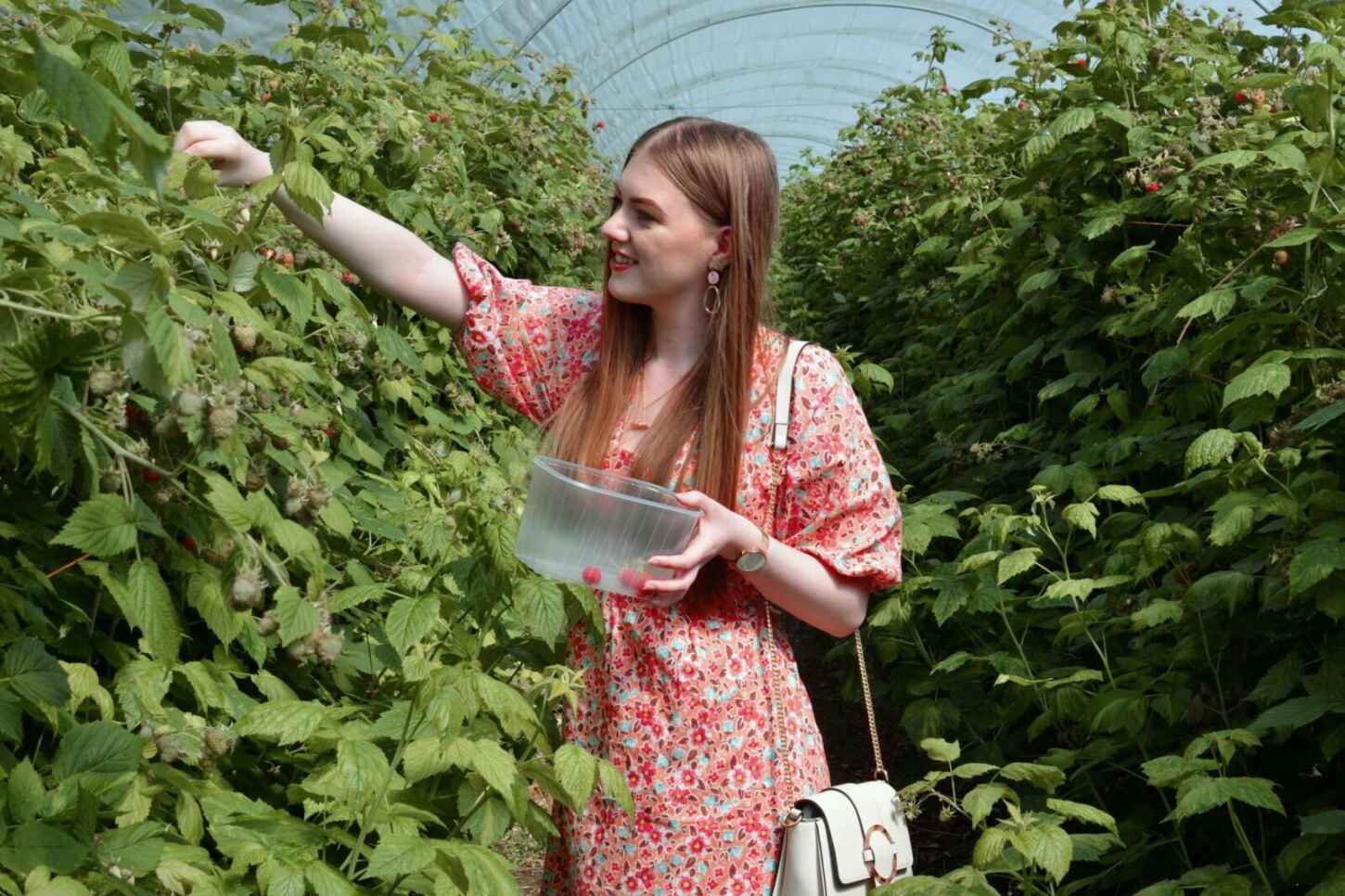 After raspberries, we moved onto strawberries, grown on tables to ensure they don't rot on the floor. Alan Titchmarsh's gardening show taught me that this is the best method to prevent them rotting on the floor! We took a walk through the blackberries and right to the top of the hill to catch a view of the whole farm, including their very cute pumpkin patch.
Back at the bottom, we took our little punnet to the farm shop where they were weighed. Whilst inside, I also picked up half a dozen fresh eggs from the farm's resident chickens, and a growler of home-brewed cider. The cider is flat, strong and reminds me a little of Cornish Scrumpy. The two and a half litre container cost just £5.50, so was a real bargain. They also sell jams and fresh juices.
Outside there's a poppy patch getting ready to pop, with a sea of pods giving way to colourful blooms. And speaking of blooms, resident florists Straw House Flowers were busy wrapping up hand-tied bouquets for the farm shop. Jake treated me to a bouquet filled with sweetpeas and colourful blooms for £5. A bouquet like this would ordinarily cost anywhere between £30-40 from an independent florist!
Our total spend came to around £12, which was absolutely unbelievably great value. And under usual circumstances – when social distancing isn't a thing – I'd love to sit and have a cup of tea and a Snugbury's ice cream in the little tearoom.