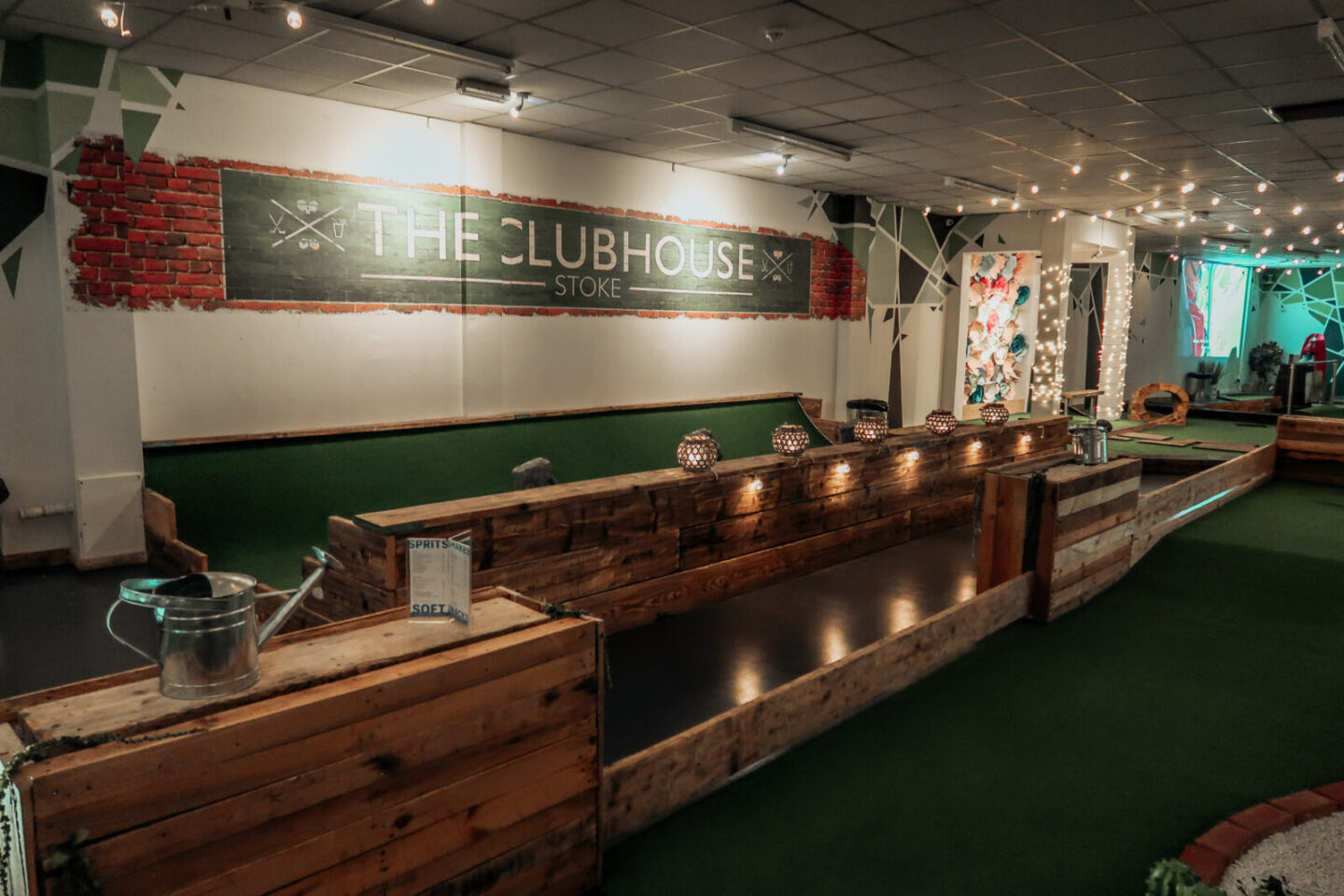 Clubhouse Stoke crazy minigolf opened in Newcastle-under-Lyme last summer and has provided me with hours of fun in the past 12 months.
Whether you're going for girls' night, to celebrate a birthday, or heading out on a date – it's perfect for a real mix of occasions and ages.
Jake and I headed to Clubhouse Stoke for a post-lockdown date after hearing great things about their social distancing measures.
We had booked our timeslot online, and arrived 15 minutes early as suggested. It was pretty quiet, with only one other group of people already on the course at 11am on Sunday morning.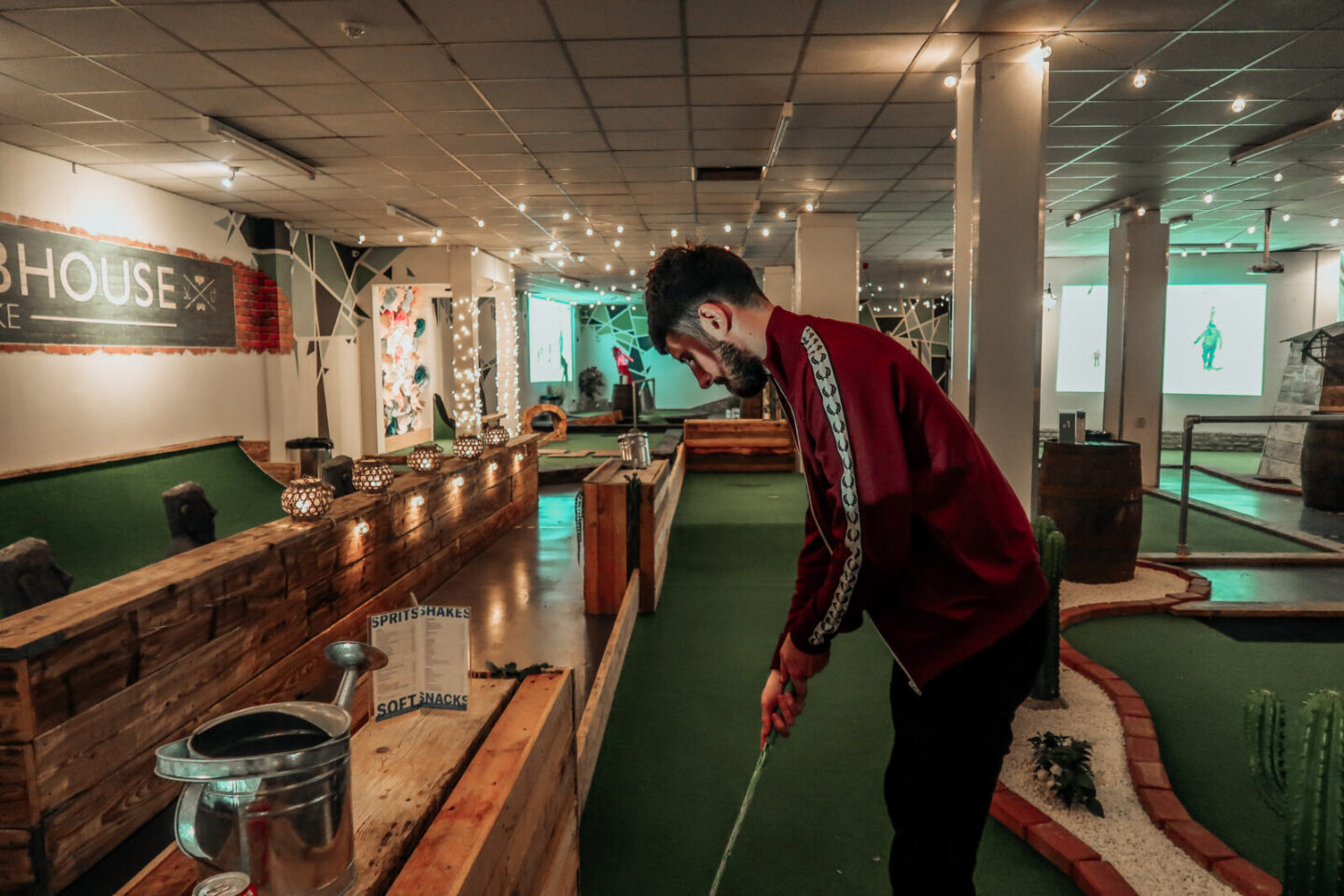 When we hit the course, a member of staff came over to take our drinks order and we paid contactessly. We ordered soft drinks, but for those looking to go later at night or for parties, Clubhouse Stoke has a fully licenced bar, too. There are little sanitizer stations every few holes, with whiskey barrels where you can pop down your phone or drink whilst you tee up your shot.
Jake and I downloaded the Clubhouse Stoke app to keep track of our scores. The app keeps you on track of which hole you're on, and tells you little jokes between each one. The crazy golf course is tricky, with sneaky ways of catching you out when you're hit with hidden trenches and props.
Amongst the shots are a loop-the-loop, windmill and a bridge. But then there's an even trickier 19th hole which can earn you a free game next time.
The 18-hole course has been hand-built by the owners, giving it a rustic, homemade feel. There's even a UV room with Stoke-related artwork painted onto the walls, including Eddie Hall, potbanks and The Man of Fire.
The UV room is home to some of the more difficult holes. On one, you have to sink the golf ball into a basketball hoop to be in with the chance of a hole in one. Miss the shot, and you'll be forced to make your way through a maze to get there. In another, you have to have great aim to get the ball around a 90 degree corner and into the hole – but this trippy course will have you feeling like your about to fall through the sky with its transparent flooring.
We battled through the inflatable man, the Easter Island heads and the flamingos and completed the course. Jake won – but I got my own back on the vintage arcade games. Clubhouse Stoke have some amazing 80s games, including Space Invaders and Pac-Man for 50p a go. I managed to ditch Inky, Blinky, Pinky and Clyde and top Jake's score. But he did annihilate me on the foosball table.
And that's not all Clubhouse Stoke has to offer. They've also got gaming booths, table tennis and a beer pong table!
Clubhouse Stoke mini golf costs £12 per person, with a discount for students. It took Jake and I around 40 minutes to complete. We didn't have to wait for groups ahead of us, as the timeslots allowed more room between groups of players.
Located next door to Lymelight Boulevard, you could really make a day of it. Why not try out Vue cinema, Laser Quest and Bar Social whilst in town too.
More on things to do in Staffordshire:
Woore Fruit Farm – strawberry picking, home-brewed cider and fresh flowers
Students Day Out at intu Potteries AD*