The prospect of getting my first manicure post-lockdown was so exciting. My last mani with Nails at Bear was back in February ahead of Valentines day.
I loved to get my nails gelled with gorgeous designs every 6-8 weeks. I never once thought it could be six months until my next appointment! But August came round and I decided to go for a sea shell manicure ready for my beach getaway.
At the beginning of lockdown I had to remove my own gel nails with acetone. It was a tedious job, and because I was wearing Builder in a Bottle, it took a lot longer. My nails had around eight weeks worth of growth! The thought of naked nails in lockdown wasn't ideal, so I placed a Peacci order online and did my own mani at home.
But weeks later, I decided a career in nail care is better left to Nails at Bear – and rocked naked nails up until my appointment earlier this week.
I was spoiled for choice for design inspiration. Having six months rather than six weeks to think about what I want on my fingernails gave me option paralysis. I send Leanne at Nails at Bear a bunch of ideas, and let her have a play! I love quartz nails, and have seen some stunning sea shell designs by Beauty Works By Amy, and Leanne knew exactly what to do! Here's how Leanne created my sea shell manicure:
After a trim, file and shape, Leanne started my design set with a thin layer of BIAB. She added The Gel Bottle shade Marshmallow as the base for six of the nails, and vanilla for the other four. The shade depended on which design was going on what nail, and what would work best.
Left hand:
Sea shell
Dark quartz
Ringed gemstone
Light quartz
French sea shell
Right hand:
Sea shell
Ringed gemstone
Light quarts
French sea shell
Dark quartz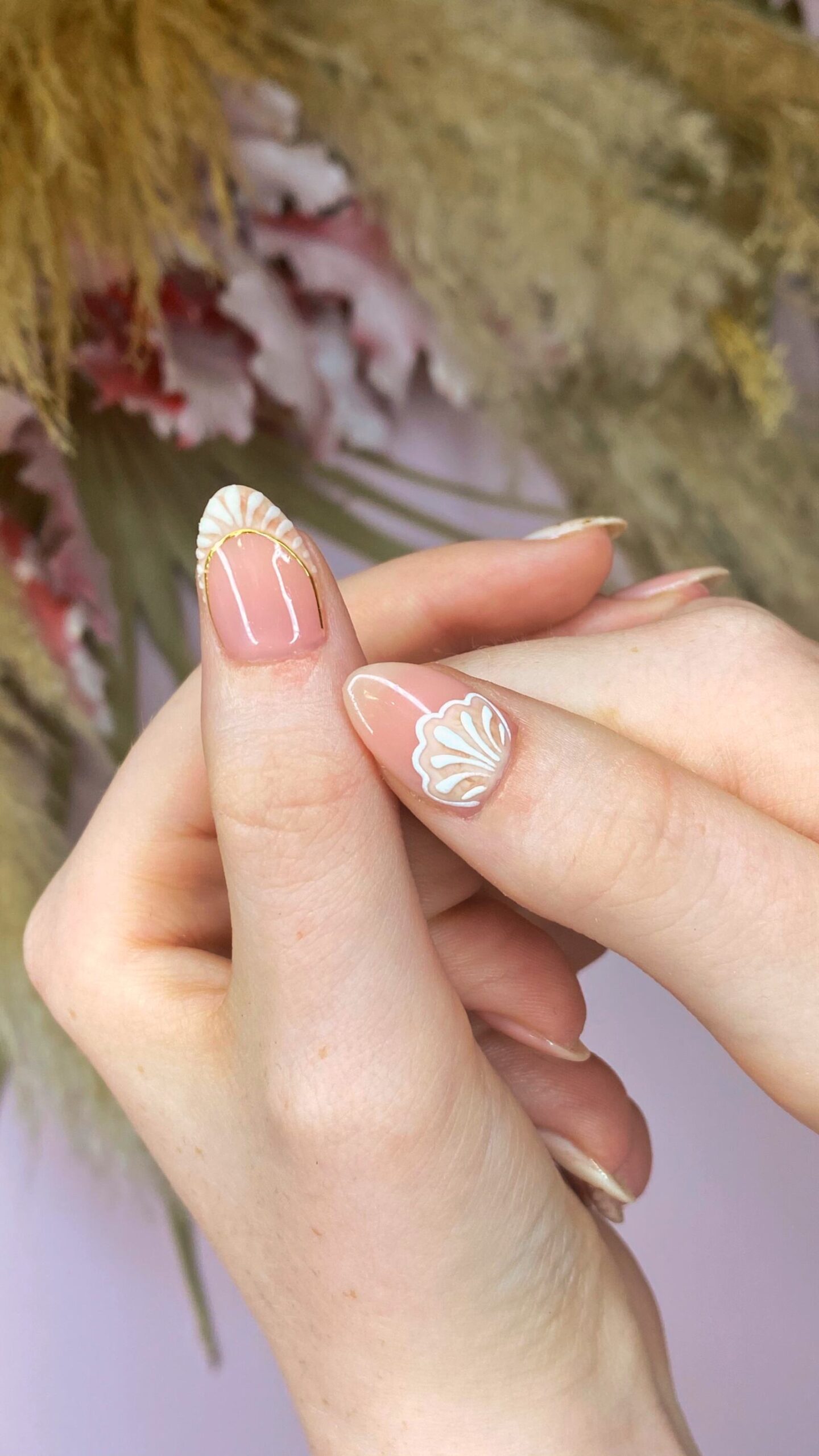 For the quartz nails, Leanne used a combination of brunette and daisy in a marbling effect, using acetone to diffuse the colour before adding flecks, or a border of gold foil. On the darker quartz, there is a really subtle pink holographic foil which is gorgeous when it catches the light.
A lot of nail techs will use stickers to create the ringed gemstone effect, but all of Leanne's work is hand painted. She used the shade hone to create the base before creating texture with brunette. The added tiny pieces of gold foil to the centre before adding a ring of foil around the edge.
For the sea shell frenchies, Leanne created a stunning honey marble in the french tip, carefully liing it with gold flexitape. She added white lines for the shell effect, and topped it with acrylic powder for a 3D effect before curing. In a very similar way, she handpainted the sea shells, outlining them and adding detail using the acrylic.
The appointment lasted around two hours and was a full design set. I was so happy with the Covid safety measure put into place in the salon, such as sanitising on entry, visors and handwashing before my appointment. There was a £5 charge added onto my bill to account for the additional costs of cleaning products and PPE – an unexpected expense incurred by salons in these unprecedented times.