This week, beauty salons have been allowed to open for the first time since Christmas, and you can bet I was one of the first customers through the door.
Leanne Haycock nail artist – formerly Nails at Bear – completed my last gel nail manicure on December 15, and that design was still clinging on for dear life at this week's appointment. But, it just goes to show how talented a nail tech Leanne is, with my manicure still in perfect tact, without a single chip, lift or break. Also, builder gel is simply mind-blowingly strong – I'd recommend adding it to your appointment if you've never tried it before.
Now, no-one would ever recommend leaving a manicure on for 17 weeks, but these were absolutely exceptional circumstances during the third national lockdown. My nails had doubled in length since my Christmas cow print set, and frankly, I couldn't wait to have them chopped back down to a manageable length.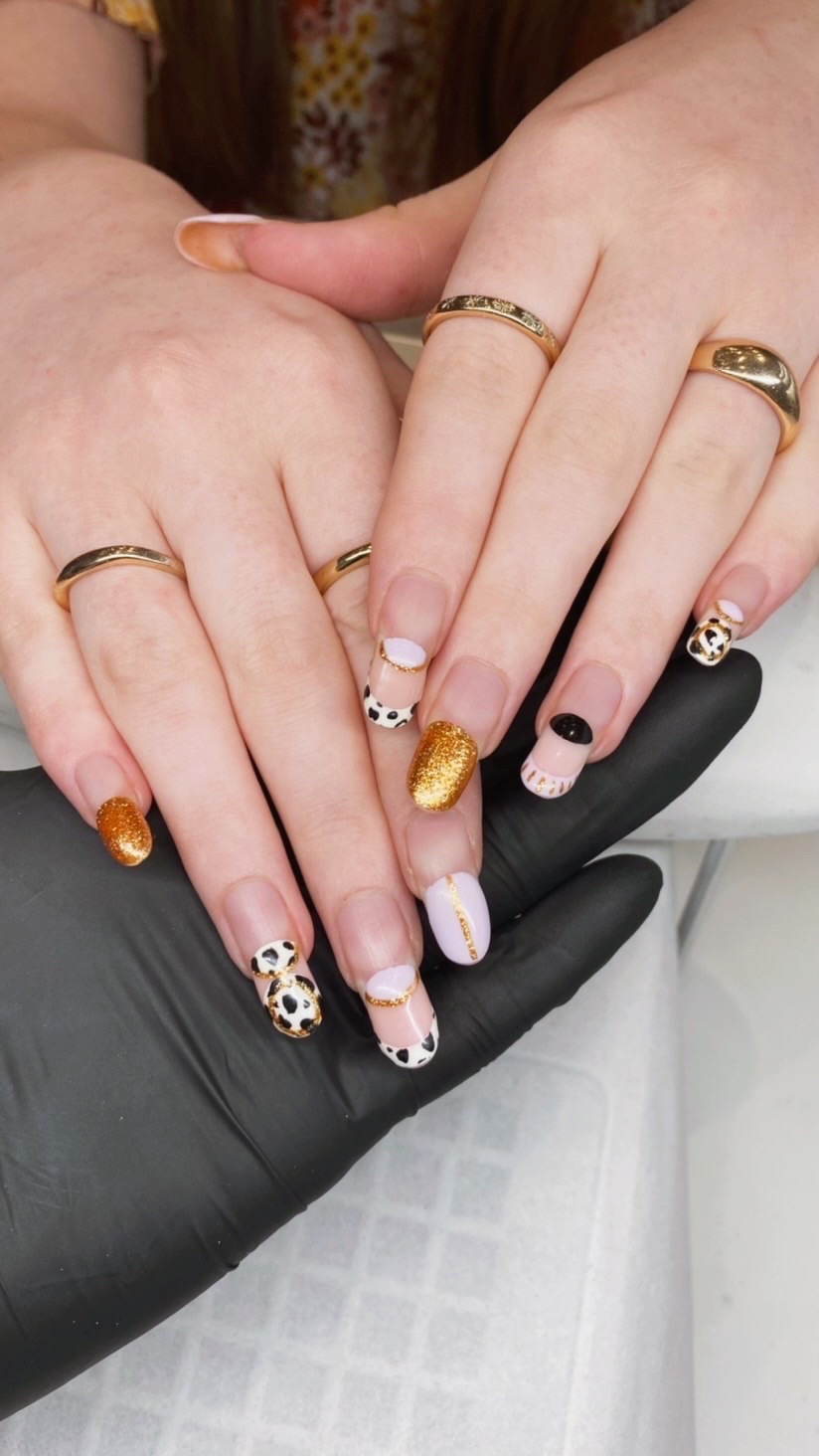 Ahead of my appointment, I'd sent Leanne a mood board of inspiration, including nail art, colour palettes and design ideas. She came back to me a couple of days later with an illustrated design which was exactly how I'd imagined in my head. Leanne is brilliant at getting the ideas out of your head and on to paper, and the illustrations are such a cute touch.
In a previous post, I mentioned 70s swirls and negative space are proving to be pretty popular – and it's a trend that's likely to continue over the next few months as people book in for their sets. This set incorporates both, with bold colours encapsulating that spring, fresh beginnings feeling.
The biggest part of my appointment was prep, which is really the most important part. The removal of my old set was followed by cleaning up cuticles, trimming, shaping, buffing and ensuring a smooth, neat foundation for my new set. The phrase fail to prepare, prepare to fail certainly stands for nails, too. I opted for medium almond nails with a rounded tip, which is the shape that works best for my busy lifestyle. As much as I love coffin nails, my life do I end up bashing them about.
We picked out some shades, including Glossify's Raspberry, and The Gel Bottle Butternut, Glossify Bright White and Glossify's naturabuild in Rose.
On each hand, we went for a solid Butternut, a solid Raspberry – both of which are highly pigmented – a central swirl through the centre of the nail, a swirl where half the nail was blocked with colour, and a nail of daisies. We didn't do the same on each hand, which I love as it gives it more dynamic and makes them more interesting to look at! The colours worked so well together, zesty and bright like rhubarb and custard, giving me all the seasonal vibes.
I'd totally forgotten that as part of Leanne's Black Friday deal, I'd actually pre-paid for my appointment back in November, which ended up being a nice surprise. For a set like this – classed as Leanne's 'silver' package – it would usually cost £49. Plain, or bronze nails are, of course, a cheaper option, or go all out with the gold or mix and match packages. Builder gel comes as standard at Leanne's salon, and she also offers silent appointments if you don't fancy small talk, too!