Cruella De Vil, Cruella De Vil, if she doesn't scare you, no evil thing will. The villainess is arguably the most wicked of Disney's baddies, best known for wanting to skin puppies to make a fur coat.
And the new live-action prequel explores the life events which led her to become a dognapping fashion designer. The film opens with Estella's birth, and gives a brief indication that she's a troublesome and rebellious child. But early on in the film, Estella finds herself an orphan in London, taken under the wing of thick as thieves duo Jasper and Horace.
Fast forward a few years and Estella is still yearning for a career in fashion, and captures the attention of the industry icon Baroness von Hellman with her drunkenly destructive punk-rock window display at Liberty's.
It's from here on out that Estella embraces her wicked alter ego, Cruella, and discovers her past and identity.
There are 101 reasons to watch the dark and twisted Disney origin story of Cruella, but if you've not yet seen it – here are six reasons why you absolutely should.
The cast
Drink every time you find yourself pointing at the screen and shouting 'that's so-and-so, out of such-a-movie' and you'll be drunk in no time. Honestly, the casting for Cruella is brilliant.
We have La La Land's Emma Stone who morphs seamlessly from Estella into the 'brilliant, bad, and a little bit mad' Cruella, up against the arguably more sinister Baroness, played by Emma Thompson, who we adore from Harry Potter and Nanny McPhee. The film also sees The Kingsman's Mark Strong play a heroic role, and Game of Thrones actor Joel Fry as Jasper.
You may recognise Anita from Killing Eve, and Roger from Four Lions and Horace from Cobra Kai. Artie, portrayed by John McCrea, is the perfect fashionable accomplice to the team, reminding me a little of David Bowie.
It's a wonderful group of actors and actresses who are all complete misfits, but find their family together.
The soundtrack
Set in the 1970s punk rock revolution of London, it was natural for the sound of those bands to be laced into the movie. The score for Cruella sees huge names from the 60s and 70s, including The Clash, Blondie, Queen, The Doors and David Bowie. You couldn't help but sing along to These Boots Were Made for Walking and Come Together.
Director Craig Gillespie shared anecdotes with RadioTimes on how he chose some of the tracks on the day they shot the scene – including the scene where Cruella is drinking at Liberty's and starts singing Nancy Sinatra. He also revealed that, while some song choices were subject to long deliberations, one song suggestion made my Mark Strong did make the cut.
Cleverly selected with an anarchist vibe throughout, the film closes with 'Call Me Cruella', written and performed by Florence and The Machine, alongside Nicholas Britell.
The dogs
The film features five main canine cast members. Three dalmatians owned by the Baroness, which Cruella kidnaps and threatens to kill, as well as Wink – a one-eyed chihuahua, and Buddy – her own rescue dog discovered in a dustbin.
The pup that plays Buddy is a Cypriot rescue called Bobby, found scarred and scabby fighting for scraps on the streets. After being rescued by a charity, he found a furever home with Hollywood animal trainer Julie Tottman. For Cruella, she had to coach Bobby how to catch a necklace thrown to him by the villain, crawl under a table, and deliver Emma's lunch in a sandwich bag – the boy's a natural!
It's worth mentioning that Wink – who's real name is Dixie – is also a rescue dog!
The humour
There are so many laugh-out-loud moments in Cruella, from witty one-liners to excellently delivered sarcasm, with some slap-stick thrown in for good measure – because it wouldn't be Horace and Jasper without it. Wickedly comical and intelligently written, you'll find yourself chuckling through mouthfuls of popcorn, I promise.
The insight into the backstory
I'd realised early on that Anita Darling was, of course, Anita from 101 Dalmatians. It took me a little longer to click that the fumbling lawyer's name was Roger. It doesn't divulge into how the two meet, but it does reveal how they came to know Cruella, as well as how they got Pongo and Perdita. How Cruella came to be the villainess she is was the backstory we never knew we needed, and now it all makes sense – albeit doesn't excuse her behaviour.
The fashion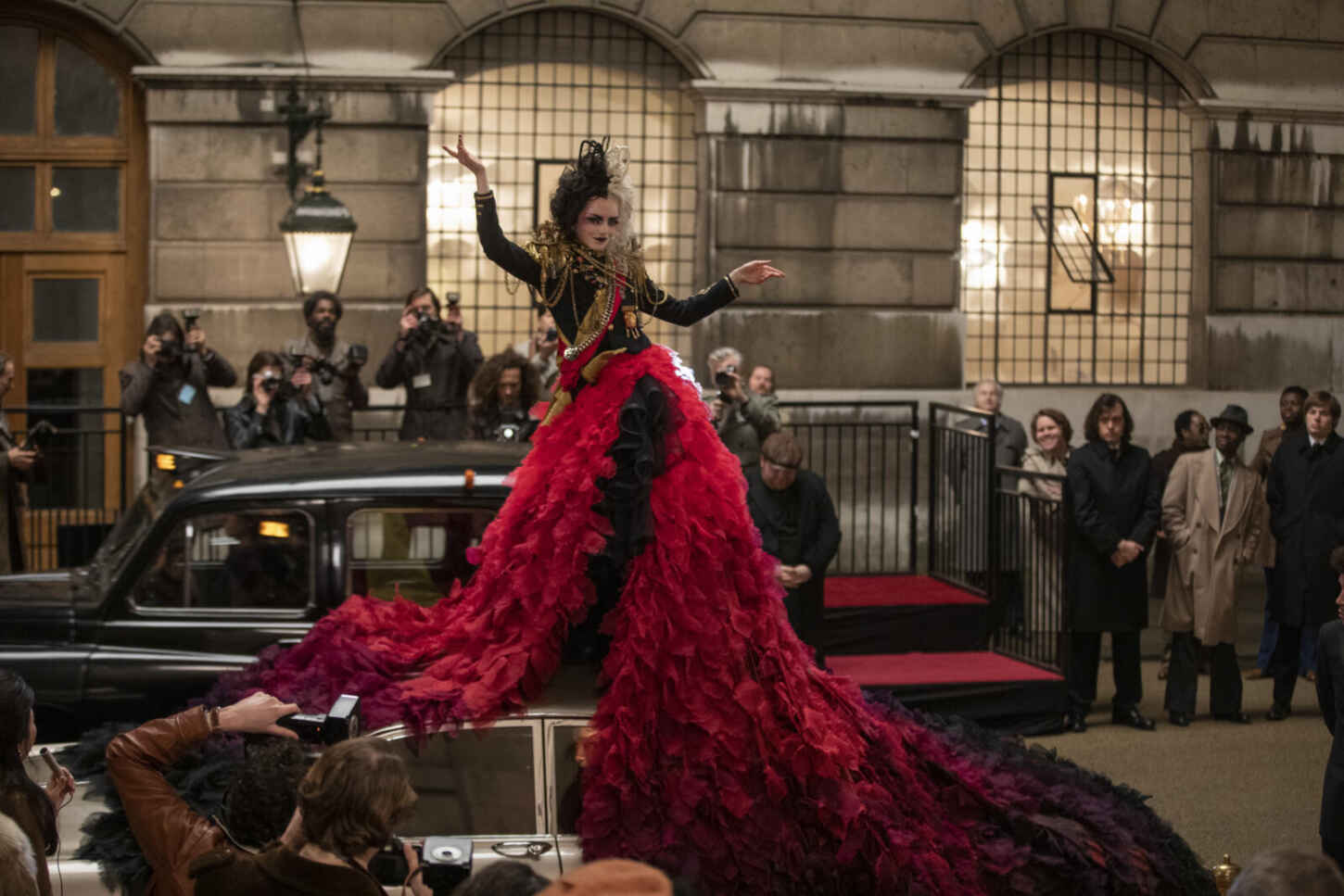 Think Vivienne Westwood punk fashion with black leather, safety pins, and lots of heavy eyeliner. With Cruella a budding designer, it was only right that the costumes for this extravagant prequel were bigger, better, and badder than ever.
Academy Award-winning costume designer Jenny Beavan left no expense spared, with dangerously cool glam goth outfits and rebellious get-ups, from black berets and wallet chains for every-day urban, to glam ball gowns that completely stole the show. One look sees Cruella enter a party in a while silk cloak onto which she drops a lighter to burn it away, revealing a red cocktail dress, foreshadowing her future endeavours.
Cruella is known for her desire for a dalmatian coat, which is hinted at in the film after kidnapping the Baronesses hounds. She rocks up to an outdoor riot concert in an extravagant dalmatian print gown, which surely gave inspiration for her later works. The wardrobe is absolutely jaw-dropping.
You can watch Cruella on Disney Plus with Premier Access for £19.99, or wait until it's released for free on August 27. We went to watch it at Cineworld where two tickets cost less than £15, if you simply can't wait!