Cult beauty and skincare brand Glossier have released a dreamy festive flavour of their award-winning balm dotcom – and it smells just like Loftus biscuits.
The limited edition Glossier Cookie Butter balm dotcom was released last month, and I've never added anything to my basket so fast in my life. I've been using their Cherry and Birthday flavoured balms since last year, so I knew I was going to be obsessed with it from the off. Whilst Birthday offers a subtle shimmer in a clear balm, Cherry gives a pop of red. Meanwhile, new balm on the block Cookie Butter is the perfect autumn nude, with a caramel coloured tint.
The multi-purpose salve has a buttery, sweet cinnamon spice flavour, offering a barely-there sheen that suits a range of skin tones. Like all of Glossier's balm dotcoms, a little goes a long way, and not only does it smell like freshly baked biscuits, it tastes good enough to eat, too.
Described as a 'do-everything' lip balm, you can apply this product anywhere that needs a little extra moisture. It also doubles as a brow tamer, subtle highlight, and even a tinted blush – that said, the Cloud Paint liquid blushes are absolutely killer and I highly recommend them. As the temperature dips, hands, lips and cuticles can become chapped, but Glossier's balm dotcom helps keep skin hydrated with a combination of 'nature's heavy-duty moisturisers' castor seed oil, beeswax and sensitive skin-friendly lanolin.
It also stars cupuacu fruit extract, which is an organic, long-lasting moisturiser with Omega-6 and Omega-9 fatty acids that melts into skin on contact, and antioxidants to combat skin damage.
Other flavours in the balm dotcom range include Mint and Coconut – which both go on clear – as well as recent releases Berry and Mango, which joined Cherry, Birthday, Rose and Original, all of which offer a soft sheer tint.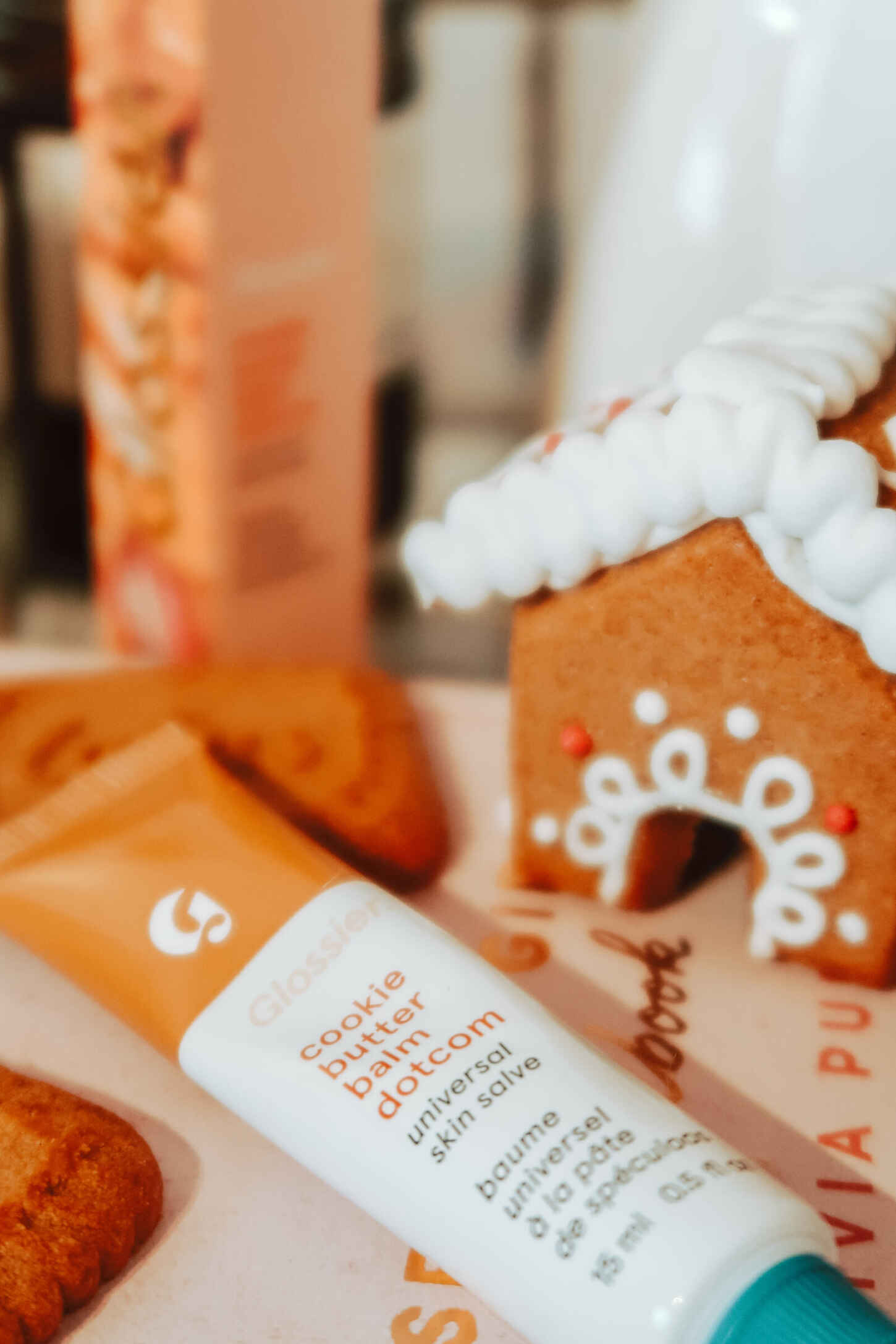 Priced at £10, the Speculoos biscuit scented salve is perfect for Loftus lovers, and you can bag 10% off with my referral link here. If you can't decide on a flavour, you can get a trio of balms for £25 – or £22.50 with the discount, and pick the ones you can't live without. I do recommend a Birthday, Cherry and Cookie Butter combo, purely because you get a versatile and wearable selection of flattering lip tints.
Since it already comes everywhere with me, I can definitely see the Glossier Cookie Butter balm becoming an all-year round staple product. I hope Glossier decide it's too delicious and keep it as part of their permanent range, because there's no tint like it in the collection and it truly is the perfect nude.