Ad – press event – all views are my own
Christmas has well and truly arrived at Alton Towers Resort, with a festive market in full swing, mulled wine and pine trees with fairy lights illuminating every corner.
As you step through the gates, you're instantly transported to what feels like Lapland or the North Pole, and the dusting of snow that came with Storm Arwen left the theme park looking absolutely magical. Feeling quite literally like a kid at Christmas, we snapped a photo by the show stopping Lightopia sign at the top of Towers Street, which has been transformed into a free, festive wonderland with more than 60 market stalls.
Opening on November 27, the little wooden huts are home to artisan makers, bakers and small business owners for the run up to Christmas, until December 23 – to give the elves chance to pack everyone's orders for the big day, of course. The market is completely free to visit, besides paying for your parking at £6 a car, and so it makes for the perfect opportunity to do some Christmas shopping and soak up the holiday atmosphere.
There are dozens of different brands to explore, including some very local makers, like Sixtowns Gin – with their potbank bottles made by Wade Ceramics. Naturally, we couldn't help but pick up a bottle of their signature blend, which we're going to put up for Christmas.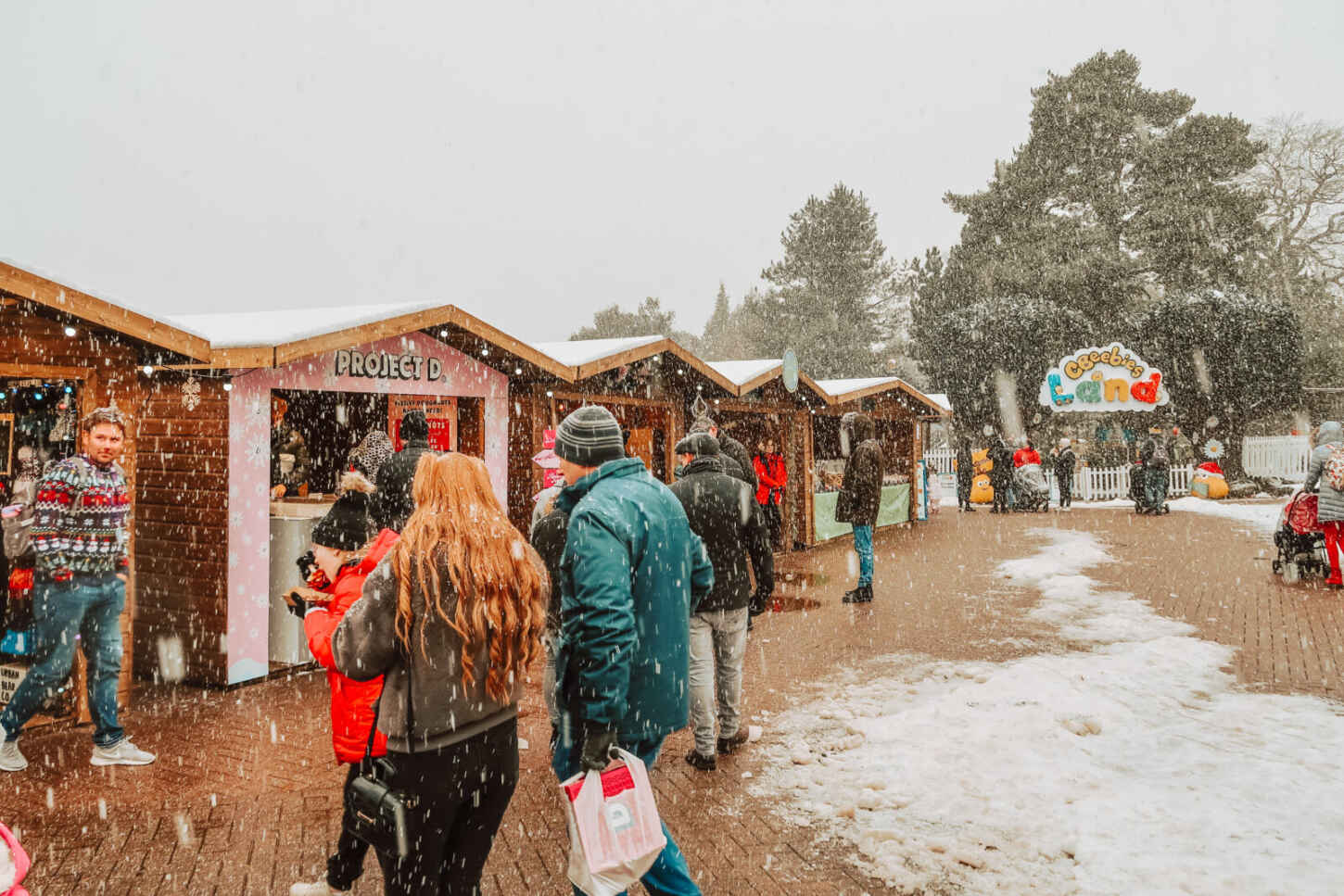 The stalls were all really unique, with some selling crafts, decorations and home fragrance, whilst others offered foodie favourites, fashion and festive cheer. Lots of the food and drink stalls offer free samples, so it makes for a very fun culinary crawl. Alongside the gin, I also picked up a baking kit for raspberry and white chocolate scones from The Busy Baking Co, and also bagged some ready-made cheese scones from another business to enjoy with my favourite winter-warmer lunch: tomato soup.
After exploring the cabins, I stopped off to grab a mulled wine, priced at £6 and headed into the foodie section of the market, where there were wooden fairy lit booths perfect for sheltering from the snowfall, and enjoying one of the market meals on offer.
There was a fully stocked two-storey 'Wonder Bar', as well as bratwurst, Greek offerings, burger vans and desserts. We opted for Yorkshire Pudding Wraps, which were a bit on the pricy side at £10 each, however they were stuffed full with turkey, roast potatoes, veg, stuffing, gravy and cranberry sauce. Personally I do wish I'd gone for a trusty Bratwurst for the slightly lower price of £8 – but we were fuelled for the afternoon all the same.
We didn't need to wait too long for one of the booths to come free, but I can imagine it would be easy for these to get quite busy. We sat down for around 10-15 minutes while we ate our food and finished our mulled wines (which was well worth the price just to keep my hands warm, but was very delicious, too).
We were gifted Festive Day Out Tickets by the Resort – which usually costs £16 per person, granting all day entry into selected rides in CBeebies Land and Gangsta Granny: The Ride, and while we didn't venture onto any of the rides, we did take a walk around to the beautiful Grade II listed building, which looked fantastic in the snow.
We'd have loved to venture into The Gardens for the Twinkling Lights trail, but it's only open on selected days – including December 1, 2, 8, 9, 15 and 16. But head past the towers and Festive Day Out ticket holders will find a live entertainment stage with panto-esque performances on throughout the day.
Back in the main market area, we visited a stall selling deluxe hot chocolates with marshmallows and a mountain of whipped cream (£4) and bubble waffles to keep us warm, completely smothered in Nutella and Kinder Buenos for £7.
As night fell over Alton Towers Resort, the UK's biggest light and lantern festival was preparing to open. Lightopia tickets are £20, or £15 when purchased with the Festive Day Out – which include your entrance to the markets. Time slots start at 4pm, with entry every 15 minutes until 8pm into the seasonal wonderland, which takes visitors on an immersive journey through parts of the park that are now closed for the season, like Mutiny Bay and Katanga Canyon. And having seen the Resort decorated for Oktoberfest and Scarefest last year, I was very excited to see what festive surprised they had in store.
The trail takes guests through an entire year of seasons in their 2km walk around the park, starting with winter lanterns with polar bears, penguins and a spectacular spruce in front of the haunting Wicker Man ride.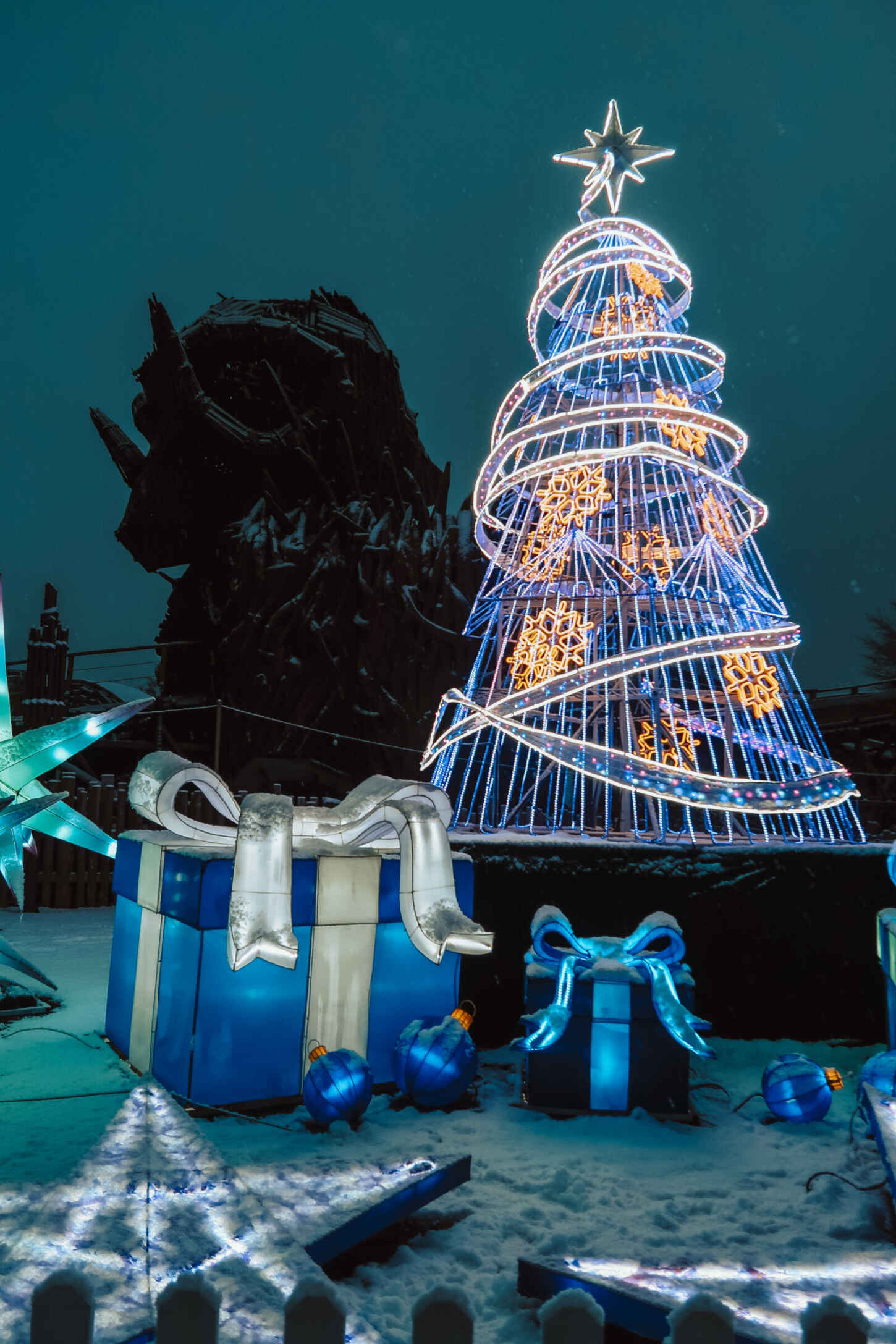 As you walk deeper into the whimsical experience, the dazzling lanterns get more and more mesmerising and visually spectacular – of course, the leopards and lions were my absolute favourites.
The spring displays saw Easter, blooms and baby animals – including an adorable giraffe with its calf, while summer saw a tropical beach theme with flamingos and flowers. The Halloween displays were brilliant, with a wand arch and laser beams, and a fabulous Day of the Dead collection of lanterns, too. Wintery deer finish the trail back at Mutiny Bay where guests are then led on a path to the lakeside, where a water projected show sees a festive finale. The waterside show was projected onto an arch of water sprayed from the centre of the lake, with the Earl of Shewsbury's towers glowing in the distance. Lightopia is at Alton Towers from November 27 to January 2, and is a gorgeously festive escape that feels completely other-worldly.