Monthly favourites blog posts feel so 2012, right? But truth be told, I still love reading them, and occasionally watching them on the old YouTube.
I think there's also a lot of pressure on writers and content creators that everything has to be deep and meaningful, or insightful or topical. But sometimes, all we want to do is write about the things that make us happy – and for me, this month, that's been socks, knitwear and candles.
So, in true Marie Kondo style, here are seven things that have 'sparked joy' in my life as we moved into Greenwich Mean Time and dark nights. All of the hygge vibes, lots of sustainable finds, and all round autumn realness.
Rubi Socks
I ordered these Rubi socks in summer when I was buying gifts for Jake's birthday. When I order presents online, I always like to throw myself a little pick-me-up in too – it makes the postage costs more worth my while. I got two pairs in a cream and a coffee colour, and they're perfect for autumn and winter because they are so warm and comfortable. From Cotton On – who also own Typo – these socks support more sustainable cotton farming, using 71% cotton in their crew socks.
The brand launched their own cotton programme in Kenya in 2014, training local farmers in sustainable practices whilst empowering female workers and ensuring a living wage. So not only are they absolutely beautifully made, comfortable, breathable, and wearable – they're also good for the planet and support their workers.
Tiger and Co Spruce Candle
It's well and truly cosy candle season and the brand I always like to crack out this time of year is Tiger and Co. Vegan, cruelty-free, sustainable and small batch, Tiger and Co candles are consciously made with soy wax, contemporary fragrances and planet-friendly packaging. Each candle has a cotton and paper wick for a clean burn and no sooting, also meaning they're safe to burn around your pets.
This festive season there are four fragrances to choose from, as well as their signature scents. I've got their Spruce candle this winter, with a little bit of Christingle left over from last year. Fresh, green and bright, Spruce captures the essence of a frosted fir tree – an integral part of the yuletide season. These are all hand-poured into apothecary style amber glass jars donning paper labels and aluminium lids for sustainability. And if you follow me on Instagram, you'll probably see one of these jars in 99% of my flatlays because they're just so pretty.
Glossier Cookie Butter Balm DotCom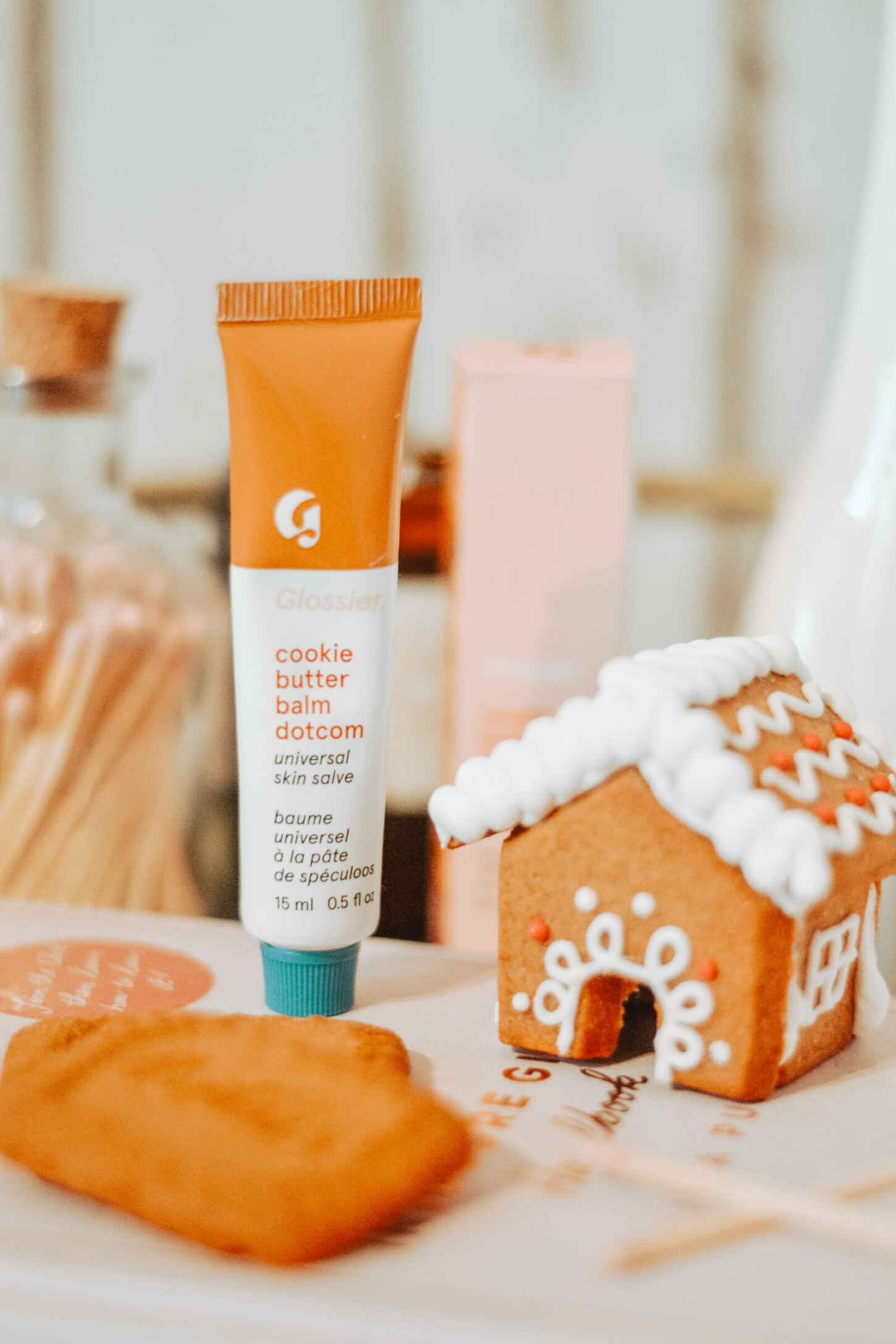 My lips have started to feel really dry with the drop in temperature, so when I heard that Glossier were dropping a new limited edition balm dotcom, of course I needed it.
The Glossier Cookie Butter balm dotcom is the latest release in the brands extensive collection of multi-purpose balms, and it smells just like Loftus biscuits. The balm has a buttery, sweet cinnamon spice flavour, offering a barely-there caramel sheen that suits a range of skin tones. It was just £10 and makes an ideal stocking filler – you can even bag 10% off with my referral link.
This balm dotcom has literally come everywhere with me for the last few weeks, and I really hope they decide to keep it on year-round.
Cara and The Sky Stevie cardigan
Chunky cardigans are the effortless, chic look of the AW season, and this Cara and The Sky knit is the easiest, laziest, most stylish way to make an outfit look put together.
The great thing about Cara and The Sky's British-made knitwear is that they're designed to stand the test of time, in both quality and trend. The sustainable slow-styling fashion brand offers unusual and eye-catching pieces that you can wear everyday with any outfit. As I write this, I'm actually wearing their Whitney dress – it's just the perfect time for these cosy chunky knits, so if you're thinking of investing in one, I highly recommend C&TS.
I've been throwing the Stevie cardigan over everything as the colder weather draws in. It's designed to be slightly oversized with a tactile diamond cable stitch down the front, and huge balloon sleeves that offer a gorgeous shape.
Primark vase
I'm a self-confessed homeware addict and I can't stop buying vases. My local Primark recently had a huge revamp and their homeware section has doubled, so there's now lots more choice and much more money to be spent on things I definitely don't need but, justify by saying I'll blog about it – alas, here's a vase I'm currently obsessed with.
It was either £6 or £8, but I'll guess £6 to make me feel less guilty about buying it. It very much reminds me of the H&M homeware range – you know, the ones that look like the laundry detergent bottles? That kind of vibe. I like the texture this piece adds to a room, with it's moulded shape and lustre finish. It looks fabulous with some dried autumnal blooms in it.
Daisy x Estée Lalonde Sunburst Signet Ring
I'd wanted a signet ring for the longest time, but hadn't found one to fall in love with until I came across this one from Daisy London. Timeless, elegant, with an almost vintage quality reminiscent of the 70s – this is one of those pieces that's barely left my finger since it arrived. It's become a real signature piece in my jewellery collection, and I wear it day in, day out.
It's a really lovely oval shape with stunning sunburst carving, which is really tactile and makes a statement, without overshadowing the pieces it's paired with.
Typology exfoliating cleansing gel
The Typology exfoliating cleansing gel is a really lovely 5% PHA exfoliator that uses soothing aloe vera and natural pre-biotics to help balance the skin.
This micro-exfoliant foams as it's massaged into the skin and helps unclog pores and smooth out the skin, and can be used both morning and night without your skin feeling like it's being stripped.
It's £17,50 so a mid-range skincare, coming from the sustainable Parisian brand Typology. It's perfect for people suffering with blackhead prone or dull skin, or those who have large visible pores.
I've been using this as part of my weekend skincare routines and found it to be really quite gentle for a chemical exfoliant, as well as smelling great thanks to the sweet orange essential oil.