When I think of winter, I think cosy log fires, hot chocolate and of course, a big chunky knit jumper – and if the same goes for you, then this is the perfect nail trend for your next manicure.
Last year, 3D cable knit nails emerged en-masse on the Instagram pages of nail gurus, and it's one that's returned this year with a bang.
Christmas manicures often see reds, greens, Christmas trees, stars or foliage, but as my birthday also falls in December, I like my nail art to feel festive without being too heavily themed around the yuletide season. Though, I've been tempted by a tortoise shell Christmas pudding before now.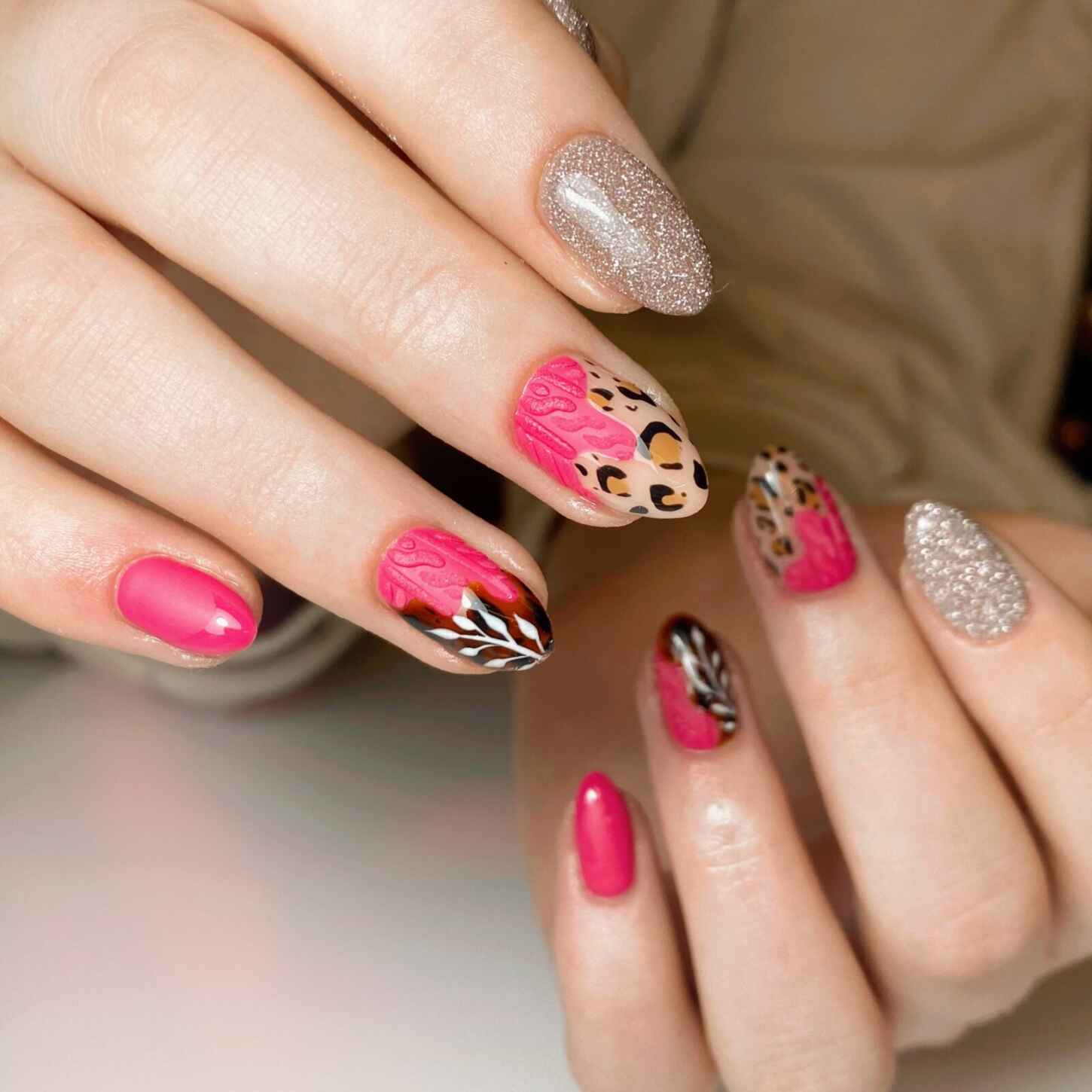 As usual, I'd spent weeks looking at various nail art designs ready for my December set, and found far too many that I loved – but most of them had the cable knit in common. So, I sent Leanne a tonne of mismatched ideas, and somehow, she still managed to pull together a cohesive design featuring everything I'd mentioned.
Leanne incorporated cable knit into six out of 10 of my nails, combining it with tortoise shell, leopard print, glitter and opal designs. She described the utterly bonkers design that definitely shouldn't have worked – but somehow did – as 'Beff in nail form'.
We used the Glossify shade Raspberry for the pink, and it was so intriguing to see how Leanne created the 3D cable knit effect. It was actually quite similar to the 3D seashell I had in August 2020, using gel paint and acrylic powder to offer a raised and textured finish. The cable knit has a matte finish, as does one of the nails with a glossy French tip, while the tortoise shell, leopard print, opals and glitters are all glossed, giving that contrast when it hits the light.
The flash glitters are absolutely mesmerising as they're ultra sparkly, making them the perfect choice for the festive season with New Year coming up, too.
This was such a bittersweet set for me, as it's the last one by Leanne as she moves into a new role in January where she will no longer be taking clients. It's been a total pleasure to have her as my nail tech for the last two and a half years – but I've been taken onto Nail Art by Chlo's books, and will be exploring bizarre and beautiful nail trends throughout 2022 with this talented gal!
Check out how Leanne put together this set here: