The Emma Bridgewater factory is one of my favourite places to visit in Stoke-on-Trent. On Hanley's Lichfield Street at the edge of the canal, it's the spot I always suggest for coffee with friends or afternoon tea with family, the spot I head to with a book so I can sit in the secret garden, and the spot where I always manage to pick up yet another mug that leaves my parents rolling their eyes at me.
But one thing I'd never done – and was desperate to do – was paint my own mug. I'd been saying it for years, and put it onto my 25 before 25 bucketlist to complete in 2022.
On my 24th birthday, I was surprised with a trip to my favourite factory with my parents and partner, Jake, for breakfast before being told we were also going to the decorating studio to paint a piece of Emma Bridgewater pottery.
My parents had paid for Jake and I to have the decorating breakfast at £24.95, which included anything from the breakfast menu, and a mug, plate or bowl to paint in the studio.
At 10am, we were seated in the stunning cafe adorned with biscuit-fired pots, with beautifully painted and glazed designs behind glass cabinets beyond the polka-dot aga. Mum, dad and Jake all opted for the full English breakfast, but I rather fancied cheese and sausage oatcakes with a cup of tea.
The history of this factory is fascinating. Originally opened by Charles Meakin in 1883, Lichfield Street was home to Eastwood Pottery, which was brought by Charles' brothers, James and George's, company in 1887. The factory had three biscuit and four glost ovens, designed with such a layout to save time in the labour process.
Emma Bridgewater launched in 1985 – over a century later – after Emma failed to find a birthday present for her mum.
Read more: A visit to Emma Bridgewater with Afternoon Tea
Now, around 230 people work at the city centre factory, with 64,000 personalised mugs flying out of the studio in 2017. They make 1.7million pieces of pottery produced annually, with each piece touched by 30 pairs of hands before it reaches the customer.
You don't need to check the backstamp on a piece of Emma Bridgewater pottery. The shape and design of each and every piece is a dead giveaway.
Read more: How to style a gluggle jug as a vase
Emma said: "We believe everyday kitchen china sits right at the heart of our lives, and that each cup, bowl, jug, and plate holds our personal stories, reflecting shared moments, enriching us as we eat and drink together. Each design starts as a deeply felt personal response to what we love in the world around us. But we only know we've hit the spot when you love it, too."
And the only way to make that experience even more personal is to paint your own piece of Emma Bridgewater mug. As we headed over to the decorating studio, I mentally planned a design in my head with what little time and resources I had to do so. With more time, this project would surely have had its own Pinterest board. You can also book onto a decorating session for £2.95 and pay for a pot on the day, with the booking fee being knocked off on the day.
We were shown to our decorating table and given a menu of available pots to paint, from egg cups to giant jugs and teapots. I went for the piece I'd surely get the most use out of – one of their iconic half pint mugs.
Each piece is made from clay sourced in Devon, Wales and Staffordshire which are cast, fired for seven hours at 950-degrees and hand painted by one of 50 decorators. And for just one day, I was able to channel my inner Phoebe Dynevor in The Colour Room.
Read more: The Colour Room – the brilliant biopic of Stoke-on-Trent ceramics trailblazer Clarice Cliff starring Phoebe Dynevor
A decorator introduced us to the various paints and sponges that we could use to create our design and we rather quickly got to work. Having looked at the glazed plate that showed what each colour would look like after firing, I settled on a pink and a reddish shade to create a leopard print pattern. In terms of stamps, there were dozens to choose from, with mum going for a giraffe, and Jake picking up a dog, bumblebee and flowers for his mug.
As I'm not overly confident in my sketching or painting, I picked up a circle stamp which I would be able to manipulate into a more organic shape for leopard spots.
There's much to remember when it comes to decorating, and it makes you appreciate the traditional skills and craftsmanship that goes into every piece of Emma Bridgewater pottery.
You shouldn't dip your sponge into the paint, but rather brush the paint onto the stamp, and print it onto the pottery with light pressure. You have to remember that light colours won't show up on top of dark, and the paints fire darker than they appear on the bisc pieces.
It took some time to get into the swing of things with the stamping, and when I was finished with my light spots, I went in with a paintbrush to add my darker leopard spots. I suppose the benefit with animal print is that it doesn't need to be precise.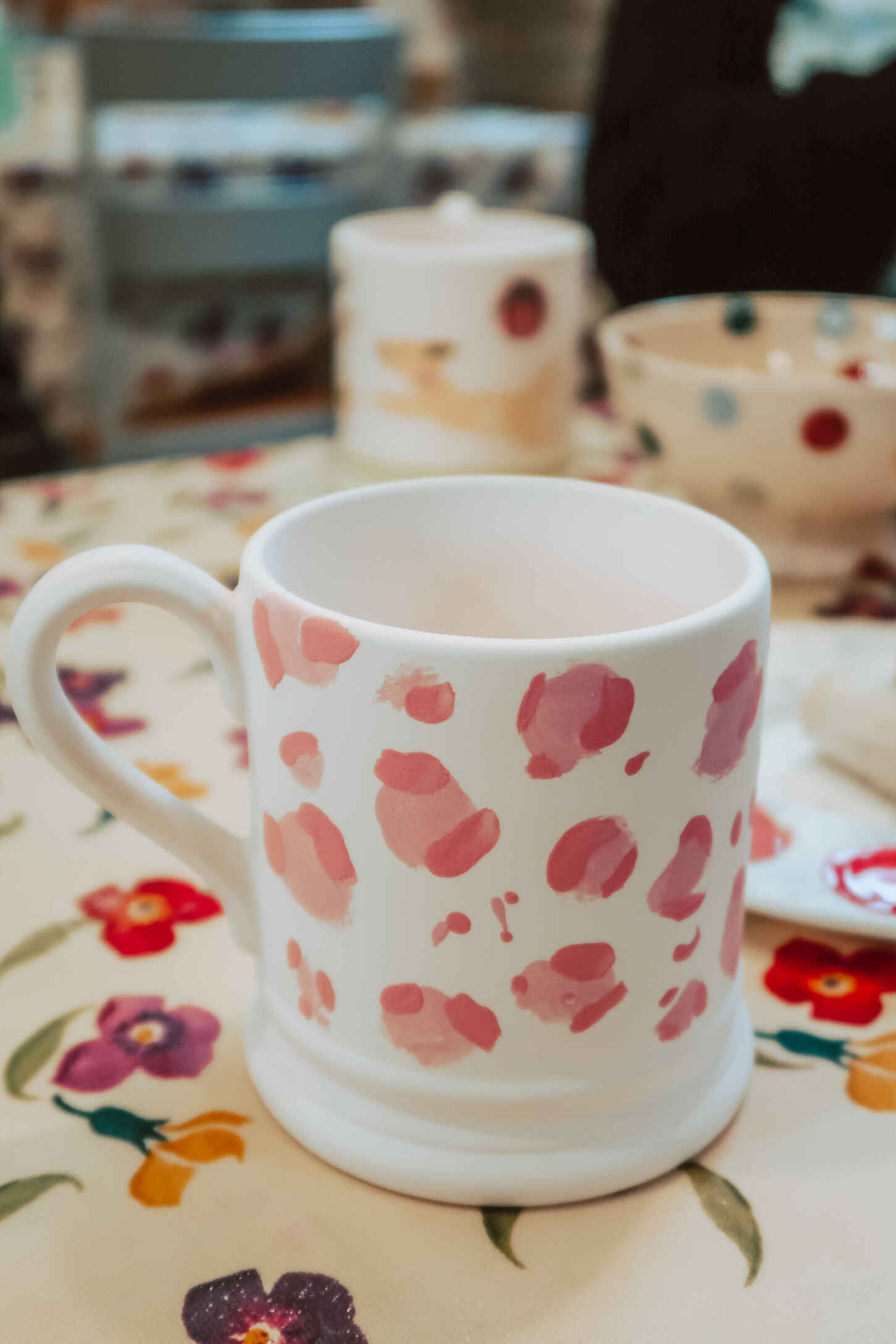 You get 90 minutes in the studio to complete your design, and we were done in plenty of time, so don't feel the need to rush your piece. We handed each of our mugs back to the counter for them to be glazed, fired and ready for collection within two weeks. If you don't live nearby, though, you can have your piece posted out to you for an additional £5.
After decorating, we visited the factory shop to scout out some bargains before venturing into the gift shop where I picked up one of the limited edition festive mugs. The Two Turtle Doves half pint mug is lithographed with 22 carat gold and appears to be part of the members collection – but you can shop it in-store. It's the perfect festive piece for a Christmas morning cuppa – but I've been using it every day since. With the decorating breakfast, you also get 10% off in the shop, so this cost £22.50 instead of £25.
It usually takes two weeks for pieces to be ready, but ours took slightly longer due to the factory being closed over Christmas, but I was able to collect them 16 days after they were made, which is a great turnaround. I was excited but also nervous to see how my design had turned out – as were mum and Jake. Our mugs had been bagged up for us ready to pick up. As we pulled them out to take a look, all three of us were thrilled with how the designs had turned out.
They designs are in no way perfect, but it's like when you bake your own brownies – the beauty is in the homemade element of it. There are brushstrokes visible and places where I could have gone darker with the light pink glaze, but overall I'm really chuffed with how it turned out, and I would absolutely head back again to paint some more pieces.