Mamma Mia is a jukebox musical seen by more than 65 million people in over 450 cities and I feel so lucky to be one of them. Written by Catherine Johnson, the musical is based on the songs of Swedish pop group and Eurovision sensations ABBA.
Benny Andersson and Bjorn Ulvaeus, of the band, were involved in the development of the show, which debuted at the Prince Edward Theatre 23 years ago, in April 1999. And now, it's at The Regent Theatre, in Stoke-on-Trent, until May 21.
First things first, which may or may not influence this review: I bloody love ABBA. Like, really love ABBA. Secondly, Mamma Mia is my go-to movie when I'm feeling a little bit down, and the soundtrack makes up one of my favourite treadmill workouts. To say I was excited to finally see the musical was a complete understatement.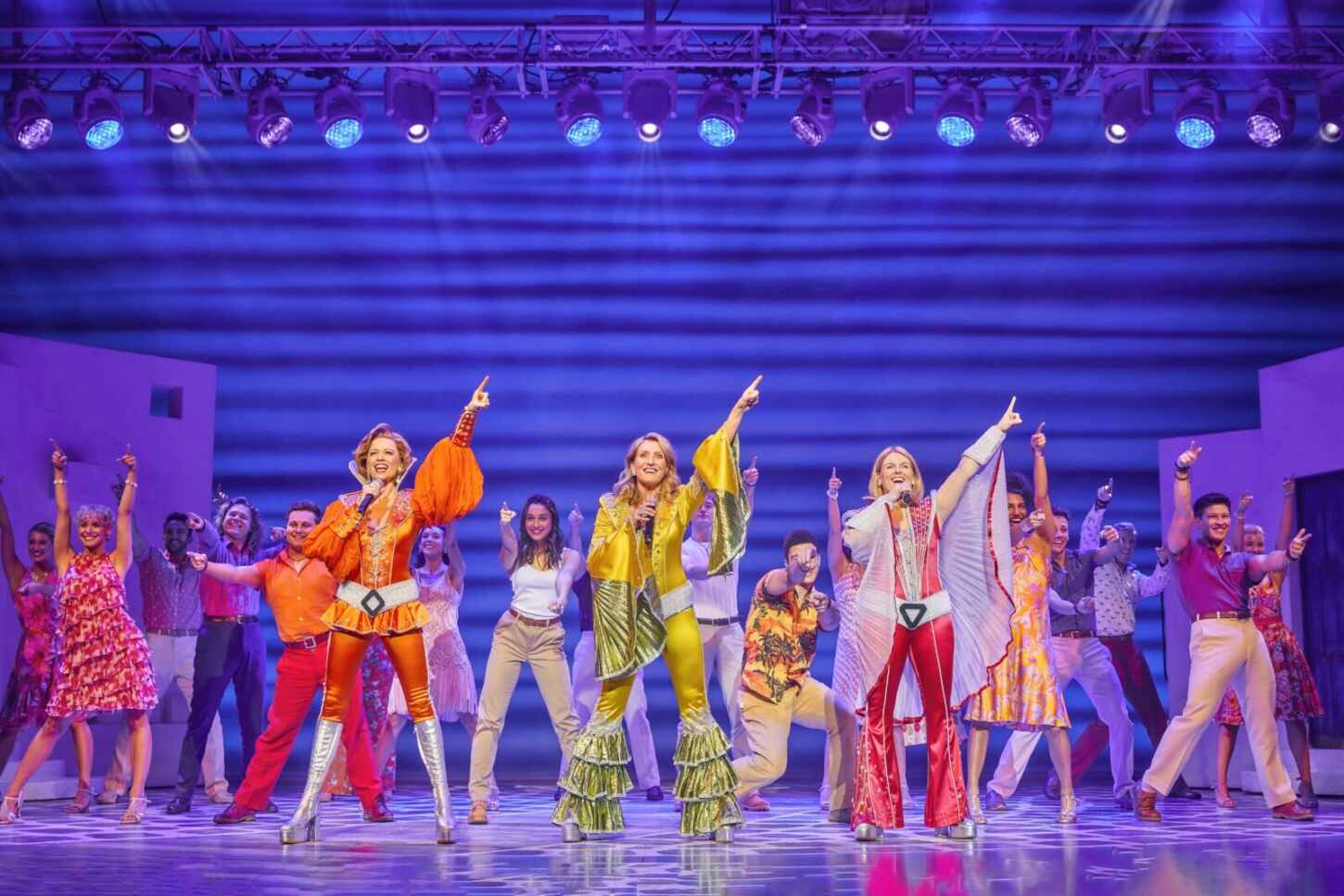 For those who haven't seen the 2008 hit film starring Meryl Streep, Colin Firth and Amanda Seyfried, the story whisks you off to a small Greek island where Donna raised her daughter, Sophie – now 20 – and built a business independently.
Sophie, played on stage by the affable Jena Pandya, is set to marry her partner, Sky, but wants her father to walk her down the aisle to give her away. The only problem is, it's a mystery whether it's Sam, Bill or Harry, as discovered after reading her mother's diary from the year she was pregnant.
The production opens with Sophie sending out three wedding invitations – one to each – in the hopes she'll know her dad when she sees him. The three potential pops are tricked into attending the wedding – which is where much of the chaos ensues.
Our leading lady, Jena, has the shortest theatre credits in comparison to the rest of the cast – but her performance was phenomenal. Her vocals are powerful and her bubbly personality is infectious.
She joins her best friends Ali and Lisa, played by Jasmine Shen and Mariella Mazzilli for a rendition of Honey, Honey and the audience instantly knew they were in for a night of non-stop joy. I was beaming from ear to ear throughout – between lip-syncing to the 22 ABBA hits throughout the show, from Dancing Queen and Super Trouper to Money, Money, Money and The Winner Takes It All.
Almost a mirror image 20 years their senior is Donna and the Dynamos. Donna, Sophie's mum, is played brilliantly by Sara Poyzer – so much so she could give Meryl Streep a run for her money. Her vocals and range are jaw-dropping and the emotions were well and truly felt as she belted out The Winner Takes It All. She really brought the character to life, with the help of Nicky Swift and Helen Anker as Rosie and Tanya, both fantastically cast with equal parts humour and sass.
The trio formerly known as Donna and the Dynamos are blessed with the best wardrobe, with huge platform boots, seventies jumpsuits, feather boas and glitter. And Tanya's style saw her eyed up by some of the younger cast members, namely Sky's friend and audience favourite Pepper (James Willoughby Moore).
The duo were able to steal the limelight for Does Your Mother Know That Your Out, providing some eye-popping comedic moments and an opportunity for Helen and James to show off some moves.
Sophie's potential father's were portrayed by Richard Standing (Sam), Phil Corbitt (Bill) and Daniel Crowder (Harry) and brought real humour as they all tripped over each other in their adoration for Donna, and the notion that Sophie is, or could be, their daughter. The three of them all really owned their distinct could-be dad roles, each developing a different bond with Sophie, meanwhile exercising effortless vocals.
The set was fairly simple but very well executed, using just two pieces of taverna to create endless pockets of the island with a number of props. The intelligent use of lighting and 'freeze frames' really immerse the audience in the story.
A special mention must go to the scenes that were real highlights for me, including Lay All Your Love On Me where Sophie and Sky are talking on the beach. Toby Miles is another fantastic casting who brings a boyish charm to the role, while Sky's chemistry with Sophie on set is wonderful to watch until he is whisked away by wet-suited stags in flippers.
Gimme Gimme Gimme and Voulez-Vous provided star-quality choreography that brought chaos to the stage and really emulated the emotions Sophie was feeling as she frantically attempted to find out who her father was, and in turn, discover herself.
Mamma Mia serves audiences empowering leading women that are extremely relatable. Benny and Bjorn's writing for women and about strong female characters is simply fantastic and there's no wonder this feel-good yet heartfelt musical is such a joyous and sunny smash hit.
Mamma Mia the Musical was everything I wanted and more, and I only hope Mamma Mia Here We Go Again is translated into a stage production, too. The show is energetic, fun, hilarious, touching and totally timeless, full of ABBA's greatest hits you can't help but dance along to.
Mamma Mia is at the Regent Theatre until Saturday, May 21, with tickets from £18. To book call the box office on 0844 871 7615 or book via the website.
Read more theatre reviews: