British beauty icon Liz Earle have launched their second new product of the year, following the success of their Transforming Gel Cleanser in February. The skincare brand launched the Liz Earle Superskin Microdermabrasion Polish at the end of March, and it's already proving to be a hit at it racks up a string of five star reviews online.
Coming in an olive green bottle priced at £30, the 3-in-1 chemical exfoliation polish has a unique exfoliating formulation that uses both chemical and physical exfoliators. It uses natural Alpha Hydroxy Acid (AHAs) combined with superfine natural pumice to refine skin texture by gently remove dulling surface debris to reveal noticeably brighter, smoother skin and stimulates cell renewal for improved suppleness.
AHAs are a fruit enzyme which dissolves skin-dulling particles in as little as five minutes, offering a gentle chemical exfoliation, which sounds scarier than it actually is. Meanwhile the volcanic pumice works as a physical scrub to buff away cells like a traditional exfoliator, and only needs to be lightly massaged on the skin's surface to effectively deliver salon-quality results.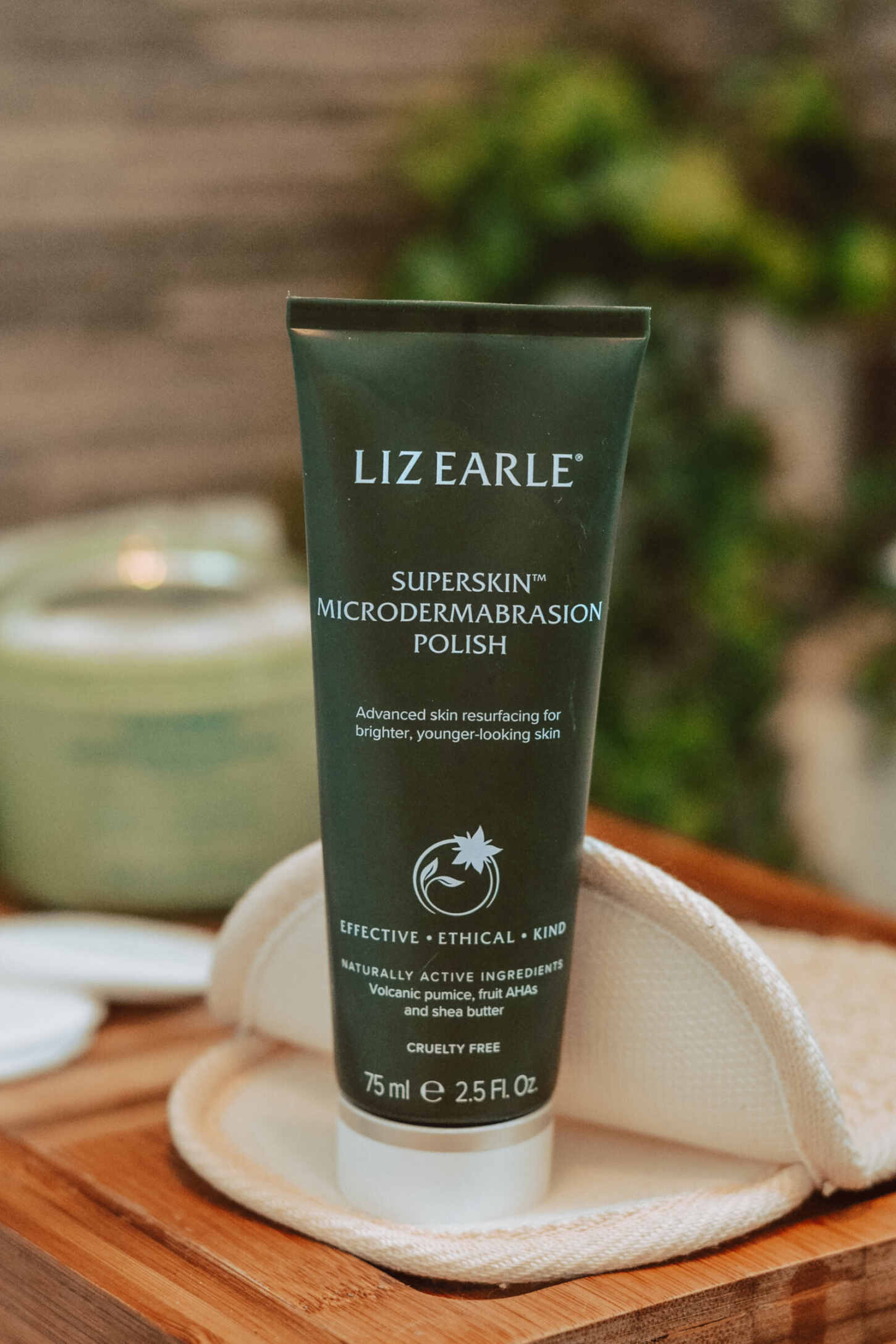 At a salon, microdermabrasion treatments offer a deep, physical exfoliation treatment that costs around £75-£150 per session, so to have a tube to use yourself at home for £30 saves not only time, but money too.
The goal of microdermabrasion is to make the complexion smoother, brighter and more even in colour, and the Liz Earle product offers those results in less than 10 minutes with it's creamy exfoliant that's enriched with shea butter and rosehip oil. Shea butter is renowned for its excellent emollient properties and ability to help support the skin's moisture barrier, while rosehip oil is famous for its moisturising properties. It's also rich in essential fatty acids and helps support the skin barrier, while improving moisture retention for plumper looking skin.
The product doesn't have the same fragrance as the cult-classic Cleanse and Polish, but is fragranced with neroli for a spa-like experience from the comfort of your own bathroom. After using it for a few weeks, my skin felt brighter with fewer breakouts and congestion around my nose where I suffer with a lot of blackheads. My skintone felt more even, and is one of those products you just can't wait to use again week after week. I tend to use this once a week after cleansing, following it up with a toner and making sure to apply SPF.
Liz Earle said: "This product contains an Alpha Hydroxy Acid (AHA) that may increase your skin's sensitivity to the sun. Use a sunscreen, wear protective clothing and limit sun exposure during usage of the product and for a week after use of the product has stopped. Avoid contact with the eyes. If the product gets into eyes, rinse with water."
Other skin concerns that the product targets include fine lines, age spots and pigmentation.
You can try the Liz Earle Superskin Microdermabraision Polish here, and remember that Liz Earle offer a 60 day return policy which allows you to fully test their products – but I already know you'll love it.
Read more about Liz Earle here: