Given the option to go out for breakfast, lunch or dinner – I'll pick brunch every single time. But it's quite difficult to find venues now serving anything other than smashed avocado on toast, or a variation of waffles and pancakes before 2pm.
In the increasingly vibrant market town of Congleton, in Cheshire, Higher Ground Cafe Bar is one of the new kids on the block, joined by the likes of newly opened The Losers Club, and Black Circle Coffee, which opened in April.
Located just off Bridge Street, Higher Ground officially opened in March 2022, and has fast become a haven for foodies looking for something to spice up their brunch date.
Outside, the important looking building looks refreshed from its former days as a Royal Bank of Scotland, with tables and chairs laid out in the terrace for those looking to soak up the sun with a coffee. Inside, the decor is a calming yet striking combination of burnt orange, navy and teal, with tan leather accents, a mix of Minton tiles and deep wooden flooring, house plants and contemporary wall art.
Downstairs the tables were almost full, so Jake and I opted to sit upstairs on two comfortable lounge sofas at a low table, which overlooked the high street. The inviting and cosy space offers a relaxed environment, and ordering at the bar meant we had plenty of time to peruse the menu.
Jake's brunch go-to is always the closest thing to a full English, and Higher Ground has both meat and vegan fry ups available. Naturally, he went for the Beartown Fry Up for £12, which featured an old English sausage, three rashers of bacon, a fried egg, mushrooms, house beans, tomato, hash brown and sourdough toast, adding fried bread for an additional £1.50.
The herby sausage was really tasty and the amount of bacon was pretty generous; the egg was runny, yet crisp on the bottom, but it was the hash brown that Jake couldn't stop talking about. Less a fritter and more a loaf, the fried treat saw thin layers of potato stacked over an inch thick and was extremely tasty with a satisfying crunch.
To drink, Jake had a cuppa served in locally made Steelite crockery, and an orange juice, while I went for a lemon San Pellegrino.
Personally I was extremely tempted by the cinnamon french toast, but went instead for the Turkish eggs – something I've never tried before. The £9 dish features two poached eggs with whipped garlic yoghurt, burnt Sriracha butter and artisan bread which is baked in Manchester. I added chorizo for £2.50, and it was one of the best midday meals I've ever had.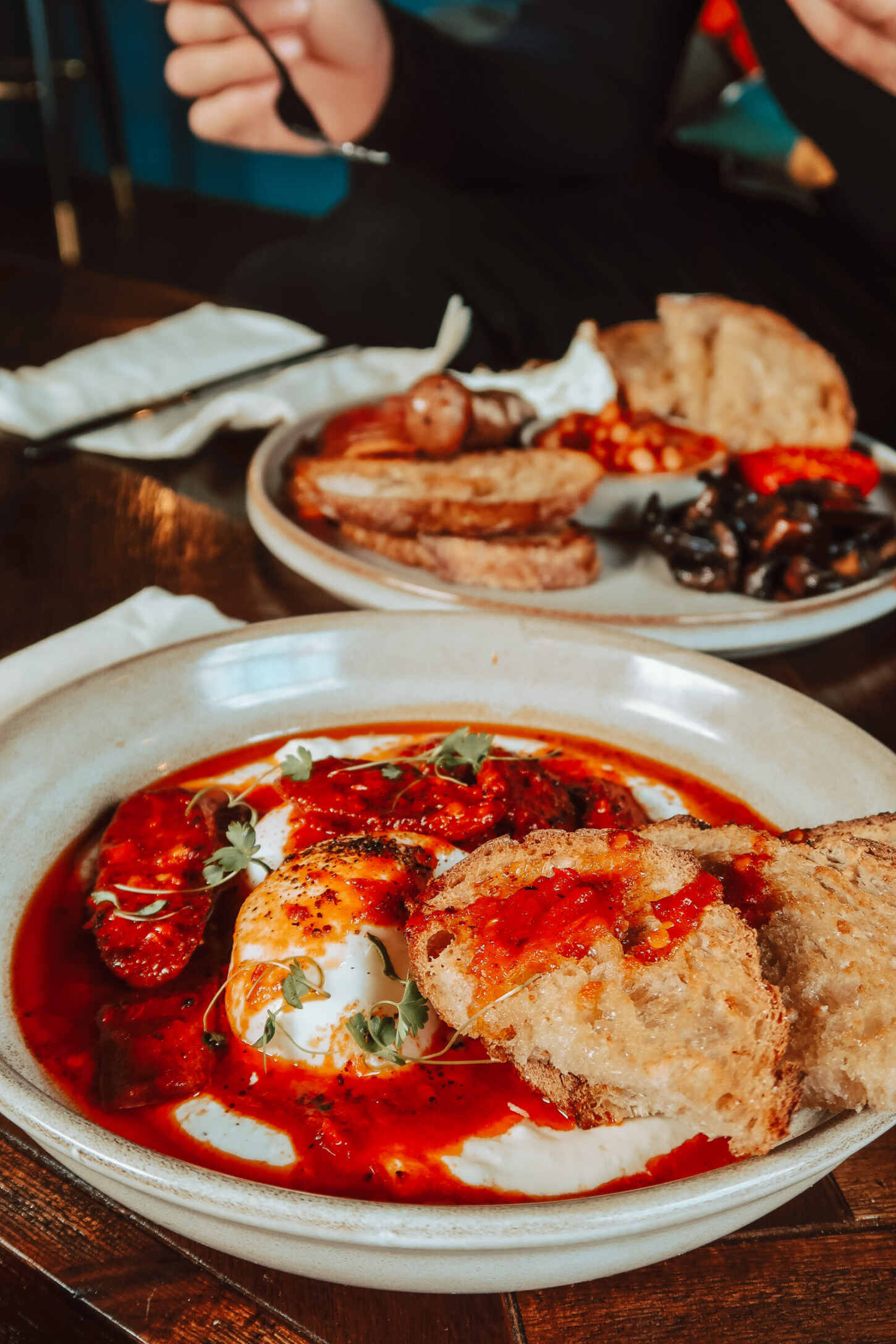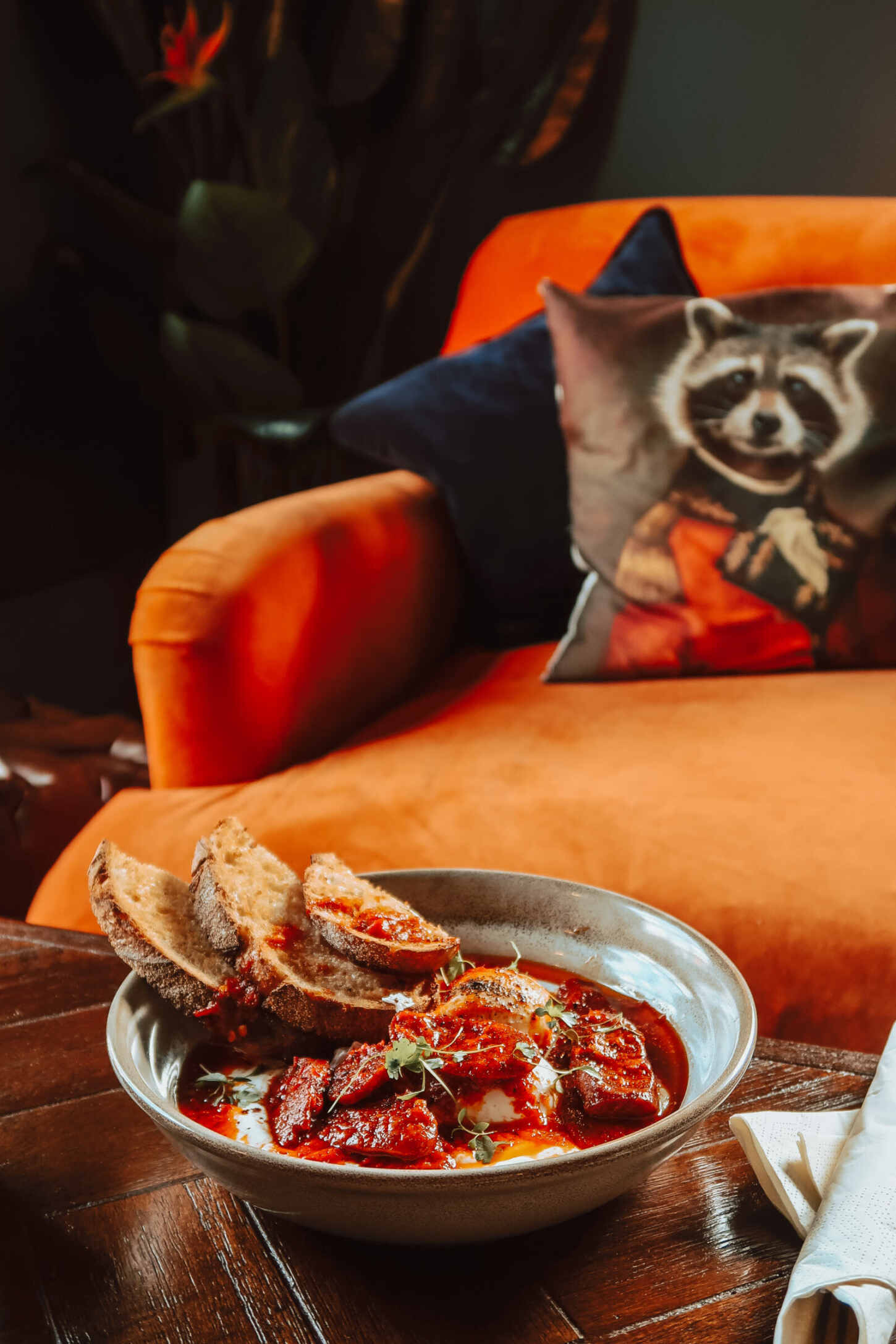 The presentation on both meals was stunning, and I couldn't wait to get stuck into my spicy eggs, smothering the sourdough in the buttery, yoghurt dressing and dunking it in the runny egg yolk. The dish was fiery, packed a real punch but wasn't too spicy for me – someone who typically orders a tikka – thanks to the cooling garlic yoghurt.
Another irk I have with a lot of brunch spots is that the majority of the menu is small plates, or the portions are small in general – but that's not the case at Higher Ground, where I couldn't have eaten another bite despite my lack of trying.
The atmosphere was luxurious but not pretentious, with diners feeling both right at home, and indulgent at the same time. Service was pretty quick and the staff were friendly, with reasonable prices for the portion sizes, in line with similar eateries in the town. I can't wait to head back to try out the evening mezze menu and cocktails over the summer.
Read more: