From zero-waste lifestyle stores to boho boutiques – when you've had your pasty and Cornish ice cream, Newquay's high street stretches the length of the town, and is the perfect place to pick up gifts, or treat yourself to something new.
Fore Street, Bank Street and Central Square – not forgetting Fistral beach – are packed with indie small businesses, where you can pick up quality, handmade or thoughtfully selected products that fit in with the laidback lifestyle synonymous with Newquay.
Shopping in the seaside town is a must, but there are a handful of shops you simply shouldn't skip during your trip. Whether you're looking to pick up a new outfit, a new accessory for your room or a souvenir from your holiday, these are eight shops you have to visit in Newquay:
Bon Bon Fistral
Located at the top of Fistral beach, this sustainable boho boutique is a must-visit. Each time I visit Cornwall I'm so excited to go to Bon Bon, and I come away with something every time, whether it's a handmade leather organiser or a new throw for the office.
The store is beautifully laid out, sticking a selection of conscious fashion, homeware made from recycled materials like coasters made from plastic found in the ocean. Being right on the beach front, these kinds of products are so thoughtfully sourced.
This year, I bought a candlestick and holder, a pair of earrings, a plant self-watering system and a gorgeously scented hand sanitiser. The staff were super friendly and made the shopping experience feel really relaxed – but if you can't get down to the South coast any time soon, you can shop Bon Bon online, too!
Watershed
If you want to achieve that effortless surfer look to fit in with the locals, head to Watershed. The independent surf and lifestyle brand has had its flagship store in Newquay for a decade, and sells a selection of menswear and women's clothing, as well as mugs, prints, sunglasses and hats. To look like you live down by the sea, I recommend a beanie and a Watershed branded tee.
The store also sells surfboards and wetsuits, and for those heading back to uni or collage, they've got an awesome collection of backpacks. Watershed also sell online, you can find their site here.
Married to the Sea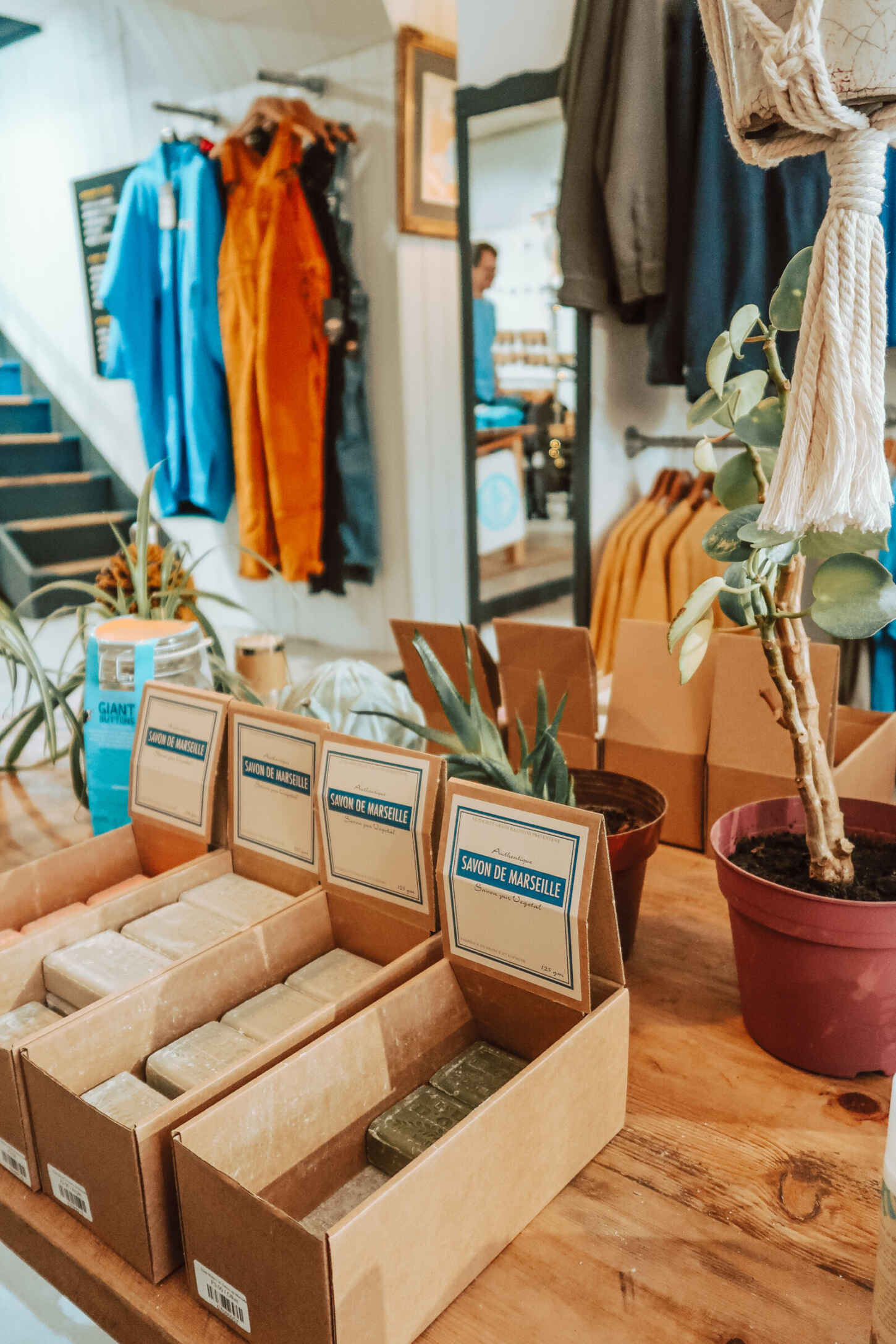 Another great surf-themed fashion and lifestyle store is Married to the Sea, which is inspired by the Cornish community. Married to the Sea sell a selection of surf brands, as well as their own nautically-branded tees and prints which feature divers and anchors that would make great tattoos.
Check out their selection of vintage from The Salvage Yard, or upgrade your look with a Wrangler denim jacket. Married to the Sea is also somewhere you can pick up a quirky independent birthday card, and gifts like soaps, badges, chocolates and plant pots.
I C Clothing
Located on Central Square, I C Clothing has an eye for knowing what the next big trends will be. This summer, I spotted oversized shackets, emerald rain macs and gorgeous knitwear ready for the colder months creeping in.
The store is split into fashion for men and women, with brands such as Bellfield, Native Youth, Cuckoos Nest, Closet, Guide London, Madam Rage, and Darling on the rails.
If you've packed lightly for your holiday and need a new outfit to hit the bars in,
I C Clothing
is where you'll find it.
Razzmatazz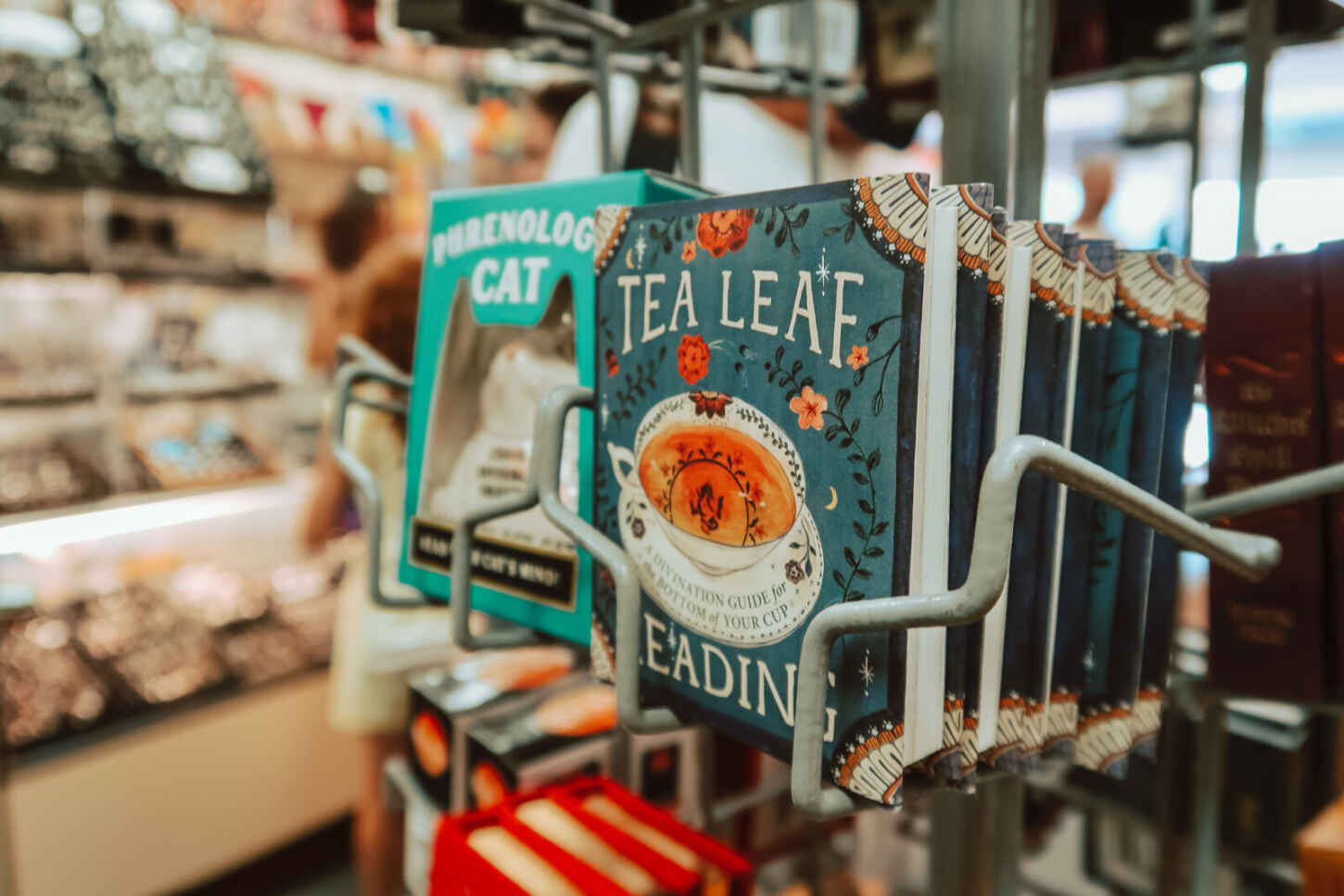 For those into spiritual practices, Razzmatazz will kit you out with tarot cards, crystals, incense and anything else you might need to complete your spell jar or sage your home. It's so enticing, you can't help but have a peek inside, where they also stock clothing, accessories and gifts from around the world.
Their sister store, Harmony, on Bank Street, is on the other end of the aesthetic spectrum, stocking shabby chic homeware and adorable Beatrix Potter gifts.
Coastal Flowers
Coastal Flowers is a florist and gift shop just opposite The Fort Inn, near the harbour. It's the ideal place to pick up a bunch of flowers for a special occasion, but I love it for its live plants and ceramic pots, as well as books on plant and botanical care. They also sell vases, misters, reed diffusers and things like keyrings, notebooks and cotton throws.
MMW at Revolver
MMW at Revolver is a great place to grab an Instagram snap with it's Arizona dessert vibes on the doorstep. their motto is 'On land, at sea and everything in between'. They stock luxury accessories, clothing and homeware, including hand dyed indigo scarves and stunning Native American blankets.
The store is slightly higher up Fore Street, so keep heading past The Fort Inn towards Fistral to find it, but it's well worth popping into this hidden gem and seeing what takes your fancy. I've got a fabulous cactus vase that I bought from there a few years back.
The Good Lyfe
Brands stocked at The Good Lyfe are all from small, local or independent, offering shoppers a selection of zero waste, plastic free and ethical products. The waste-free grocery store sells over 180 refillable items, from UK chia seeds to laundry detergent.
The sell bamboo brushes and coconut scrub pads, as well as brass bookmarks, toothpaste tablets and natural deodorants.
Their after-sun balm is such a good buy if you've accidentally caught the sun, and they also sell pet shampoo bars if you need to bath your pooch after the beach.
Northshore Girls
Established in 1980, Northshore Girls is a surf shop located on Fore Street, Newquay selling all the latest surf, skate and high-street fashion. It has a brother-store along the same stretch, offering mens and unisex wares, too – but of course, this one's my favourite.
If you're looking for a new bikini to wear to the beach, sandals for walking around town, or a new summer dress to add to your wardrobe, Northshore have you covered. They also sell the comfiest cosy joggers and some seriously cute accessories. What's not to love?