AD – this post contains press samples – all views are my own
With just 12 weeks until Christmas, the countdown is well and truly on! And if you're thinking about getting yourself – or a loved one – a non-traditional advent calendar, you'll want to grab it soon as they're already flying off the shelves.
Beauty advent calendars have grown in popularity a lot in the last few years, and one that shoppers sell out every year is the Lush Advent Calendar.
Here's everything you need to know about the 2022 Lush Advent Calendar, including release date, prices, design and products!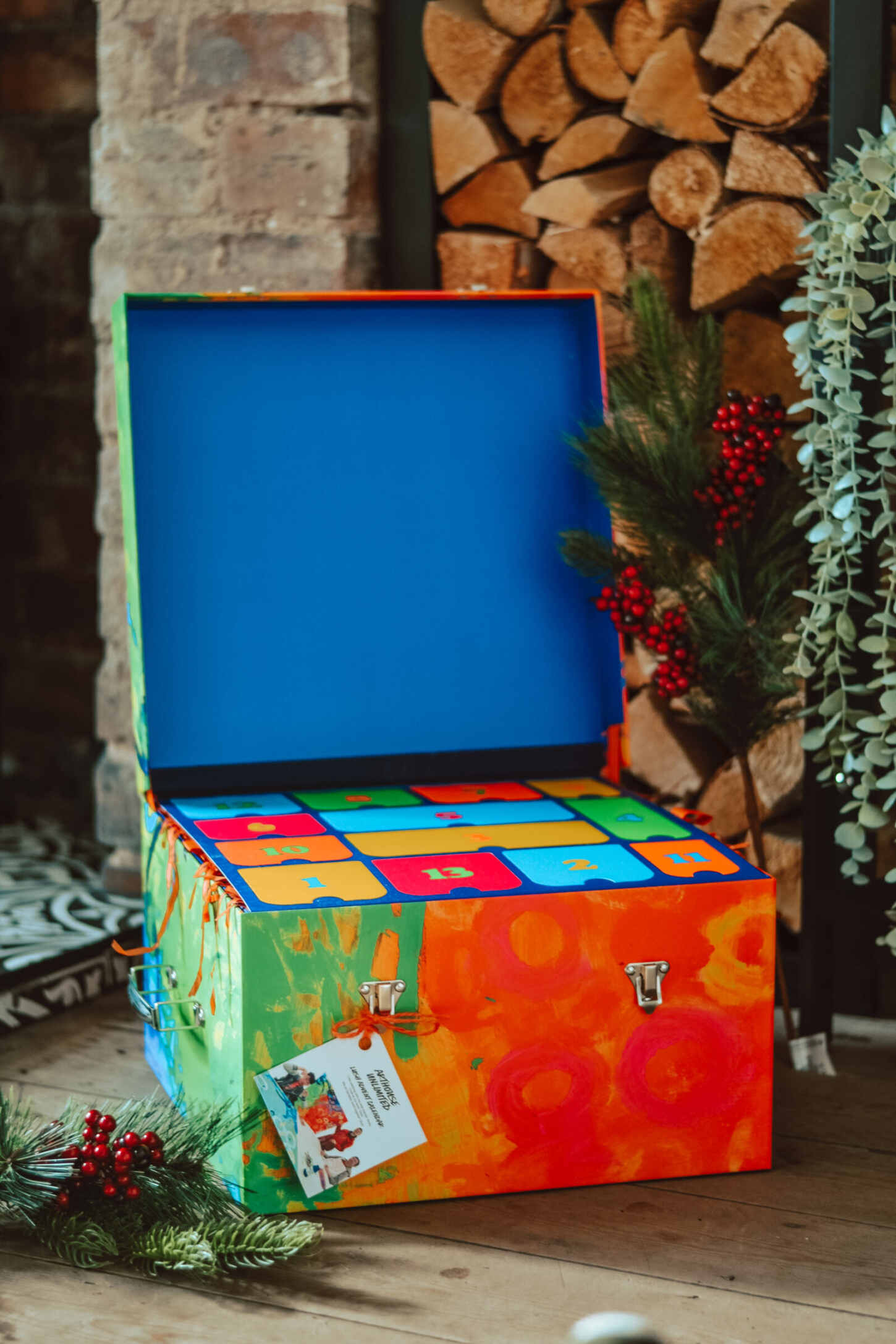 When is the Lush Advent Calendar released?
In previous years, Lush offered bath and beauty buffs a 12-day advent calendar which featured 12 of the brands iconic bath bombs and skincare favourites, but there was certainly high demand for a bigger, even more luxurious calendar.
Their first 24-day calendar launched in 2019, and has proven popular both in store and online in the run up to December. This year, they've launched a 25-day calendar that will take fans right up to Christmas day, featuring a range of joyous products behind every door for the ultimate Christmas countdown.
Having launched online in August and in store on September 21, Lush customers have already had a couple of weeks to get their hands on one – myself included. And I'm going to share below every single item included in the calendar this year (so if you don't want any spoilers, you might want to look away now).
Lush Advent Calendar 2022 design
This winter, the Lush Advent Calendar 2022 comes in a limited edition box designed by ARTHOUSE Unlimited. It's Lush's seventh year working with the charity, which presents artistic talents of adults living with complex neuro-diverse and physical support needs.
It's got two toggle latches that keep it secure, as well as two metal handles either side to make it easier to carry. The reusable gift box is made from recycled paper board and the ribbon is made from recycled plastic bottles, in keeping with Lush's sustainable ethos.
Designed like a two-tier chocolate box, it's packed to the brim with Lush goodies that can keep you going well past Christmas and beyond the New Year.
Suzie Hackey, Lush's Gifts Creative, said: "We love to create packaging that can have a life long after it has been gifted and our Advent Calendar is no exception. This handmade box has been designed with reuse in mind, not only creating a beautiful keepsake that can be used throughout the whole year but a box that could be re-gifted for another present or occasion."
The design very much reminds me of the bath art that can be created with the brand's colourful bath bombs, and while it may not be particularly festive, it does mean it'll look fabulous in your bathroom all year round, since it's perfect for storing all your Lush goodies.
There are 13 windows on the top tier, and a further 12 underneath, accessible by two orange recycled bottle tabs that allow you to lift up the tab. The cardboard doors have a small finger-sized tab that push in, allowing you to lift up the door to reveal a mass of orange shredded tissue paper that further disguises the products behind. It feels pretty nostalgic, a bit like those lucky dips at the fayre, feeling around for a bottle, tub or naked product before the big reveal.
How much does it cost?
This year, the Advent Calendar costs £185. It's a pretty big price tag, however, I have sat and done the maths and the products inside the box do total up to around that figure. Not only that, but it includes some retro products from Lush Christmas past and two products that are exclusively available in the Lush Advent Calendar. This means the calendar is your only chance to get your hands on these self-care Sunday saviours.
What's inside?
All of the products in the Lush Advent Calendar are vegan, and range from their iconic bath bombs – of which they sell around 14 million a year – as well as bubble bars, fragrance, skincare, soaps, shampoo and shower gels. Not forgetting those retro and gift exclusive goodies, of course.
It also sees some new and returning fragrances, such as Hot Toddy and the extremely well-loved Snow Fairy. The cult fragrance has been a fan-fave for 16 years now, and to celebrate Lush have launched 16 products and gifts featuring the fragrance – some of which can be found in the calendar.
Here's every single product included in the Lush Advent Calendar 2022 – in no particular order
Golden Pudding bath bomb

Turmeric Latte perfume 15ml

Gingerbread House bubble bar (Retro product, exclusive to gift)

Hot Toddy shower gel 115g

Christmas Party bath bomb (Retro product, exclusive to gift)

Ice Rainbow bubble bar (Exclusive to gift)

Christmas Eve soap (Exclusive to gift)

Golden Wonder soap 85g

Elf Shake shower gel 120g

Golden Angel bubble bar 120g

Salted Caramel lip scrub

Moon Bath bath bomb

Magical Santa bath bomb

Party Popper bubble bar

Candy Cane reusable bubble bar

Gift Horse bath bomb

Sleepy body lotion 50g

Sweet Wild Orange hand balm 50g

Montalbano shampoo bar

Rainbow bubble bar

Orange shower scrub 130g

Snow Fairy shower gel 100g

Sweet Pudding bath bomb

Crystal Snow bath bomb

Golden Pear soap 150g
My thoughts on the Lush Advent Calendar for 2022
I absolutely love the Lush Advent Calendar design for Christmas 2022, and think it really aligns with Lush's values of curating a culture of kindness, giving and community. Not only does it serve as a reminder to take care of yourself, it can also encourage gifting, promoting self-care to loved ones, while being gentle on the planet.
I'm most excited to try some of the Lush products I've never used before, such as the Turmeric Latte fragrance and the Salted Caramel lip scrub, but equally, I'm buzzing to restock up on some old favourites, like Snow Fairy shower gel, Sleepy body lotion and the Candy Cane reusable bubble bar. Plus, I'm nearly at the end of my Montalbano shampoo bar, which I got in July, so it's come at just the right time!
While £185 might seem like a lot of money to spend on an Advent Calendar, it's worth working out how much you'd spend across the year on bath and beauty products, and see if its worth the splurge. While some of the products are single-use, others can last several baths, meaning some of these could see you all the way through until next Christnas.
Bright, vibrant and fun, it's a gift that really says 'don't ever dull your sparkle', and that's why I'm super excited to get stuck into discovering what's behind each window of the fantastically designed dual-layered box.
December will be here before you know it, so be sure to get your hands on the Lush Advent Calendar for 2022 now before it sells out.