A white 70s suit, reflective mirrorballs, light up dance floors and the sound of the Bee Gees – it can only be the glittering stage production of Saturday Night Fever. And boy does it dazzle.
A homage to the 1977 film of the same name, which shot John Travolta to stardom, the stage production brings more drama, more music, and more disco dance moves that'll have you grooving in your seats and all the way home.
The red curtain opens to the sound of Stayin Alive, played on stage by a phenomenal live band visible throughout the show, and sung by three magnificent gold-glittering Bee Gees. On stage, Italian-American teen Tony Manero, played by Jack Wilcox, struts his stuff front and centre of the expertly choreographed routine. It's clear he's the man of the hour, carrying himself with confidence and surety. He steps perfectly into the platformed shoes of Travolta, but makes the character completely his own, too.
Above him, AJ Jenks, Drew Ferry and Oliver Thomson become Gibb brothers, who went on to be prominent performers of the disco music era in the mid-to-late seventies under the name The Bee Gees. While Jack may have been the star of the hit jukebox musical, he certainly couldn't have done it without this pitch perfect trio performing songs from the bestselling movie soundtrack, including How Deep Is Your Love, Night Fever, Tragedy and More Than a Woman, as well as 70s favourites Boogie Shoes and Disco Inferno.
For those who aren't familiar with the film, it follows the story of Tony Manero as he bumps, grinds, pops and thrusts his way on a reckless yet thrilling road to dancing success. Set in Brooklyn, he must navigate his dead-end job, tricky family relationships, friendships and his love for dancing on a Saturday night at the discotheque.
Producer and director Bill Kenwright has done a fantastic job of translating the film for the stage. Although overall a feelgood crowd-pleaser, it also touches on some dark and unsettling themes, including misogyny, drugs, rape, gang violence and suicide. Each one is kept brief in an attempt to accurately portray the story, while protecting the upbeat energy of the production.
The choreography from Bill Deamer is electrifying. From Disco Inferno to Stayin Alive, everything was so clean, smooth and oh-so seventies. Anyone who's had a night out in Hanley's Reflex will recognise the light up dance floor, though I'm not quite sure that the moves busted in there on a Saturday night would be quite as good as Bill's stunningly synchronised numbers. Combined with such an infectious soundtrack, it's tricky to stay in your seats when you want to join in with the finger guns and hip shaking – but it is certainly best to leave that to the pros. Wilcox and Rebekah Bryant – who plays dance partner Stephanie Mangano – also perform some stunning duo work which would have received 10/10 in the Strictly Come Dancing ballroom.
Some numbers saw the cast take over from the Bee Gees and perform the disco tracks in a musical theatre style. Particularly moving was Annette's rendition of If I Can't Have You, and Bobby C's Tragedy, the cast proving they're a team of triple threat performers who can act, dance and sing to a sky high standard.
Rebekah makes a fantastic Stephanie, and opposite Wilcox, they could be Dirty Dancing's Johnny and Baby, or, to play on the Travolta trope, Grease's Danny and Sandy. They've got such fantastic chemistry on stage and their passion for performance doesn't tire for a single moment on the dancefloor. Bryant excels as a dancer, with fluidity and poise, with not a single wrong foot the entire evening.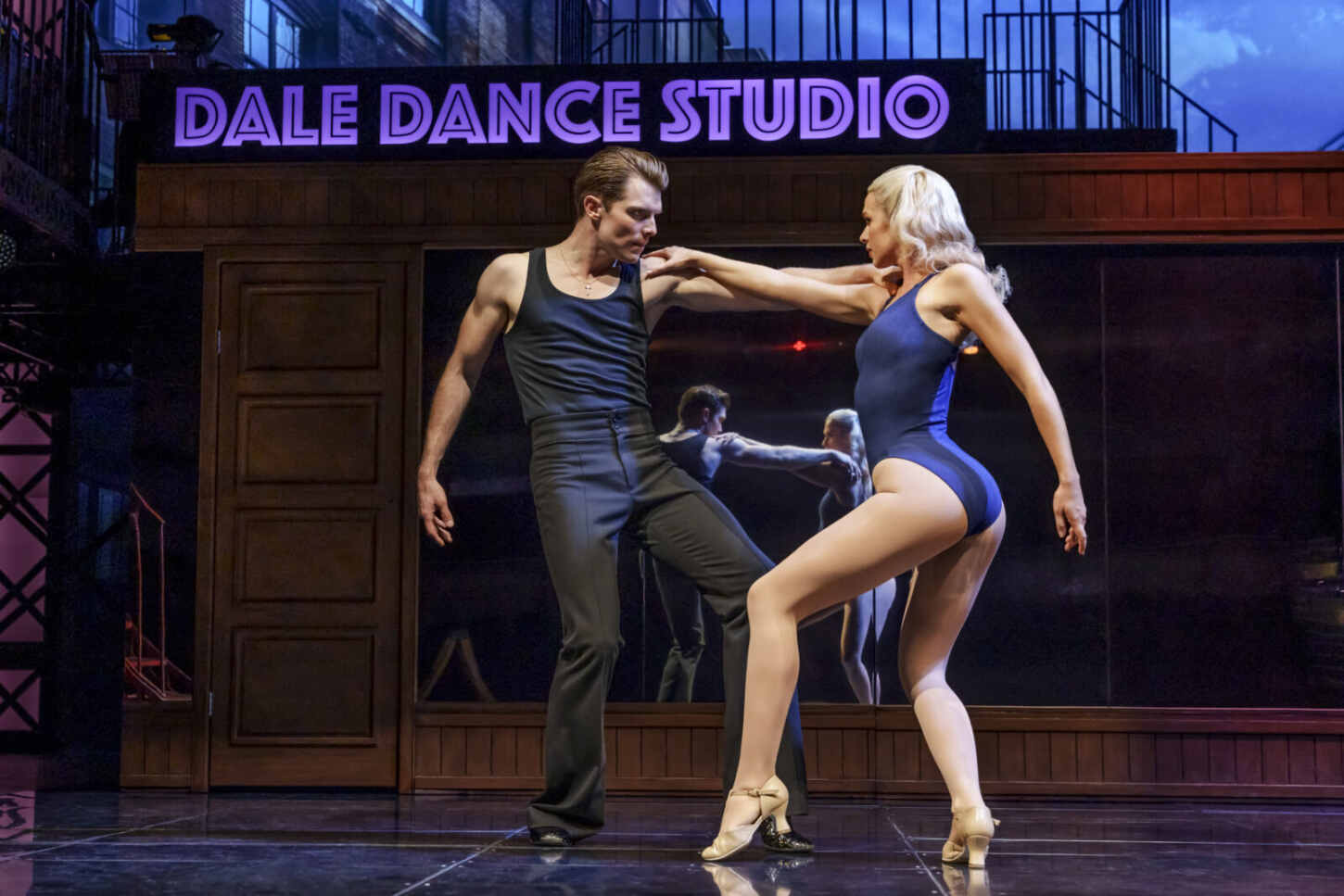 Wilcox woos the audience throughout the show, particularly when changing his wardrobe of smart, dagger collared shirts. He played a convincing and charming part, and his high jumps were seriously impressive.
If you don't have any plans this week, 'You Should Be Dancing' at The Regent Theatre, Stoke-on-Trent as Saturday Night Fever takes over the dancefloor. The dazzling production will have you strapping on your Boogie Shoes and dancing well past curtain call. The show runs until Saturday, October 29 with tickets available from as little as £13.
Read more theatre reviews from The Regent Theatre here: