October isn't complete without a seasonal coffee shop obsession, a new knitwear purchase and an annual trip to the pumpkin patch. This year, my selections have been salted maple and caramel frappuccino from Starbucks, a cosy lambswool sweater from Uniqlo and a visit to Pye Ash Farm to pick up a terrifyingly gourd pumpkin haul.
Owned by the Gilman family for almost a century, now run by James Gilman, Pye Ash Farm is located just off the A523 in Bosley, Cheshire – around 30 minutes from Stoke-on-Trent, and 10 from Macclesfield.
How much does it cost?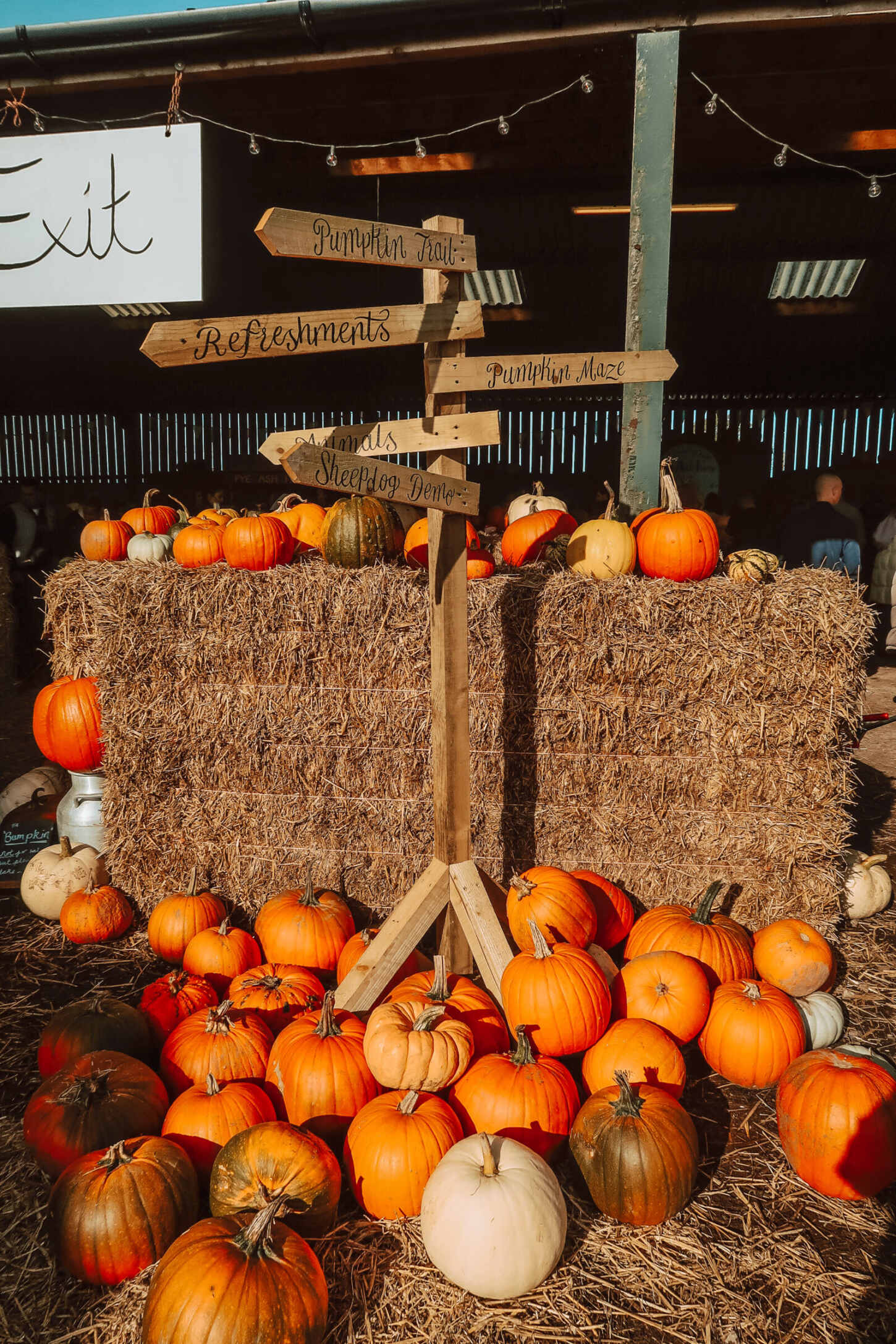 Open weekends throughout October from 10am to 4pm, Pye Ash Farm costs £5 per car to enter – either cash or card – and it's well worth the money.
While some pumpkin patches across Staffordshire and Cheshire might be free to enter, Pye Ash Farm's entry fee also includes a pumpkin trail, sheepdog demonstrations and the chance to say hello to some of the barn animals, including piglets, a turkey, sheep and ducks.
Food and drink at Pye Ash Farm
When we arrived, we parked our car in the large parking area before heading straight to the food vans, having skipped breakfast. On the farm, Come Bye catering is offering locally sourced bacon and sausage baps for a fiver, with meat from the nearby Nixon's Farm Shop, as well as hot dogs (£4) and sweet treats like pumpkin cupcakes (£2.50).
From 12pm, they also serve up lamb and beef burgers from £5.50, or a delicious pumpkin soup and a roll for £4.50, made with veggies grown right there on the farm. Jake's bacon sandwich looked amazing and was generously filled with freshly cooked rashers, while my spicy pumpkin soup was the perfect winter warmer on the chilly morning.
Over at Giddy Up horse box there's a fully licensed bar where I got myself a Baileys hot chocolate for a fiver, and later, a fresh milkshake from the Little Cow Shed, in Brereton just down the road. They also have a selection of local ales and gins for sale too, as well as the usual soft drinks, tea and coffee.
Pumpkin Maze
Last year, Martha Gilman, James' daughter, had the idea to launch a pumpkin patch at the site, bringing something different to the family business, which sees James, his wife, his two children and his dad all muck in on the beef and lamb farm. The 26-year-old has been looking at ways to bring the community together and teach local people about farming, and opening up their land to the public with their 'lambing live' events at Easter, and popular pumpkin maze, which debuted last year.
The pumpkin maze is held undercover in one of the barns, and offers something a little bit different to your typical pumpkin patch. While the bumper crop of pumpkins have been grown on the farm this year, they're transported across the fields to the maze every few hours when the piles are depleted, and being undercover, it means you can visit rain or shine without risking too much mud!
At the entrance, there are some wheelbarrows to pick up to wheel around the hay bale maze while you seek out the perfect pumpkins, as well as large wheelbarrows, there are also some mini ones for the kids to push around too.
I absolutely love the maze concept, with pumpkins of all shapes, sizes and colours at varying heights, with some scattered around the edges of the floor, and others sitting proudly atop of haystacks just waiting to be taken home.
Pye Ash Farm has had the best variety of pumpkins I've seen in my years of pumpkin picking, offering all sorts of shades including yellow, orange, white, blue and even pink! I had never seen a pink pumpkin until my visit to Pye Ash, and I had to find the biggest I could to bring home with me. As well as colourful pumpkins, there are also tiny gourds, bumpy pumpkins, one that's grown into the unusual shape of a peachy derriere, which is on display at the patch exit, and a 50lb pumpkin that weighs more than my American Bulldog, Frank.
Some of the most popular pumpkins at the patch were the light blue Crown Princes, which have been grown at Pye Ash this year to raise funds for the East Cheshire Hospice. The farm has raised more than £10,000 for the charity in the last two years, and hope to increase that figure with their blue pumpkin sales. All of the Crown Prince pumpkins cost £5, no matter the size, with each sale acting as a direct donation to the hospice.
Throughout the maze, there are dozens of photo opportunities for that Autumnal Instagram picture, whether that's perching atop of a haystack with a pumpkin, or hopping in the tractor for a quick snap. There's also a tin bath that little ones could sit in, as well as little stalls and a big pumpkin height chart to measure yourself against.
Jake and I picked up two big pumpkins – a pastel orange pumpkin and a pink one – as well as a medium traditional orange pumpkin, a Crown Prince and four tiny gourds in varying shades. At the end of the maze, you pay for your pumpkins based on size, which can be anywhere from £1 to £12 – my haul came to £29.
Sheepdog demonstrations and other farm activities
After wheeling our pumpkins back to the car, we headed over to the paddock where James was hosting sheepdog demonstrations on the hour, every hour with his faithful canine co-worker, Moss.
James got his first sheepdog as soon as he left school, and now has 35+ years of training sheepdogs, and has qualified for the World Sheepdog Trials next year in Northern Ireland.
The free sessions lasted around 30 minutes, and demonstrated how sheepdogs and their handlers work together to herd the sheep using vocal and whistle commands. The children in attendance seemed to love it and were really engaged, and I personally was mesmerised at seeing Moss do his job so closely, working the sheep even with the pressure of an audience. He's an absolute credit to James and the farm.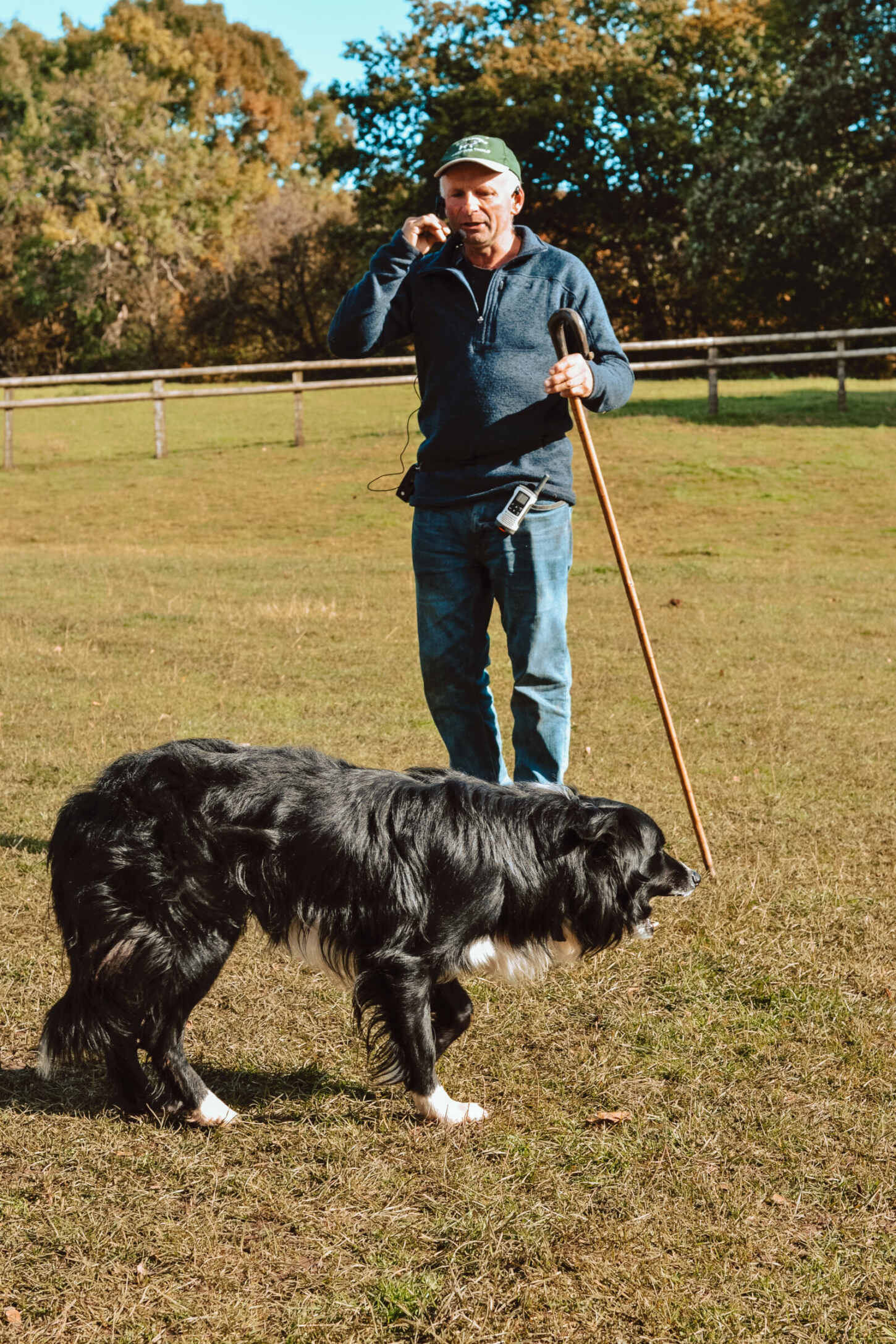 As well as the demos, there's also a pumpkin trail for kids across the field, and a barn full of animals to say hello to, like Boris the turkey, two little nine-week-old piglets, a team of ducks and some very friendly sheep. There are picnic tables inside the barn where you can perch to eat your food from the horse boxes, as well as a little face painting stall which had a long queue of children waiting for some Halloween inspired designs.
We felt like you got a lot for your money here at Pye Ash Farm, and it was great to meet the whole Gilman family and learn more about the farm, as well as bring home some stunning pumpkins to display throughout October. The farm is pretty accessible for prams and wheelchairs, with the team having removed a ledge in the barn and levelled off some of the flooring for it to be more even. The ground isn't too muddy, but I to recommend taking wellies or boots that you can then take off and change for trainers when you get back to the car, to save on cleaning up later.
You can visit Pye Ash Farm's pumpkin maze from 10am to 4pm on weekends throughout October, as well as selected dates in half term. Follow Pye Ash Farm on social media for updates here.
Read more: