The extremely popular and highly anticipated Lush Advent Calendar is BACK for another year, packed to the rafters with vegan bath and body products that will see you well into 2023.
But with a price tag of £185, you might need a little bit of enabling to take the plunge and splurge on the indulgent Christmas Countdown. The initial spend may seem daunting, but I'm going to outline all of the reasons you can use to justify the splurge. I mean, if you can't treat yourself at Christmas, when can you, right?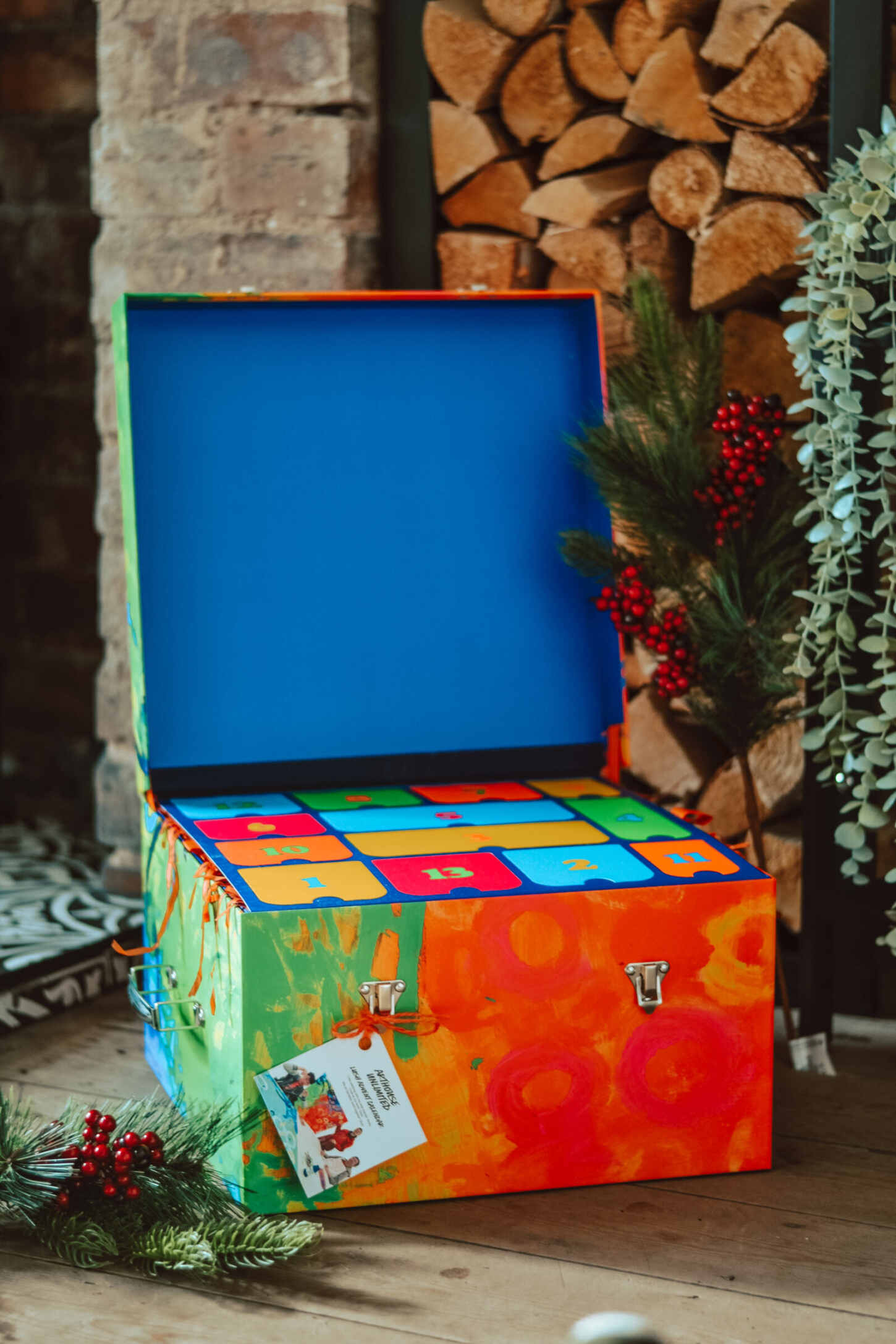 This year, the Lush Advent Calendar features twenty-five specially selected products designed to bring you joy in the run up to the big day. It offers a weeks' worth of festive bath bombs – including Golden Pudding and Christmas Party – as well as bubble bars, shower gels, soaps and more. Snow Fairy fans will be in for a treat too, with the return of the much-loved cult scent, with new and exclusive products also included in the luxury gift.
Arriving in a two-tier box designed by ARTHOUSE Unlimited, the Lush Advent Calendar is an absolute must-have this festive season – and I'll tell you why.
It'll save money in the long run
If you're a regular Lush shopper, a trip to pick up 'just one bath bomb' very quickly turns into a 30 minute pamper session, a mini consultation, and walking out with £40 worth of products. I know, I've been there too. It's like going to Aldi for a pint of milk, it just doesn't happen.
The Lush Advent Calendar brings you 25 gorgeous vegan goodies in one cute and compact box. The value of the products is around the same as the retail price of the calendar, but it's still a fab way to save money. For a start, you'll save on petrol heading to your local Lush, not to mention any parking you'd have to pay for too.
Not only that, but you'll have everything you need to keep you going, not just for weeks, but for months after Christmas. You really won't need to scratch that Lush trip itch for a while, and therefore, won't find yourself overspending in store.
But if you are worried about such a big lump sum just before Christmas, there's also the option to spread the cost with Klarna on the Lush website. This isn't something I've used in the past, so definitely do your research to see if it's the right payment option for you, but it does mean you pay for the Advent Calendar over the next three months with three £61.67 payments.
Products are great for gifting
You'll probably want to keep all of the products inside the Lush Advent Calendar for yourself, but if there are any treats that don't take your fancy – rare, I know – you can put them up for gifts for friends and family throughout the year, saving around £7 per present.
If you typically get Lush goodies as stocking fillers, this could even be the ideal way to bulk-buy without the hassle of heading to the store, handpicking products and having to lug them back into the car individually wrapped.
The box is reusable and recyclable
The Lush Advent Calendar 2022 comes in a limited edition box designed by ARTHOUSE Unlimited. It's Lush's seventh year working with the charity, which presents artistic talents of adults living with complex neuro-diverse and physical support needs.
The reusable gift box is made from recycled paper board and the ribbon is made from recycled plastic bottles, in keeping with Lush's sustainable ethos. It's got two toggle latches that keep it secure, as well as two metal handles either side to make it easier to carry.
Designed like a two-tier chocolate box, there are 13 windows on the top tier, and a further 12 underneath, accessible by two orange recycled bottle tabs that allow you to lift up the tab. For those not looking to upcycle or reuse the box, it's completely recyclable – but can also be used time and time again as a storage box for all your other Lush goodies, brightening up your bathroom with a pop of colour.
Suzie Hackey, Lush's Gifts Creative, said: "We love to create packaging that can have a life long after it has been gifted and our Advent Calendar is no exception. This handmade box has been designed with reuse in mind, not only creating a beautiful keepsake that can be used throughout the whole year but a box that could be re-gifted for another present or occasion."
Over the next few weeks, I'm going to be looking at other ways the Lush Advent Calendar box can be upcycled for other uses, too.
A chance to discover new Lush favourites
Lush's must-have Advent Calendar is the ultimate way to countdown to Christmas, with 25 specially selected products to discover behind each door.
The vegan products range from bubble bars and skincare, to shampoo bars, fragrance and, of course, their ever popular bath bombs, of which Lush sell approximately 14 million a year.
As well as cult classics like Snow Fairy, shoppers will also be able to discover new scents like Hot Toddy and Tumeric Latte, which may well become a new all-time favourite.
Get your hands on limited edition and exclusive products
As well as being the first to try new releases and indulge in classic Lush luxuries, those who get their hands on the 2022 Advent Calendar will find two gift exclusive products that aren't sold separately in store, including the Ice Rainbow bubble bar and Christmas eve soap.
If that wasn't enough, there are also two no-longer-sold products from Lush Christmas past, the Christmas Party bath bomb and Gingerbread House bubble bar. Hardcore Lushies will remember these retro products from previous festive seasons, having the opportunity to relive the nostalgia, while newbies can discover them for the first time with the Advent Calendar
You can earn free products
While many of the Advent Calendar contents come 'naked', some are also packaged in Lush's clear bottles and black pots. When you've used up all of your goodies, you can return them to Lush as part of their Bring It Back scheme.
For every five returned black pots customers can receive a free fresh face mask, or each pot, bottle, and tub can count as 50p each off your final total. The fresh face masks cost £10 each, so it's well worth saving up those empties for the freebie.
You can shop the Lush Advent Calendar on the Lush website here.
What's inside the £185 Lush Christmas Advent Calendar for 2022