It's been a longstanding joke that I've been waiting a long time for an engagement ring, with my nan always asking: "Has he got you a ring yet?" every time I saw her. So can you imagine her excitement on Sunday evening when Jake told her that he was going to propose the very next day?
Jake and I have been together for six years and eight months – since Februay 13, 2016. I've probably been harping on about an engagement ring for a third of that time, met with eye rolls from every member of my family who was outright sick of hearing me go on about it at this point. In fact, I think I might have told Jake I'd dump him if he didn't heed Beyonce's warning and put a ring on it before the end of 2022 (I wouldn't have, mind, but don't tell him that).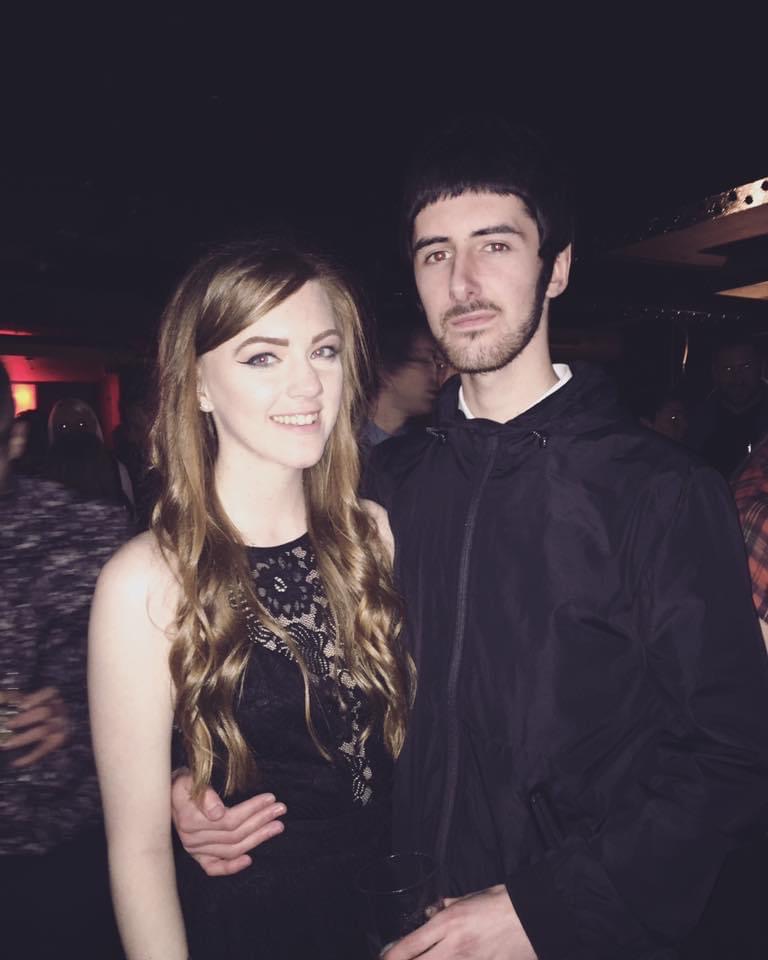 I've already shared photos and a video on my social media, which I've rewatched approximately a thousand times since Monday, but I wanted to share our proposal story and how a terrible liar managed to surprise an unsuspecting journalist with an engagement ring – and how his cover was almost blown on more than one occasion. For the past 12 months I've always said, "I'll know when Jake is going to propose, he's awful at keeping secrets, even worse at lying, and I know him so well I'll see the signs."
It appears that I was completely and utterly blind the big giant signs that had presented themselves that Jake was going to propose. Firstly, it was mum's quizzing over the style of engagement ring I'd like, having convinced me she was looking for herself, with dad wanting to replace her 22-year-old ring. I had my suspicions about this line of questioning, mind you, but I expected this would be information to store away and be used at a much later date.
Jake's been planning to propose since we got back from our Newquay holiday in September, and my whole family was in on it. The second incident that should have sparked a lightbulb was when I popped round to my brother's house for a cuppa where he'd left a ring sizer on the kitchen counter. His very plausible explaination was that it was to get his ring size for a wedding ring. Since he and Mel are getting married in 2024, it was an entirely believable story, though of course I couldn't resist trying oit for size myself. Perfect ring size covertly acquired.
All that was left to do was pick the time and place. I, personally, didn't want to get proposed to in a restaurant, nor did I want a Christmas or birthday proposal. There were lots of times over the past 12 months where I thought he might propose, from the photo shoot I set up with Tamar, to gigs at the venue we met, and on holiday in Cornwall where we go every year. But it doesn't matter how many times you mentally plan your own proposal, nothing will ever match the moment that ring box pops open and they ask that all important question. No matter when, where, or who's there.
So, how did he do it? I'll tell you.
Jake and I had been invited down to London for the press night of ABBA Voyage, and so, we made a weekend of it, booking a few days off to visit my nan in Buckingham, sightsee in London, see ABBA Voyage and be back in Stoke in time to watch Six the Musical. As the 'planner' of our relationship, it often falls to me to decide where to eat, what to do, and where to be at what time to ensure we find ourselves at the ABBA Arena for 7pm sharp, but on this occasion. All I wanted to do was visit Borough Market for food, and wasn't particularly fussed about whhat happens in between. Jake had mentioned wanting to go to Hyde Park, but I explained it'd probably be quite quiet, since they're preparing for Winter Wonderland to open. He kept mentioning it, and I assumed it's since he's a music fan he wanted to see where Queen and The Rolling Stones had played, so we worked it into the schedule, which began to fill up fast.
On the Sunday, we made our way to Buckingham in the car, realising half way down the M6 that I'd forgotten my entire makeup bag. On arrival in Bucks, I made a trip to Tesco and Aldi begrudgingly spending £100 on makeup and brushes from brands I don't particularly use to paint my face with the following day. It turns out Rimmel do a very good brow gel. We spent the afternoon with my nan, aunt and cousin, ordered an Indian takeaway and then headed to our Travelodge for the night ready to be up early to catch the train from Milton Keynes to London.
Another sign that should have sent cogs whirring? In the morning while packing up to check out of the hotel, I asked Jake if he wanted me to pop his clothes back in his bag while he had a shower and he swiftly declined – nothing that screamed "there's an engagement ring in there", but looking back, it all makes sense.
Arriving at Euston, we navigated the tube making it to Buckingham Palace in time for the changing of the guards. Jake had the ring tucked safely in his coat pocket praying I wouldn't sneak my cold hands in there as we made our way through the streets of busy tourists. After watching all of the fanfare for King Charles' birthday, we walked across to Hyde Park where we sat by the serpentine for a cup of coffee.
As we were leaving, Jake asked: "Shall we get a picture here?" Jake never asks for a photo, mostly because I'm usually asking him to take one of me, so our photos together are actually few and far between. I tried to deter him from asking the single stranger in the vicinity to take our photo for fear she'd be too busy, but he was already striding over to ask her, quietly explaining that he was asking her to take on the important task of filming this life event.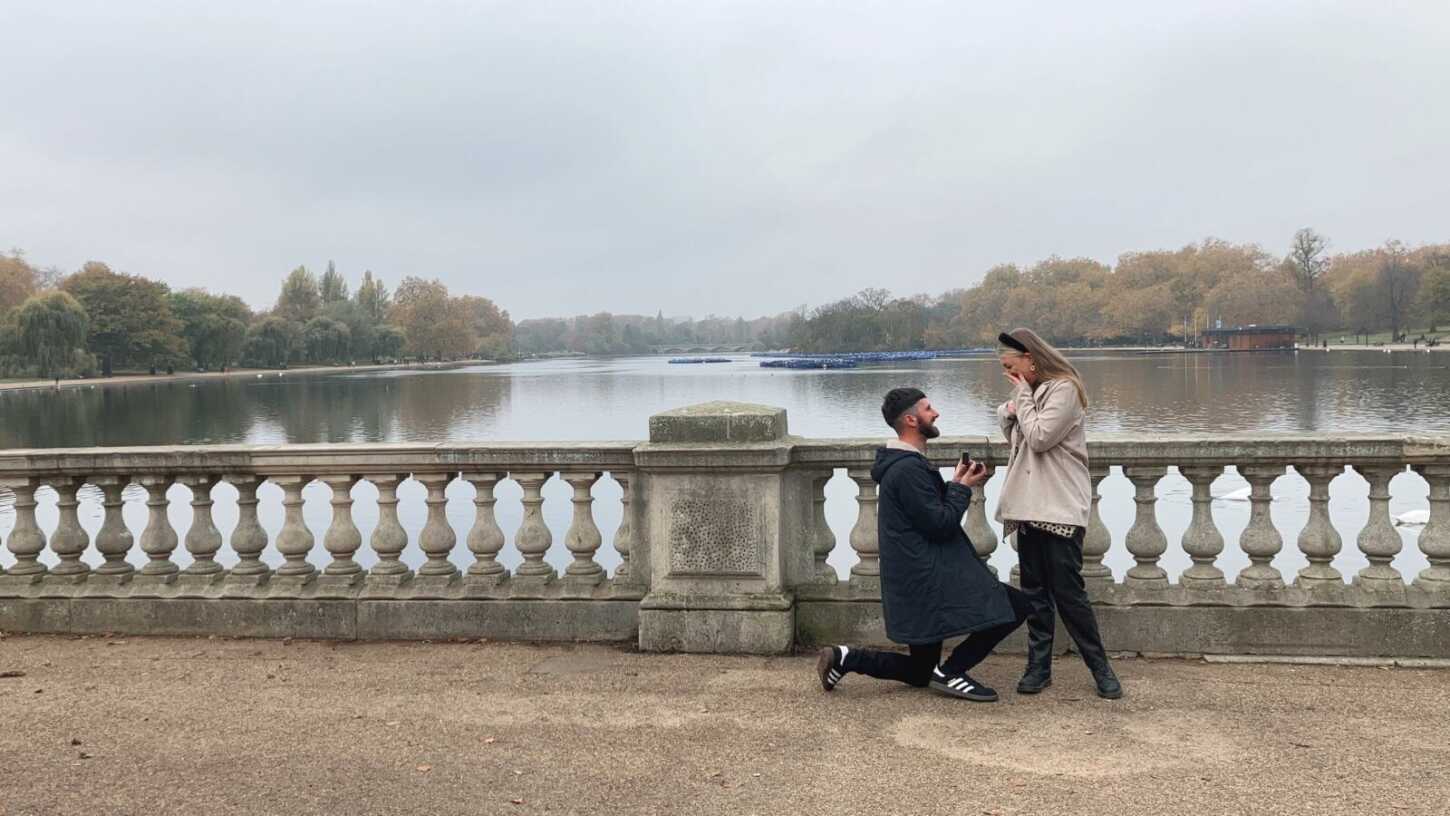 The American tourist took a snap on my camera before switching to Jake's phone. We smiled, and just as I thought Jake was about to retrieve his phone from the stranger he turned to me and said: "I've got a question for you and I think you know what it is*"
*Reader: At this point, I very much still did not know what it was. All I was thinking was "we're going to miss the 21 gun salute, and should I have custard on my Humble Crumble?"
Jake got down on one knee as he pulled out a ring box revealing the most beautiful octagon cut emerald ring, which was around the time I began Kim Kardashian ugly crying unable to actually get the word 'yes' out of my rarely speechless mouth. "Is that a yes?" he asked, prompting an over-enthusiasting nod before I took the ring from the box and placed it onto my finger.
I thanked our volunteer camera-woman who, if you've seen the video will know, has the steadiest hands known to man she may as well have a tripod for arms. We took a couple of selfies, but I wanted to get a photo we could post to Instagram, and taking photos across the water on a film camera was an Austrian tourist who I asked if they would mind taking a photo on my phone. Little did I know that Tessa, our absolute diamond of a stranger, was an actual wedding photographer, and began directing us in a mini iPhone photo shoot and got the ultimate announcement photo.
Tessa also took a photo on her analog camera with a promise to share it with me via email when she develops them. They landed in my inbox this week, and I cried all over again.
Sobbing finally over, makeup redone, regret for not buying a waterproof mascara and a rumbly tummy, we carried on our London adventure officially ENGAGED, including a trip to Borough Market, cocktails in Covent Garden, ABBA Voyage and a stay at the Hyatt Hotel where they'd left us a congratulatory card, balloons and a bottle of wine in the room.
Everyone keeps asking me if I had any idea at all, and I can honestly say I was not expecting it whatsoever, which made it all the more special. There's not much that leaves me – a journalist and blogger – lost for words, since I write around 5,000 of them a day, nor is there very much that makes me cry, but Jake managed to do both while finally asking me to marry him. It wasn't the proposal I had envisioned, or was expecting, and that's exactly what made it more than I ever could have hoped for. I was caught totally off guard in a completely candid moment, and with the help of some spectacular strangers, the unforgettable moment was caught on camera for me to remember forever. Not to mention – have you SEEN the ring? GORGEOUS.
I just wanted to take a moment to thank you all for your comments, messages and DMs congratulating us both, your support means the world to us and we can't wait to pop the bubbly and raise a toast to the future Mr and Mrs!
Here's the video, in case you missed it on Instagram: