Instead of getting your favourite book lover another paperback that will find itself at the back of their to-be-read pile, there are dozens of other bookish creature comforts you can wrap up to gift this December. If you know someone who always has their nose in a book, but aren't sure what books they already have or if they'll enjoy said book you've picked, opting for a book-themed gift is always a great idea.
As an avid reader myself, these are all gifts I've either been gifted previously, or purchased myself to further my love affair with books, including some from fantastic independent brands. From personalised bookmarks and reading journals to candles that smell like an old bookstore, there's something for everyone on this concise but carefully curated bookish gift guide – including a book that presenter Chris Evans believes everyone needs for Christmas. Okay, I know I said no more books – but just trust me on this one. It's technically a hardback, anyway.
There's also gifts to suit every budget, too, with presents under £10, to some over £80 for that festive showstopper. Here are six gifts to buy you book loving friends and family members this Christmas that isn't another paperback.
Willow and Hive bookmark
A personalised bookmark is one of those gifts that will be used time and time again, and Willow and Hive's luxurious leather bookmarks will make sure you never lose a page again. Coming in seven different colourways with patterns like leopard, tan and pink, there's a bookmark for absolutely everyone.
The £16 bookmarks are made with sustainably sourced vegetable tanned full grain, and cowhide pattern leather with brass closure fastening, handmade in founder Anda's Warwickshire studio. The leathers are a by-product of the food industry, so eco-conscious recipients will be even more impressed.
Each bookmark can be embossed with a name, initials, message or emoji for that extra thoughtful touch, with a choice of eight foils to monogram with. I had my bookmark personalised with my name, but quotes also work really well for the embossing and foiled text. I particularly liked one that read: "Just one more page", but equally, if you know someone's favourite short book quote, that's another fab option.
Teppi
reading journal
Part of a book club or just love taking notes on the books you've read? This reading journal from Stafford-based Teppi has space to document the journeys of around 60 novels, coming in blush pink and moss green.
Handbound by founders Lydia and Ella, the journal can be personalised for that extra special touch for £12.95, or can be left blank for £9.95. The tactile A6 journal is bookended with two inspirational reading quotes, with space to share thoughts about each completed book.
The journal sees space for the title and author, completion date and a rating up to five stars, as well as the readers favourite character, three things they loved about the book, three words to describe it, and final thoughts.
Shoppers can even get 10% off their first order when they sign up to the Teppi newsletter in the footer of the website.
Funky bookends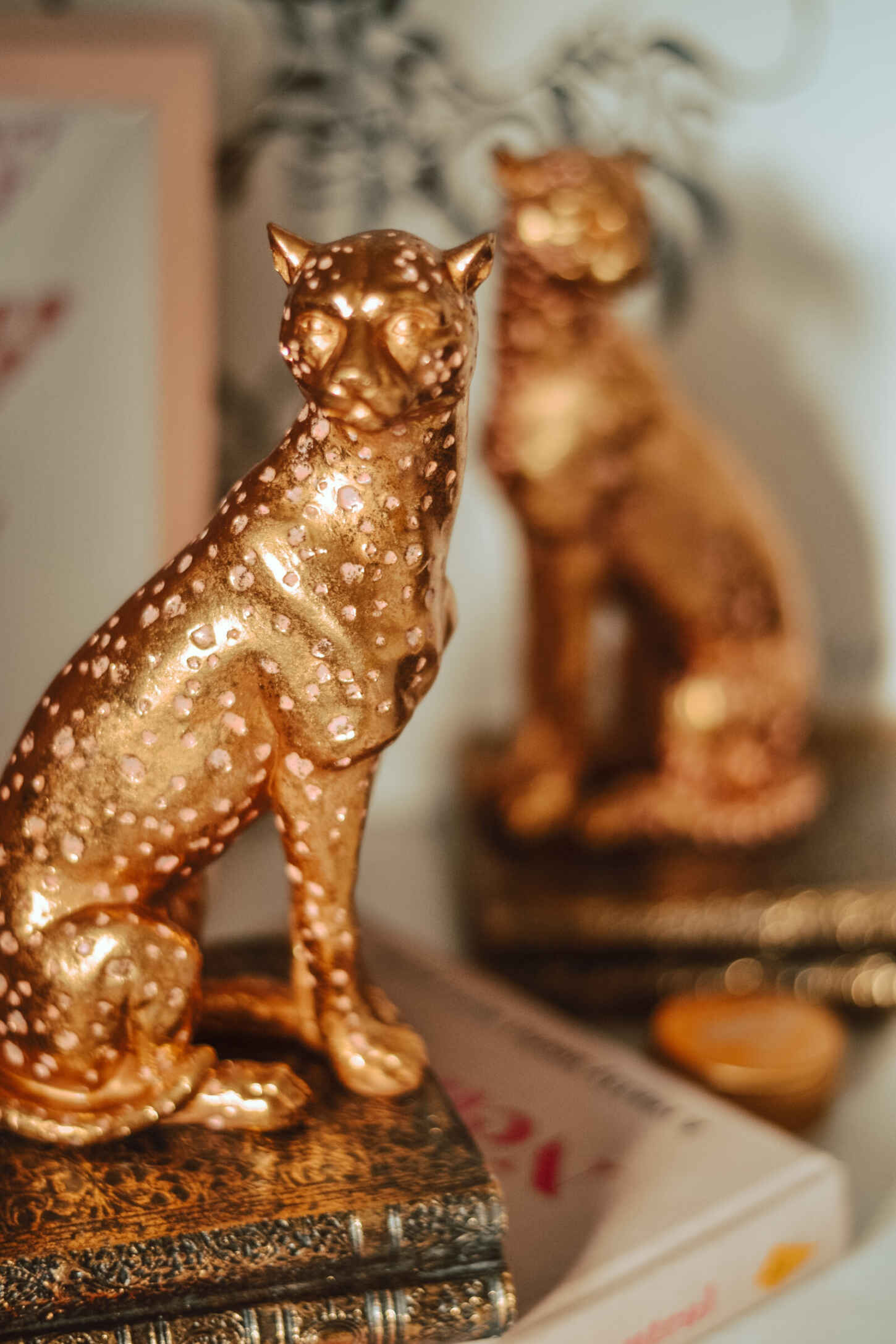 I love a modern twist on a traditional item, especially when it involves leopards – so when I got these bookends last Christmas, it was a match made in heaven. This particular set, available for just under £40 on Amazon, features two alert golden leopards with small pink spots made in an antique gold finished resin. The leopards are proudly sitting atop two ornately carved resin books which create a stable base for the bookends.
This gorgeous duo makes for a practical present that has contemporary flair, ideal for a 'WFH' office or living room bookshelf.
Bookends certainly don't need to be boring, I've recently spotted this stunning set of Staffordshire Dog bookends in Oliver Bonas and they're definitely on my wish list for this year.
The Wandering Bee candle
Ask anyone why they prefer physical books to ebooks and they'll probably tell you that there's 'nothing like the smell of a new book'. And they're right – there's a subtle vanilla fragrance to the pages of paperbacks that's so comforting – and The Wandering Bee have managed to bottle that aroma and turn it into a candle.
The sustainable Stone-based kick-ass candle makers produce hand poured home fragrance into upcycled beer bottles that have been scored, split and sanded to offer an awesome apothocary-esque design that's 'kinder to the planet and better for your health'.
Their Antique Bookshop candle is with 100 per cent natural, scented soy wax, featuring notes of ginger and plum, followed by vanilla sugar, cinnamon, honey and incense, with white patchouli, light amber, cashmere woods and tobacco leaf at the base.
The Wandering Bee describe it as a 'rich, masculine scent that evokes the comforting feeling of an old library with bound books, old pages and creaking floors' – which is totally dreamy. It's available in 180g for £12, or 300g for £18, and can be shopped on The Wandering Bee site.
The Boy, The Mole, The Fox and The Horse
Presenter Chris Evans said of The Boy, The Mole, The Fox And The Horse: "You will not be able to buy a more beautiful book for Christmas for somebody you love." And I wholeheartedly agree. I have gifted this book to a number of people since its 2019 release, each one has been well loved and well read.
The illustrated book, by Charlie Mackesy follows the developing friendship between the four protagonists of the title and it's perfect for anyone who adored Winnie the Pooh or Paddington as a child. I think people really fell in love with this book during Covid, as it reminded us about what was important as you discover their story and their cardinal life lessons.
The Boy, The Mole, The Fox And The Horse have been shared millions of times online, since – Charlie's beautiful artwork and scribbly handwriting adorning the pages. It's the kind of book you can pick up and read cover to cover, perhaps even with the kids, or pick up and put down as and when you need to. This book really is a warm hug in paper form. You can shop the stunning story on Amazon here.
Kindle Paperwhite
For parents, children, or partners, those who have a to be read pile of doom, or alternatively, whizz through books faster than they can buy them, a Kindle is an amazing gift, keeping books all in one place, and offering a cheap way to read the latest novels without having piles and piles of books cluttering your home.
I was initially very sceptical about having a Kindle, being such a fan of a physical book, but now I wouldn't know what I'd do without it. It's thousands of books in the palm of your hand – no waiting for it to be delivered and then seeing it on the bedside table for weeks on end while you make your way through it.
You can pick up Kindles from around £85 and they're brilliant for reading in bed, with no need for a night light, as well as taking on the train, taking up next to no space in handbags.
If your loved one already owns a Kindle, did you know you can also gift ebooks from Amazon? Just find the book you'd like to gift, select 'eBook' and then click 'buy for others' – you can then choose how the copy is 'delivered' to the recipient. If you need some inspiration, you can find all of the books I've read this year here.
Staffordshire gift guide: 16 indie brands to support this Christmas 2022