Lush has teamed up with a British female-owned fashion brand to launch their first ever brand-to-brand partnership . The fresh handmade cosmetics company has joined forces with North London independent Lazy Oaf with a colourful and conscious collection of cosmetics, homeware and accessories.
With a strong focus on turning homes into self care spaces, the 17 piece collection sees Lush's first foray into the world of fashion, including eight bespoke clothing and lifestyle pieces from pyjama sets and face cloths, to towels and wash bags, all made in 100 per cent organic cotton.
Both brands are UK businesses that champion considerate, small-batch production, and this limited edition collection is no different. For example, the pyjamas have been made in such a small run that you can only get them at Lush's largest stores, like London and Liverpool, echoing their responsible and intentional productions.
This project was born during Covid, and has been 18 months in the making, but it's so exciting to see two brands who do things a little differently within their fields come together to create a collection that's sustainable, distinctive and fun.
Lazy Oaf's signature Happy Sad and checkerboard patterns adorn classic Lush products including bath bombs, soaps and mega foamy bubble bars. The collab has even seen the return of a Lush classic from the archives – Showders. Complete with bespoke packaging inspired by a classic laundry detergent box – they're back in two Lush fan-fave fragrances ready to get your bathroom spectacularly suddy.
There are two fragrances which run throughout the Lazy Oaf line, with some scented in the dreamy and relaxing Sleepy with snooze inducing lavender, while others are in the more uplifting and vibrant Intergalactic, offering notes of musky cedarwood and invigorating peppermint.
Emma Shepherd, Brand Manager at Lazy Oaf said: "The Lush x Lazy Self Service collection is the ultimate 'laundry' service for yourself; championing self care in a way that bucks the overly-sincere and serious tone that often dominates the wellness conversation."
The collection launched in selected Lush shops, online at lush.com, and lazyoaf.com as well as in Lazy Oaf's two London stores on November 24. I headed to Manchester's Arndale Centre store to check it out.
Inside the store, the playful collection is packed full of cosy staples and self care essentials, encouraging shoppers to take time for themselves every day, rather than just on special occasions.
Melody Morton, Concepts Creative Director at Lush, said:"We're so excited to announce our first ever brand-to-brand collaboration with independent fashion brand, Lazy Oaf. Both proud, British-born businesses, Lazy Oaf and Lush champion considerate, small-batch production, as well as ethical buying and transparent supply chains end to end."
What I love about this collaboration is its attainability. Sustainable products don't have to cost a fortune, and this range from Lush has products starting from as little as £5 the Wash Buddy bath bombs. It really feels as though it's been made for everyone.
It's already been proven to be extremely popular. I first headed in store on Friday for the launch, and when I nipped back in the following Monday, all of the bath bomb duos had sold out, while showders were flying off the shelves before my eyes.
There are a few stand out products for me that I absolutely love, the first of which is the Lush X Lazy Happy Bath Bomb & Sad Bath Bomb. The bath bombs are available individually for £7, or in a box set for £14, and they'll definitely turn that frown upside down when you drop them into the tub.
Externally, they bring a simple and clean aesthetic, but inside is a totally different story. Each bath bomb is laced with layers of colour to give you all the bathart you crave after a long day at the office. Electric blue, serene green and crisp white layers fizz out to create an aquamarine finish in the bath.
You;d be forgiven for thinking that these bath bombs were exactly the same besides the position of the crescent on their face. However, they both have different fragrances, so you can choose what mood you're in based on scent, too. The Happy Face offers the zesty Intergalactic scent, while Sad Face takes wallowing in your feelings to the literal level in the soothing Sleepy scent.
The home and fashion accessories are a seamless addition to Lush's collection. They really do fit right in, and I can't get enough of this Lush X Lazy Socks gift box, least not because of the laundry theme and the fact it's always one sock out of every pair that goes missing in the wash.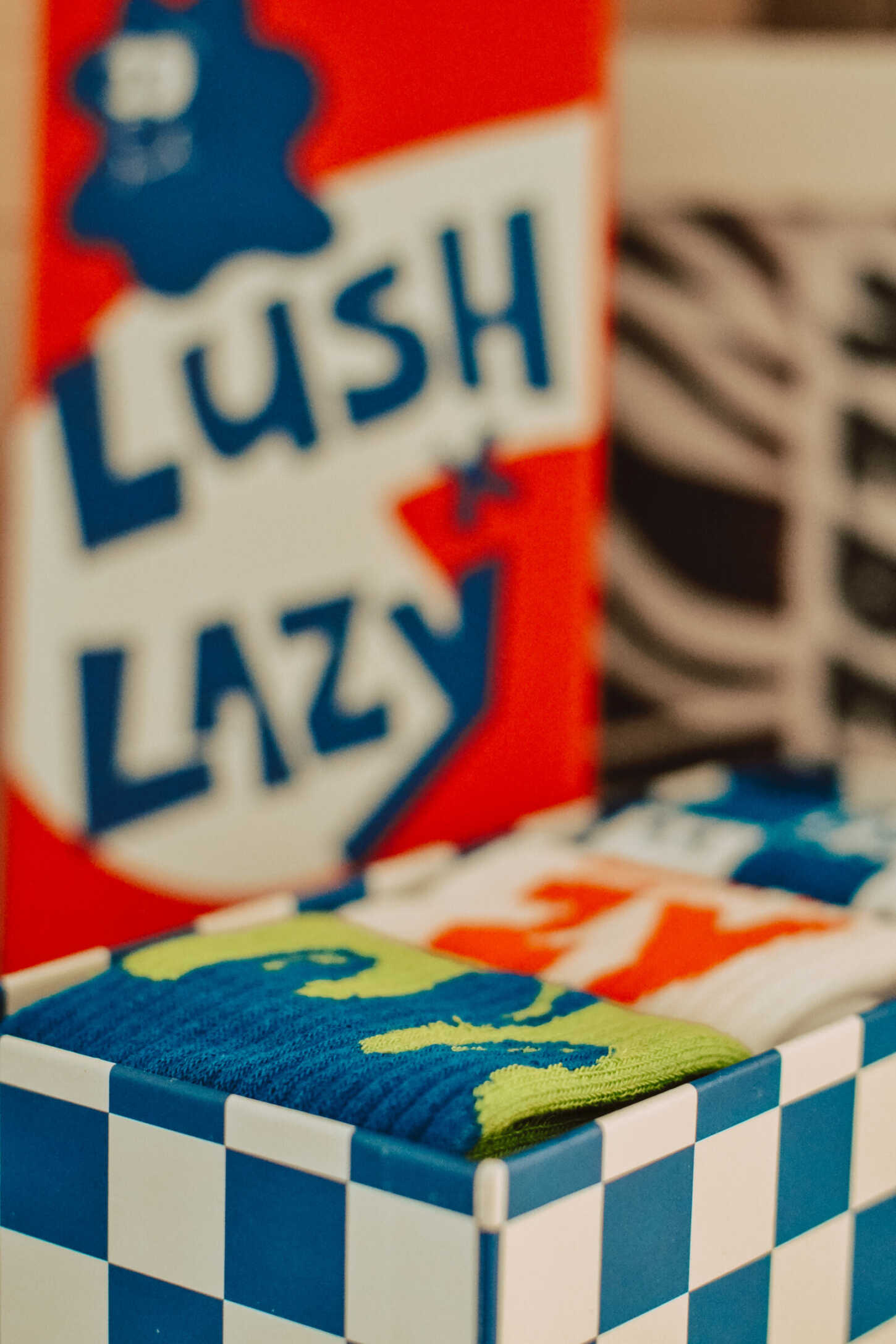 Priced at £30, you get three pairs of organic cotton socks to slip on once you've smothered your feet in moisturiser. Dr Marten lovers, these socks are the answer to all your footwear prayers. They're so thick, making them the ideal choice of sock to line your boots to avoid blisters, too.
Finally, probably my favourite product from the whole collection is the Lush X Lazy Body Spray. Capturing the essence of Lazy Oaf's East London origins, this body spray is inspired by the smell of an east end laundrette. Lush said: "Spray away and unleash the whiffs of an east end laundrette, with puffs of tobacco lingering on low thread count sheets still warm out the dryer, whilst wafts of vanilla hit your nose from the next door budget bakery."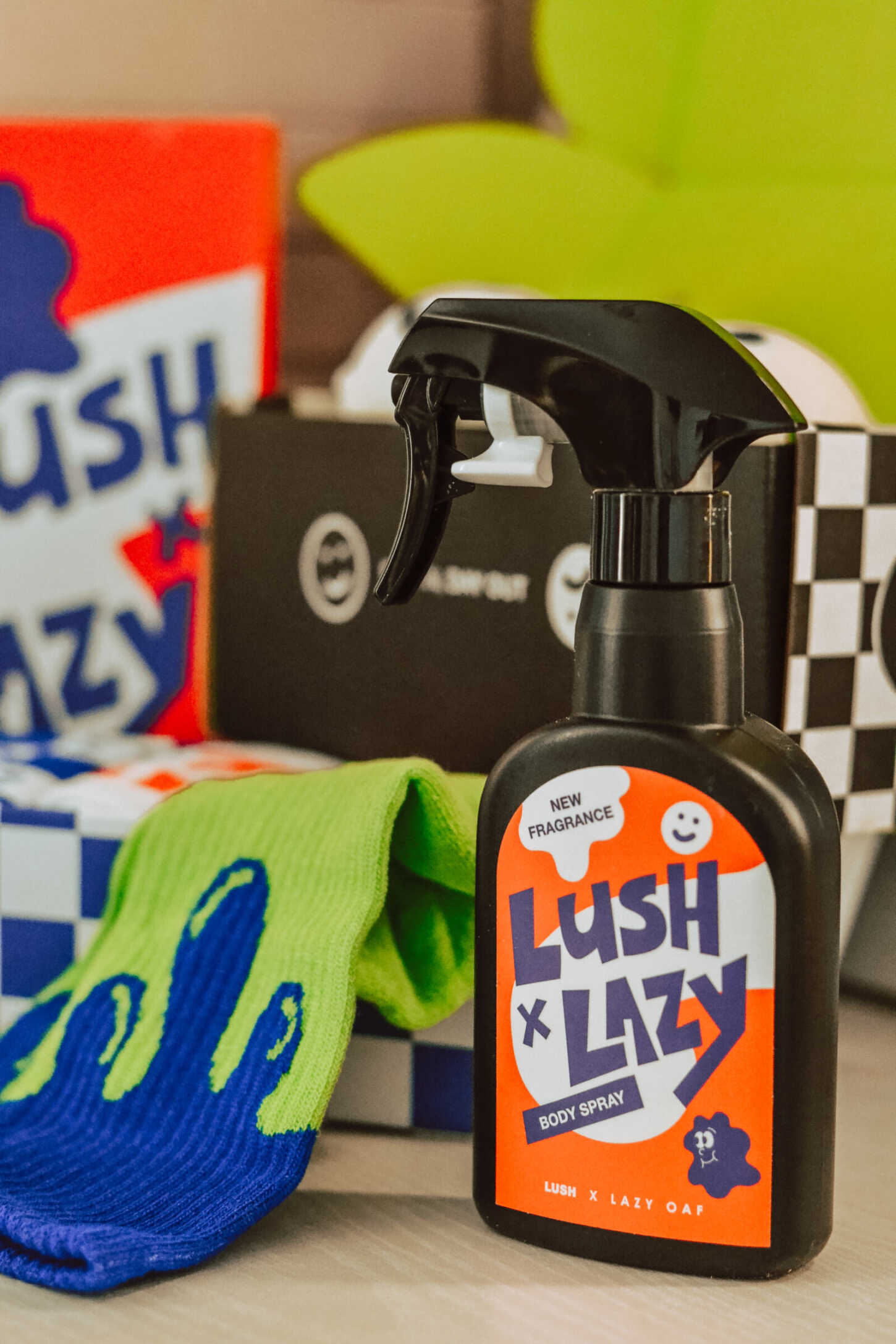 Priced at £35, the fragrance is up there with some of my top perfumes, reminiscent of Shay and Blue's Blacks Club Leather, or Tom Ford's Tobacco Vanille. While there's quite an alcohol-y note upon first spritz – think your first tequila of the night – it soon settles to let those masculine, warm and woody notes pop through.
This collaboration really embraces what Lush and Lazy Oaf are all about – pushing boundaries and being disruptive and creative while still being responsible, sustainable and conscious. The finished results are stunning, and the ultimate way to take five minutes at the end of the day to relax, unwind and reset. You can shop the range online here.
Read more about Lush: