AD – this is a paid partnership with Liz Earle – all views are my own
With just under a fortnight until Christmas Day, many Brits will be picking up final stocking fillers and wrapping up their festive shopping. Others might only just be making a start, waiting for last minute deals, offers and discounts ahead of the big day.
The cost of living crisis has seen everyone pull in the purse strings this December, placing strict budgets on Christmas gifting. And to help shoppers save money without compromising on a quality gift, Liz Earle has launched a better-than-half-price skincare bundle that will save shoppers more than £80, bagging nearly £140 worth of products for less than £55.
The cult British beauty brand has launched a hamper of pamper products paired with full sized and mini freebies that can be gifted together, or divided into smaller bundles to make your money go that little bit further.
At Christmas, you'll often hear the phrase 'it's the thought that counts' – and Liz Earle has really embodied that motto with this beautifully presented and thoughtful Christmas gifting campaign.
Shoppers who pick up the Your Daily Routine Bundle Kit for £54.50 will be able to customise the gift, which immediately saves shoppers almost £10, as they should cost £63 if purchased individually. Beauty buffs are able to choose one of five moisturisers to pair with the Liz Earle Cleanse and Polish and Instant Boost Skin Tonic. I opted for the Skin Repair Rich Cream (£26), but you can also pick from the light and gel versions, as well as the Superskin Moisturiser with Neroli, or the unfragranced version.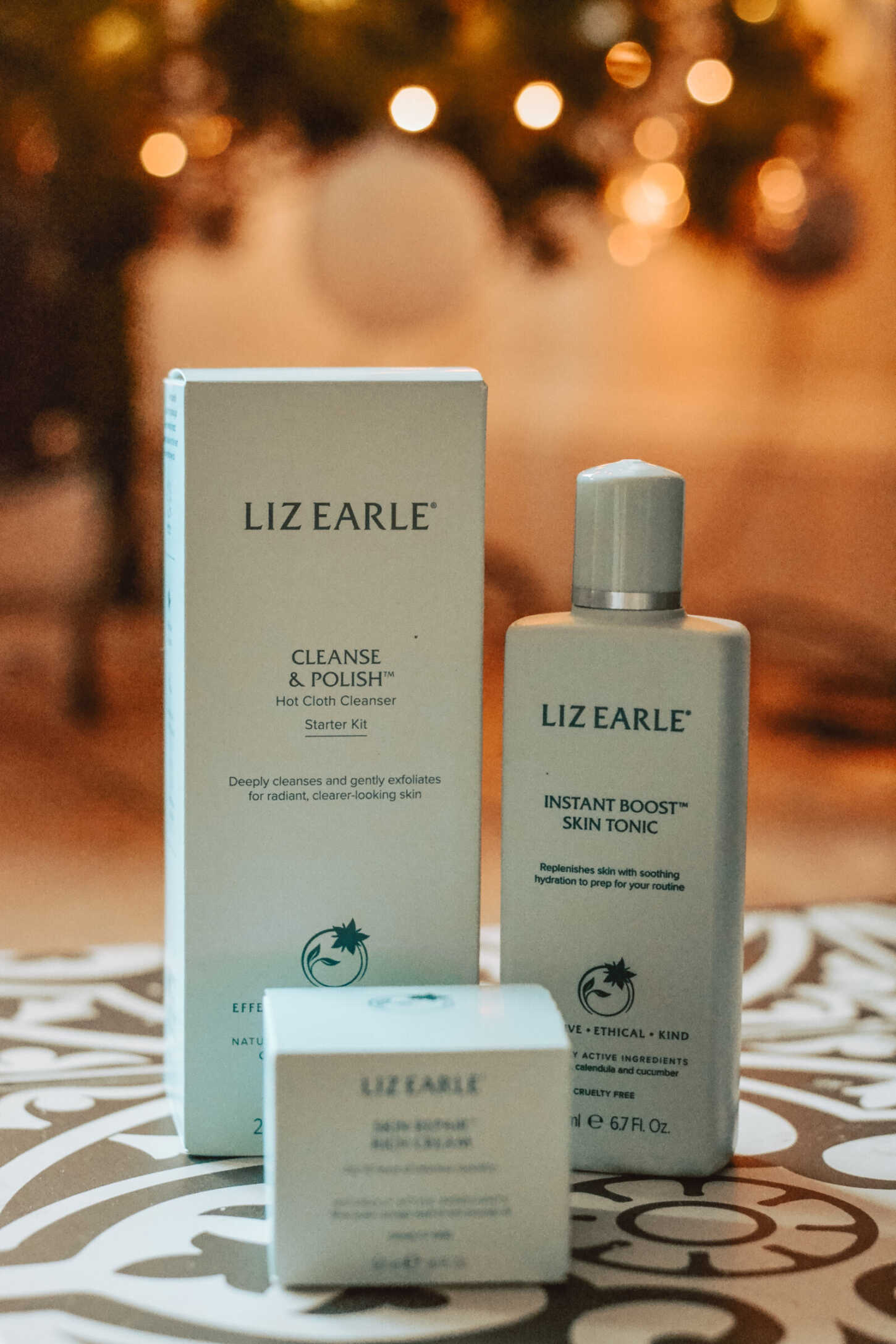 The Liz Earle Original Cleanse and Polish is one of my all-time favourite skincare products and I love gifting it for special occasions so that other people can indulge in fuss-free, fantastically fragranced skincare every single day. The addition of the toner and moisturiser creates a Holy Trinity of products that will form a skincare routine your loved ones will love AND stick to.
If that wasn't enough, with the Your Daily Routine Bundle Kit, customers will also receive the Superskin Microdermabrasion Polish worth £40 – which I previously reviewed here – and the £32 Superskin Alt-Retinol Paste completely free, both in full size tubes.
Already this makes the value of the £54.50 gift worth £133 – and that's without the mini samples that get thrown in at the checkout at no extra charge, too. I received a mini Instant Boost Skin Tonic and Skin Repair Gel Cream, but the freebie has recently swapped to the dreamy Eyebright Soothing Eye Lotion. The 50ml sample is worth £6.50, meaning the total value rises to £139.50.
Encouraging shoppers to share the love, at the checkout there is a box called 'Gifting Options' where customers will have the option to gift the whole bundle together, or split them into separate gifts by choosing various gift boxes. You can choose from a small gift box, a medium gift box or a gift bag, select which products you would like to add to each gift box/bag, add a gift message and confirm! This also means that if there's one of the products you wanted to keep for yourself, you absolutely can.
There are a few ways I'd personally gift this haul, the first being the whole collection and freebies into one for a show stopping haul, perfect for mums and girlfriends. Another option is to give the Cleanse, Tone, Moisturise bundle as one gift, and the free gifts as another present, splitting the investment into two gifts that's ideal for sister-in-laws, grandparents or aunties. Alternatively, so that everyone gets a slice of the Liz Earle love this Christmas, you can divvy up all six products as stocking fillers – the ultimate finishing touch to any festive gift. Tis the season for sharing, after all.
There's nothing worse than when you're spending £50 with a brand only to be hit with a £5-10 delivery charge ahead of Christmas, which is why Liz Earle are also offering free standard delivery on this set, with products arriving in three to five working days. Just be mindful of Royal Mail strikes this month, though, and be sure to order within plenty of time for your package to arrive.
If your loved one has never tried Liz Earle in the past, and they happen not to like it – which would be extremely rare – or react to any item, they have more than enough time to return their products thanks to their generous 60-day return policy. They know that 30 days is not long enough to trial a product – particularly when the average skin renewal time is 28 days. As such the brand offers 60 days to see how you get on – with no hard feelings if it's not the right fit.
I love that Liz Earle is encouraging people to shop smarter, not harder this Christmas, spreading festive budgets with money-saving bundles and offering incredible value freebies that will allow more and more people to fall in love with this reliable and conscious brand.
This stunning hamper of luxury skincare is sure to put a smile on the face of anyone who unboxes it on December 25, and it means you can get all of your Christmas shopping done in one fell swoop. It's a win-win. Shop the Liz Earle Your Daily Routine Bundle here until December 31.
Read more about Liz Earle: