Opening in 2000, The Lowry theatre, in Salford, played a significant role in regenerating the derelict docks at the turn of the millennium, and symbolised the direction in which the Quays area would travel into the 21st century.
Back in the 80s, one wouldn't have considered spending an hour around Salford docks. But some 40 years on, you can spend an entire day soaking up the culture in the magnificently modern building that finds itself at the centre of an undeniably impressive district.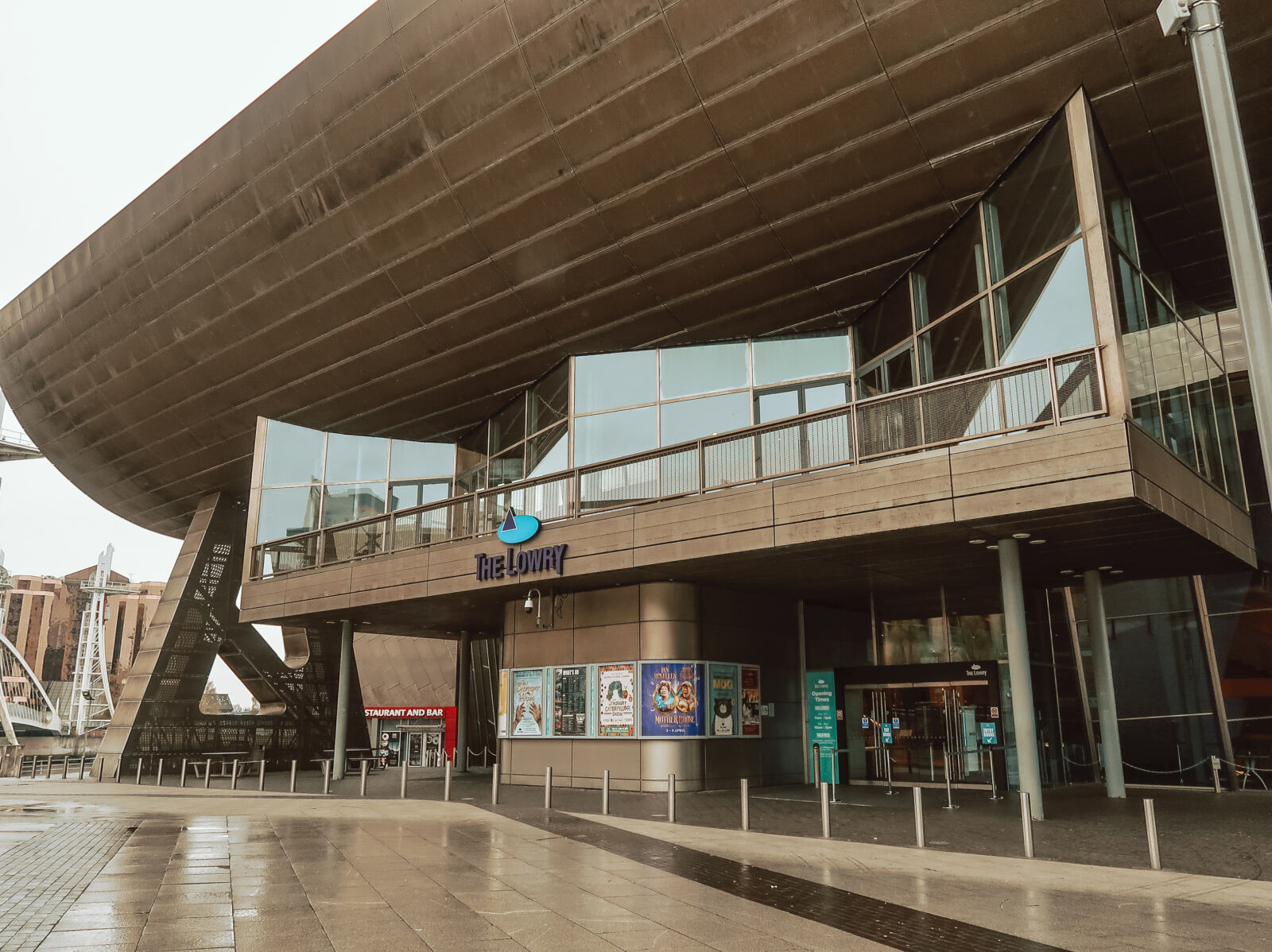 My first ever trip to The Lowry was back in 2014, when I was 16 years old, to see Matthew Bourne's Edward Scissorhands, which was one of my first real theatre experiences beyond local pantomime. Earlier this month, Jake and I headed back to Salford to spend a day exploring everything The Lowry has to offer, from fine dining and theatre productions, to exciting exhibitions and a gorgeous gift shop. We even bumped into a rather high-profile actor, if you're into your celebrity spotting.
As a registered charity, The Lowry is committed to 'using visual and performing arts to enrich people's lives'. As a result, visitors can expect a diverse programme of theatre, opera, musicals, dance, music, comedy and visual art as well as events and activities to expand the horizons of audiences and artists alike.
Here's an example of how you could spend a full day at The Lowry, Salford.
Exhibitions
As well as two theatres, a restaurant and a gift shop, the complex also contains 22,000 sq ft of gallery space which is the permanent home of a collection of works from L.S. Lowry – whom the theatre is named after.
The exhibition is free to enter, but there is the opportunity to make a donation, which helps support the theatre and the work they carry out in the community.
The artist, most famous for his matchstick men, spent much of his life in Salford and his work is strongly associated with the city. Salford Museum & Art Gallery had been a long-standing collector of his work and some 400 individual works – as well as an extensive archive of photographs, press cuttings and exhibition catalogues – were transferred to The Lowry on its opening in April 2000.
The collection includes about 400 pieces from all periods of Lowry's career, including works like Coming From The Mill, Going To The Match and Industrial Landscape.
Open 11am to 5pm from Tuesday to Friday, and 10am to 5pm on weekends, you can view the exhibition at your own pace – it took Jake and I around 30 minutes to walk around, but you could certainly spend longer reading all of the informative plaques, or using the benches to sit and admire the art.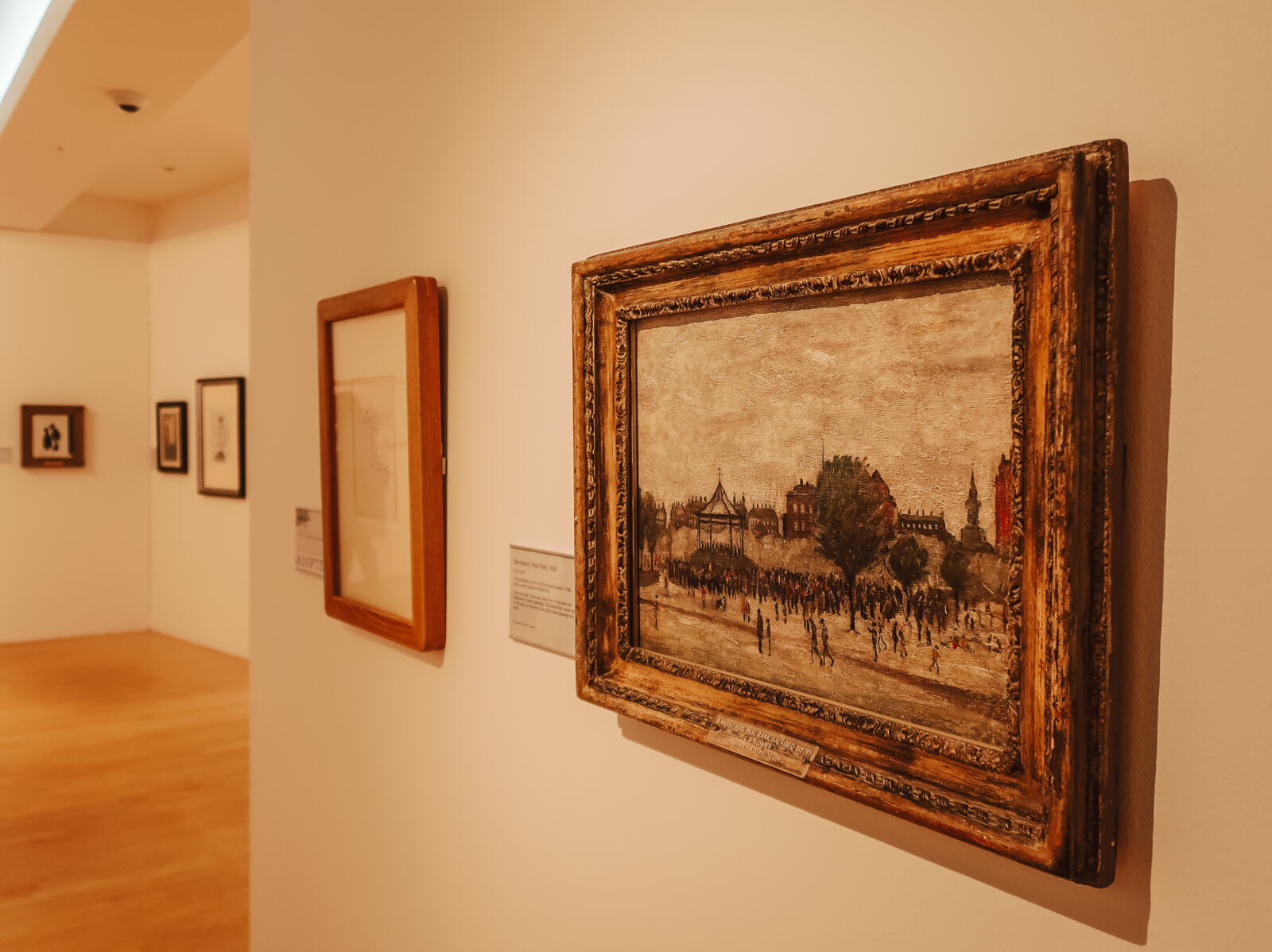 As well as the L.S Lowry exhibition, The Lowry also hosts a number of touring exhibitions, too, for example, for the next few months (April 29-June 25), the venue will home Hew Locke's The Ambassadors, which was commissioned by the theatre in 2019.
The Ambassadors consists of four Black figures on horseback, acting as envoys, bringing messages from the past to the future. Each of them is intricately decorated with symbols that echo past cultures, including Benin bronzes, colonial medals, currency, and much more.
It's particularly poignant as traditional statues and monuments tend to be of white men of power, but Hew's work aims to question who our society chooses to memorialise and celebrate. You can read more about the exhibition here.
Gift shop
Downstairs at The Lowry, their in-house gift shop is the ideal place to pick up a souvenir from your visit, such as an L.S. Lowry print, postcard, or packed or biscuits, or stock up on unique and unusual gifts for upcoming birthdays throughout the year.
The shop is really beautifully laid out into sections, with books documenting Manchester and Salford's rich history next to bottles of gin and beer distilled and brewed locally, such as Three Sisters and Seven Brothers, as well as The Manchester Soap Company, selling natural bath and body products all made in Rochdale.
There's a jewellery section with some lovely artisan rings, earrings and necklaces, as well as a botanical collection of gifts, including grow your own herb kits and some adorable felt houseplants and cacti.
You can take the girl out of Staffordshire, but not the Staffordshire out of the girl, as I was quick to notice a lovely illustration of a Staffordshire Dog on a card on one of the racks, and picked up a ceramic vase made to look like a book, too. These have been going viral on TikTok recently, and this one much cheaper than I've seen online and looks gorgeous filled with fresh tulips.
The Lowry Shop also stocks a great range of gifts suitable for children, in addition to well priced gifts for younger people, as well as cards and wrapping paper. I could have picked up so much more, but managed to stick to a budget of around £50, and this is the haul we got:
See a show
The Lowry boasts two stunning theatres, including the Lyric Theatre, which has the largest stage in the UK outside of London's West End. Impressive, right? The auditorium sits 1730, while the Quays is smaller, sitting 466.
The theatres host touring plays, comedy and musical events at varying times throughout the day, so you could catch a morning, matinee or evening performance, depending on your schedule and what you fancy.
The stage has seen a number of famous faces perform over the years from Peter Kay to the Kirov Ballet, Morrissey to Alan Bennett, but most recently, John Bishop and Sir Ian McKellen (who we happened to bump into) during their recent tour of Mother Goose, which you can read the review of here.
May has a number of fantastic performances coming up, but to give you a taste of what kind of shows come to the Lowry, here our my top picks for May:
Michael Rosen's Unexpected Twist – May 2 to May 7 – from £16

Judi Love – May 7 – from £25

Rosie Holt – May 7 – £22.50

Rumours of Fleetwood Mac – May 8 – from £34

Strictly Come Dancing – The Professionals – May 9 to May 10 – from £39

Sofa Cinema Club Podcast – May 11 – from £23

Jungle Book Reimagined – May 13 – from £15

Keith Brymer Jones – May 21 – sold out

The Way Old Friends Do – May 22 to May 27 – from £19

Carrie Hope Fletcher – May 28 – from £39
And as you can see from the above selection, the prices aren't ridiculously high, either. Two people can enjoy a night of entertainment for under £50 – and you won't find a date night much cheaper than that in Manchester.
Dinner
And for the ultimate dinner-and-a-show date night combo, there's also the Pier Eight Restaurant, which has recently had a brand new menu for Spring 2023.
The restaurant opens 2.5 hours before the start of a Lyric show, which is from 12pm for 2.30pm matinees and 5pm for 7.30pm evening performances. If you're visiting for a matinee, you have the option of booking in before, or after your show – but if you book in before, there's a pretty lovely added benefit.
With a stunning view overlooking the Quays, you can get two courses for £27.50 or three courses for £33.50, and the options are classic and universally loved.
I ordered the leek and potato soup to start, which was generous in its portion size and incredibly hearty, served up with roast garlic pesto, rosemary and onion focaccia, meanwhile Jake's glazed goats cheese on toast with pickled pear and herb salad was 'the best cheese on toast I've ever had', so he says.
We were very well cared for by our waiter, who went to every effort to ensure a comfortable stay – drinks topped up, napkins replaced – while also being conversational and a real part of making the whole experience elevated.
Jake and I both ordered the roast chicken breast, which was incredibly moist, served with gratin potato, braised red cabbage, with chicken sauce and delicious glazed carrots.
All of the food had come out quickly, and piping hot, too, all beautifully cooked and full of flavour. By the mains, I was completely full, but I was desperate to sample one of the desserts. It was then that the waiter told me that you can actually order the dessert for the interval, returning to the exact table to enjoy the final course around an hour or so later. It's the perfect solution and so many more places should do this.
So, I did just that, and had my lemon meringue pie arrive during the interval, where I'd had enough time for my meal to settle, and 20 minutes in which to enjoy my sweet treat. Creamy meringue paired with tart lemon in a buttery pastry case – it was absolutely heavenly and definitely worth the wait.
The Lowry, in Salford, really does have everything you need for an exciting day out, where culture meets culinary, all under one roof. Whether you're just heading to see a show or fancy the free exhibitions, or want to make a full day of it, you can curate your ideal visit by checking out what's on at the theatre here.