Ad – this is a sponsored collaboration with intu Potteries – all views are my own
Intu centres are springing up all over the country, from Intu Trafford to Intu Lakeside. Here in Staffordshire, we have Intu Potteries. It has transformed what was becoming a run-down shopping centre into a vibrant shopping hotspot, cinema and dining plaza.
From 20 March, for six weeks, Intu Potteries had a blooming stunning (pardon the pun) instillation on display in the shopping centre, consisting of five mannequins donning outfits made entirely of flowers.
The centre has been working with local florist, Natalie's Florist, to create the designs for the SS18 campaign.
Marketing manager, Sandrine Rutter, said: "We want shoppers to take inspiration from our five flower mannequins and tailor to their own style." So that's exactly what I've done!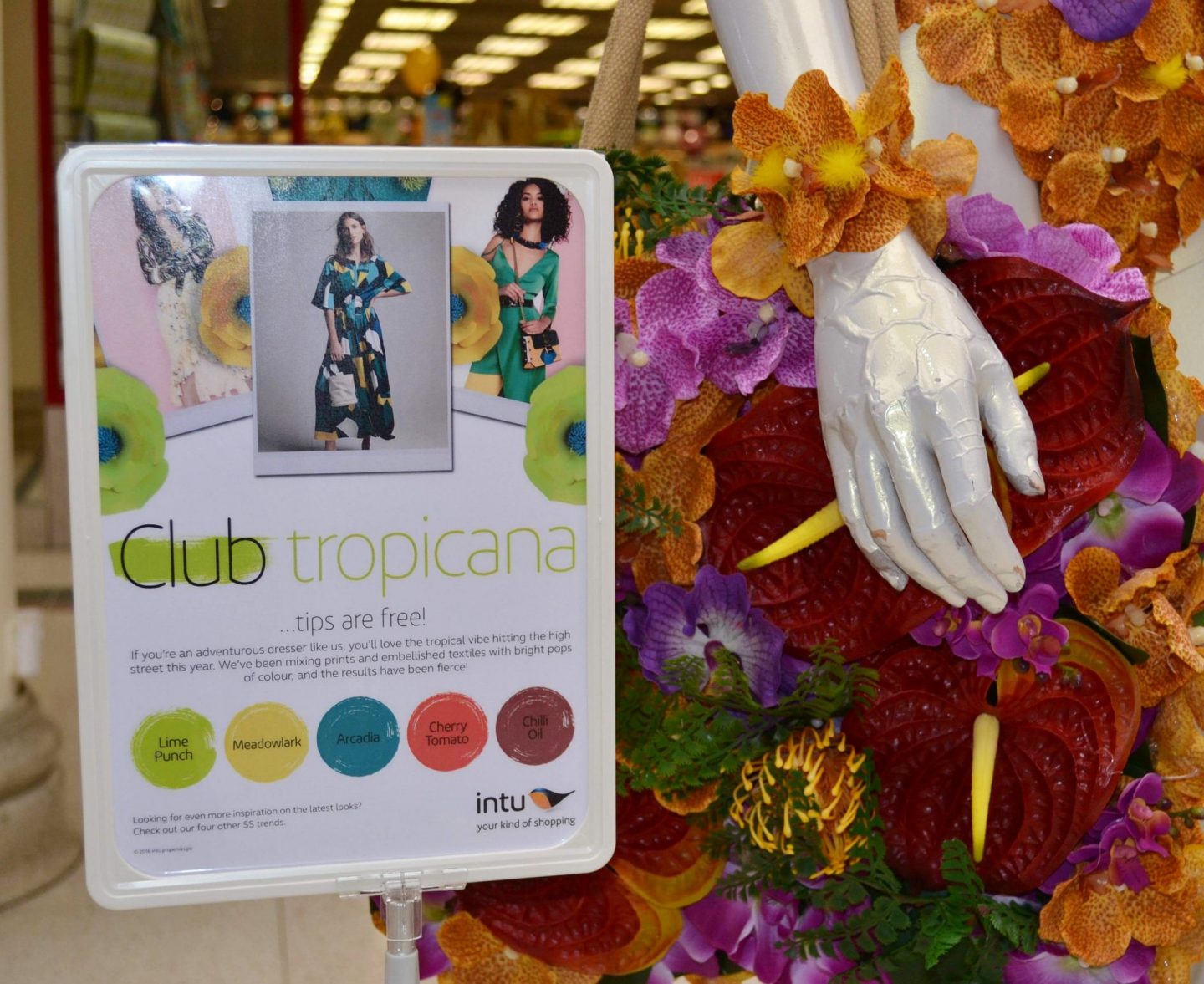 The theme I was given to work with was Club Tropicana, along with a £100 gift card* to spend at Primark, H&M and Urban Decay. I was provided with a suggested colour palette and I mainly clung to this. I was avoiding the typical pineapples and palm leaf prints, but taking the tropical colours and tailoring them to my wardrobe.
Whilst I was spoilt for choice massively I managed to pull together two outfits with interchangeable accessories.
Spring Outfit One:
With the shades Meadowlark and Arcadia in mind, I went for this beautiful sheer blouse with a floral print and flared sleeves from H&M for £17.99* and paired it with this contrast denim pinafore for £24.99*, also from H&M.
Denim is a S/S must-have every year and no wardrobe is complete without a statement denim piece. Be it a jacket or some funky denim shorts, but for me, it's this pretty pinny. I took the mustard hues from the blouse and teamed the outfit up with these £6 flats* from Primark. The finishing touch was a yellow circular bag from Accessorize, that I already owned.
On my lips, I'm wearing an Urban Decay 24/7 glide-on lip pencil in the shade Gash (£14.50)*. This was the closest match to the Chilli Oil shade on the colour palette. The pigment in these pencils is crazy and they stay on forever, their staying power is mental and they really do mean 24/7!
Spring Outfit Two:
This outfit was heavily based on the Cherry Tomato shade, opting for a predominantly monochrome look with a bright pop of colour. This entire outfit is from Primark and they have some killer pieces in this season. I went for a simple white bardot crop at £4*. It's super versatile and can be worn with so much. I wore it with these cute £13 polka dot culottes*, another iconic piece that isn't dying out any time soon. Primark have so many beautiful patterned culottes in at the moment. I was nearly talked out of another £13 for some mustard palm leaf print babies. I'll come back for you!
To accessorise and add that dash of summer colour, I went for these heavenly £12 booties* (which also come in other colours), red sunglasses (£2) and a red circular bag for £8* (I must have a thing for oddly shaped handbags). All of these were from Primark. The jacket I'm wearing for this shoot is from Next and the neckerchief from Emporium at Boots.
The yellow accessories in outfit one can also be swapped out for the red accessories in outfit two. I like to do this to switch up the looks and contrast colours in the palette. Keeping the main body of outfit two monochrome means that it can be matched up with any accent colour!
With three floors of over 80 shops and seven restaurants, Intu Potteries should be your first stop for SS18 shopping. If you're passing the mannequin exhibition, be sure to enter the competition! You could win a £50 shopping voucher by guessing how many flowers make up the instillation!
You can read about the intu Potteries AW campaign here: