Soap and Glory and fast becoming one of my favourite brands. Until this year, I had only really used them around Christmas when they had been bought for me, but these days I can't get enough.
They recently sent me the most incredible PR package. I've been one of their Babes of Glory for just over three months now, and this is the fourth bag of goodies they have sent me. You can read all about the skincare products they sent me here, and about some of their beauty must-haves here.
This time around, Soap and Glory have sent me some products from their brand new range Call of Fruity. They came in the coolest retro jelly bag that I am desperate to style with a funky, 80's outfit. It's their first new scent in four years, and so, they're super excited about it. If you're a summer lover and want to continue using those totally tropical bath and body products, then this range is for you, boo.
There are six new funky and fresh products, including a Hand Food, no Woman No Dry body butter and Summer Scrubbin' body scrub, alongside the three products I'm about to get in to.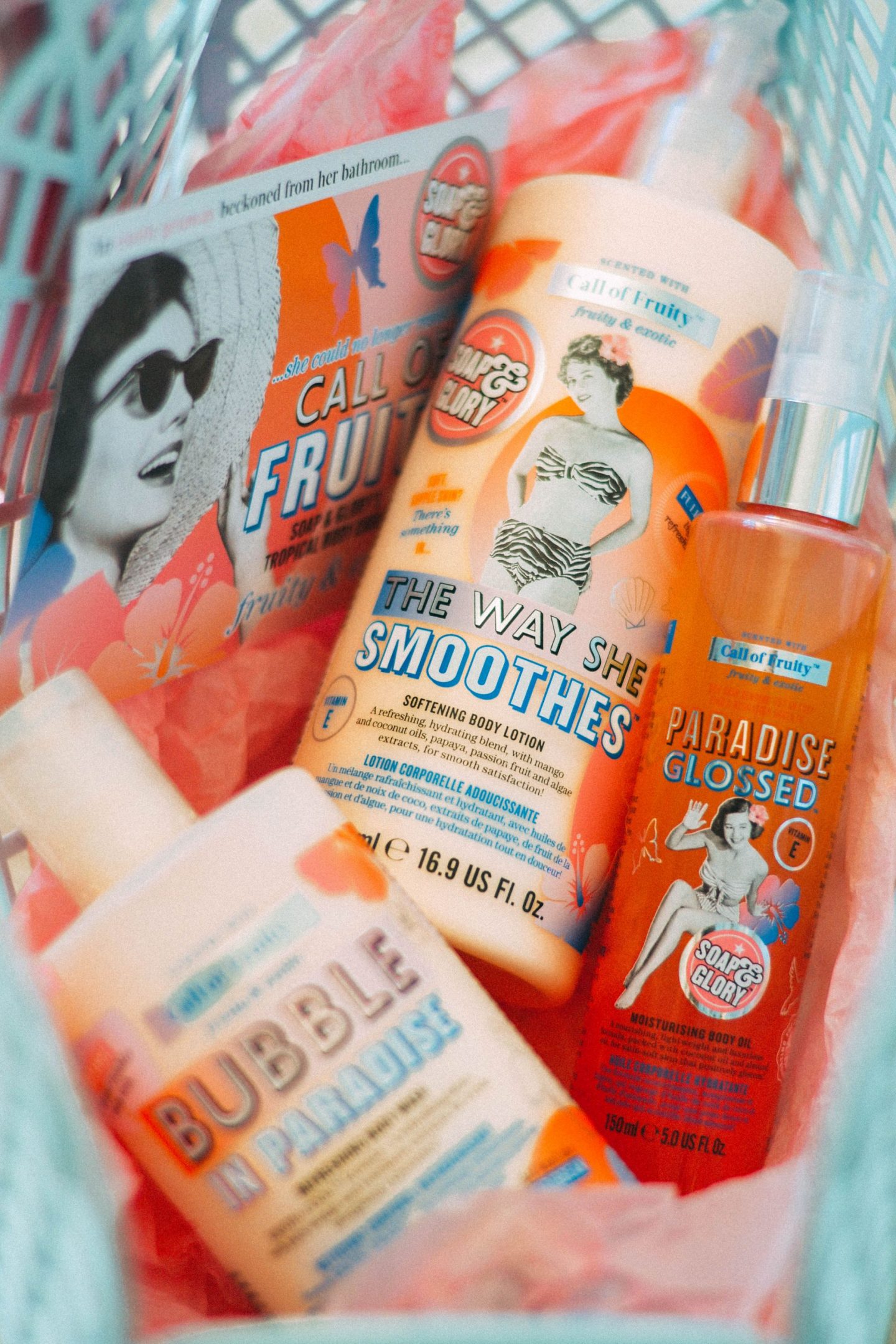 Call of Fruity: Bubble In Paradise
Bubble In Paradise is a refreshing body wash, much like Clean On Me. It has the same smooth and soapy formula that we all know and love, but packs more punch in its scent. Exotic mango and mandarin extracts take you to a tropical beach sipping a cocktail out of a coconut. There are also few floral notes, but mostly just light, fruity fragrance. One great thing about Soap and Glory is that they don't do things by half, and these body washes are huge in comparison to your average, meaning they last longer and you smell incredible for months.
Call of Fruity: The Way She Smooths
Personally, I like to match my body wash and post-bath body lotion so as to not merge scents that don't complement each other. This softening body lotion features passion fruit, mango and coconut and it's thick formula will leave your skin blissfully soft.
I'll let the stats speak for themselves. Out of 56 people who tested The Way She Smooths, '100% of previously lacklustre ladies said their skin felt refreshed'. Similarly, 98% of testers said their skin felt smoother.
Whilst the lotion is beautifully smoothing and hydrating, if your skin does need a little extra love, I'd recommend using one of their body butters like the new No Woman No Dry in the Call of Fruity fragrance.
Call of Fruity: Paradise Glossed
Body oils aren't something I tend to use. Having oily skin, anything with 'oil' in its name I will avoid like the black plague. Cleansing oil, facial oil, but body oil is a little different. There is something very luxe about them, in my opinion. With Paradise Glossed, you just shake, spritz and massage into skin for instant moisture. Coconut and almond oil work together to create a lightweight but nourishing formula for your skin to soak in and enjoy. Be careful with getting it on things though, such as flooring and furniture as oil-based products can leave stains.
These products are not get available in the UK, but will be soon! You can browse some of the range here.