On Tap has been one of my favourite café/bars since it opened its doors almost a year ago. Situated on the high street of my hometown, it's the perfect spot for a post-dog walk tea. If you're looking for something a little stronger, they have an extensive range of gin and craft beer to tickle your tastebuds.
Whilst I do love a gin, the thing I love most about the cosy venue is definitely the people. Tina and Liz will greet you with a hug and make sure you're right at home and the regulars get to know you too. Phoebe has a few fans in there – oh yeah, they're also dog friendly.
I have previously attended their Meet The Brewer event with Mobberley Brewhouse, which you can check out here. On Saturday, I headed down for their own Gin Tasting session.
When I arrived, Tina introduced me to some of the other customers joining in the gin tasting. It can be so nerve wracking going to events alone, but On Tap has such a wonderful community vibe that you can't help but be best friends with everyone in there! There was a spread of cheese scones and garlic bruschetta with homemade jams and chutneys to nibble on and before long Tine and her daughter Ellie were serving the first gin of the evening.
Faith & Sons Organic Pineapple Gin (37.5%)
Founded in 2015 by Filipe, Faith & Sons' are renowned for their organic spirits, distilled in an underground micro distillery in Manchester. Their gin range comes in some rather exotic and unusual flavours, like pineapple, mango, raspberry and even cold coffee.
On Tap served this in a beautiful crystal martini style glass with ice, indian tonic water, ginger ale, pineapple and lemon zest and garnished with edible dried pineapple. The tropical pineapple combined with the warmth of ginger ale was an unusual blend of both summer and winter flavours. The tonic gave it a bit of bite and whilst I don't usually like ginger beer, I quite enjoyed this cocktail!
This one got 3/5 from me.
Mason's Yorkshire Tea Gin (42%)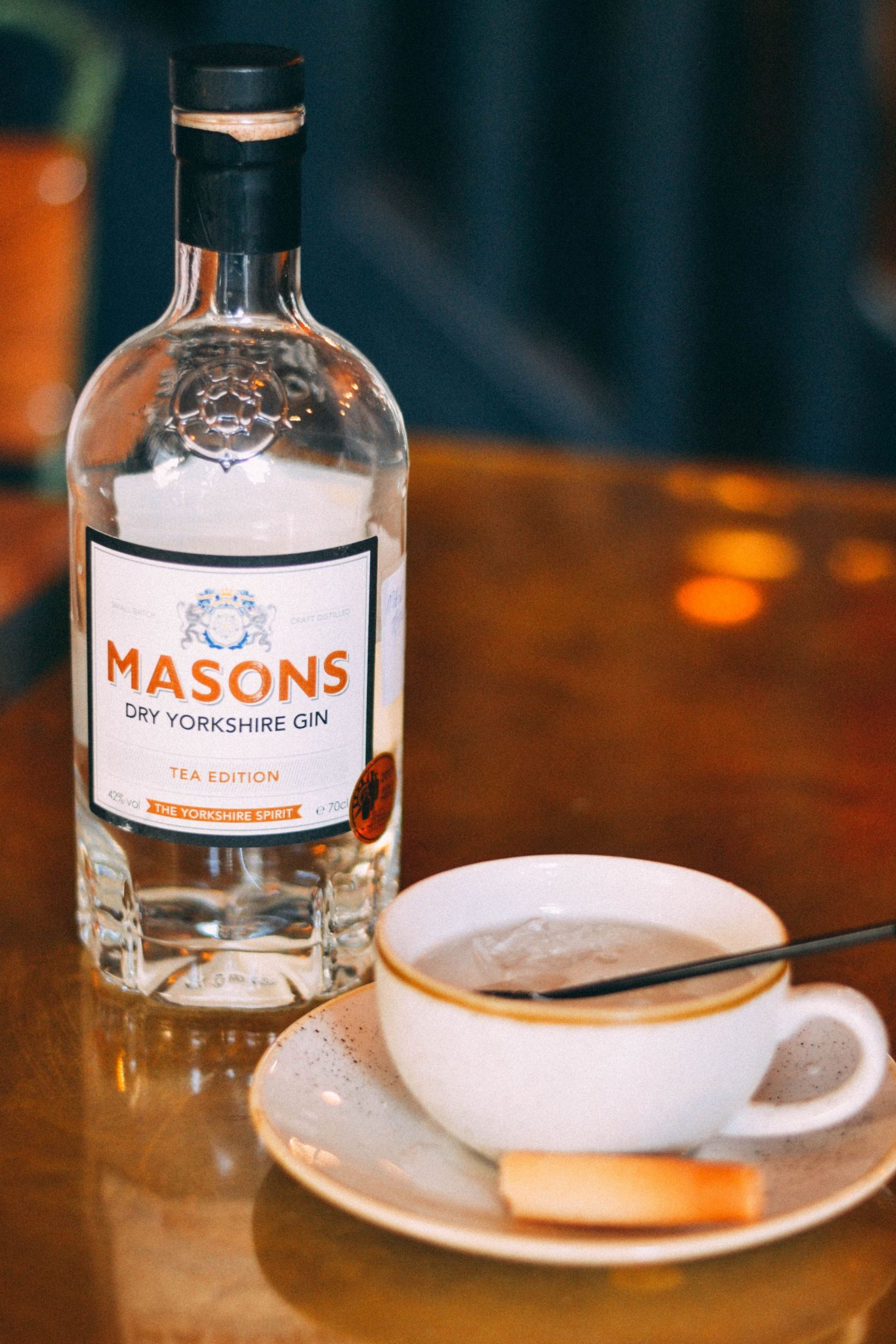 I love a good cup of tea. In fact, Yorkshire Tea is out family favourite (heaven forbid if anyone accidentally buys PG Tips). I also love gin. Mason's was founded by Karl and Cathy Mason, an enthusiastic couple looking to create a gin that stood out from the crowd. They launched their first gin on International Gin Day 2013 and have been developing flavours ever since.
On Tap served this one in a cute tea cup on a saucer with elderflower and a sugary biscuit roll. This gin is quite sharp and fresh as you sip, and leaves behind the smoky tea flavour, which comes from the cardamom and aniseed.
Whilst this was my least favourite flavour of the five, I still really enjoyed it!
Faith & Sons Mango Gin (37.5%)
This was my favourite beverage of the night. Tina thinks she may have put a double shot in this one, but with the smooth mango flavour, you couldn't even taste the alcohol. That's when a drink becomes dangerous because you can drink it like fizzy pop and then boom. It all hits you at once.
On Tap served the fruity tipple with lemonade and a wedge of mango. I could have easily sat and drank this all day long on a hot day in summer. Next on my list is to sample their Raspberry Gin or their Spiced Rum, which sound equally as inviting.
The Faith & Sons Mango gin gets five stars from me.
Batch Industrial Strength Gin (55%)
Batch Gin was initially brewed in the basement of a terraced house in Burnley in 2015. A year later, they moved to a distillery in the same town. It's labelled as industrial strength as it is 55%, a nod to navy proof spirits. This gin is so strong it is said to be able to light cannons. The branding on the bottle, designed by Brodie Cameron is absolutely gorgeous, I think this was my favourite bottle design.
On Tap served with Indian tonic and decorative botanics. You could certainly taste the strength in the first sip, as it could literally knock your socks off. The more you sip the easier it becomes to drink. It is very sharp on the palette and tastes very clean, but personally I do prefer a little more of a botanical or fruity flavour in my gin. It was a very impressive drink, though.
That Boutique-y Gin Company Cherry Gin (42.6%)
Gin is usually served with tonic, or lemonade. Before Saturday I would never have dreamed of mixing my gin with Coca-cola.
That Boutique-y Gin Company was founded by four friends in Royal Tunbridge Wells who are dedicated to creating drinks that look and taste awesome.
You've all heard of a coke float, right? On Tap used the Cherry Gin and served it with coke, a wedge of lime and a scoop of vanilla ice cream. My mind was blown. This for me came top of the list for creativity and innovation, but second to the mango gin for taste. I could easily drink the Mango cocktail all day, but this Cherry Gin Coke Float would make an amazing boozy dessert.
Keep an eye out on On Tap's Facebook page for future events. You don't want to miss them..