For me, jewellery is a super personal gift, and can really show how much you care. Everyone's personal style is different, so actually, jewellery can show that you are perceptive and know someone's personal style.
For example, I know that if someone were to buy me yellow gold jewellery, that they don't know me very well. Other people might not really wear silver, or despise rose gold. When you open up a bracelet, or a necklace and you love it – the person who gifted it knows you.
Boho Betty are a brand who understand and appreciate individuality. Since 2012, they have been dedicated to creating high quality, versatile, stand out pieces, with a style and design for everyone.
What's great is that Boho Betty are an affordable brand, meaning you don't have to break the bank for a beautiful Christmas gift. You can buy pre-made stacks for as little as £15, and stunning bracelet gift sets for just £25.
I spent hours browsing the Boho Betty site, and they kindly gifted me some products that I loved. I am becoming more and more obsessed with rose gold jewellery these days, and I was desperate for some jewellery to go with my rose gold Adexe watch, so of course I selected some complementary designs.
The Erdre bangle can be purchased alone for £20, or as a gift set with a beige tassel and gift box for £24.25.
Half of the bangle is a rose gold bar, with the other half being a taupe/gun metal leather strap. It fastens with a hook clasp and features an adorable beige tassel and the signature Boho Betty rose gold charm.
This is a really timeless, classy and easy-to-wear piece. It looks great alone, with a watch, or stacked with other bracelets.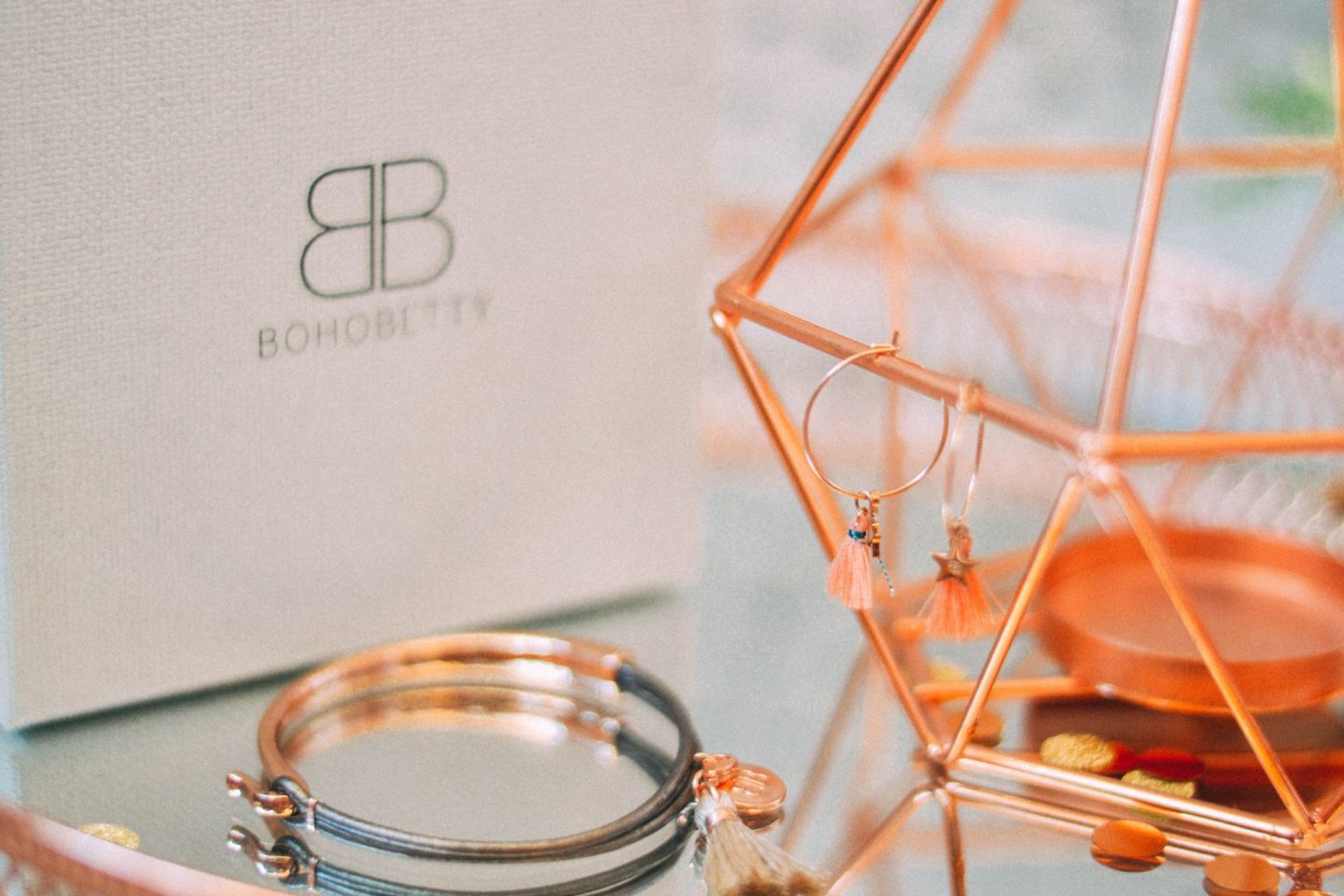 Boho Betty did tassels before they were on-trend, and they make a beautiful addition to their bangles. What I love is that you're not tied down to just one tassel! The Erdre may come with the beige tassel, but you can purchase other colours for just £1.75! I have actually asked for some of these on my own Christmas list, as you can swap and change the tassel charm to match your outfit!
They also have stunning seasonal tassel sets for £22.00. These feature nine different coloured tassels wrapped with either gold, silver or rose gold depending on your preference.
What I love about charm bracelets like this is that it can become something of a tradition to add to it on special occasions. You could have a tassel for your birthday, Christmas, graduation, anniversary – the list goes on. Plus, it doesn't even scratch the bank let alone break it, to do so.
To match my Erdre bangle, I selected the Cascara rose gold earrings (£10.00). These are a handmade medium sized hoop with a hook style fastening that I've not seen before. It was a little difficult to figure out how to put them in at first, but once you've done it it's super easy.
The earrings feature a little pink tassel and a star pendant, inspired by myths and legends. I have three piercings in my lower lobes, so I like to wear these with a larger hoop at the bottom, then the Cascara earrings in the middle, with a stud in the third piercing. Equally, they look dainty and elegant on their own.
Although Boho Betty gifted me these items, all opinions are 100% honest and I will be purchasing more from their website! I've worn both of these items every single day since they arrived! I think I'm hooked (pardon the clasp fastening pun). What's more is that you can even bag yourself 20% off just for signing up to the newsletter, making a beautiful product a complete bargain.
Treat someone you care about to Boho Betty this Christmas and I promise you they will not be disappointed.