I've been a fair few festivals over the years – V Festival, Lakefest, Y Not… but none of them as good as Tramlines.
I love this festival for several reasons. Sheffield is a beautiful two hour drive up the road from Staffordshire.
It's no camping, which means I have an actual bed to get into at the end of the day, and a shower to wash away the glitter.
It's cheap considering the names on the bill, with super early bird tickets starting at £39.50. I've just bought tier one tickets for next year at £59.50.
The food, the bands, the opportunity to go all out on the festival fashion, but also, the cleanliness and how well the festival is organised makes it a joy to attend.
I went over the Saturday and Sunday, and here is who I saw, what I wore and what I ate over the weekend!
Tramlines – Saturday
What I wore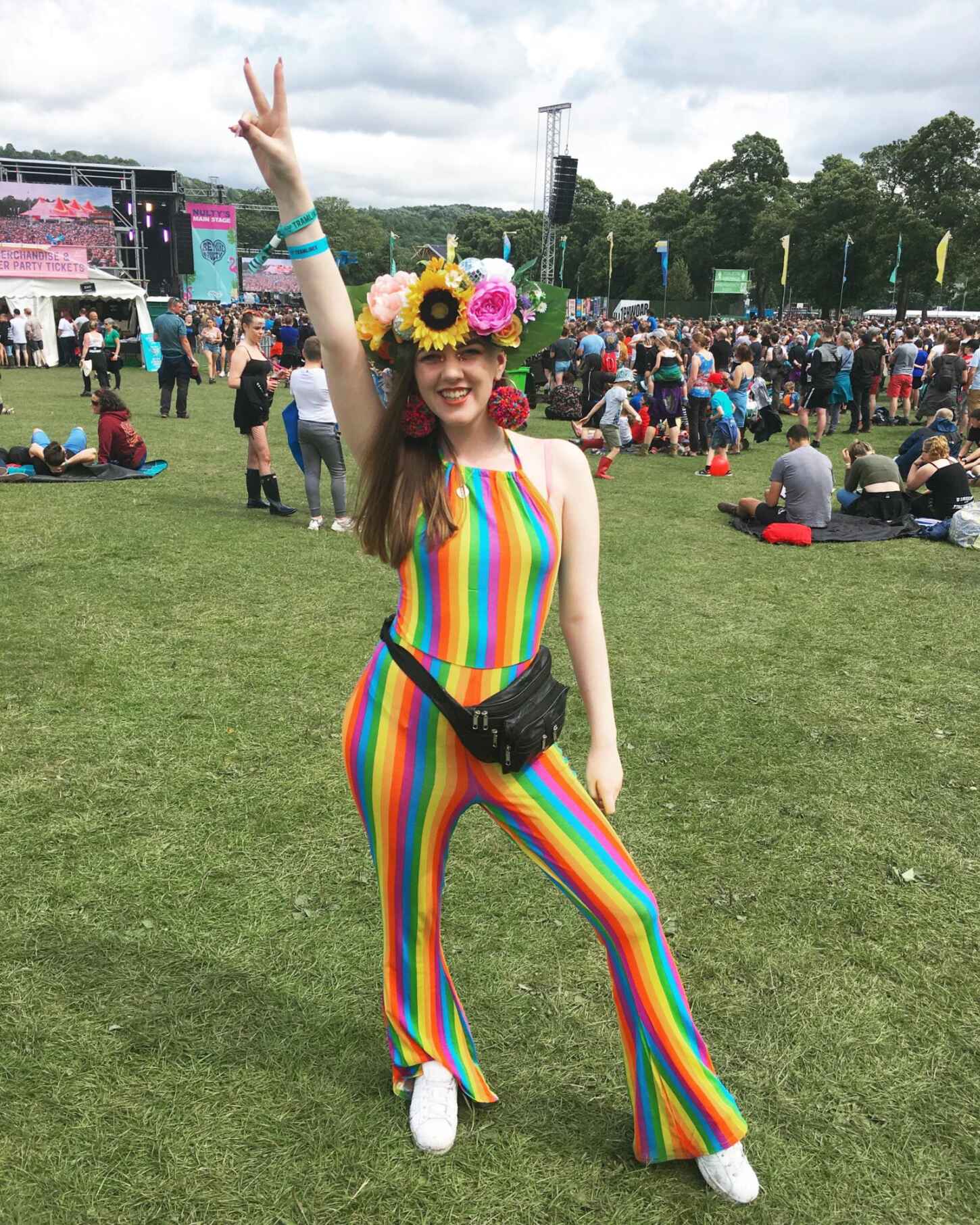 Handmade headdress by me, made with Pretty Pricks
Handmade earrings by me
Rainbow flared unitard from Boohoo
Leather Bumbag from Ark
Adidas Superstar Trainer
This outfit got me a surprising amount of compliments both inside and outside of Tramlines. So many people commented on my flower crown and asked where I got it, and were so surprised to hear that I'd made it myself! I figured that if I only get to go to one festival a year, I would dress for the occasion.
What I ate
Last year Jake and I obsessed over Easy Cheesy's burgers! Their double patties are dunked in liquid nacho-style cheese and loaded with onion rings. They are dreamy. I cannot describe my excitement when I saw their van in the far corner of the festival!
Yorkshire puds are the food of the north, and of course the Sheffield-based festival had a stall dedicated to the local delicacy. Yorky Puddings served giant Yorkshire puds filled with bangers and mash for £9 and were a welcome comfort food during The Courteeners.
Who I saw
We briefly caught Casey Lowry in T'Other Stage as he serenaded us with a cover of Rick Astley's Never Gonna Give You Up. He's definitely an artist to watch and I'm sure it won't be long before he's snapped up to play The Sugarmill.
Everly Pregnant Brothers play the main stage every year, and are very much a Yorkshire thing. It's not something you really get if you're not from up north – in saying that, they're some light entertainment for a sunny afternoon.
Before Miles Kane came on, we caught the end of She Drew The Gun's set as we sat down to eat our Easy Cheesy burgers. Their 80's inspired psych pop was refreshing and definitely one I will be searching up on Apple Music and adding to my playlist.
Miles Kane. Oh Miles Kane. The sassier half of Last Shadow Puppets stormed the stage at 4:30 and gave the crowd attitude. He really packed a punch and brought his A-game, as always, and put on a show. He performed a sexy cover of Hot Stuff, and threw in a couple of my favourites including Come Closer and Inhaler.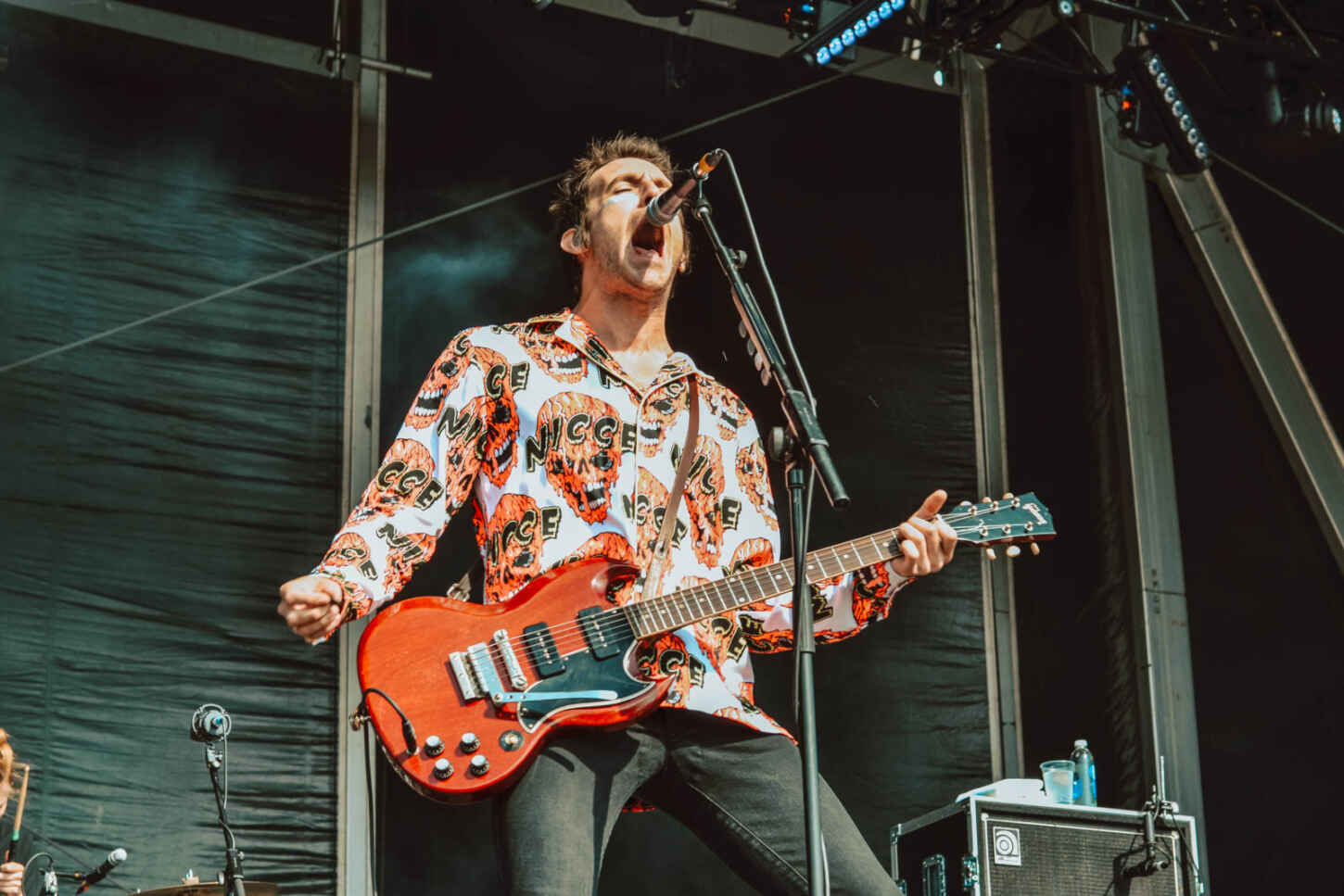 Reverend and The Makers go big or go home. The Sheffield band played their homecity and shook the ground of Hillsborough Park. The 90s powerhouse gave us The State of Things as red and blue flares filled the sky, followed by banger after absolute banger. They're a band that never disappoint and I'll go to see them at every opportunity with the biggest grin on my indie little face.
Johnny Marr is the sexiest man alive, amiright? Just me? Either way, the guy is dangerously cool. I couldn't take my eyes off him the whole set as he completely captivates his audience as he swings his guitar around playing the most iconic riffs in history absolutely effortlessly. Whether he was playing The Smiths or his own solo material, it went down an absolute treat, but nothing hit the spot like How Soon Is Now?
The Courteeners headlined the evening, but Johnny had definitely set the bar to an extraordinary height. The bands older tracks went down pretty well, but Liam lacked the stage presence I've seen him have before. The breaks between tracks whilst switching guitars was a little disengaging and we did end up leaving a bit before the end. It was nice to see them, but I think Marr had perhaps stole the show!
Sunday
What I wore
Bodysuit from Naanaa clothing
Leopard skirt from New Look
Belt bag from Topshop
Hair clips from Pollyanna
Adidas Superstar Trainers
I picked this skirt out for my sister during a mini personal shopping session, but couldn't stop thinking about how much I wanted for it for myself. I ended up buying it for £19.99 and then paired it with this summery lace bodysuit that Naanaa gifted me!
What I ate
When we were heading into Tramlines, a promo girl passed Jake and I some vouchers for a free Camden Hells Larger to be redeemed between 12 and 2… Larger for breakfast it was! The Camden Town bar was super cute in a secluded bit behind T'Other stage, so was a nice escape from the hustle and bustle of the festival.
Texas Smoker BBQ pulled pork chips – Every time we walked past this stall, the smell of BBQ pulled pork made me drool. I couldn't resist some loaded chips – although, they weren't the cheapest at the festival.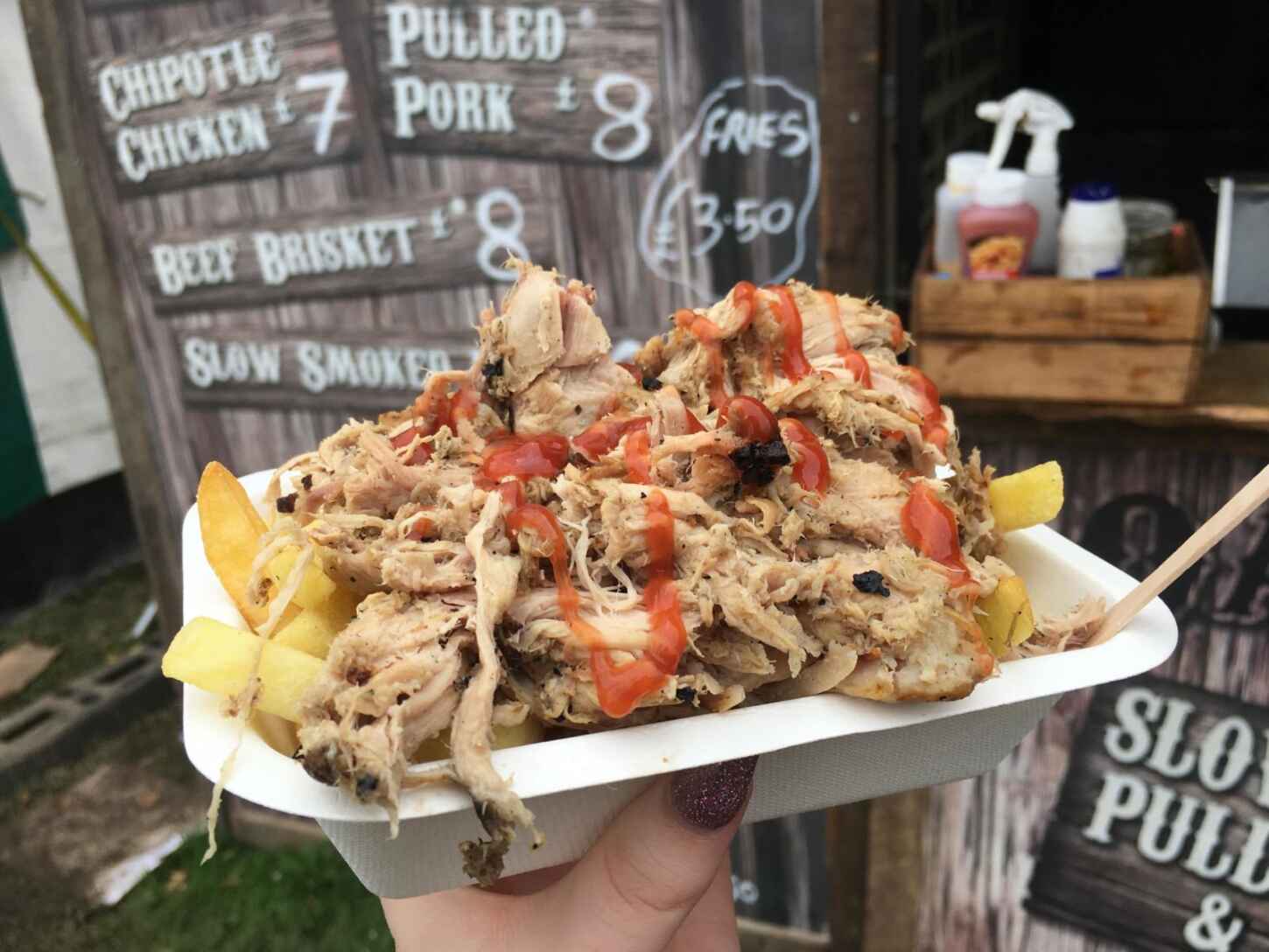 Whilst all the savory food was delicious, a mid-day sugary pick-me-up was always needed. There were a number of fresh donut stalls dotted around, and whilst this was £1.50 more expensive, the queue was a lot shorter.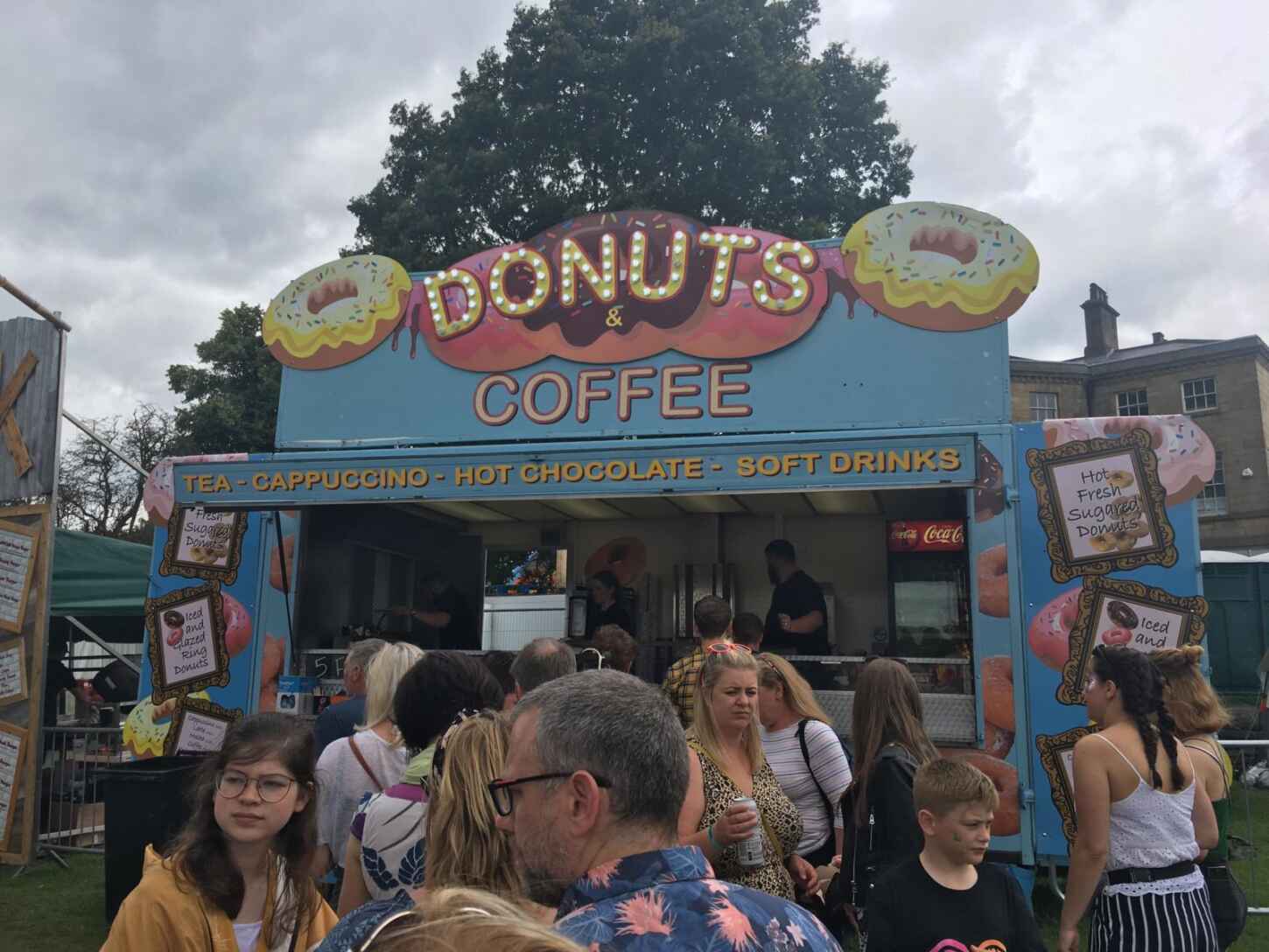 Who we saw
Happy Mondays played early doors at around 1:30pm, but certainly set the pace for the rest of the day. Bez's character and charm certainly got everyone dancing and ready for a day of amazing acts.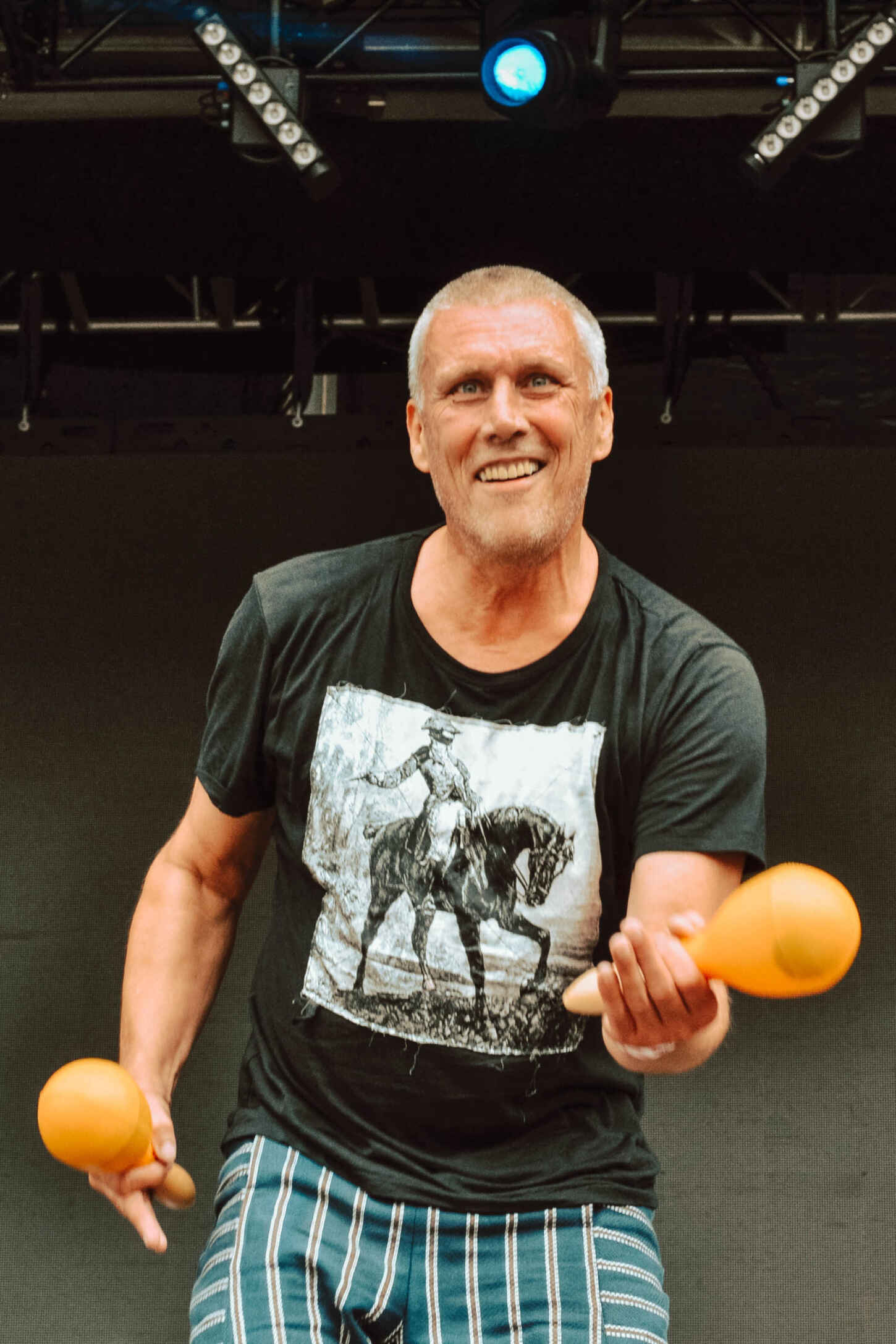 Phil Jupitus played the Leadmill stage, with the crowd roaring with laughter from his morning musings of how to kill Nigel Farage. Comedy and spoken word really help break up the festival and offer something other festivals don't.
Lewis Capaldi was the main reason I switched my Saturday day ticket for a weekend ticket. The £30 price difference was worth it, seeing as tickets for his own gigs are more than that. Capaldi has flown to fame, and whilst he didn't come out dressed as Noel Gallagher or Chewbacca, he still killed it!
The festival was brilliant, as always, and my tickets for next year are sorted. I can't wait to find out who is on the bill next year – now, to find a festival outfit with more colour, glitter and sparkle.