Last month I graduated from Staffordshire University with a degree in Journalism. Wow, I'm officially a graduate. I'm a fully-fledged adult with a full time job, running on tea and biscuits and wearing suits. And I love every second of it.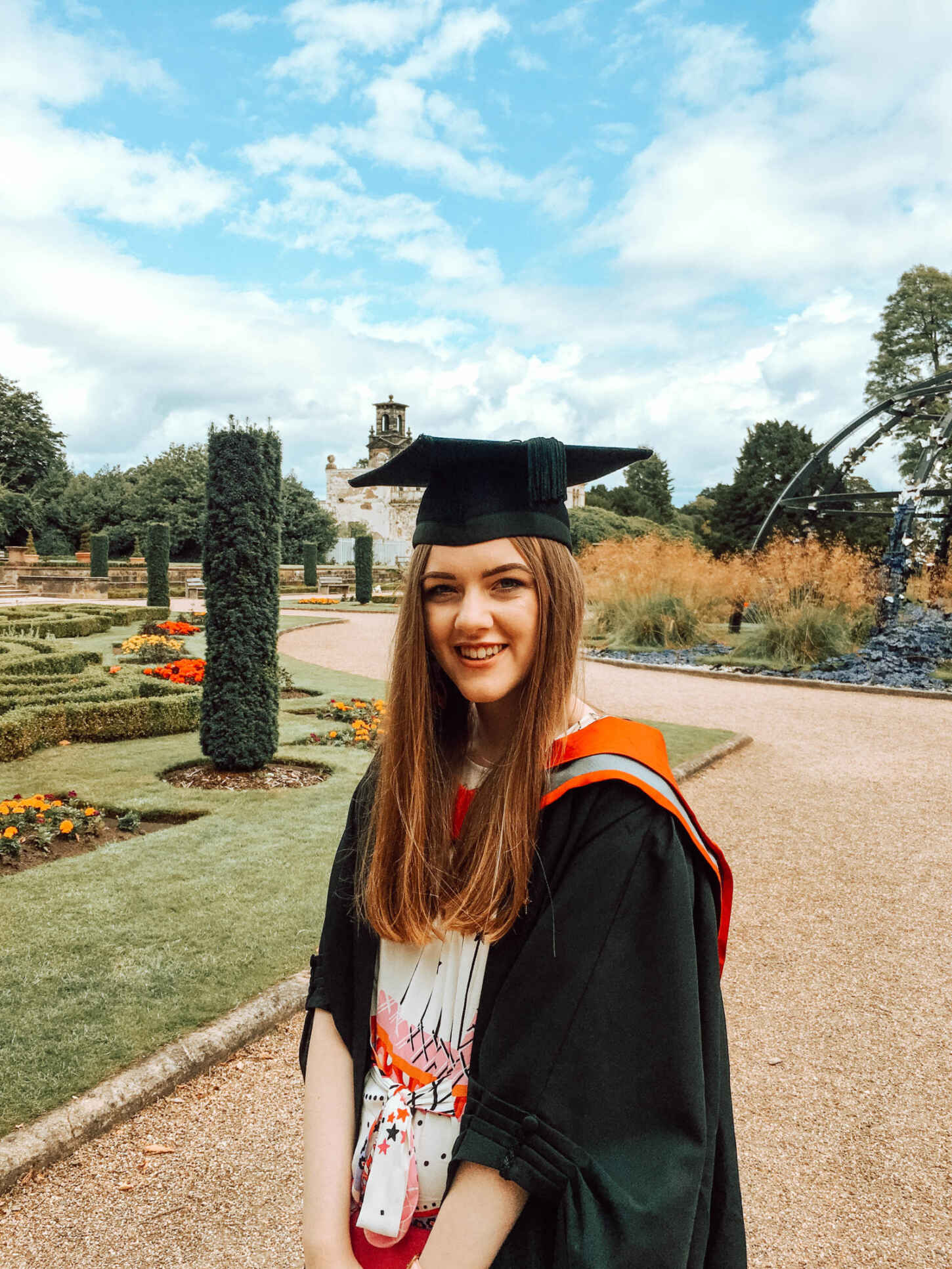 Having a job I love so dearly makes the breakdowns, the tears and the long hard slog worth it. My degree didn't come easy, but now – it's mine and no one can ever take that away from me.
On 11 July, I put on my cap and gown and graduated with my class of 2019. It was emotional. I was so happy to be graduating with my friends, celebrating our journey and our future, but I also couldn't wait to see the back of the place.
Graduation Outfit
If you read about my Manchester trip you might have already spotted where my dress is from!
I picked up this beautiful circus print midi dress from Oliver Bonas, after falling head over heels with it on the mannequin. I hadn't even got it zipped up in the dressing room before I said yes to the dress.
The midi came in at £75, and I picked up some lilac and orange statement earrings to match the colours in the dress for £12. I also wore my blush pink and rose gold Modu watch.
Regarding shoes and a bag, I could have gone with lilac, orange, or various shades of pink. I had picked up a couple of bags, but spotted a suedette range of clutches in New Look, all of which matched the dress.
I purchased hot pink and orange, and went on the hunt for shoes to match either – with only a week until Grad.
After trying on what felt like hundreds of size 5s, I had almost given up. I made one last desperate escalator crawl into Debenhams, where sitting on a little sale rail all alone were this pair of hot pink Faith heels reduced from £50 to £12.50. If ever there was fate, the stars had certainly aligned.
Details:
Dress – Oliver Bonas – £75
Earrings – Oliver Bonas – £12
Shoes – Debenhams – £12.50
Outfit total: £109.50
Graduation Makeup
I recently received the most exciting PR package! When a box of Charlotte Tilbury goodies arrived on my doorstep, I was completely speechless. They came just in time for graduation, so it would be rude not to go glam for the event!
I woke up at 6:30am to start my graduation makeup and filmed the process. I have added the product details below in case you miss them in the video!
IGTV:
Product details:
Primer: Charlotte Tilbury Wonderglow
Foundation: Dr Jart Black Label BB Cream
Brows: Natural Collection Tinted Brow Gel (dark)
Anastasia Beverly Hills Dipbrow Pomade (Auburn)
Contour: Charlotte Tilbury Filmstar Bronze and Glow
Powder: Kat Von D Lock It Powder Foundation
Blush: Charlotte Tilbury Cheek to Chic
Eyes: Modern Renaissance palette
Highlight: Dior Backstage Face palette
Mascara: Charlotte Tilbury Full Fat Lashes
Lips: Charlotte Tilbury Lip Liner
Charlotte Tilbury Lipstick (Pillow Talk)