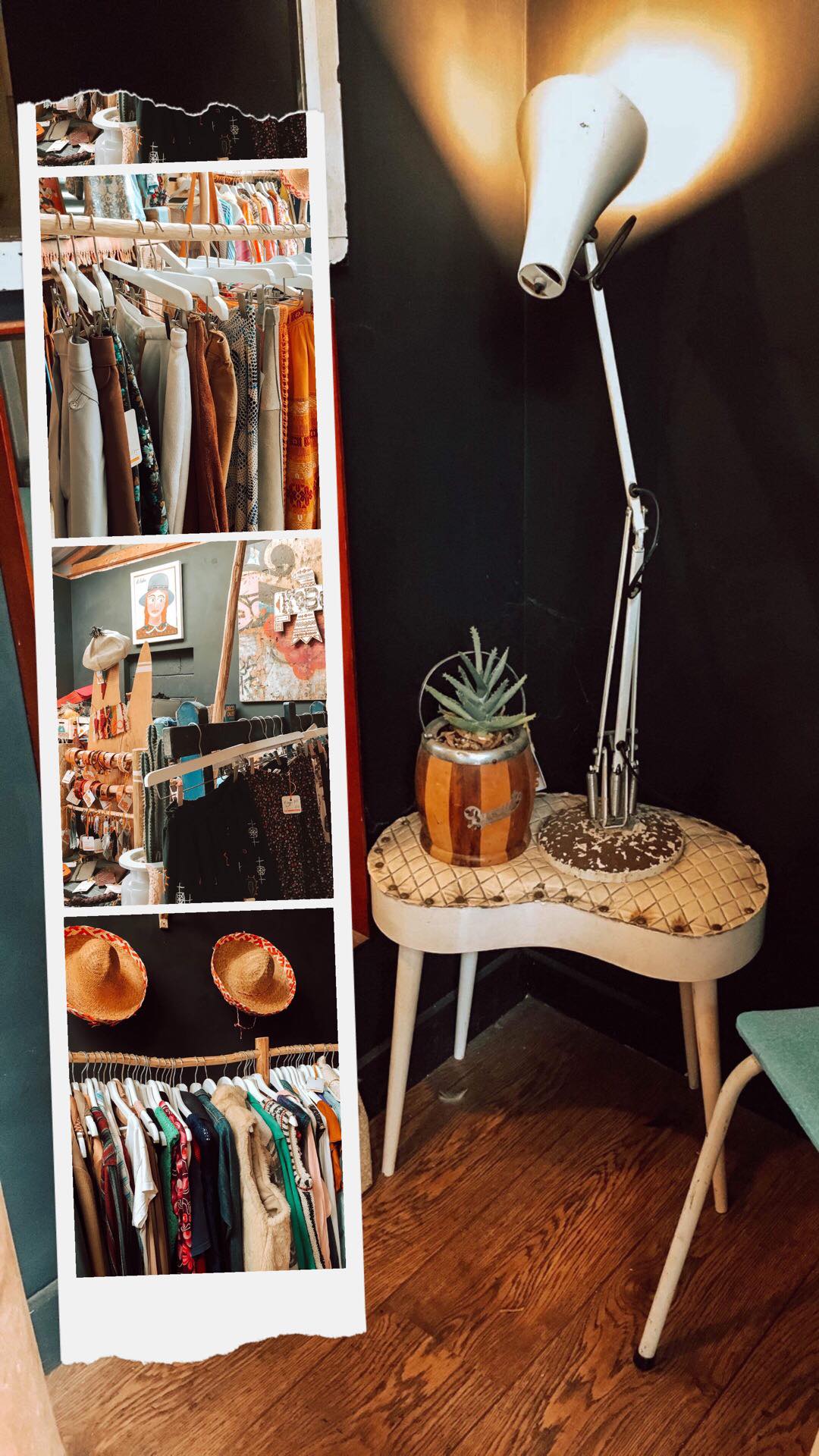 Tucked away off the beaten track inside a little garage unit is one of Newquay's hidden gems: El Hobo.
If you didn't know it was there, you would easily miss it. It sits just off Crantock Street as you're heading into the town centre, and if it wasn't for the orange roadside sign, you'd get a little lost looking for it.
But the place holds some incredible finds that you're almost glad it's hard to find – it means you've usually got the place to yourself to browse the beautiful clothes, accessories and homewear and try things on.
El Hobo's speciality is reworking and re-loving. You're sure to find stunning one off pieces with ginormous balloon sleeves and leather off cuts. Choose from jackets with colourfully crocheted sleeves, or fabulous 60's patterns. It's a vintage lovers' dream. I instantly told Rhi from Sparrowhawk and she swooned.
I picked myself up a 70s suede midi skirt in a gorgeous rust colour for £15. It was in impeccable condition, as everything was due to it being hand sourced by owner, Hannah, herself. I can't wait to wear it with chunky Autumn knits or white summer blouses. Pieces like this are versatile and made to last – that's what's so brilliant about vintage, the longevity and sustainability.
Rows of clothes lined driftwood rails in front of corrugated metal walls. The whole vibe is rustic seaside boho and I can't get enough of it. Each and every way I turned, there was something totally unique to take in, from the giant bullhead skull on the wall, to the unusual artwork hanging behind the counter where Hannah worked away.
One item that really caught my eye were these horsehair Vans. I had raved to everyone since last year about El Hobo's one-off shoes, after having seen a pair last year with a horsehair tongue. When I spotted these I did a little squeal, and despite being a half size smaller than my usual size, they fit perfectly. My mum talked my out of parting with my £40 saying I wouldn't wear them often.
That was on Saturday, and by Monday morning, sat at my desk in the StokeOnTrent Live office, I was kicking myself for not buying them. I could not stop thinking about them, and I have a general rule that if you're unsure about a piece, don't buy it. If you're still thinking about it days later – go for it.
I messaged El Hobo on Facebook Monday evening and prayed they were still n stock – and they were! Hannah kindly popped them in the post for me and my heart was content. (Bank balance not so much, but I couldn't resist the custom beauties). I've passed it off as a congratulations gift for bagging a new job.
If you live, or are holidaying down south, then El Hobo is an absolute must-visit. Don't worry if you can't get down there, though – they also sell some of their stock online! Deck your home or our wardrobe out with bespoke pieces with El Hobo.