I'm a big fan of the 'pamper hamper' gift. I've received and loved many, and gifted even more! I love the 'little bit of something' gifts where someone's really thought about what to put inside to put a smile on your face.
That's exactly what I've done for my mum this Mother's Day, using the Charms and Chains Build a Box section online.
Charms and Chains are an independent Staffordshire brand who ship out around the UK. It's a one woman/pug team made up of Roxanne Simmonds and Winston Bishop, who work from their home office.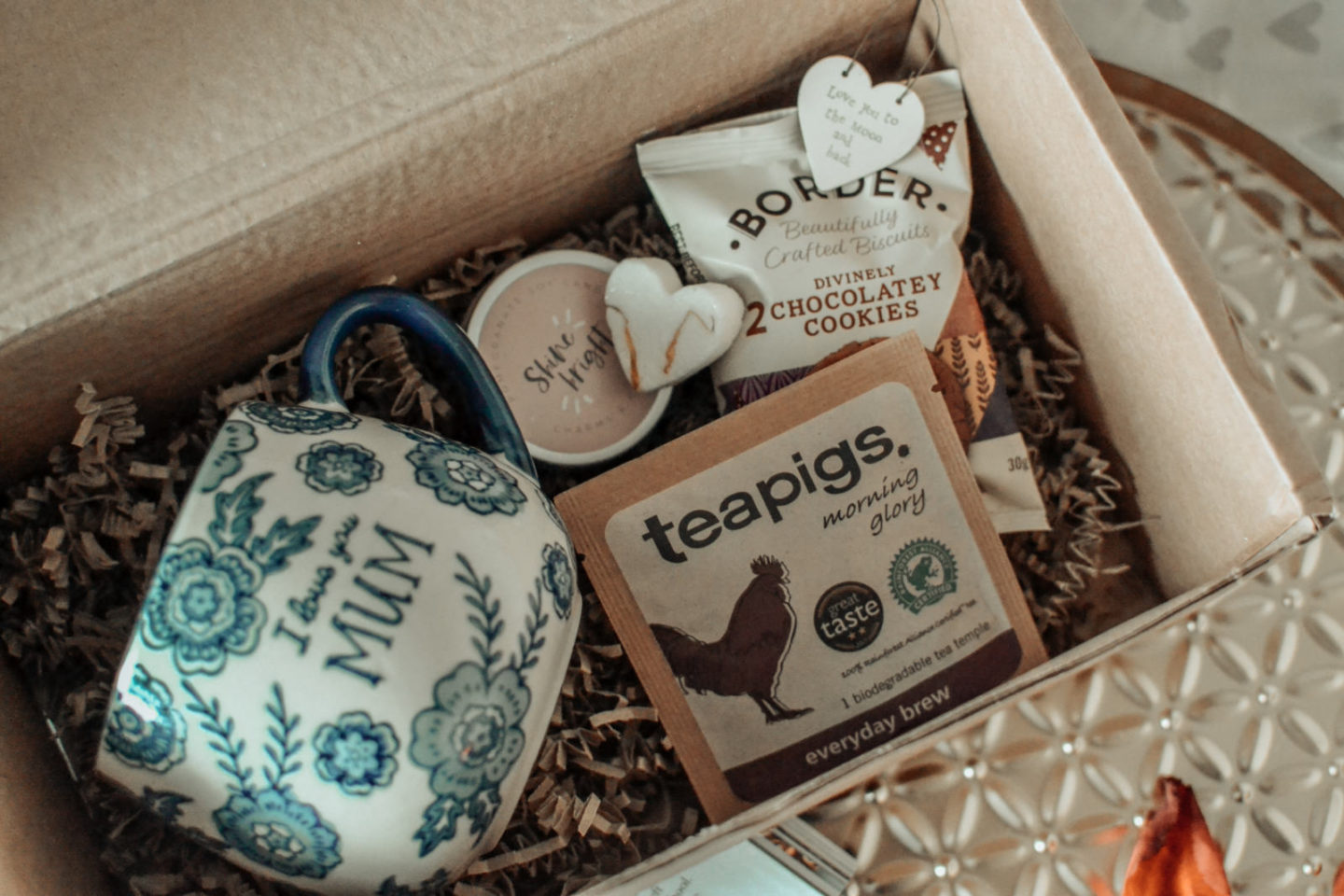 Last year Roxanne closed her bricks and mortar store to go online only, and it's been amazing to see her thrive as a result. Her build a boxes and personalised gifts have been incredibly popular for gifting and weddings.
There are tonnes of boxes to be built – birthdays, new babies, weddings – but Roxanne and little pug Winston have put together a gift guide of Mother's Day gifts to take your pick from.
Items range from £1 to £14, so you can totally tailor the box to your budget. My budget was £20, and I managed to come in below that, and get six items in my box.
From earring sets to teapots, there's a bit of something for every wondermum, but here's what I got mine:
Blue Willow 'I Love You Mum' mug – £8.50
The blue willow pattern always reminds me of our home city of Stoke-on-Trent – home of the potteries. This Sass and Belle mug is absolutely stunning, with a gorgeous floral pattern. It's a very tactile mug, which I know mum will love (and I will steal!), and can fit a big cuppa in it!
Border biscuit two pack – £1.00
Every cup of tea needs a biscuit or two! These Border chocolate cookies are dreamy, and if you're going to have a cheat day, then you better make it worth it with a luxe treat. Charms and Chains also have a selection of chocolate or brownies to go in the boxes, which look equally as delicious.
Teapigs biodegradable tea temple – £1.00
As well as the Mother's Day boxes, Charms and Chains also have 'tea and biscuits' boxes, which are such a great pick me up treat. Since I picked up a mug and some biscuits, it made sense to get a teabag too!
Mini heart bath bomb – £1.50
This tiny heart bath bomb will remind mum to take five minutes out of her day to relax. Pour a glass of wine and get some bubble bath out whilst you're at it!
Shine Bright mini pomegranate soy candle £3.00
Charms and Chains have teamed up with another Staffordshire independent brand Tiger and Co to create these collaborative candles. They've got a Charms and Chains sticker on that says Shine Bright, and smell incredible. Small but mighty – just like mum.
I love you to the moon and back mini keepsake heart – £2.50
Mum has a key ring from dad on her keys that says To The Moon and Back. I picked up this little hanging plaque that she can keep in her purse or hang up somewhere.
What would you put in your Mother's Day build a box?
For more on Charms and Chains and what I got my mum for Mother's Day, check out my IGTV below.