AD – this blog post features press samples marked * – all views are my own
The Oliver Bonas Ginny dress* is set to be my most-worn dress of 2020, and I've only owned it for a week. There is so much I love about it that it makes me do a little dance each time I pull it out of my wardrobe.
The Ginny Floral Pattern is also available in white and as a pink jumpsuit. I was completely torn between the dress and the jumpsuit as both are incredible. However, I opted for the dress out of practicality, to save getting nakey every time I need a wee. Jumpsuits end up getting saved for occasions, and I want to wear this pattern forevs, so I went with dress.
It's easy for me to say 'I love everything about this dress', but allow me to break it down for you.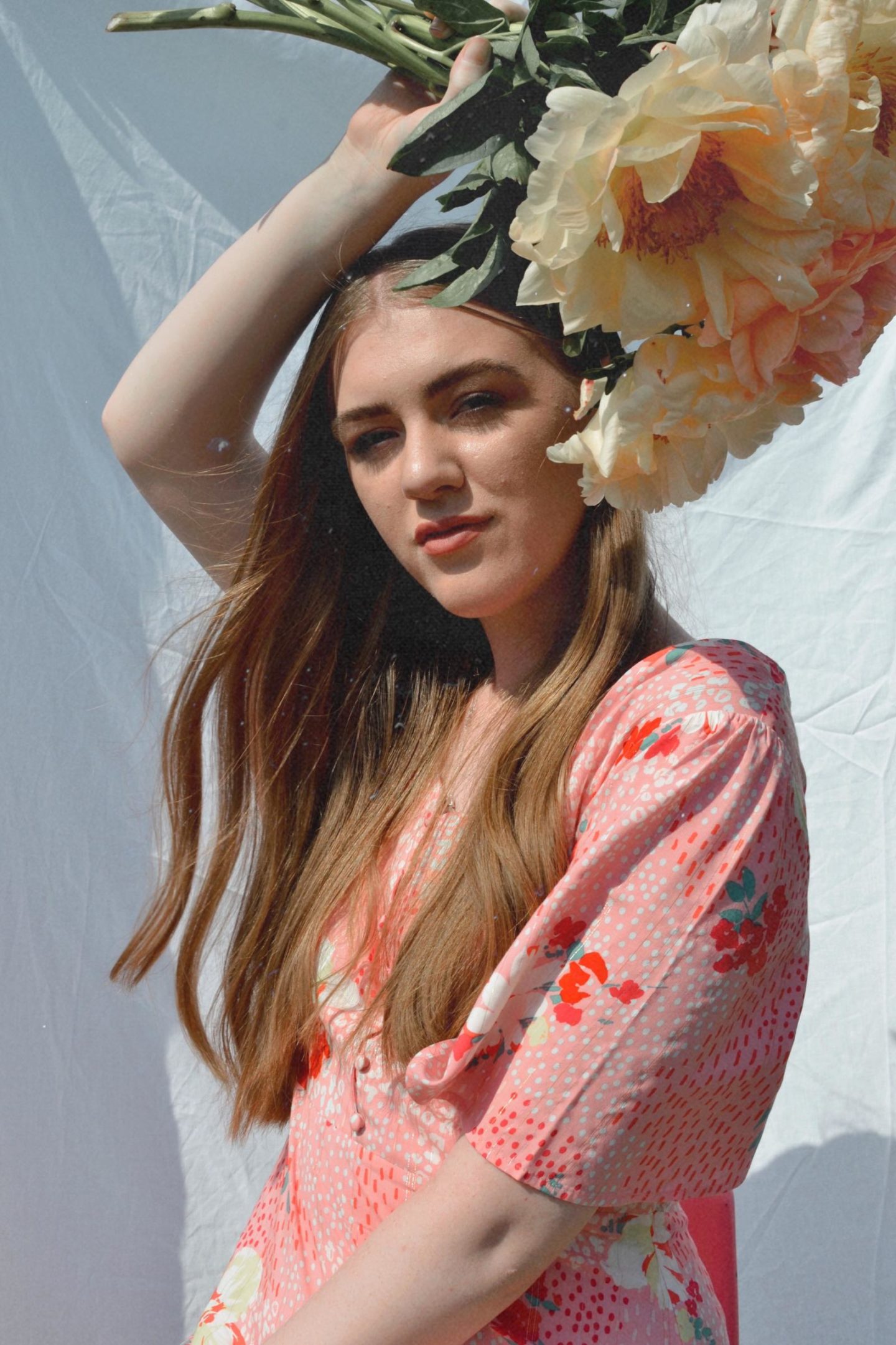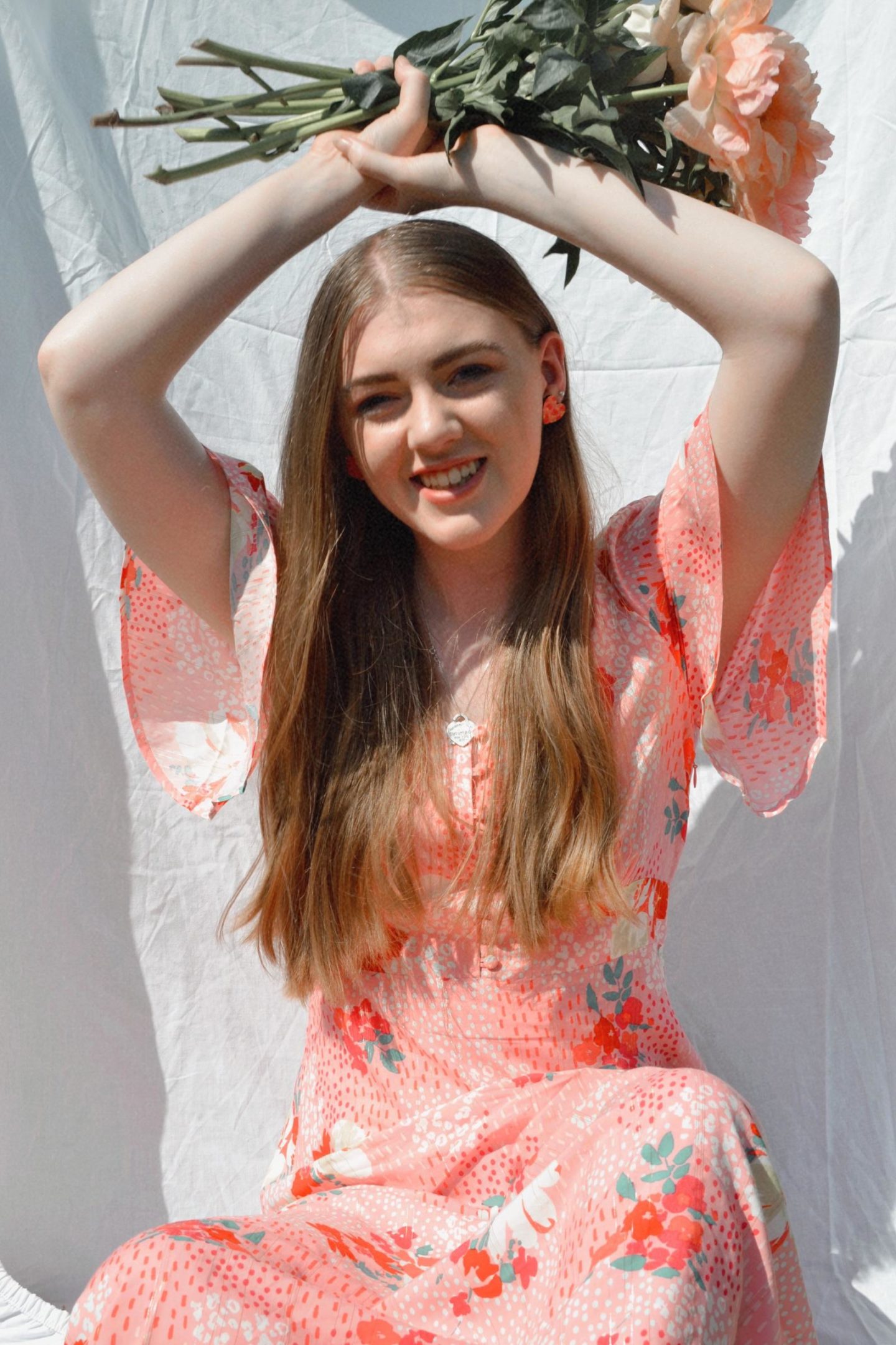 Day to night
This dress is super easy to go from day time chills, to evening cocktails – simply switch up the footwear. I went on a picnic and styled it with a pair of Paradox London* white trainers and a wicker bag for a casual look. But over on my IGTV you can see it worn with Primark white heeled boots and it's equally as gorgeous. Since the dress makes a statement in itself, you don't have to go overboard on the accessories either, meaning you can throw it on with footwear of your choice and you are good to go.
In my ears I wore the ivy & ginger x beffshuff leopard print heart studs* from the collection we released a couple of weeks ago. You can view the full range here (and get 30% off).
The pattern
So the base of the dress is this stunning pink, on which sits red, green and yellow blooms. But moving away from traditional florals, there's also an abstract pattern running through it too. The white spots mimic leopard print – which is an obvious win for me. There are also some red flecks, which you could pair with a red lip for a night out.
The sleeves
Whilst puff sleeve is 'soooo in' right now, angel sleeves are here to stay. The floaty fit of the sleeves are super comfortable and create a gorgeously feminine silhouette.
The neckline
The square neckline is to die for, as it's not completely square and dips slightly in the middle. As someone who lacks much of a chest, the cut creates more shape up top and is super flattering.
The buttons
There is a concealed zip on the left side of the dress, but the button down front is also fully-functional. I've tried getting in and out of the dress using just the zip and just the buttons, and both work really well. The button detailing is dainty, and add a bit of a prairie dress vibe.
The shirred back
The shirred back allows for a gorgeous finish, but also a bit of extra give. It makes the dress a lot more comfortable to wear as you're able to move a lot more freely. By this I mean it was far easier to reach for the scones and jam at the picnic. There's nothing worse than feeling restricted in your clothes, and I will never have to compromise comfort for style ever again with the Ginny dress.
The gold shimmer
This is a really nice touch and very subtle, but there is a small amount of gold metallic threat running vertically through the dress. This looks really pretty when the sun catches it. Like the buttons, this is just another attention to detail that made me love the Ginny dress even more than I already did.
The tieback
Again, cute vintage prairie vibes with the little ribbon tieback. This just cinches in the waist slightly for a more fit and flair feel. What I really like is that it doesn't start too far near the front, as this style can feel uncomfortable after eating or if you're feeling bloated. The Ginny dress tieback is about six inches apart at the back to just bring in the shirring.
The lightweight feel
I'm fair skinned and ginger thanks to my dad's genetics, meaning I can't blooming stand being too hot. In summer I prefer light materials, and the Ginny dress is just that. It's lightweight but great quality, and as it's floaty it prevents me overheating when temperatures rise.
Shop the Oliver Bonas Ginny floral pattern pink dress here.