Ad – this blog post features press samples – all opinions are my own
Jewellery can make even the dullest of outfits shine. I can be in my lougewear and a set of gold hoops with a necklace will make it look instantly more sophisticated. I don't feel fully dressed without my jewellery – I don't feel put together. There's something so satisfying about fastening the clasp on a watch before dusting the crease out of your skirt, or slipping on a necklace before tucking your hair behind your ear. Not wearing jewellery, for me, feels like wearing a full face of makeup, but forgetting the mascara, or the lipstick.
Here are five luxury jewellery pieces that make my everyday outfits feel complete, and make me feel more me!
Adexe London Sistine Watch
This rose gold watch is one of my favourite pieces to make an outfit feel complete. The Sistine is one of Adexe's best selling designs, inspired by the Sistine Chapel. It features a rose gold mesh band, white face, and bold Roman numerals. The band width is just 14mm, with a face of 35mm, so still looks dainty on my small wrists.
The clasp is adjustable, so no need for resizing, and feels super secure when closed, reducing the fear of it falling off. I also have a spare black mock croc leather strap which I can change easily to pair with different outfits, depending on the look I'm going for.
The watch is £109, and also comes with a rose gold face. Alternatively, there is the Mini Sistine, an even smaller faced watch.
Daisy London
I had never been one for gold jewellery until recently, and when I began to build up a collection of everyday gold piece, I looked straight to Daisy London.
This is their Estée Lalonde T Bar Necklace, made from 925 sterling silver with an 18Ct gold plate. It has a vintage 70s vibe which compliments my wardrobe, and looks great layered too. Daisy London also have other women's necklaces in the Estée Lalonde collection that would look great with it.
The T bar is subtly engraved with a sunburst style pattern, and hangs from a linked chain. But if gold isn't your style, it also comes in silver.
Daisy London pride themselves on being ethical and eco-conscious, creating pieces built to last. They also have free delivery on items over £100 – like the £139 Estée Lalonde T Bar Necklace.
Matthew Calvin
As a monstera mum, how could I not own these little babes? Matthew Calvin's pieces were part of the press sample goodie bags at the Manchester Grow and Glow event with Vix Meldrew.
Matthew began designing jewellery in 2012, before launching the brand in 2015. The Monstera Leaf Studs are part of his beautiful Botanical collection, and are such an easy-wearing piece. They're available in silver, gold and rose gold – so I opted for the gold set. They're about 1cm tall, and I often wear them in my second lobe piercing, sandwiched between an even daintier stud and a dangle.
These cost between £32 and £38 depending on the finish you go for, but the quality and craftsmanship really speaks for itself.
Tiffany and Co.
This necklace was my 18th birthday present from my parents, and I've worn it almost every day since – typically under my top. It's incredibly sentimental, and only comes off if it clashes with other jewellery.
The medium heart pendant is paired with a little key and is engraved with the classic Return to Tiffany slogan. This design is totally timeless, making it ideal for everyday wear. This is £190, however, you can get a similar version without the key for £145.
Vivienne Westwood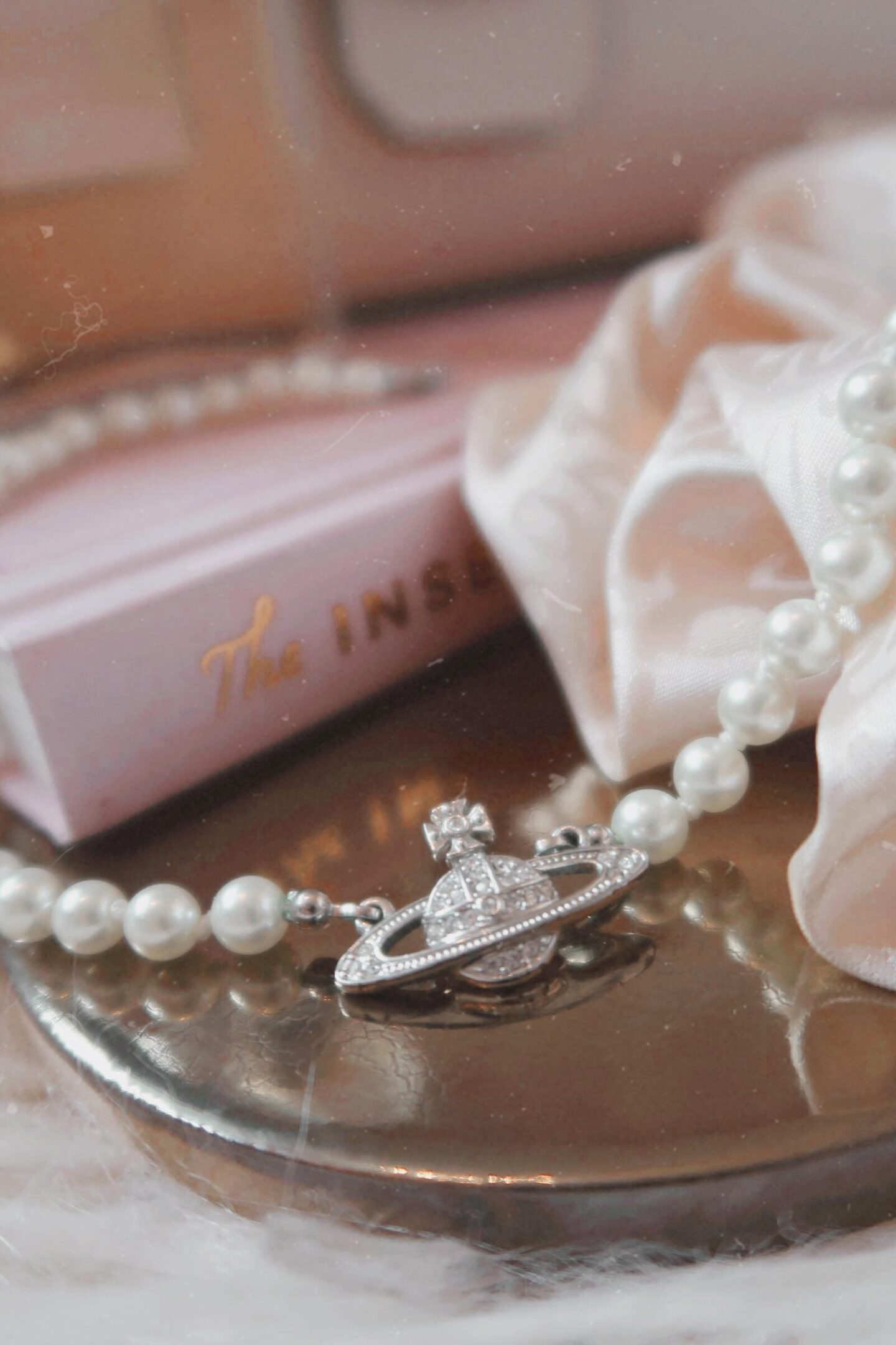 Alternative punk inspired jewellery for rebels – Vivienne Westwood is certainly appealing. I had wanted this choker for years, but was frequently out of stock, or I had no money. The Mini Bias Relief Choker is £110, but I snagged it on eBay for about £60 last summer as a graduation present to myself, seeing as its no longer on the VW website. I considered it an even better bargain, since the seller threw in the matching bracelet.
The pearls offer a vintage feel, modernised with the Swarovski crystals. This is very much the essence of Vivienne Westwood as a brand, whose ethos is 'taking tradition into the future'.
Swipe my Instagram post below for the video: