This post contains affiliate links marked*
It's tempting to rock a messy bun until the end of lockdown – right? No hairdressers open to tame our overgrown manes. It would be easy to give up on our hair and just chop off the damage later. But there's an easier way than letting our hair get unruly and uncared for.
There are so many hair treatments on the high street, in supermarkets and available online. 90% of you probably have one half-used in the cupboard that you've forgotten about. Hair masks and treatments give your hair the attention they need, even when you can't be bothered to do much else.
Here are my five favourite products on the market:
Lee Stafford Choco Locks Butter Cream
Who wouldn't want their hair to smell like chocolate? This butter cream treatment is such a luxe-scented product that's creamy and smooth. The chocolaty goodness is created with Cacao, which is an anti-oxidant with 'mood-enhancing properties'.
I use a healthy scoop of the mask after shampooing but before conditioning. I coat it from my mid-lengths to ends and comb through. Leave it on for five minutes or so and rinse before conditioning. You can also get shampoo and conditioner in the Choco Locks range, if you want to stick to the chocolate theme.
Your hair will still smell good enough to eat the next day, which I think is blooming amazing.
Palmers Olive Oil Leave In Spray Conditioner
This is one for my lazy gals. I've been a huge Palmer's fan for a few years, and they sent me this leave in spray conditioner last summer. It's just £4.99 and lasts ages – I use mine regularly and there's still half a bottle left.
Leave in spray is great if you get oily roots, as it's a light formula that gently hydrates your ends.
The Palmer's leave in spray contains extra virgin olive oil and vitamin E, and is great for de-tangling. It can be used on wet or dry hair. I like to use it just before bed to wake up with lush locks.
Moerie Mineral Growth and Repair Hair Mask
I've recently finished a bottle of Moerie shampoo, and really enjoyed using the range. The mask has the same orange citrus scent which is refreshing and invigorating.
Moerie products are said to help with hair growth and make hair thicker. Whilst I've not noticed a visible difference in length or strength, the mask does leave hair feeling silky.
The mask works for all hair types, and is made up of 77 minerals, 18 amino acids and vitamins.
The Body Shop Shea Butter Richly Replenishing Hair Mask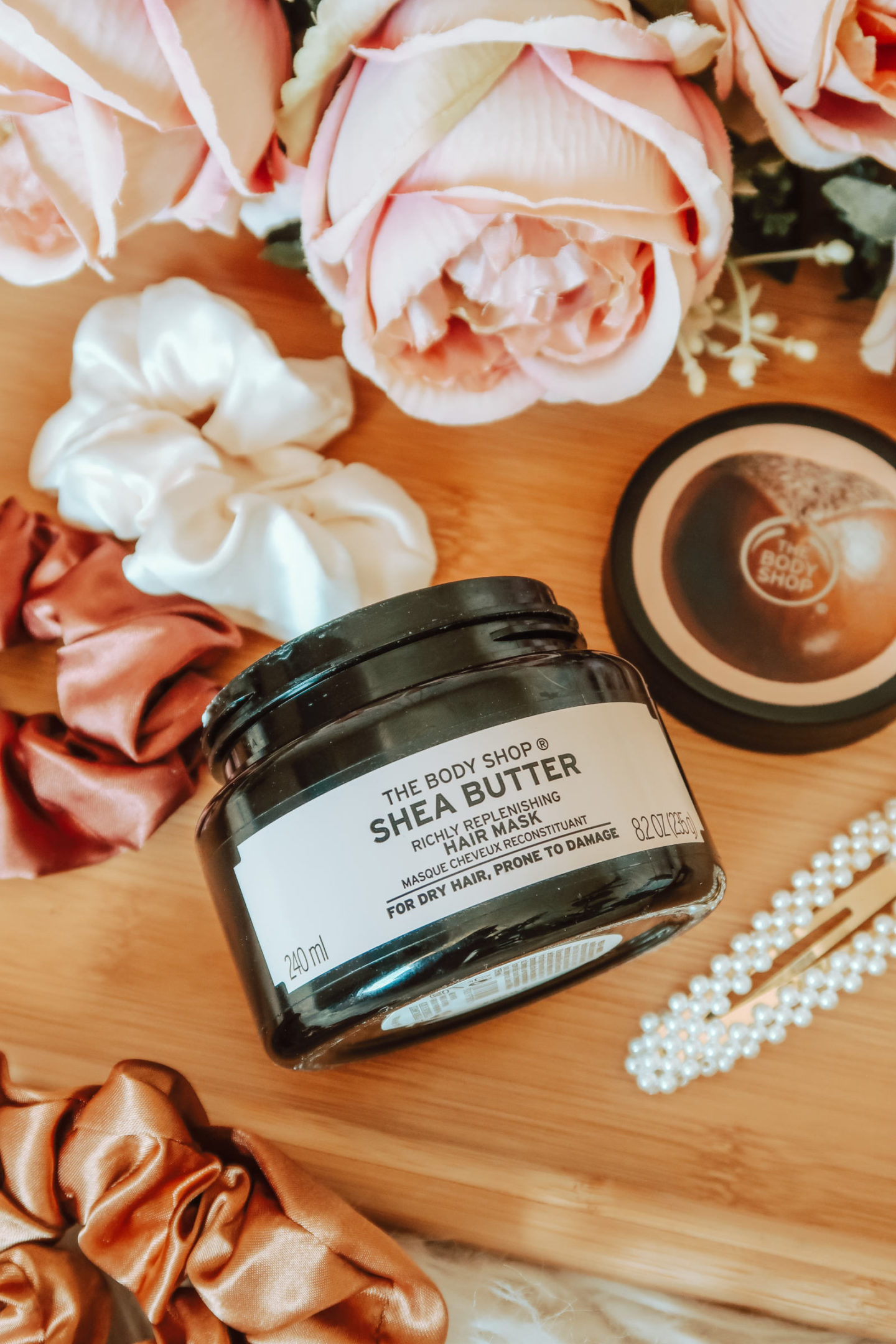 I adore The Body Shop products – from skincare to bath and body. My favourite ranges include the Vitamin C range, and of course, Shea Butter. The body lotion has been helping me keep eczema at bay through the year.
The Shea Butter hair mask is enriched with Community Trade shea butter from Ghana. The thick product is great for dry hair, and makes for an amazing deep conditioning treatment. It's said to reduce frizz and breakage based on surveys conducted by The Body Shop.
Shea Butter is such a rich and creamy ingredient that makes my skin and hair feel great – the fragrance is beautiful, too.
Phillip Kingsley Elasticizer Therapies Balancing Rose and Lychee
The Elasticizer is the world's first pre-shampoo, deep conditioning treatment. It was created by Kingsley in 1974 for Audrey Hepburn, so it wouldn't be an understatement to say it gives you hair worthy of the red carpet.
The rose and lychee scent of this limited edition version of the elasticizer is delicious. It also features cedarwood, saffron and amber for a spa-style aromatherapy blend.
The product is to be used before shampooing, and should be left on for a good length of time. Phillip Kingsley suggests applying to wet hair in sections, covering with the supplied shower cap, and leaving for at least 20 minutes, but preferably an hour!
As it's such a rich, deep treatment, it's recommended for use just once a week. You could even use the product overnight if you wanted to sleep in the shower cap.
Shop this post*