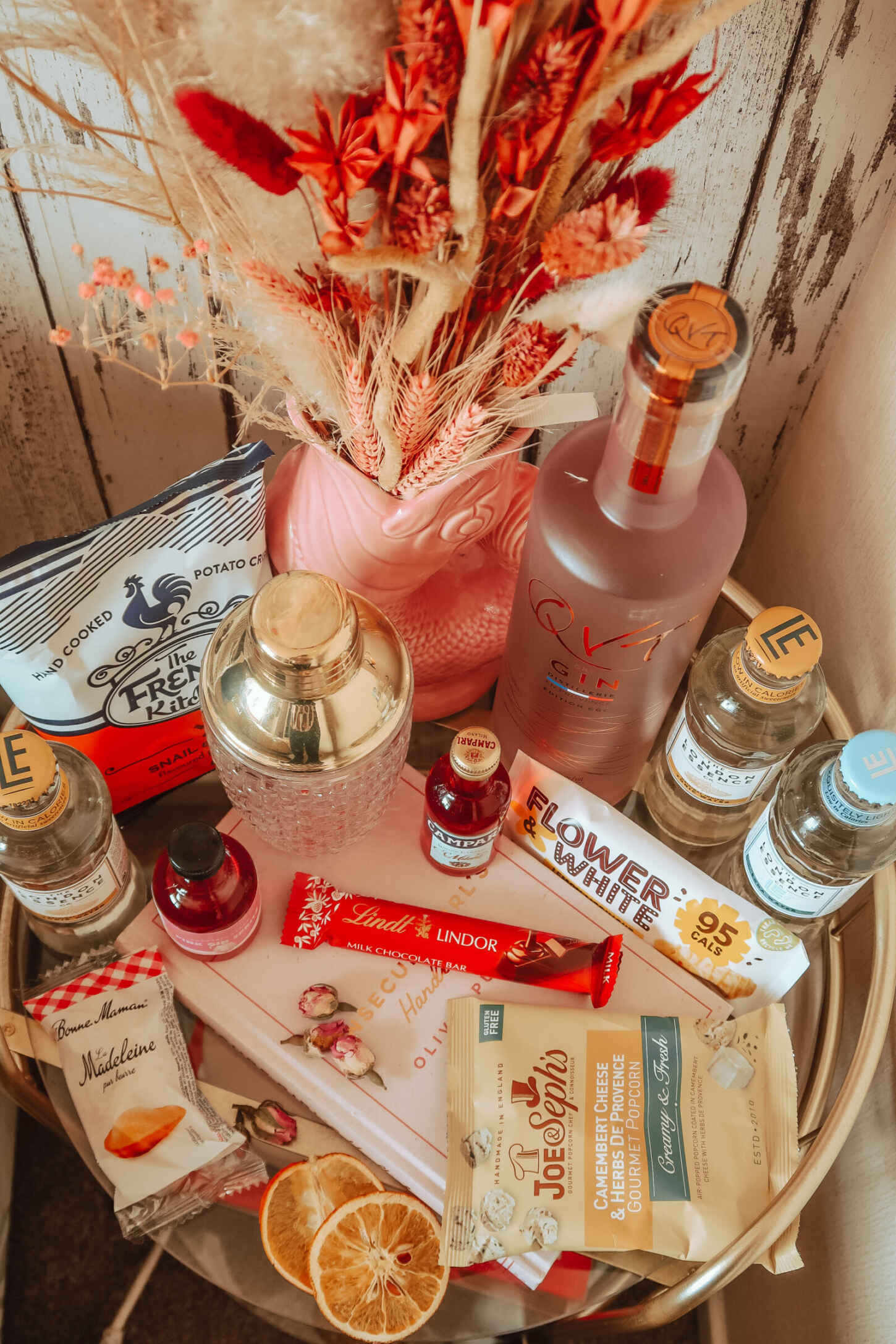 April's Craft Gin Club box is packed full of spring themed goodies – just in time for socially distanced picnics!
I signed up to the Craft Gin Club quarterly subscription in January, which costs £40 a box (first one £28), and is delivered straight to my door every three months. It's an amazing way to discover new gin brands distilled by craft gin curators, as well as a whole load of other goodies. The January box had a wintery theme, but this one looks brighter and fresher, ready for the start of spring.
My bill evens out to around £13 a month, which is less than I'd spend in the pub – if they were open – so it seemed a really great investment for 2021. Particularly because 'try five new gin brands' found its way onto my 2021 bucketlist.
Inside every box is a full size 70cl bottle of gin, followed by a selection of mixers, syrups, snacks and garnishes, and of course, the Ginned magazine packed with information and recipes to try.
Here's what was inside the April Craft Gin Club box.
QVT Dry Gin
Named after Quatre-Vingt-Trois, the brand's name comes from where it's distilled, in Provence, France.
Husband-and-wife duo Justin and Anna-Carin Kandimaa Matterson have been all over to world, but settled in France and launched QVT Distillery, creating a beautiful gin exclusive to Craft Gin Club for April 2021.
It's a 40% ABV dry gin, made with 12 botanicals: juniper, coriander, cardamom, rose petal, cornflower petal, lavender, rosemary, thyme, lemon, grapefruit, rosé extract and polypody fern.
I've already tried and tested this in cocktails and with lemonade, and I'm really impressed. It's quite a juniper-led gin, so perfect if you're not a fan of overly flavoured spirits – but does have some floral and citrus notes.
Campari
We also received a miniature Campari, which I'd actually not heard of, somehow. A traditional ingredient in a negroni cocktail, the citrus and bitter herb spirit is also perfect for a Campari G&T, recommended in the Gined magazine.
The London Essence Drinks Co. Original Indian Tonic Water and Soda Water
Unfortunately, I'm not a massive fan of regular tonic or soda water, so these one's will be donated to my nan, who does love a G&T. The London Essence Drinks Co. pops up regularly in Craft Gin Club boxes, and I do quite like some of their flavoured tonics, though.
Craft Gin Club Pink Gin Spritz and Orange and rosebuds garnish
In every box you'll receive the key ingredients to make the monthly perfect serve to add to the gin and mixer. For April, that was dried orange and rosebuds to garnish, ad the pink gin spritz cocktail syrup to sweeten the deal.
Snacks
This month there were five different bar snacks – which I feel like is more than usual. We were treated to Joe & Seph's Camembert & Herbs de Provence Gourmet Popcorn, French Kitchen Snail and Garlic crisps, Lindt Lindor Chocolate Bar, Flower & White Lemon Meringue Bar and a Bon Maman Madeleine.
The snacks had a bit of a French theme, and I must say the thought of snail and garlic crisps was an odd one – but they're actually completely vegetarian, so no actual snails. Then the Bon Maman Madeline is a classic French snack, and beautifully accompanies an afternoon tipple.