Dining out has always been one of my favourite things to do – whether its a girly night our catching up over a glass of wine, a romantic date night, or brunch with family. More recently, I've even been enjoying solo dates with just myself and a good book whiling away a couple of hours on a day off.
Back in April, I shared a list of eateries in Staffordshire and Cheshire I'd managed to get out to over the course of the pandemic. Since then, the hospitality sector has finally been able to slowly reopen, and I've taken the opportunity to get out, support independent eateries and local businesses again.
From Sunday lunch to woodfired pizza and Instagrammable brunch complete with a giant bench of flavoured daiquiris – there's something here for everyone and every occasion.
Here are 11 Staffordshire and Cheshire cafes, pubs and restaurants to visit – as well as what I ordered, in case you need the inspiration.
Willow, Trentham
Willow is Trentham Estate's newest restaurant offering with a Mediterranean-inspired menu – and it's 100% dog friendly. Inside, Willow offers a rustic and botanical theme – it's very chic, with scandi style scatter cushions lining benches and booths. The whole space is bright and fresh, for floral and foliage decoration adorning seats and ceilings.
For four-legged visitors, there are Willow branded beds that you can pull beside the table, as well as Willow water bowls to rehydrate your doggo.
I ordered the Belgian waffles, which you can have savoury with bacon and peanut butter, but I went for the sweet waffles with vanilla mascarpone, blueberry compote and maple syrup for £6.95.
The rest of the family ordered The Full Willow – with pork and leek sausages, grilled bacon, field mushroom, show roasted plum tomato, black pudding, baked beans, free range eggs and toast for £9.95, which looked amazing and I'd definitely have the next time I visit! I wrote an article on how dog friendly the venue is on Lady & The Scamps here.
Ego at The Hollybush, Stockton Brook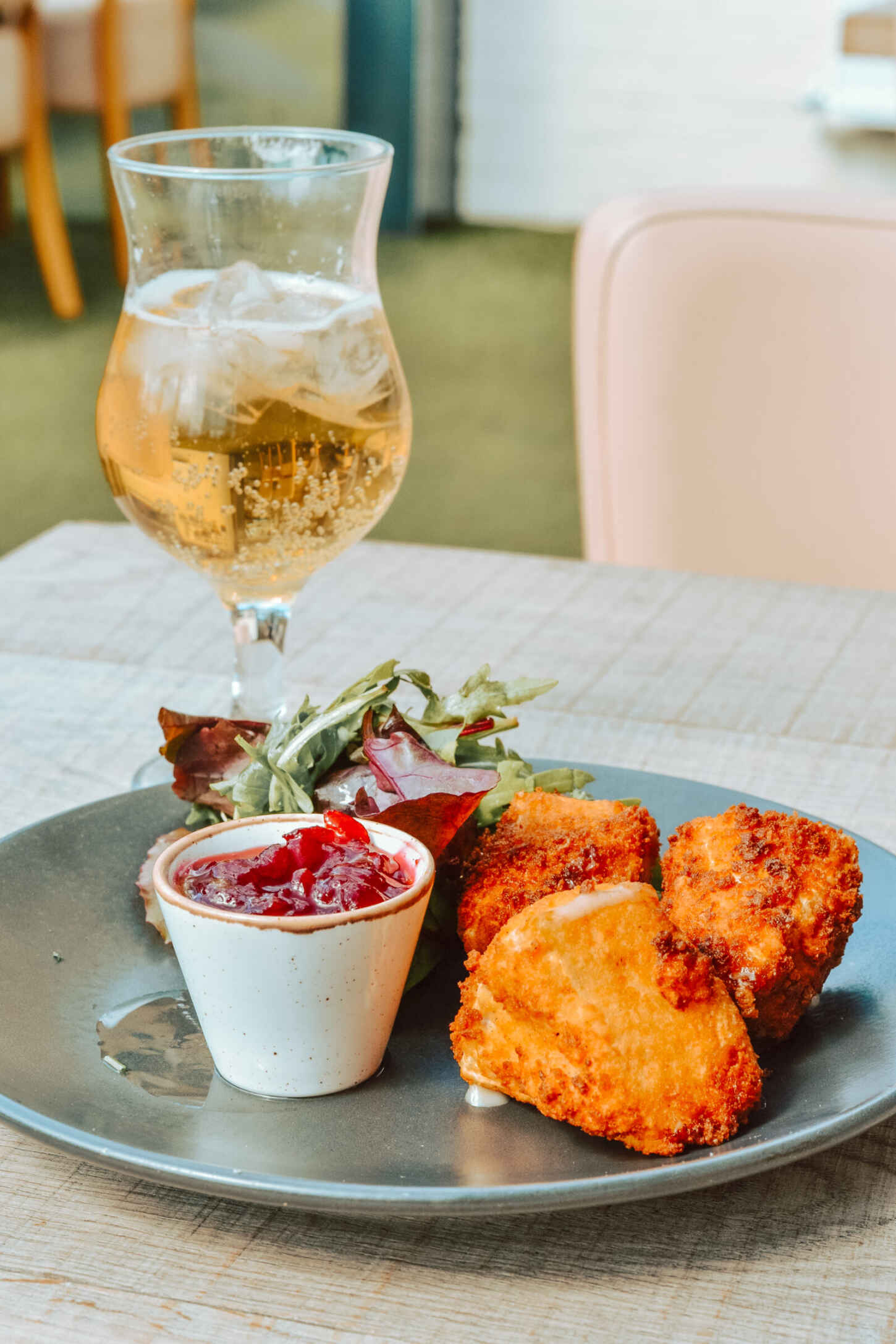 Ego at The Hollybush is set in a beautifully restored early 20th century pub between Leek and Hanley, so finds itself in the perfect location for rural and city dwellers alike. The terrace is like a conservatory, but with the roof rolled back and all of the floor-to-ceiling windows open, making a gorgeous little suntrap.
The mocktails are really refreshing – I've tried nearly all of them from the menu, but the Apple and Elderflower Fizz was probably my favourite, and they're all two for £6.
The Mediterranean menu offers a taste of France, Spain, Italy, Greece and Morocco, with plenty of veggie and vegan choices too. I ordered the breaded camembert starter, for £6.65, and the piri-piri chicken and chorizo kebab for my main, priced at £16.95. It came skewered with red onion, courgette and mixed peppers, served with a salad, tzatziki, tomato salsa and tortillas. I also ordered a portion of skin on fires, and a side of halloumi for a maximum flavour – but it was definitely far too much food to eat to myself.
We even managed to bag 20% off as mum had signed up to the Ego Club, which is definitely worth doing ahead of your visit. The Ego Club offers members exclusive deals and promotions, including 20% off all a la carte starters, mains and desserts Sunday to Friday, a free three course meal on your birthday, and a free bottle of Prosecco on your anniversary.
Klay, Hanley
Recently refurbished, Klay offers a dangerously cool urban underground vibe with the mouth-watering fragrance of wood fired pizza flooding the Cultural Quarter as you pass on Piccadilly.
The menu features twelve 11 inch pizzas, including five vegetarian and a further three vegan options, with prices ranging from £5.50 for the Easy as Pie, to £13 for Sweet Heat. You'll also find a handful of specials well worth taking a look at, as well as sides of garlic bread, mac and cheese and chicken wings as sides, with crust dipping sauces that can be added to your order.
You can pick a table along the wall, but my favourite place to sit is up at the tall stools overlooking the pizza oven watching the chefs make each pizza fresh to order with their 48 hour dough.
I'm a sucker for a classing so always order the Pepperlonely, but Jake loves The Klay Mac, which tastes like a certain fast food staple – I highly recommend requesting their secret rum punch too (you won't find it on the menu, but ask and you shall receive!)
Check out my latest visit to Klay here.
Vale Park, Burslem
How does a three course Sunday roast for under £20 sound? For just £19.95, you can enjoy a starter, main and dessert in the Valiant Sweet at Vale Park.
To start, I ordered the heritage tomato and mozzarella bruschetta with fresh pesto, were piled high with toppings alongside a tasty balsamic glaze. Jake had the crispy panko breaded chicken salad with BBQ dipping sauce. For the main event, I opted for the 21-day aged topside of beef and Jake decided on the hand carved local pork loin. Three thick slices of meat come with a huge a homemade Yorkshire pudding, perfectly fluffed roast potatoes, sage and onion stuffing and a thick gravy. A separate dish of mashed potato was brought out, alongside a plate of veggies including carrots, roasted parsnips and steamed broccoli.
If you can manage dessert, then the chocolate brownie with chocolate sauce is to die for, but Jake will definitely say the sticky toffee pudding is the real winner.
The Vale Park Sunday Lunch was a really homely experience, with wholesome home cooked food using local products with perfect portion sizes. Staff were extremely friendly from front of house to servers and bar staff, and you can even have a tour of the pitch after!
Want to know more? Here's the full review.
Sando, Newcastle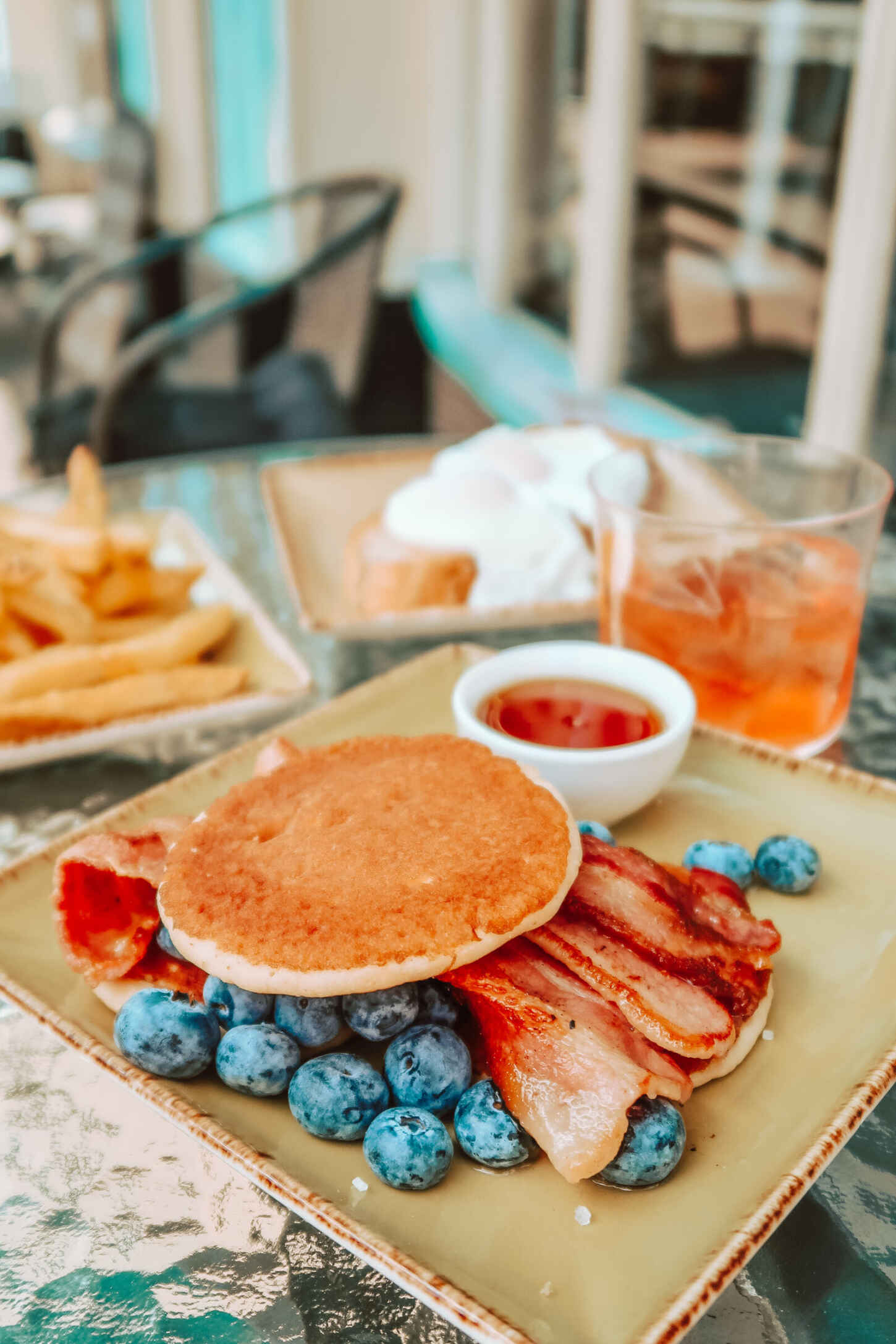 Located on Hassell Street in the former Yankee Candle shop, Sando is Newcastle's new Day and Night Deli, open for brunch, lunch, dinner and drinks.
So far I've tried the poached egg on toasted focaccia – sans avocado – as well as the buttermilk pancakes, and a side of fries, which came to £16 with a non-alcoholic gin spritz. Sando also serve a selection of artisanal sandwiches, including the Po Boi Buffalo Shrimp Sandwich, Chicken Katsu Sandwich, and the humble BLT. Not only that, but there are two burgers on offer, as well as dips and sides.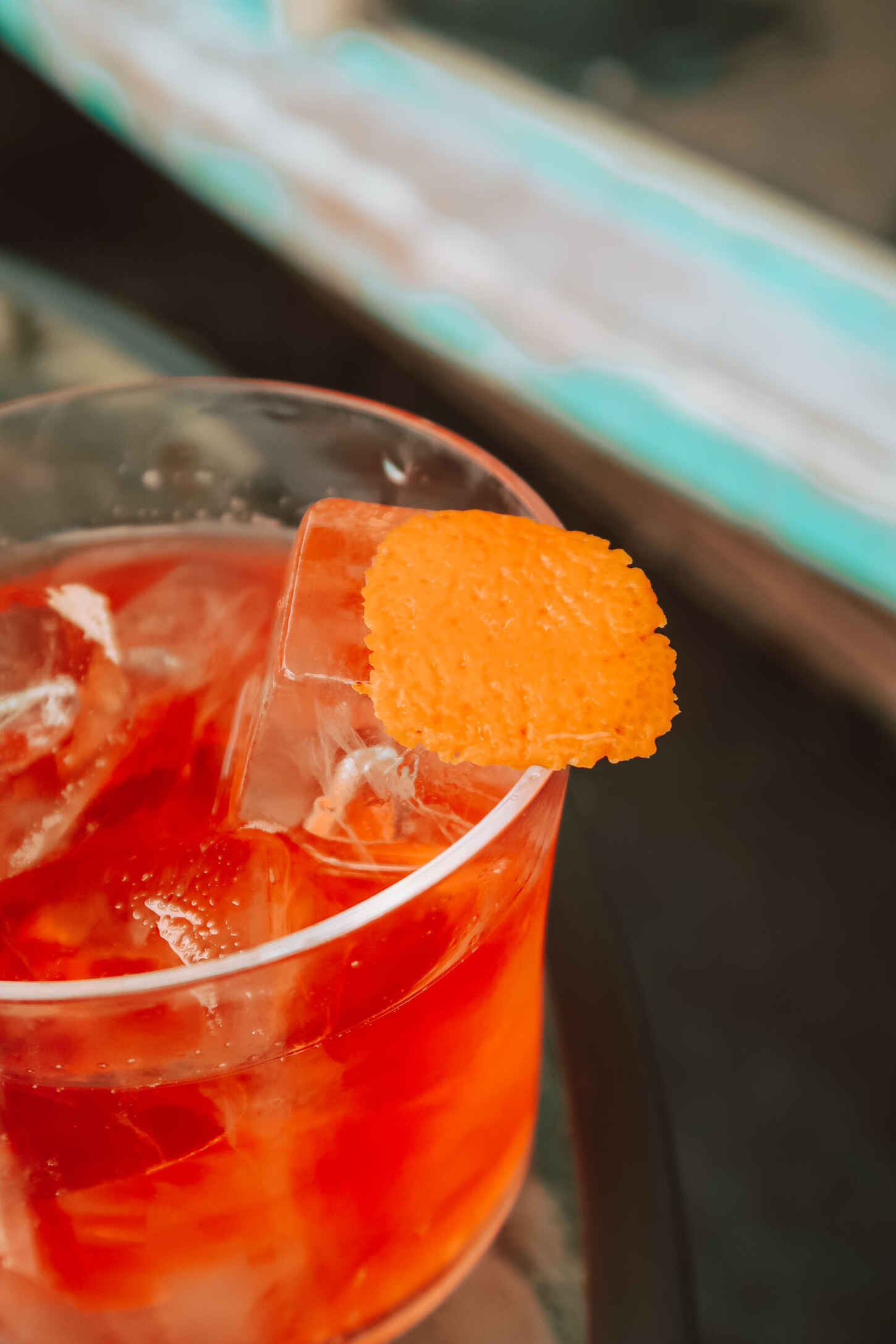 They've got some really unusual cocktails on the menu designed by an in-house mixologist – if you like champagne, I recommend asking for a Pink Fizz. If you're not much for the taste of alcohol and fancy something refreshing, the vodka and apple cocktail just tastes like a pimped up apple juice. All cocktails are £7, so a brunch small plate and alcoholic drink will set you back between £11 and £17.
Find out more about Sando here.
Bench, Nantwich
Instagrammable floral arches and garden swings, with pick and mix dishes served on adorable miniature picnic benches – Bench, Nantwich, is the most picture-perfect bistro bar for a girly day out.
Cocktails cost £8, but you can get a bench of eight flavoured daiquiris for £55, which works out at £6.90 per drink – plus you get some pick and mix sweets thrown in!
Bench don't serve mains, but instead, a vast selection of small plates designed to pick 'n' mix your own bench. The bistro recommend ordering three to four plates per person which you can share amongst the table, or save for yourself! Their sharing plate concept goes for 'big flavours in small portions', which are priced between £2 to £6.
We picked 13 plates – which you can find in my review here – there's plenty of veggie and vegan options too. Top tip: Look at the menu before you go and have an idea of what you'd like to order before your arrival to allow more time for chatting and drinking, rather than decision making!
The Lazy Trout, Meerbrook
After a waterside walk around Tittesworth Water, the only logical next step is a pitstop at The Lazy Trout, in Meerbrook. The country pub is just a five minute walk from the reservoir, where you can enjoy a pint with spectacular views across The Roaches and Hen Cloud.
The Lazy Trout is a traditional country pub with a modern feel, where they're clearly passionate about great food and even better local spirits and beers. There are 40 different gins on offer, of which six are distilled in Staffordshire and Cheshire, with the Peak District's Wincle Brewery, Burton's Marston's, Mobberley Brewhouse, in Cheshire, and a selection of The Lazy Trout's own ales on the menu.
Jake and I had the roast Aberdeen angus beef hot sandwich on ciabatta, served with caramalised onions and a 'handful' of chips, as well as a side of Wincle beer battered onion rings. The food smelled amazing, from the beautiful cut of beef to the rich red wine and thyme gravy – and the 'handful' of chips was clearly plated by someone with big hands! The onion rings were huge, with crunchy batter made even tastier by the local beer.
The pub is really dog-friendly too, so it's a great spot to chill out with the pooch after a walk.
The Botanist, Alderley Edge
Exposed brick walls painted with crawling leaves of moss and fern green as plants sit propagating in display cases. Antiques and trinkets hang from the ceilings and floral-themed cocktails decorate dinner tables. The Botanist is one of my favourite bars to visit, whether its for a family lunch date or stopping for a drink between shops.
To drink, I love The Botanist Pornstar and the Strawberry and Elderflower mojito – both from the 'fruit and floral' section of the cocktail menu. Top tip: Cocktails are priced between £7-9, but double gins are £9.95, so stick to cocktails to save some money!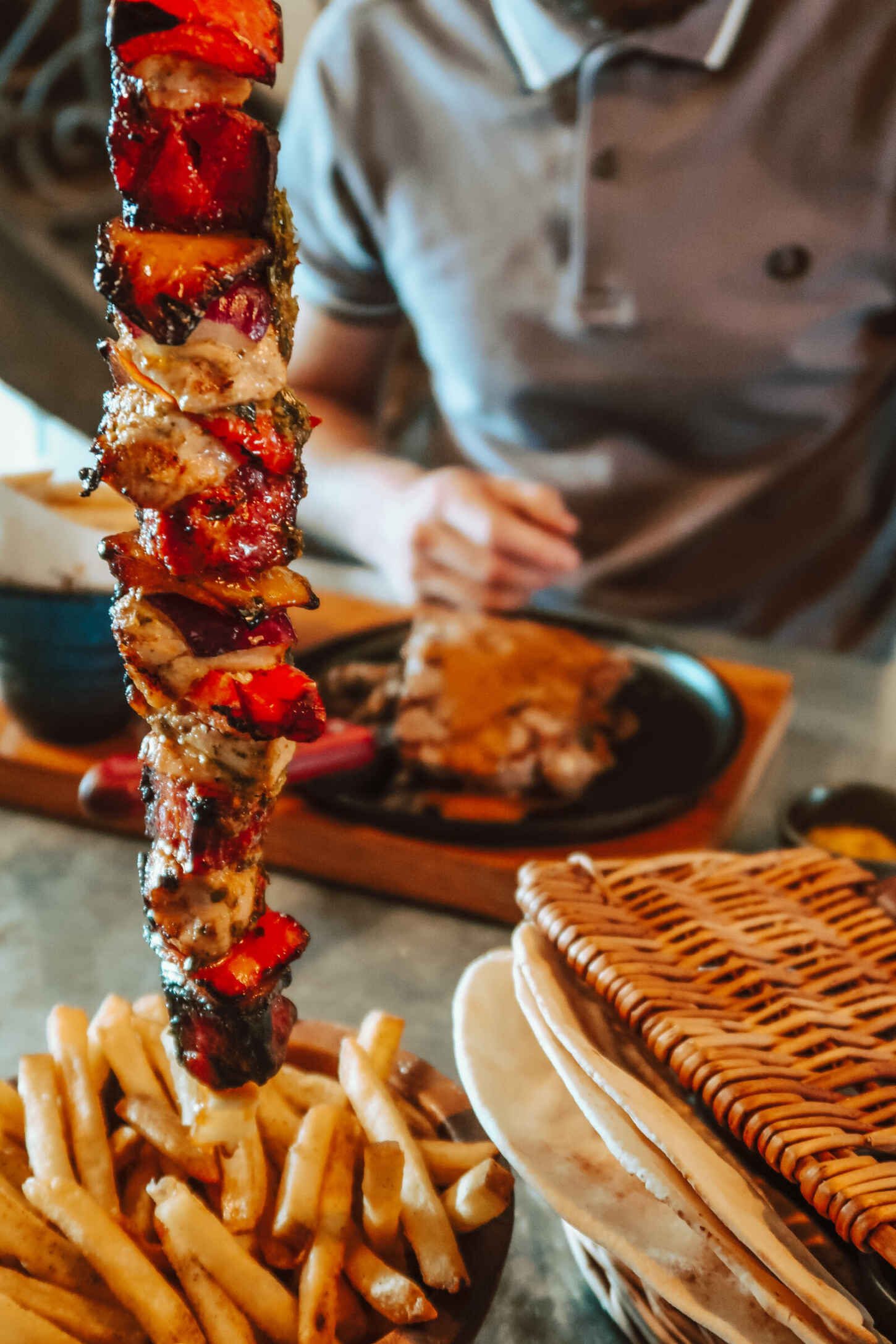 There's a great selection of food on the menu, but you should absolutely get the cheesy garlic bread and the crispy pork crackling to start. As mains, Jake went for the black angus sirloin steak for £19.50, and I had one of their trademark The Botanist Hanging Kebabs, which are always quality.
The Botanist offers a secret garden feel with luxury hand-crafted cocktails, exceptional food and warm service, perfect for treating your loved ones for a special occasion, plus there are lots of other nearby venues perfect for a little cocktail bar crawl!
Emma Bridgewater, Hanley
The Emma Bridgewater Factory is one of my favourite places to visit on a day off, from bagging a bargain in their seconds outlet, to soaking up the sun in the secret garden. I'm yet to paint a pot in their decorating studio, but it's on this years' bucket list for sure.
I loved their Afternoon Tea when I took my nan last year, and have since been a regular cuppa and cake customer. I took myself on a little solo lunch date recently and enjoyed their homemade soup of the day, which comes served in Emma Bridgewater crockery with a chunky bread roll. The soup was tomato and herb, and a huge portion for £4.95. Their jacket potatoes are also generously filled, if that's more to your fancy!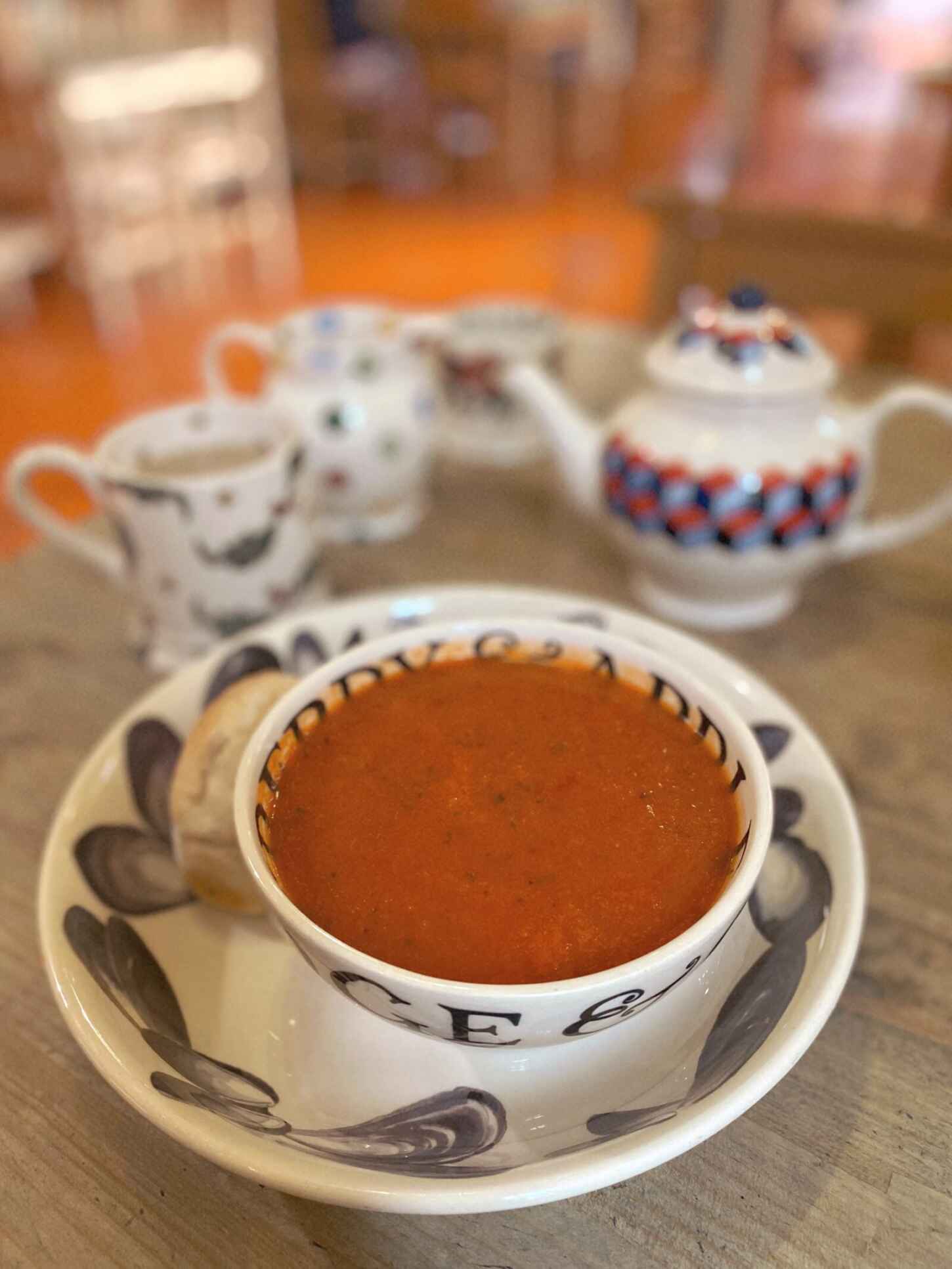 It's a really tranquil space, adorned with fairy lights and heritage pottery pieces. I recommend booking online because it can get busy, or get there early to get a table whilst it's quiet.
There's also the Emma Bridgewater shop next door that's well worth visiting, where you can buy fresh marmalade made by the in-house chefs!
North Kitchen and Bar, Hanley
You'll find North Kitchen and Bar in Hanley's Cultural Quarter, nestled between Bloom and Bottlecraft. The Nordic inspired venue is one of my go-to spots to grab a iced London Fog or a strawberry milkshake on a hot day. The scandi venue offers stripped back wooden and industrial décor, house plants and the smell of authentic, home-cooked food with a real hyyge feel.
I'm obsessed with their evening menu, and the wild boar hotdogs are incredible, pairing perfectly with their new £5 cocktail menu. But the one dish I can't stop thinking about, even months later, is the raspberry cheesecake french toast. It was on the specials menu at the time, and there are other french toasts available on the brunch menu, but this one stole the show for me.
The dish is made with a gorgeous brioche break, served with warmed raspberries, mascarpone cream and a drizzle of lemon – and was even better than the french toast I had in New York! If you can't get your hands on it the next time you're in, then definitely order the peaches and cream french toast for £9!
Gemma is an absolute culinary queen and her kitchen creations are always spot on. Head to North for breakfast, lunch or dinner and it's always a treat for the senses.
The Quarter @ Potbank, Stoke and Piccadilly, Hanley
The Quarter has two lovely venues located in the city, the original Hanley venue at Piccadilly, and the newer Stoke site at Potbank, Spode.
The Quarter @ Potbank has a Mexican themed menu, with quesadillas and topped nachos, as well as a selection of tapas small plates. I recently visited for a poetry night in their outdoor space, which has been kitted out with floral and foliage decor and picnic benches for a summery festival feel. I ordered some churros with toffee and chocolate sauce to enjoy outside with a mojito mocktail in the sun, but I'd love to go back to try the main menu.
Over in Hanley, I recently had their deluxe banquet at a work reunion, which costs £23.95 per person and features piled up platters served over two courses. The first includes loaded nachos, house bruschetta, herby potato wedges, olives and feta and garlic ciabatta, followed by a charcuterie board with all the trimmings. The second course featured mini chicken breast fillets, garlic and herb mushrooms, falafel with hummus, leek and gruyere quesadilla, and pararas bravas with garlic aioli. I'd definitely recommend this for a works do – it's a spectacular spread and there was even some left over to bring home!