Hedley House Hotel and Spa is a little independent accommodation a stone's throw away from York's bustling centre – and it's the perfect place to lay your hat if you're planning a trip to the walled city.
Jake and I trawled through dozens of accommodation options when planning our weekend away in York, but they either lacked character or were extortionate prices.
History of Hedley House Hotel
Owned by Greg and Lou Harrand, Hedley House is a renovated Victorian house that's been in the family since 1983.
Greg's parents bought and renovated the property into a successful bed and breakfast before Greg and his wife, Lou, took it on as their own.
Greg said: "My parents lived down south and people thought they were crazy to take on this huge gamble up in Yorkshire, but they had a vision and were determined to bring it to life. They poured their heart and soul into it.
"I was eight at the time so I spent most of my childhood living here, then became involved in the business in my early 20s. When my parents retired, I paid the market rate and took it over in 2000. It's more than work for me, I've got a deep bond with this place that goes a long way back. I've lived on every floor, I know the building inside out."
Check in
Check in at Hedley House is from 2pm, and having parked on their private car park and avoiding costly city centre parking prices, we headed to the front desk where Greg greeted us with a smile.
He got us all booked in, handing over our keys, and even offering us a map of the city, with a diagram explaining how to get into town.
Service was quick and friendly in their lobby, which had a cosy lounge complete with a log fireplace – ideal for warming up hands having come in from the cold February Yorkshire air.
Read more: Shepherd hut weekend getaway waking up to 1,000 sheep in Leicestershire
The room
The hotel boasts 26 en-suite rooms – each one unique with vintage-style decor like gold stand lamps and decorative fireplaces.
We'd been upgraded to a deluxe room, the centre of which was dominated by the biggest bed I've ever seen in a hotel – a super king size with a luxurious mattress topper, plump pillows, scatter cushions and a faux fur throw.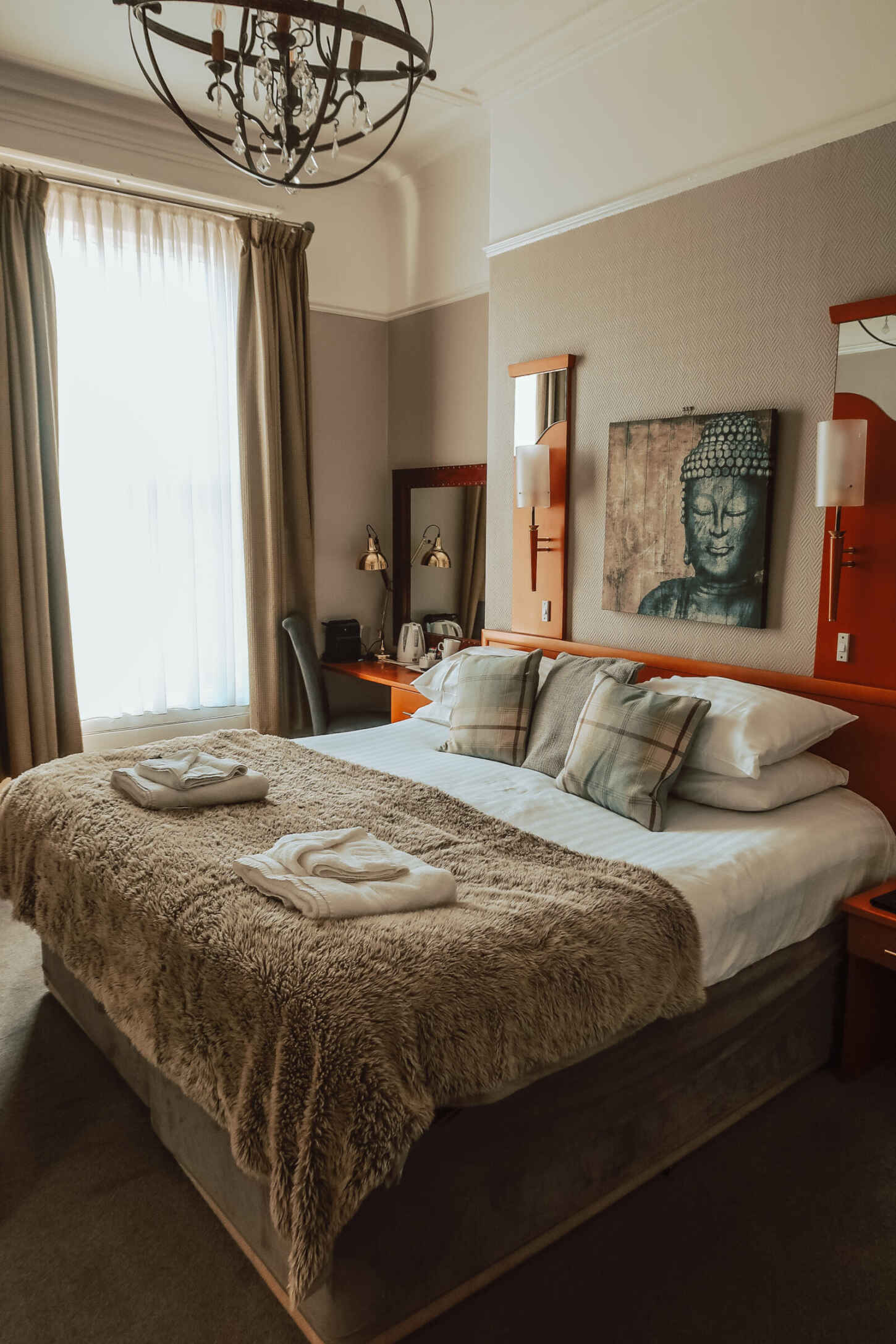 Also in the room was a seat to the right of the bed, and a desk space with another chair on the left.
In terms of refreshments, there was plenty of tea, coffee, hot chocolate, milk and sugar to use with the kettle, as well as coffee pods for the Nespresso coffee machine.
And it wasn't the only bit of tech that impressed us, as the Smart TV offered Netflix and YouTube, with a Bluetooth speaker system wired to the bathroom and free WiFi.
In the cupboard, we discovered an iron and ironing board and a yoga mat, while the draw contained a hair dryer. There's really everything you could possibly need.
The addition of the yoga mat comes as co-owner Lou runs her own hot yoga classes that guests can join in for an additional £8 – or, they've free to use in the room if you're more of a sun salutations stretcher.
The bathroom was spacious with a loo, basin, bath and shower, as well as fluffy towels, shampoo, body wash and hand soap.
But one thing I was most impressed with was the addition of H2k skincare products for guests to use, including a creamy cleanser, toner and moisturiser.
While full of Victorian charm, the rooms are fully up to date, clean and tidy, and the perfect place to relax and get ready between a day out sightseeing and an evening of dining and drinking. All the little thoughtful extras made Hedley House feel like a home from home.
Proximity to York City Centre
Hedley House is located on Bootham Terrace, which is a five minute brisk walk, or a 10 minute leisurely stroll from York Minster and the main bustle of the city.
You can either walk via the main road, or take a detour through the Museum Gardens for something more picturesque.
On the occasions of it either raining, or me wearing heels, we caught an Uber, which cost between £5 and £10 depending on time and demand.
Read more: Cosy Camping in Hendra Holiday's Luxury Pods
Evening meals at Hedley House
Jake and I booked a table for 6pm for food the Friday we arrived at Hedley House, and we were blown away by the quality of the food.
Our friendly server Rosie seated us in the cosy dining space and gave us a few minutes with the menus before taking our orders – a gin and lemonade, and a bottle of beer.
For food, Jake ordered the steak and triple cooked chips, and I went for one of the specials, a giant Yorkshire pudding (when in Rome), with sausages, mashed potatoes and carrots with gravy.
The small menu allows the in-house chefs to focus on fresh and seasonal ingredients that are all sourced locally, and it really shows in the flavours and quality.
My bangers and mash really hit the spot – a real comfort dish that would fuel me for the rest of the evening on our ghost tour of York.
But it was Jake's steak and chips I was amazed by. Cooked to perfection, tender and barely any fat, the steak was to die for and the chips were fluffy and crisp.
We didn't get the chance to sample the Hedley House breakfast, but the menu looked brilliant with a great deal of choice, with the option for chefs to 'whip something up' if there's something you really fancy.
Staff are also happy to make up a picnic for your lunch, so long as you let them know the day before.
Towers Bar
In the lobby, where I previously mentioned the cosy log burner, is the Towers Bar – a small but well stocked bar serving spirits, wine and beers.
Before heading out for the evening, we would enjoy sitting in the bar speaking to the staff and sipping a tipple – all of which were fairly priced, with a gin and mixer costing £4-5.
Spa and Jacuzzi
As well as the Yogabomb hot yoga classes, there's also an outdoor spa bath that guests are free to use all day on Saturdays, and during the evenings the rest of the week. It's located in a wooden hut in the hotel's garden, and while we didn't pack out swimwear this time, we definitely would next time.
And if you're looking to unwind, there's also an on-site therapist offering massages and beauty treatments – but it's best to book in advance.
Check Out
After two restful and comfortable nights' sleep at Hedley House, we checked out at 11am, and were able to leave our car in the car park for the rest of the afternoon as we continued exploring the city.
It's proximity to the city centre was ideal for walking, and allowed us to soak up every part of it.
York is such a historic and vibrant destination, perfect for a romantic getaway or a cultural adventure, and the warmth and hospitality of Hedley House really was the cherry on top.
Stress free, functional and homely, Hedley House covered all bases and the owners and staff really have thought of everything, ticking every single box.
Our stay was everything we could have wished for and more, with the personal touches giving it an edge on the bog-standard chain hotels we could have chosen.
Memorable with fantastic service, rooms and food, we look forward to booking in at Hedley House again soon.