Manchester is one of my favourite places to head on a day trip – whether it's for the Christmas markets, day drinking in Spinningfields, checking out the Craft and Flea market or soaking up the indie businesses in the Northern Quarter.
And while I've often been to Deansgate for a bite to eat, I'd never had the chance to properly explore it. So when Jake and I had the opportunity to check out Moxy Manchester City for work, we decided to make a real tourist trip of it – itinerary and all.
After hopping off the train at Piccadilly, Deansgate is around a 20 minute walk from the station, and is a real focal point for the city. The more-than-a-mile long stretch of road begins in the north at Manchester Cathedral, ending southward at Beetham Tower, with endless things to eat, drink, do and see in between.
Here's how Jake and I spent 24 hours in Deansgate:
Black Sheep Coffee
There are four Black Sheep coffee shops in Manchester, including Piccadilly, Spring Gardens, St Peter's Square and Deansgate. It's one of my favourite places to stop for a hot drink and a bite to eat, and at around 12pm, it was evident others thought the same as we queued for the till.
The brand was founded in London in 2013 by university friends Gabriel Shohet and Eirik Holth, and has quickly built up an empire of dozens of popular sites around the UK.
Having opened in 2019, the Deansgate coffee shop has a really industrial feel with red neon lights and reclaimed wood décor, located on the corner of St Ann's Street in the former Patisserie Valerie.
Jake ordered a honey roast ham and cheddar cheese toastie, while I went for the salt beef bagel, which featured salt cured beef, emmental cheese, pickles, mustard mayonnaise and sauerkraut on a toasted onion bagel. To drink, Jake had a cappuccino while I ordered a salted caramel iced frappe without the coffee. Service was fast despite the shop being busy, and Jake's coffee was even expertly poured with love heart coffee art.
My bagel was so delicious, I could have ordered a second one and inhaled it just as quickly as the first. The cheese and cured beef combo with the pickles was just *chef's kiss*, while the frappe was just what the tourist ordered.
If you're looking for something sweeter though, the Deansgate shop also serves a selection indulgent Norwegian Waffles which are made fresh on site, with toppings like Nutella and strawberry. The coffee shop even serves cocktails, including, of course, their own take on the Espresso martini, if you're looking for a pick-me-up.
Manchester Cathedral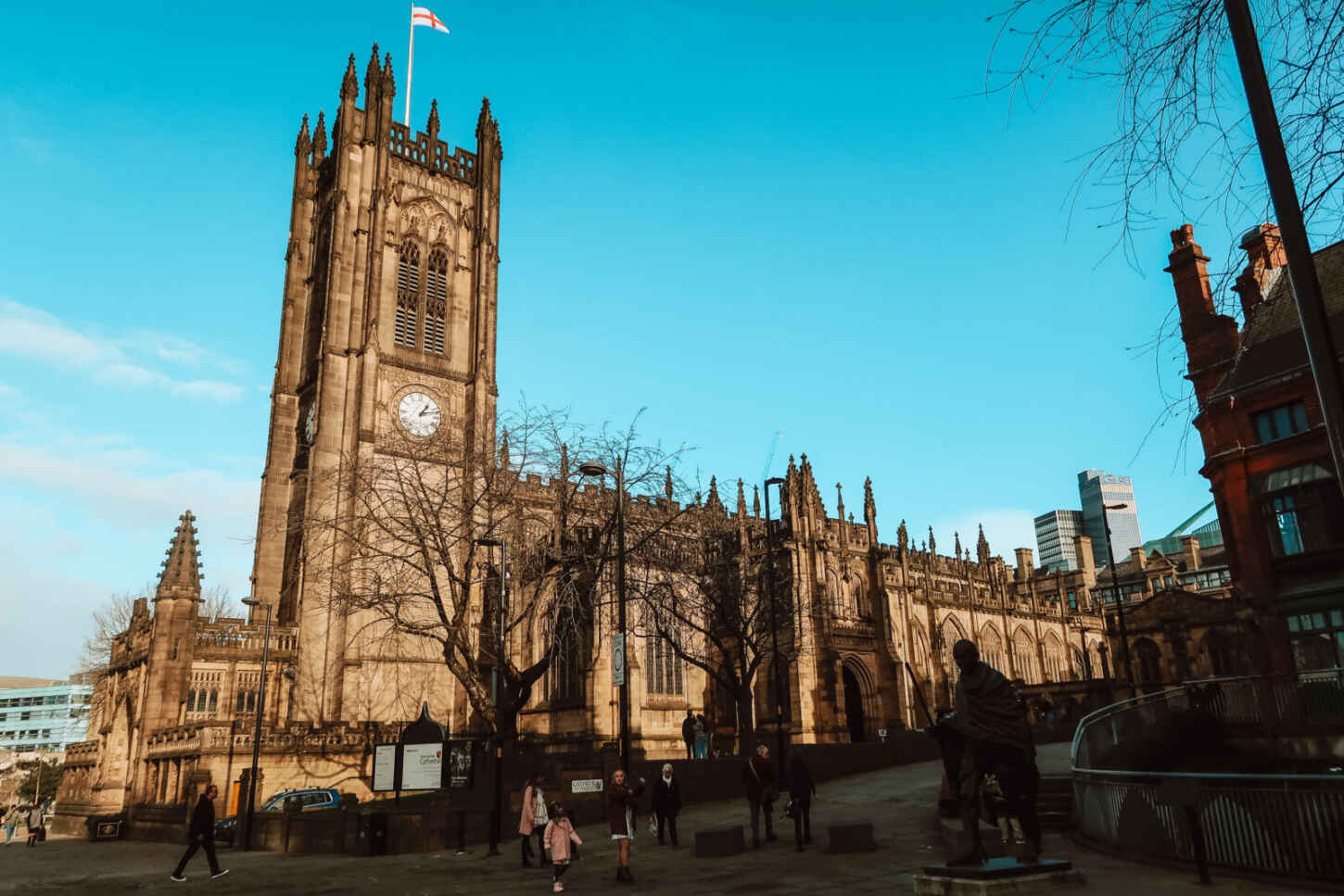 Manchester Cathedral is one of 15 Grade I listed buildings in the city, and has been a part of Manchester's history for around 600 years.
The Victoria Street building is the mother church of the Diocese of Manchester after Henry V signed a royal charter granting permission for a collegiate church to be built in 1421, becoming a cathedral in 1847.
However, that's not the earliest signs of a church being built on the site, as it's thought to originally have been home to an early Saxon church dating back to around 700. It comes after a small carving of an angel with a scroll was discovered embedded in the wall of the original south porch of the cathedral, which is preserved in the cathedral.
The masterpiece of a religious structure in the city's Medieval Quarter alongside Chetham's School of Music, Chetham's Library and the National Football Museum, and has survived wars and bombings, Henry VIII's reformation and Queen Elizabeth I's spy.
It was mainly built in gothic style, with intricate late medieval wooden furnishings, commissioned by former warden James Stanley. There's so much to admire, ncluding the Minstrel Angel sculptures commissioned by Margaret Beaufort, a collection of 30 misericords from the 16th century, stunning stained glass, imposing arches, and ornate details everywhere you look.
Jake and I were audibly wowed by the architecture around every corner, despite the building having been previously devastated by bombs in WWII and the 1996 IRA attack on the Arndale.
The Cathedral is free to visit, but there is a suggested donation of £3 per person. It's open seven days a week, but be sure to check mass times before you visit, as it's still an operating centre of worship in the city.
John Rylands' Library
The John Rylands' Library was founded by Enriqueta Rylands in memory of her husband John Rylands, who died in 1888.
Enriqueta commissioned the architect Basil Champneys to design the Library for the people of Manchester with Rylands' fortune, taking ten years to build before it opened to readers and visitors on 1 January 1900.
Now open Wednesday to Saturday, 10am to 12pm, and 1.30pm to 5pm, the building on Deansgate holds over 1.4 million items including manuscripts, archives, maps, works of art and objects.
Enriqueta was personally responsible for purchasing the two foundational collections – the collection of printed books assembled by the 2nd earl Spencer bought for £210,000 in 1892 from Lady Diana's ancestors and the earl of Crawford's collection of manuscripts (costing £155,000 in 1901).
And if books isn't your bag, The John Rylands Library is one of the finest examples of neo-Gothic architecture in Europe, and recognised as one of the most beautiful libraries in the world.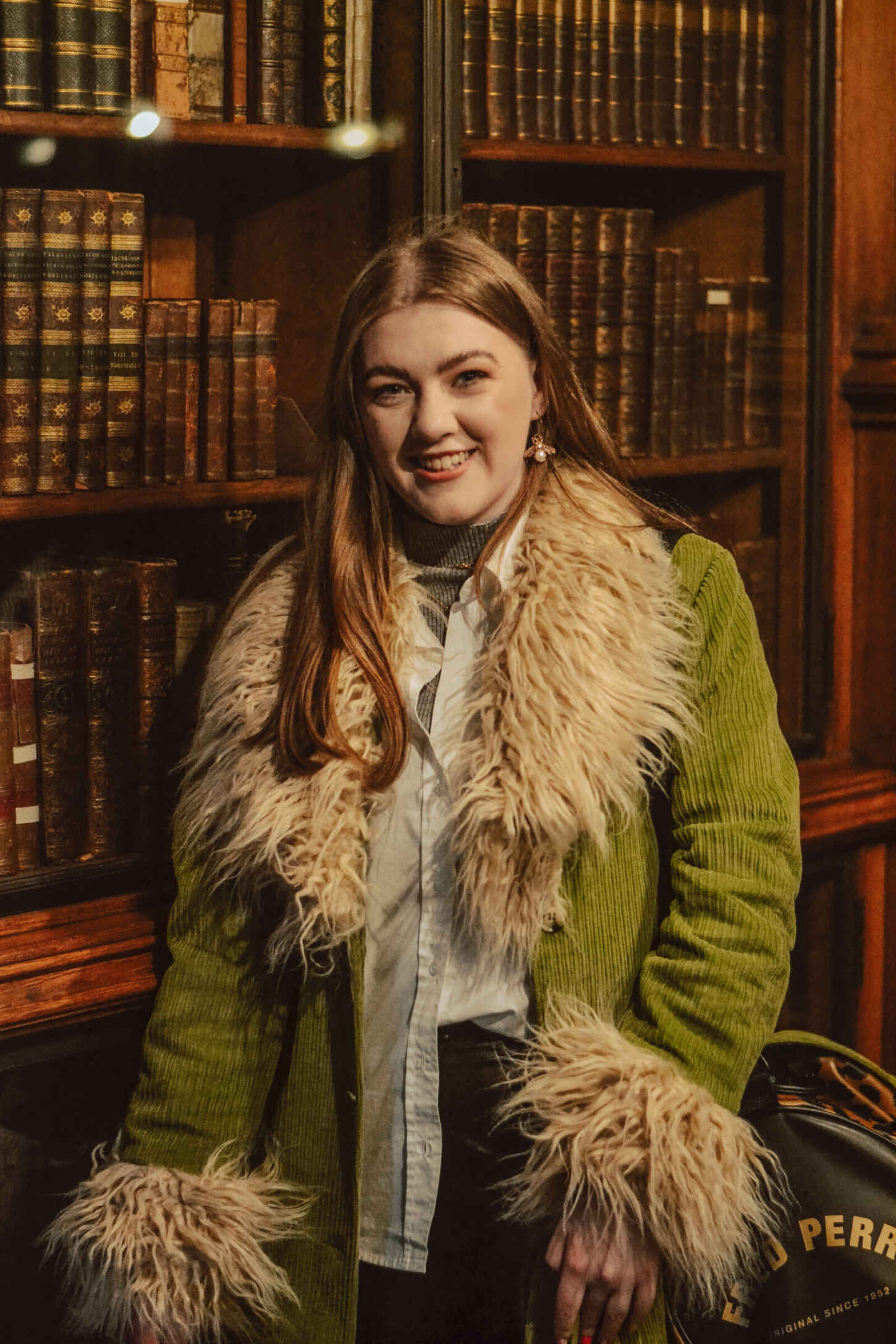 The building became part of The University of Manchester in 1972 and includes a Historic Reading Room with alcoves for private study and amazing stained glass windows at each end.
Entrance to the library is free, and you can expect to spend around half an hour admiring the Garde I listed building in all it's beauty.
There's Netflix in each of the 146 rooms, with clean modern bathrooms and a pink hairdryer to assist in your getting ready routine.
We found the hotel to be really welcoming, affordable and while there was a party vibe throughout, the rooms themselves were tranquil and offered an escape from the hustle and bustle of the streets below – and a place to rest our feet from all the walking around!
The Blues Kitchen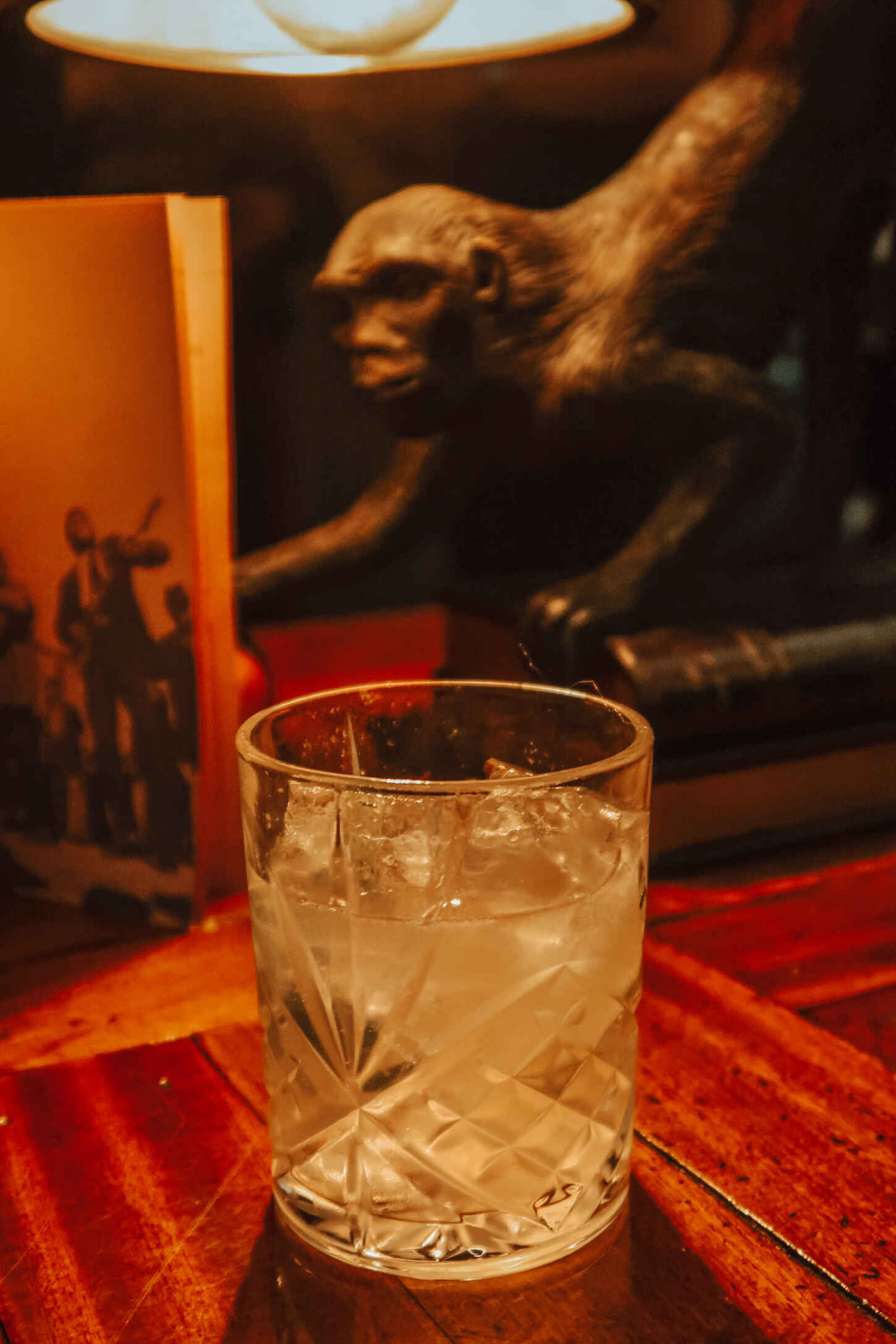 After relaxing in the hotel for a couple of hours, we headed out to The Blues Kitchen.
Located on Quay Street, in the old Walkabout, The Blues Kitchen opened in May 2021 and offers a taste of Deep South America.
With orange and teal decor and a 1920s vibe, the former Victorian eye hospital has been transformed into a quirky bar that wouldn't look out of place in New Orleans.
I ordered a Tommy's margarita while Jake sipped a Camden Hells lager, but it was the interiors I couldn't help but soak up – from the monkey-shaped lamps and fixtures, to salvaged vintage pieces, including a stained glass window from Greystone Park Psychiatric Hospital in New Jersey and a 1920s Air Stream Caravan.
Feeling peckish as we'd last eaten at Black Sheep, and weren't due at our dinner reservation until 9pm, we ordered the cheeseburger spring rolls from the bar menu – which is the ultimate drinking snack.
For £7.50, you get two large spring rolls filled with beef, American cheese, pickles and mustard with a pot of 'Big Mac sauce' on the side, and boy were they delicious.
At 6.30pm, the upstairs bars open to relive the ground floor bar, and there's a huge mural of Ray Charles painted on the main wall as you enter. We were a little early for any live music, but the bar has a jam-packed seven day programme if you're looking to enjoy some blues in the evenings.
NQ64
We had planned to pop into Alberts Schloss for a tipple, but the queue was huge so we opted for nearby NQ64 on Peter Street instead.
The retro arcade gaming bar also has a venue in the Northern Quarter, but the Deansgate venue opened its doors in June 2021, giving gamers more chances to check out Pinball, Pac-Man and Guitar Hero among many other popular games.
The basement bar is covered in neon graffiti, with a dance mat nestled up the corner, as well as Time Crisis II, Mario Kart and NBA Jam.
Those born in the 90s will also recognise the N64, MegaDrive, original PlayStations and Super Nintendo.
At the bar, I ordered a raspberry Hooch for the nostalgia, while Jake ordered a beer, costing around £9 total, plus £7 for 15 gaming tokens.
Each game takes one to two tokens per player, and there are little benches built in beside each game to rest your drink while you play and attempt to beat your partners' high score.
It transpired that, whilst terrible at Pac-Man, I am a Pinball Wizard, surpassing Jake's 3.5million with a score of 8.6million. He still beat me at Guitar Hero, though, as we duelled to The Stone Roses – She Bangs the Drums.
Point Blank
Point Blank was another accidental find, after attempting to get into Roxy Ballroom next door, who weren't taking walk ins that particular night.
Without knowing it was there, you could easily miss the underground venue nestled between The Botanist and Roxy.
The bar has it's own virtual shooting ranges you can book in advance from £10 per person, or you can sit in the bar and enjoy a drink in the action-film themed venue.
Pictures from famous movies adorn the walls, including David Bowie in The Man Who Sold the World, and Uma Thurman as Mia in Pulp Fiction.
Likewise, the cocktail menu is loaded with movie puns, named after quotes from famous fight films.
Order a 'Is that a gun or are you happy to see me', or a 'Do you feel lucky punk?' or their take on a margarita 'fire in the hole', featuring a jalapeno liqueur. Instead, I went for an incredibly sweet 'Rock out with your glock out' for £8, which was made up of vodka, creme de mure, vanilla, apple, lime and cream soda.
The Botanist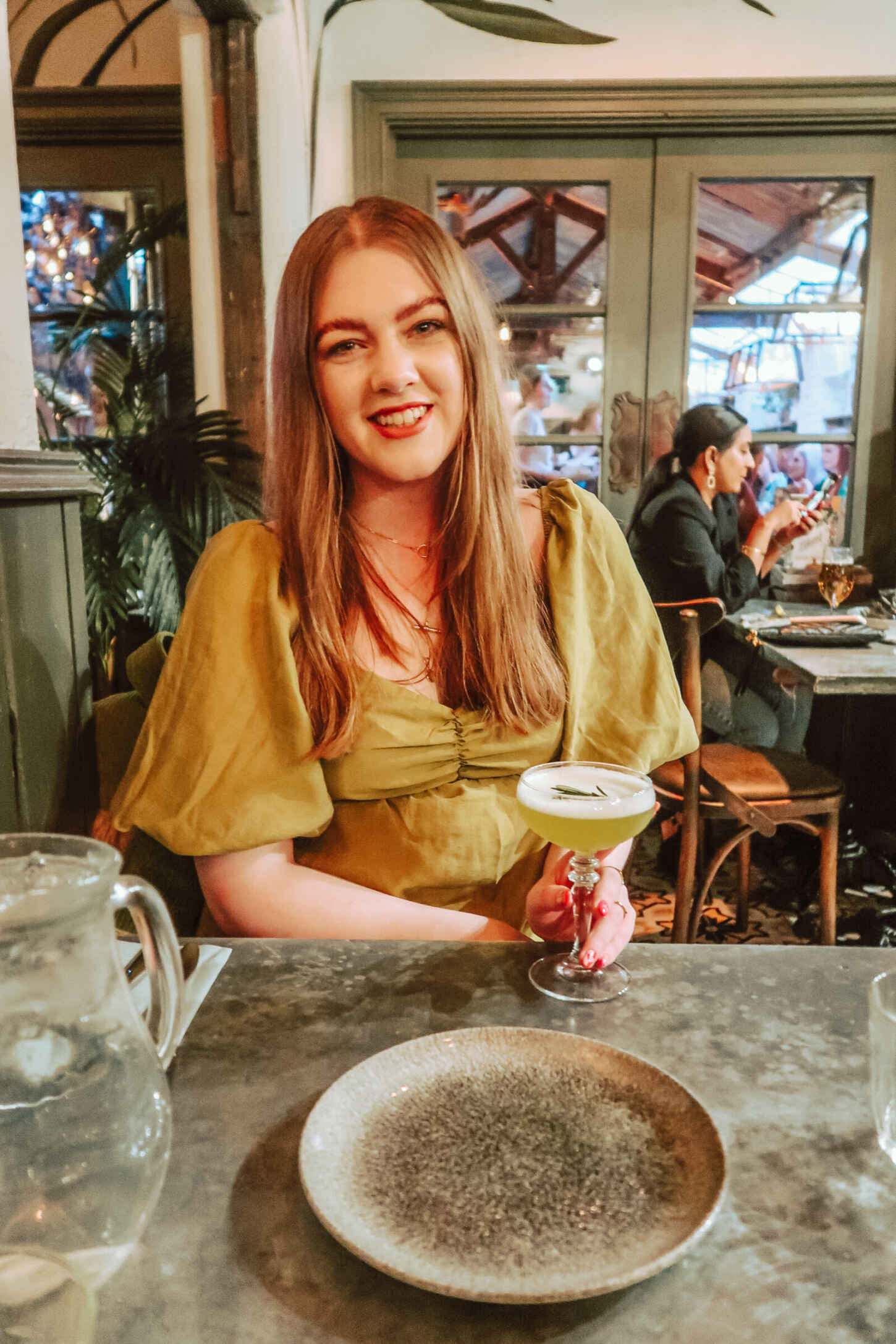 I'm a big fan of food at The Botanist, having reviewed their Deansgate and Alderley Edge sites previously. We'd left booking a table for dinner rather late, and The Botanist was one of the only places with a table left on Saturday evening, albeit at 9pm. That said, I didn't mind, because the food is gorgeous and the cocktails are really original.
The venue opened in 2014 following a £1million refurbishment, and like the rest of The Botanist sites, has a horticultural theme throughout.
To drink, I ordered a Lily Pad Sour, which the enthusiastic waitress pointed out matched my green dress. Containing Beefeater Gin, melon liqueur, apple and rosemary, it tasted just like fizzy watermelon sweets.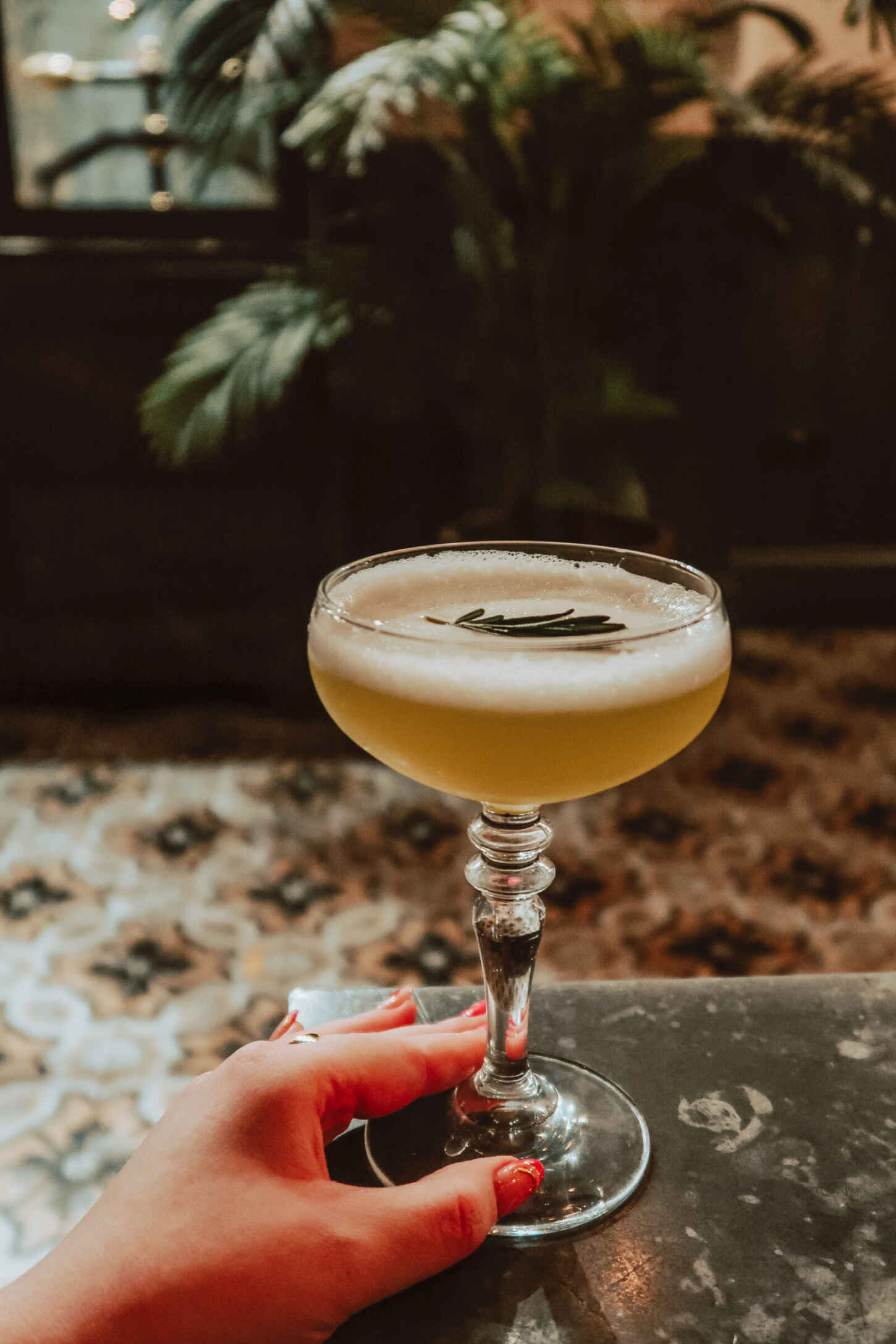 For food, Jake went for the cheeseburger dipped in bone marrrow gravy, with house sauce and properly seasoned chips, while I went for my usual – a chicken and chorizo hanging kebab marinated in herbs with smoked paprika oil with fries, which never fails to impress as the oil drips down the kebab and onto the chips.
We also grabbed side orders of crunchy pork crackling with chilli jam, and cheesy garlic bread baked with cheddar and mozzarella, which were both incredibly moreish.
Out total bill came in under £50, which is brilliant for dinner for two with cocktails – it's certainly one of the more affordable dining venues in the district, with eateries like 20 Stories, The Ivy and Tattu costing double.
Lane7
After enjoying breakfast in the hotel we took a walk over to the Great Northern Warehouse which now houses Lane7 – a bowling alley and arcade centre, which has been frequented by none other than Olympian Usain Bolt.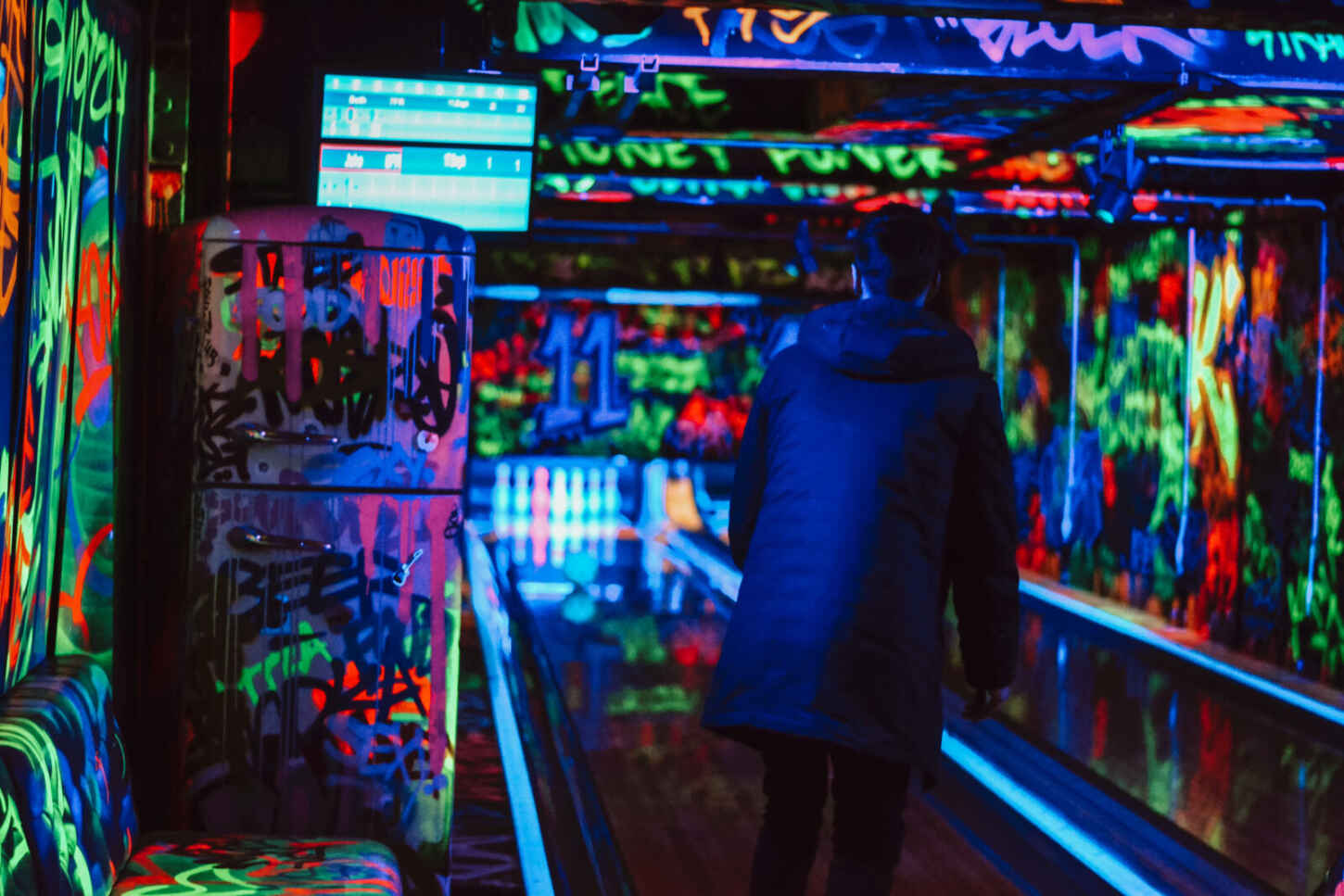 There are 11 bowling lanes, including a UV room and 'red room', as well as multiple arcade games, foosball, beer pong, darts, ping pong, shuffleboard, shooting pods and karaoke.
I love that the arcade games accept contactless card payment, as it makes it so much more convenient and you're not restricted to how much change you can find in the bottom of your boyfriend's wallet.
We took on foosball, air hockey and our favourite basketball game before heading onto our lane for bowling, where Jake just cinched the win with a final strike.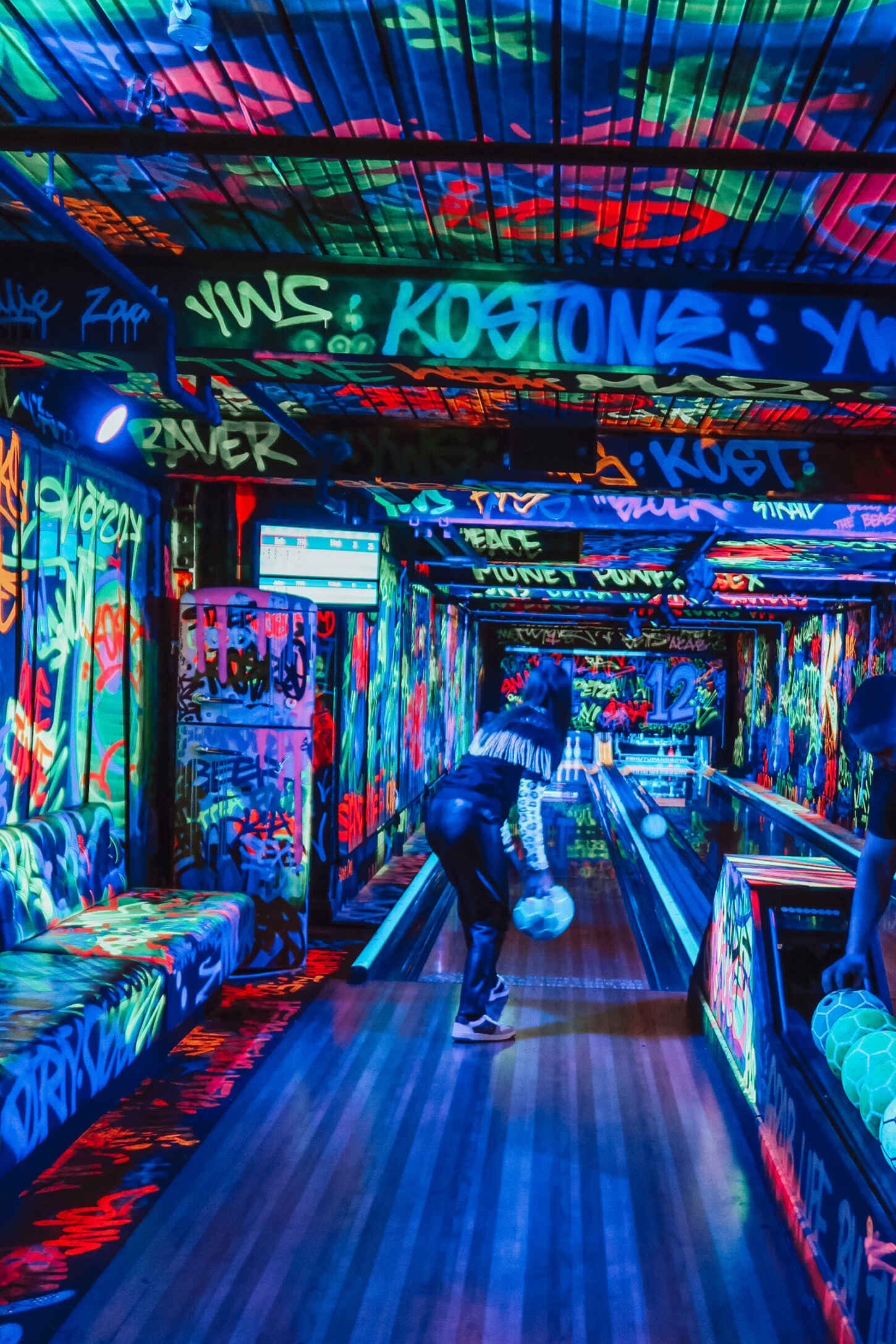 All the competitiveness helped us work up a hunger, so it was a good job that Fat Hippo's first Manchester restaurant is located inside Lane7.
The burger joint serves up the biggest dirty burgers – the kind that really soak up a hangover – with the bar serving up cocktails from 11am on the weekends.
To share, Jake and I ordered a portion of dirty fries with bacon bits and 'Fat Hippo' sauce for £4.50, as well as a £13.50 Fat Hippo burger, consisting of a double patty, American cheese, smoked bacon, chorizo, two onion rings and more 'Fat Hippo' sauce, which I believe has paprika in it, adding a slight kick to your mammoth meal. The burger was nearly the size of my head but was oh-so-delicious, washed down with a margarita from the bar.
The venue is open seven days a week from Monday to Thursday 3pm until late, and Friday to Sunday 11am until late, with under 18s not permitted after 7pm.