Pink and lime green is a combination I just can't get enough of at the moment. It's a real serotonin-inducing palette, and if you've been following my Instagram, you might have noticed that since January, my grid has adopted this accidental theme.
I think it all started with this outfit, my green and pink checked trousers paired with a white blouse, pink Cara And The Sky knit, and green fedora. Then I added my lime green corduroy coat to my wardrobe and things quite possibly escalated from this point.
And I've got a new go-to outfit that feels like it breaks all the 'rules' you were taught about fashion in your teens. Pink and green do go together, corduroy is cool, and it doesn't matter if you mix your metals.
This pink ribbed vest is from Lula Boutique, in Leek, purchased for £16 around Valentine's Day. I wore it paired over my white shirt in York, with a pair of leather trousers and tan heels. It's a really beautiful quality, and the material is the same as the black high neck vests I have in orange, grey and black from the boutique. It's ideal for wearing alone, or for layering, as it's super stretchy but at the same time, is quite contouring.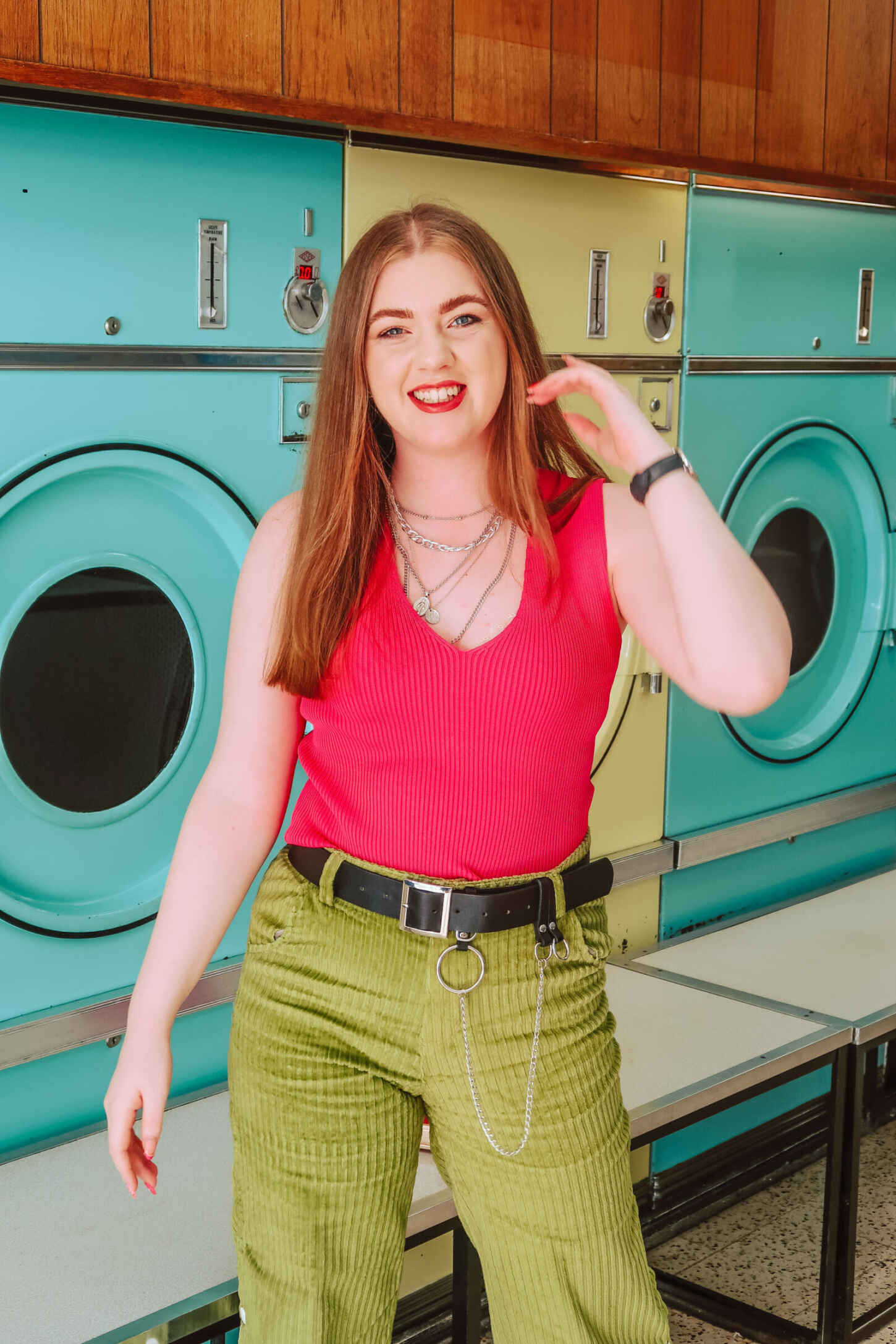 I wore the top with this incredible pair of lime green corduroy flares from Everything5Pounds. I loved them so much when I saw them on the site that I ordered two sizes to make sure I didn't miss out on them. The trousers are absolutely dreamy – they're so comfortable to wear and do have a small amount of stretch to them, too. The colour is really vibrant, and the material is so soft. I found the cut to be really flattering, and the flared leg is complete with white poppers that are functional, can can be undone to show off a killer heel.
When I ordered these, my mum asked: "You're not going to wear those with the green cord coat, are you?"
This is the same woman who attempted to deter the purchase of the coat in the first place, and now loves it as much as I do.
"No, course not mum." Only, when I tried the two on together, it was a match made in lime green cord heaven, and so, I absolutely did wear them out together – and received a number of compliments from strangers for doing so.
There are three belt loops on the waist of the trousers, so I threaded through this grungy black faux leather belt with a hanging chain from Nasty Gal, and added a layered silver necklace, Daniel Wellington black leather watch and my Vivienne Westwood earrings. Now, I'd always been taught you never mx silver and gold – but we were also taught not to wear horizontal stripes and that double denim is a fashion faux pas.
In reality, done intentionally, mixed metals is pretty refreshing, and so, I didn't mind pairing my pink Primark clutch with gold hardware with my silver accessories. This bag is at least half a decade old and, while it doesn't fit much in, it goes with so many outfits. It also has a gold cross body chain that could help break up this look. This look is essentially three quarters lime green and a quarter fuchsia – and I find the bag helped to balance it out just a little.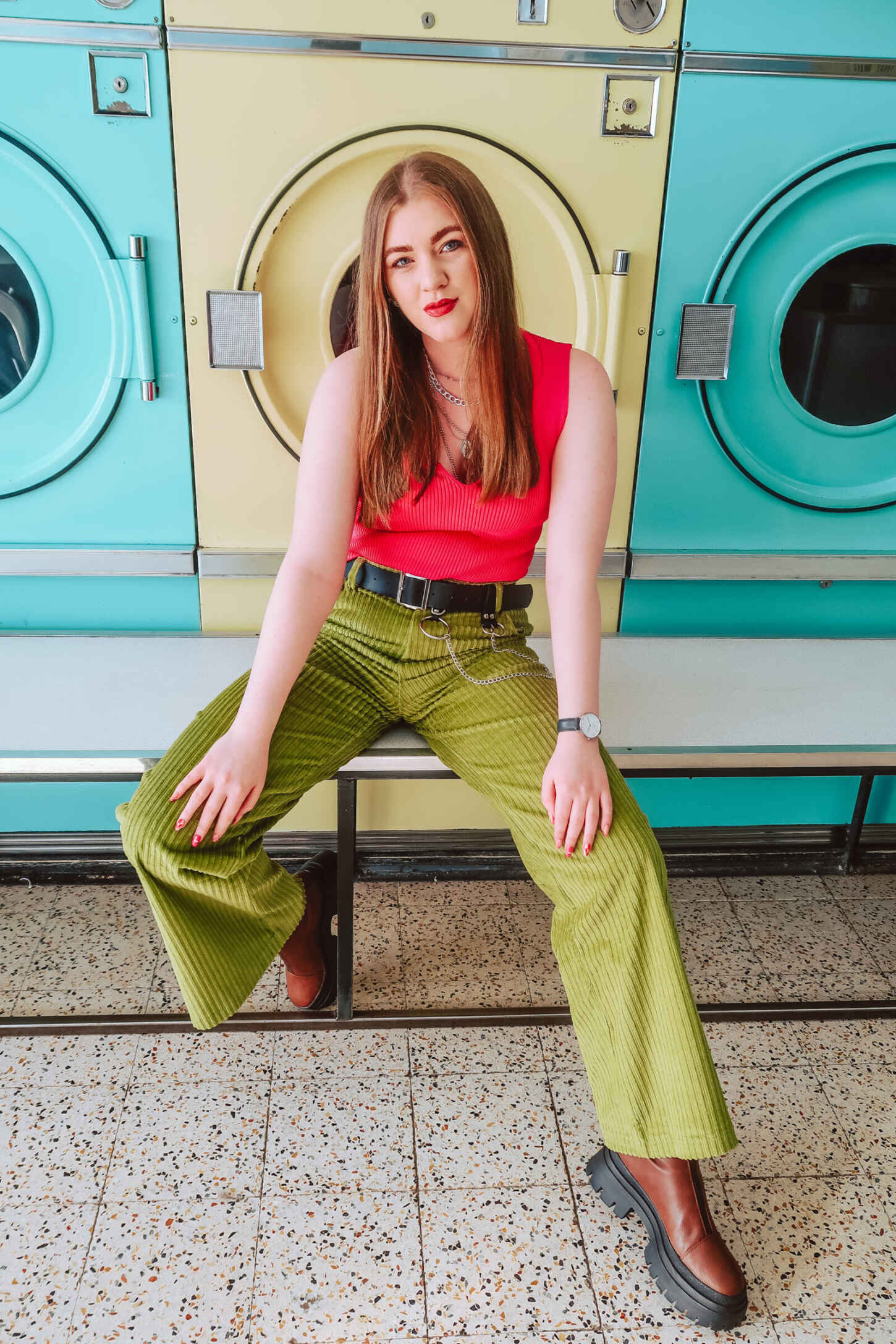 Finally, I added my chunky brown boots from Lula Boutique, which I got around Christmas. These are some of the most comfortable boots that hug the ankle to offer support, with a nice thick sole that adds height, meaning my flares wouldn't drag on the ground.
So it's official, lime green and hot pink are the style combo of the season – you heard it here first.