York's St. Helen's Square was developed in the mid eighteenth century from a graveyard into what is now a bustling tourist hotspot – and it's home to some of the best pancakes in the city.
Alongside York Mansion House, St. Helen's Church and Bettys Tea Rooms is York's branch of The Ivy, which opened on the square in December 2017.
With space for more than 150 guests, the sophisticated restaurant is part of a chain that launched more than a century ago in 1917, delivering exceptional service, Instagrammable dishes and an alluring sense of occasion.
Jake and I visited back in February, and I thought Shrove Tuesday was the perfect opportunity to talk about their dreamy hot buttermilk pancakes from the brunch menu.
The venue is so picturesque with locally inspired artwork, various seating arrangements, burnt orange leather banquettes, and plush decor, as well as a modern marble-top bar in the brasserie. We were sat in a comfortable corner at the end of a long banquette, which felt semi-secluded and was surrounded by faux plants.
The breakfast menu is totally mouthwatering, from pastries and smoothies, to eggs royale and smoked salmon crumpets. But if you want a proper treat, order the hot buttermilk pancakes for £8.95.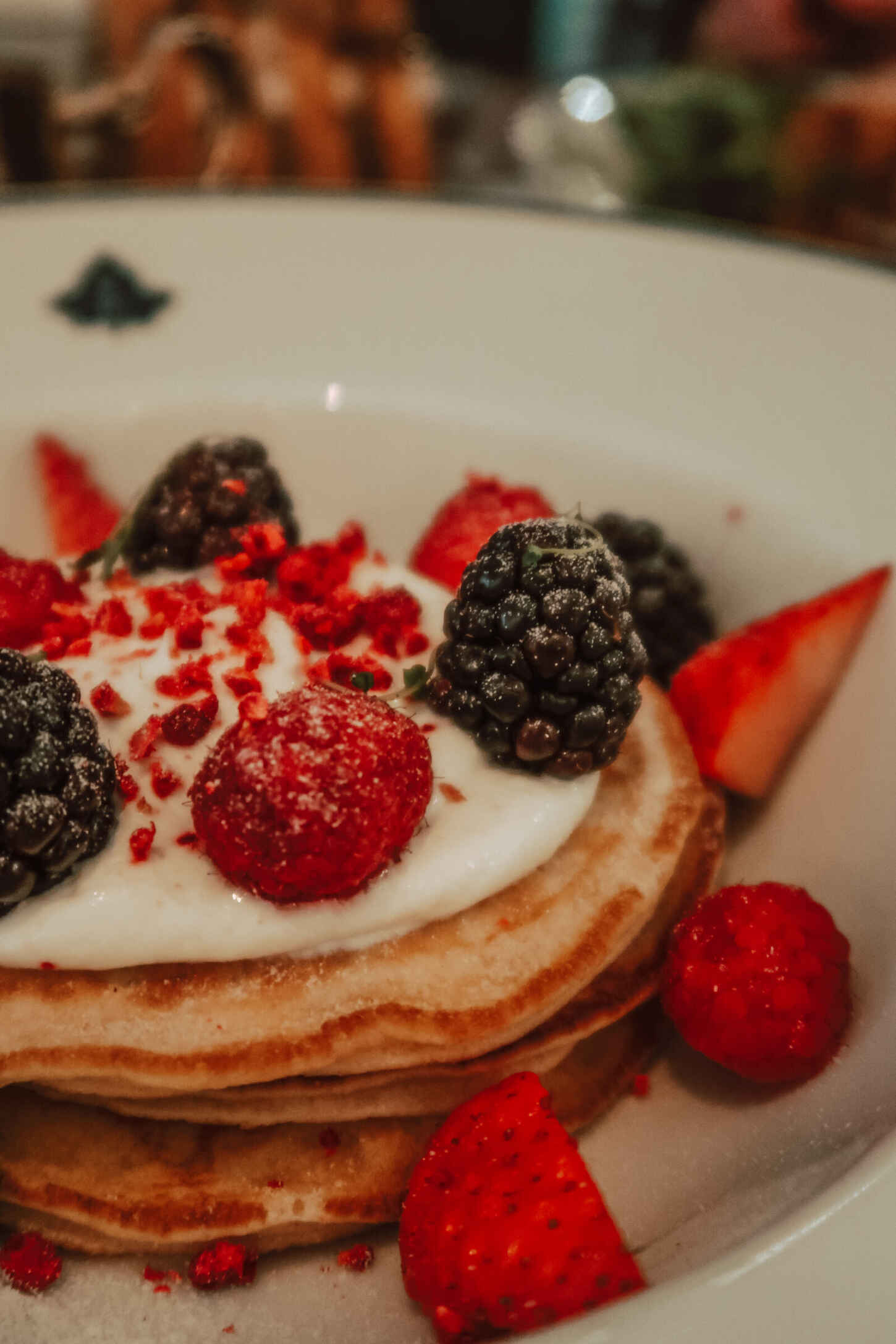 The stack of thick and fluffy pancakes was topped with a combination of strawberries, raspberries, blackberries and Greek yoghurt, as well as lemon balm and warm strawberry sauce. Tart and fruity, yet not too sickly sweet, this breakfast treat feels as though you should be sat on a sunny balcony in Italy with an Aperol spritz in hand.
I thought the price for the pancakes was reasonable considering The Ivy isn't exactly known for a being a cheap date, and the portion size was generous too.
The pancakes come served in a deep Ivy-branded dish which makes it easy to mop up every last bit of the warm strawberry sauce, and trust me, you'll want more, but you know for a fact you couldn't eat another bite even if you wanted to.
I washed them down with a Peach and Elderflower Iced Tea, made with The Ivy 1917 and afternoon tea blends, which was refreshing and sweet.
Meanwhile, Jake went for a cuppa and the full English, served with smoked streaky bacon, Cumberland herbed sausages, fried hen's eggs, black pudding, roast plum tomato, grilled flat mushroom and baked beans, as well as toast for £13.95. The sausages in particularly were gorgeous, and Jake was seriously impressed with they quality of the meal.
The St Helen's Square Brasserie venue is a great addition to York's exciting foodie scene, offering friendly, sophisticated all-day dining with swift service and a pricy but worthwhile menu.