The Blockhouse at The Sheet Anchor is nestled between the quaint and quiet villages of Whitmore and Baldwin's Gate, on the way to one of my favourite pumpkin patches just outside of Newcastle, Brookfields Farm. And despite it's more remote location, that didn't stop the car park being scarce of a space on a Thursday evening – it's clearly a popular jaunt.
Luckily, Jake and I had booked a table online in advance as there were a few big parties in, and we were quickly shown to our table. We'd been sat by the back door where some customers were enjoying a drink on the patio, but with the door letting in a breeze, we asked to move, which was no issue according to staff. I was thankful to be moved a little further inside into the warm, beneath the dim lighting thrown by washing machine drums macarading as lampshades.
The venue is owned by the growing Parogon Group,who also own The Swan with Two Necks, The Wayfarer, The Orange Tree and Willow at Trentham to name a few. Blockhouse, like the groups other sites, is styled in its own way, highlighting some of the country pubs historical beams and features and combining them with a modern mix of industrial accents, from knives embedded in walls to the battered tin-can candle holders on each table. It brings urban and rural together in a way only the Parogon team can make you feel both at home and cosy, but cool and polished.
The cocktail menu is small but well formed, so I opted for an Italian Cherry Sour while Jake went for a Guinness while we browsed the food menu. The BBQ grill house is best known for their slow cooked smoked meats, juicy steaks and burgers that are unapologetically messy, so it may not be one of those joints you take your vegan friends, because their menu options would be limited to salads and sweet potato sides.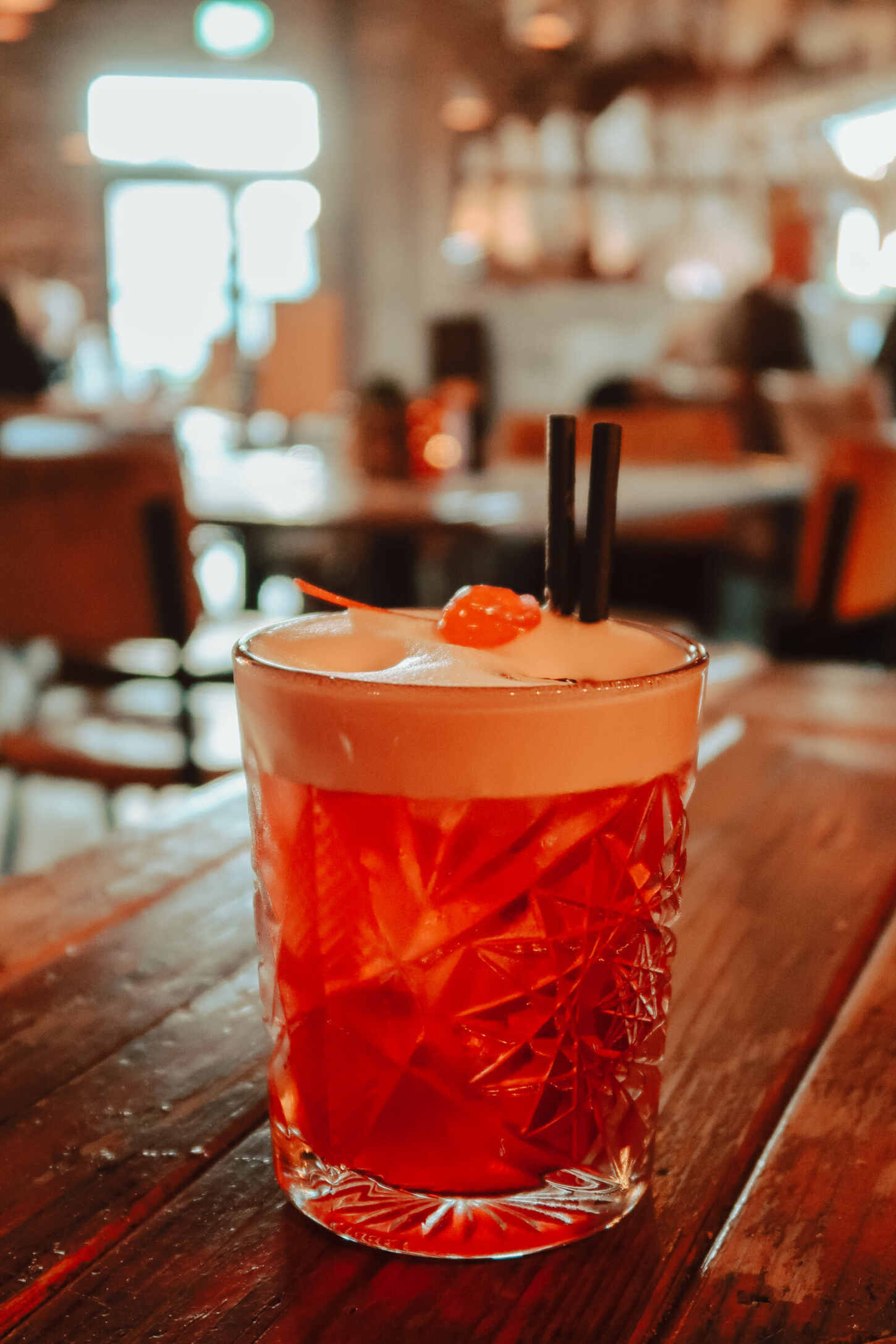 To start, I ordered the tortilla coated marmite mac and cheese bites, served with a hot and spicy jalapeño jam. The mac and cheese was full of umami flavour thanks to the addition of the popular yeast extract spread, and paired with the chilli jam, there was a real kick. The coating was super crunchy, albeit a little dry without any dip, and came in a portion of three, which saw Jake and I tustle over the last one so we split it. Jake ordered Corn Dogs, which I've never had before and had always been curious to try.
The corn dogs were chunks of frankfurter sausages coated in batter that becomes an almost bready texture once fried. The American delicacy was served up on a chopping block – no plates here – with a bacon mayo dip for £7.95 and came in a portion of four, which was plenty.
When it came to mains, Jake ordered the serloin, a 10oz slab of beef served with peppercorn and brandy sauce and seasoned fries for £28.95 – but upgraded fries to bacon and cheese. Meanwhile I went for the Full Block burger, which is typically served with a steak patty, fried chicken, pulled pork, maple bacon, jalapenos and chilli cheese sauce for £16.95. I held the jalapenos and swapped out the chilli cheese sauce for blue cheese sauce – which is also a steak sauce option – upgrading my fries to chilli brisket fries. All the upgrades and swaps were no problem and no extra cost either, so we chucked on a side of onion rings that were beautifully crisp and not greasy.
Jake's medium-rare steak was cooked pretty much spot on, while my burger was well flavoured with sweet and salt bacon, juicy pulled pork and crispy chicken burger. The steak patty was perhaps a little dry and in hindesight the burger needed a cheese slice, but nonetheless it was tasty, but a total struggle to finish – especially having had starters. One thing is certain at The Blockhouse – you won't be going home hungry.
Dessert was the icing on the cake – the cherry on top was the glace cherry in my cocktail – and frankly I was stuffed but I couldn't resist ordering the Malteser cheesecake. The homemade pud offered a creamy consistency with a beautiful malted flavour, served with malted milk ice cream with crunchy choco balls for £7.45.
I was convinced I couldn't eat another bite but simply couldn't stop driving my spoon through the slice, and before I knew it, the plate was clear – with some help from Jake, of course.
Our total bill, with a couple of cocktails too, came to £112, and since there are so many menu items I'm still dying to try, from the Biscoff Burger to the Mac n Bac hot dog, it won't be long before we're back for round two.