The smell of Parma Violets reminds me of my Great Grandma much the same as the smell of suncream takes me straight to being on a beach in Newquay. The smell of crackling wood fires sees me reminisce cabin getaways while I associate the smell of freshly cut grass with family picnics at Tittesworth in the summer.
Our brains are incredible at associating scents with memories, triggering a moment in time with a waft of fragrance. It's called The Proust Effect, and happens because the parts of our brain responsible for storing smells, memories and emotions are all closely connected.
Perfumes also have the ability to trigger memories – it's often why people will pick out a specific 'wedding' fragrance, so they'll always be reminded of their big day each time they spritz it. For example, La Vie Est Belle, by Lancome, reminds me of Paris where I first smelled the scent, Joop! Homme reminds me of the night I met my partner.
Read more: My Shay and Blue Collection – the fragrance brand I'm obsessed with
And there's a Gucci fragrance that's memorable in its own right – an explorer of the power of memories. I've read so many reviews that this fragrance, released in 2019, has reminded wearers of a particular memory or moment, yet they can't pinpoint why. Gucci Memorie d'une Odeur just seems to have that ability to summon memories in such a powerful way. Gucci say it's because 'the present and past are connected by a unique bridge that projects directly into the future'.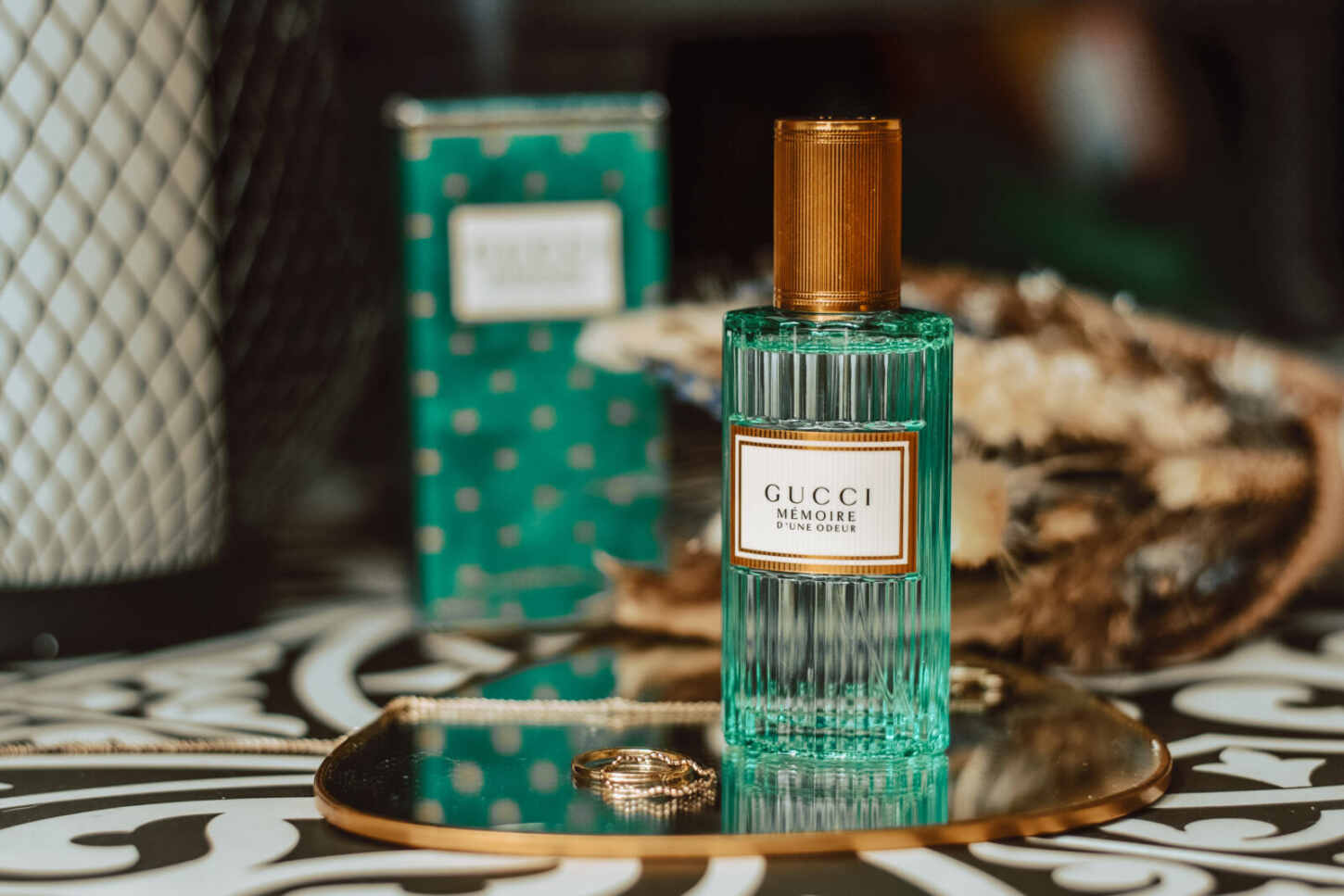 As a lover of woody, spicy fragrances which are considered more masculine, I love that this aromatic and clean scent is unisex, 'unassigned with gender or a time'. And honestly, it's about time brands began bringing out gender-neutral fragrances, but that's a whole other post for another day.
The perfume costs £69 for 60ml at Harvey Nichols, coming in a gorgeous refined vintage column shaped bottle made of green glass, finished with gold cap, and gold foil on the label. It comes boxed in a green and gold box reminiscent of a starry night sky with a strong celestial theme throughout. And while the bottle looks gorgeous on a bedside table or beauty tray, you'll find it almost impossible not to take it absolutely everywhere with you.
Blended by master perfumer Alberto Morillas, it sees top notes of soothing Roman chamomile and bitter almond, which give wat to coral jasmine, delicate jasmine petals and musks that add depth. This is by not means a floral fragrance, but is warm, balanced and airy. The base notes are my favourite, pairing vanilla with cedarwood and sandalwood, which bring an almost chocolatey property to the perfume, which is what really makes it stand out on the market.