It only feels like five minutes since I was last at the nail salon getting a fresh manicure, but the next appointment soon comes around. This time though, I've managed to hide a little secret message in my mani design that nods to my plans for the summer season.
I've noticed that I go through a cycle of neutral nails followed by loud, vibrant designs, and seeing as my last set was a blonde tortie set, it was time for something bright and colourful. It was pretty fitting for a busy month filled with gigs and events, including Robbie Williams, Ed Sheeran and Noel Gallagher, as well as Totally 90s at Trentham and DogFest at Tatton Park.
Using Navy and Willow Academy tools, my nail tech Chloe removed my old set of tortie nails, prepping my nailbeds and adding fresh The Gel Bottle Builder in a Bottle, which has been keeping my nails strong and healthy for around three years now. I also opted for a shape change this time around, moving away from my usual almond shape to coffin nails, and while I have enjoyed the change, it's likely I'll go back to a softer shape next time, as they're more practical.
Ahead of my appointment, Chloe and I had bounded some ideas around, most of which had a pink and orange theme, and we settled on mostly taking inspiration from @noellefuyunails, with Chloe putting her own sassy spin on it all. She had brought in a doodle of her vision, and I made just one minor tweak, requesting tiny chilli peppers on one of the nails, as June was the month I was going to see Red Hot Chili Peppers at Emirates Old Trafford.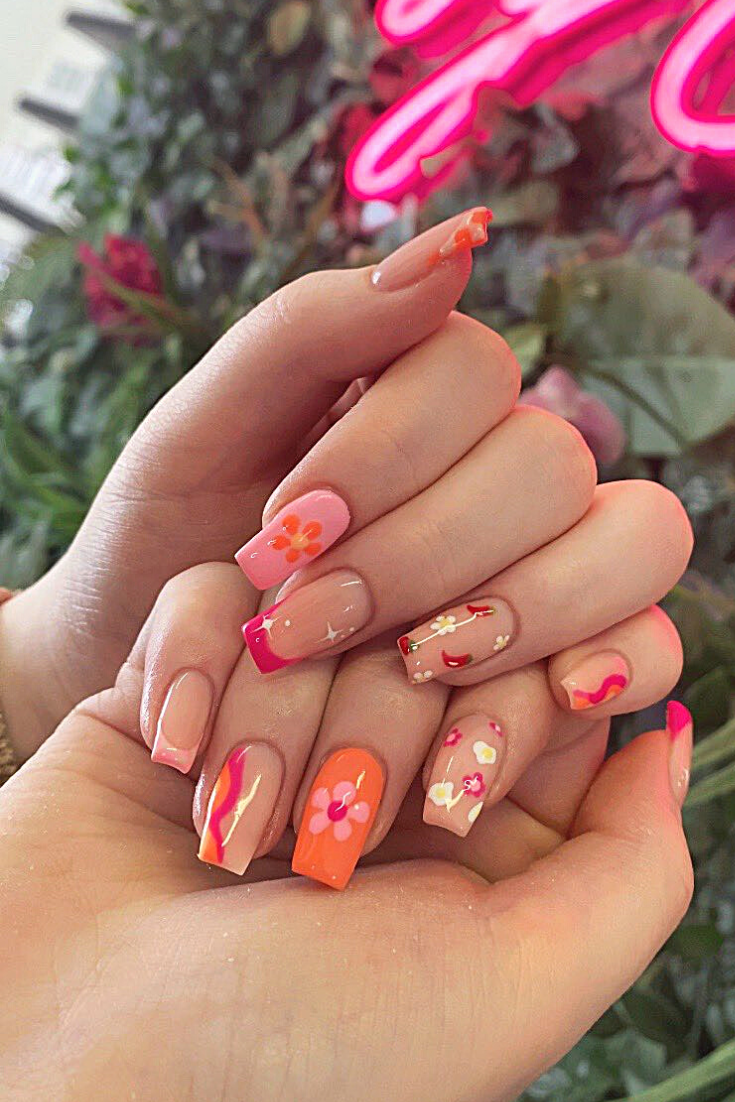 Chloe handpainted the whole design, combining little red chillis with daisies, with fried eggs and pink flowers on the other hand. Some nails features checkerboard French tips in pink and orange colourways, while others were block pink Frenchies with little sparkle accents. Pink and orange swirls offered a festival vibe, as did the bigger flowers in opposite colours on each hand.
The appointment took around two hours and 15 minutes, complete with the Naf x Navy cuticle oil which smells incredible. I loved the length, the new shape and the fun design, and how Chloe always puts her own artistic flair into her work so that it's instantly recognisable as her own.
My next nail appointment is on July 9, and with more gigs lined up and Tramlines Festival at the end of the month, I feel like something glittery and glam is on the cards. But for all your nail art inspo in the meantime, check out Chloe's Instagram account here.