AD – paid partnership – this article contains affiliate links – all opinions are my own
Alongside launching brand new products like the Cleanse & Glow transforming gel cleanser, and Microdermabrasion Polish, cult British skincare icons Liz Earle have also been updating the formulas and packaging of some of their best selling and much loved products.
At the end of last year, the beauty brand made tweaks to their Cleanse & Polish hot cloth cleanser packaging, making it more eco-friendly with 55 per cent post-consumer recycled plastic. Now, it's the turn of their Instant Boost Skin Tonic.
After listening to customer feedback, Liz Earle has reverted their popular toner to its original formula, and returned the design to the twist-up cap that makes it even easier to use.
Liz Earle Beauty said: "It is important that we retain the progress we've made on packaging sustainability. That's why we've managed to return to the old-style twist-up packaging while making these packs using 50 per cent recycled materials." And what's more is that the bottles – now a tactile rectangular shape making it easier to squeeze and dispense product – are totally recyclable.
Liz Earle fans are always quick to point out when a product's formula has changed, and it's amazing that the brand is so open to feedback and actually acts upon it to improve their service and consumer experience. It's nice to feel like your voice is heard, and Liz Earle really puts their loyal fans at the heart of everything they do and each decision they make.
As a result, they also offer a 60-day return policy for returns and exchanges, so that you can really get to know a product before you decide whether it's for you or not, seeing as it can take a while to see any results from skincare, most of the time.
About the Liz Earle Instant Boost Skin Tonic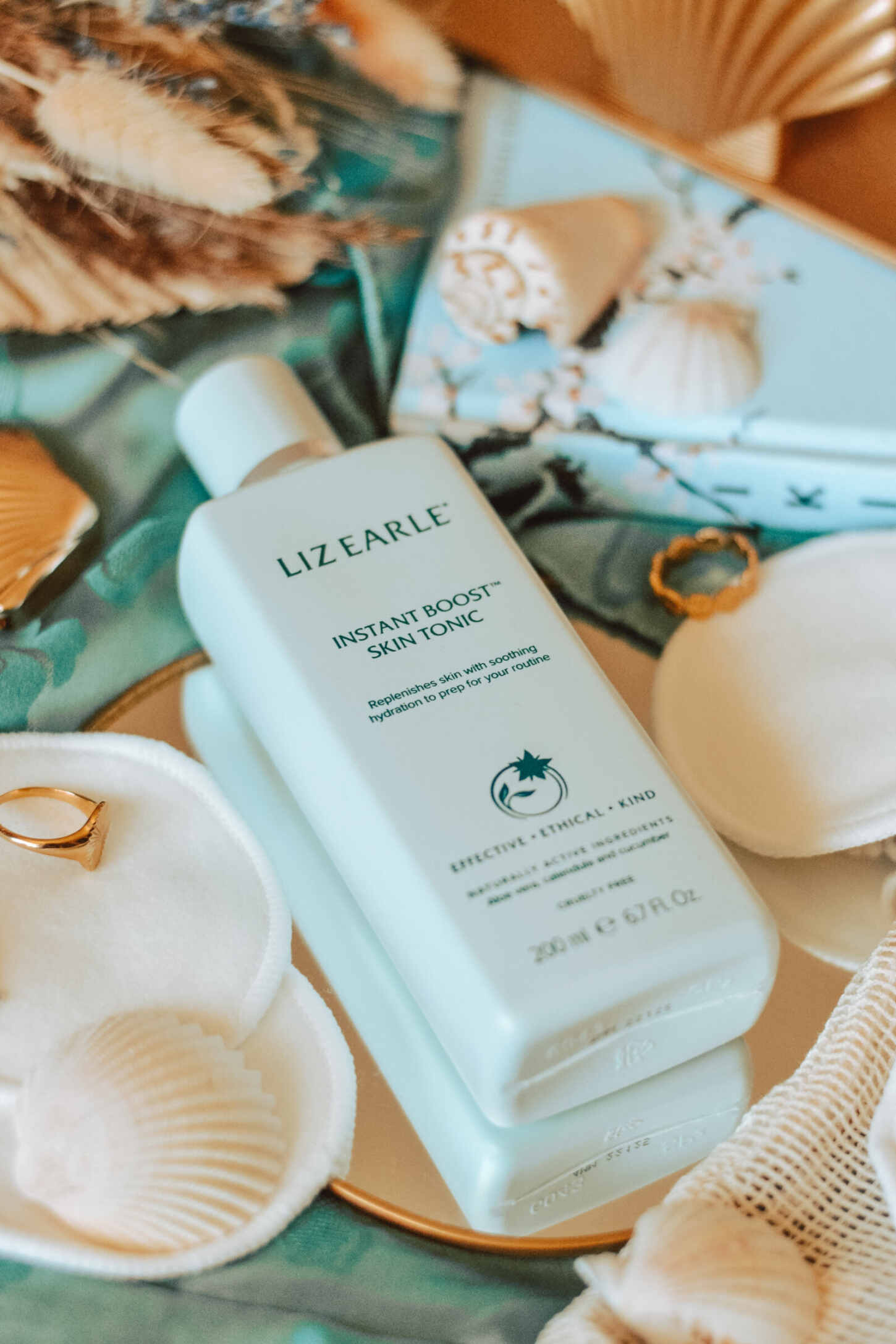 The IBST is an alcohol-free toner from Liz Earle that helps to refresh, soothe and brighten skin after cleansing and before moisturising. The new-old original formula features naturally active ingredients using specially selected botanicals for their individual properties, such as aloe vera to hydrate, alongside calendula to cool. Chamomile extract is legendary for its skin soothing properties, meanwhile cucumber is a fabulous all-rounder for soothing, cooling and hydrating.
This much-loved toner can be used morning and night, with 90 per cent of its users agreeing that their skin felt more balanced after use.
How to use the Liz Earle Instant Boost Skin Tonic
It couldn't be easier to use the Instant Boost Skin Tonic – in fact, you could do it with one hand tied behind your back and blindfolded. You just twist up the cap which will allow you to pour a generous amount of toner onto a cotton wool pad or sustainable, reusable alternative.
The cap has a really nice mechanism that doesn't allow too much product out to avoid waste, so you can either shake it out or squeeze if you're in a rush, or allow it to drizzle out slowly if you're not so tight on time.
Then you simply sweep the product over your face and neck and prepare to moisturise. You could ditch the pads all together and dispense the products into clean hands to press gently into the skin, too.
How much does it cost?
You can get a 50ml bottle of the Liz Earle Instant Boost Skin Tonic for £6, but I recommend getting the 200ml for £16.50. Using my referral link, you can also get 20 per cent off and two free face pads with the code TONIC2 at the checkout with the 200ml bottle. However, you'll have to be quick, as the deal – which works out at £13.20 – runs out on July 26, 2022.
Why I love Liz Earle Instant Boost Skin Tonic
The first thing you'll notice using the Instant Boost Skin Tonic for the first time is the smell, infused with some gorgeous pure essential oils that makes your skincare routine feel like a spa trip. The toner is fragranced with rose-scented geranium, lavender and sweet orange, so after using it to tone your face, it's well worth sitting with the cotton pad and taking some deep, calming breaths, too.
It's alcohol-free, meaning it's non-drying and really gentle on skin, suitable for all skin types. The cruelty-free product is vegan, and its new packaging is 50 per cent recycled, so its ideal for those looking to make more sustainable skincare swaps in the bathroom. The return to the old design also means it wastes less product, while still being quick and easy to use, ideal for those days when you're rushing out of the door or just want to crawl into bed.
The Instant Boost Skin Tonic from Liz Earle never makes my skin feel stripped like a lot of toners, but replenishes parched skin, making it the perfect antidote to the current summer heatwave. I actually saw a great hack from Georgina at SheMightBeLoved who added some to a spray bottle to use as a cooling mist throughout the day, and I'll definitely be using this tip.
You can shop the Liz Earle Instant Boost Skin Tonic here – and don't forget to use the code TONIC2 at the checkout.