It may have been a whopping 48 years since ABBA won Eurovision with Waterloo, but last night, Stoke-on-Trent's Victoria Hall was transported back to the 70s by the convincing quartet that is 'Thank You For The Music', otherwise known as the ultimate tribute to ABBA.
Four dedicated musicians transformed themselves into Agnetha Fältskog, Björn Ulvaeus, Benny Andersson, and Anni-Frid Lyngstad donning colourful eighties costumes and platform boots to offer squeeze and a decade of world-dominating hits into just two hours.
This international smash-hit tribute show is now in its 20th year and brings all ABBA's number one hits to the stage in a production like no other. Immediately as I walked through the doors I spotted a group of women dressed akin to Donna and the Dynamos, while others wore white and blue ponchos and some sported light up headgear. This wasn't a concert, it was a party. Never have I ever been to a concert so popular that all the seats are empty – because everyone is up in the aisles dancing and singing their hearts out.
Bursting onto the stage with Summer Night City, there was no time to wait before erupting into Dancing Queen, where members of the audience of all ages got up on their feet to dance, jive and have the time of their lives as they headed into Gimme, Gimme, Gimme – recently revived for an even younger generation through TikTok.
The performers very much looked the part – there was certainly no question of who was who and their vocals were uncanny, offering unmistakable harmonies and powerful solos. It's odd to think that Thank You For The Music has been entertaining crowds across the UK for longer than Bjorn, Agnetha, Benny and Frida did during the '70s and '80s.
Fans of Mamma Mia – the film or the musical – would enjoy the section that followed, featuring Chiquitita, Honey, Honey and Money, Money Money – superseded by a few more sombre numbers including SOS and The Winner Takes It All. The reduced tempo was by no means reflected by the audience though, as groups stood arm in arm to sway, iPhone lights illuminating the room for Fernando.
Read more: Review: Mamma Mia! the Musical at The Regent Theatre
Between tracks, each member of the band took the time to chat to the audience with compelling Swedish accents, really getting into character – almost as convincing as the ABBA-tars of ABBA Voyage, which I recently got to see in London, too.
Drinks topped up, the ABBA-fest continued for Act 2 from Super Trouper to Does Your Mother Know and Voulez-Vous. It's amazing really how many hits ABBA produced in a comparatively short space of time, Angeleyes, I have a Dream, Lay All Your Love On Me and Take A Chance all getting an opportunity to shine on stage.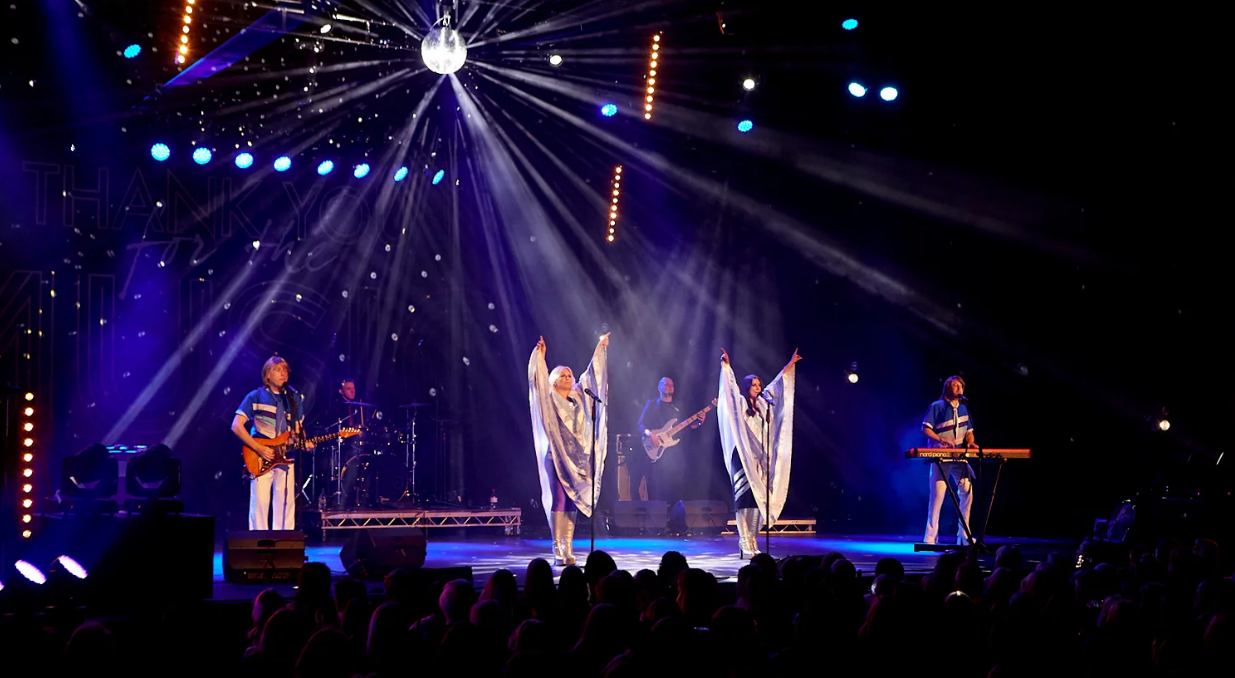 Towards the end of the show, Jake and I pondered what they'd pull out of their flared sleeves for an encore as they performed Mamma Mia and Thank You For The Music, before the instantly recognisable introduction of their 1974 Eurovision single saw the crowd practically burst with excitement, concluding the set with Waterloo and one last rendition of Dancing Queen, which could still be heard sung down the street as we exited for the car park – a sure sign of a fantastic night.
Record-breaking movies, smash-hit West End musicals, chart-topping albums and singles and now, a virtual concert – ABBA are arguably more relevant now than ever, capturing the imaginations of generations of music lovers as their hits become viral social media audios and the soundtrack to romanticised life reels.
Unlikely to see the real ABBA perform in person again, the band's incredible legacy now lives on in concert with this all-new spectacular show where Dancing Queens can let their hair down and say 'Thank you for the Music'.