There's no denying that 2022 has been the year of the staycation, with Jake and I having taken short trips to Newquay, Sheffield, Shrewsbury, Buckingham, York and Manchester this year. But we wanted to squeeze just one more in before the year was through. And for those who missed our announcement, he only went and asked me to marry him while we were away!
The main reason for our visit to the Big Smoke was for the press night of ABBA Voyage at the new purpose built ABBA Arena on Pudding Mill Lane, so, we planned the rest of our trip around ensuring we'd be there, 70s boots on and tickets in hand, on time.
Having driven down to Buckingham the night before, Jake and I took the train from Milton Keynes into Euston, which cost around £20 each for returns – though mine was slightly cheaper with a railcard. We arrived in Euston at 10.25am, with a fairly relaxed schedule ahead of us. We weren't particularly fussed about doing all of the standard touristy stuff like the Tower of London, Westminster and the London Eye, but we did make our way over to Buckingham Palace to catch the changing of the guards. It was a particularly busy one, seeing as it was King Charles' birthday, but we still got a good look at the event, with horses marching through the palace grounds.
We walked down the leafy cycle route towards Hyde Park, which looked stuning in mid-November with all of the Autumnal colours and crisp leaves on the floor. At Hyde Park, Winter Wonderland was preparing to open, so we explored a small amount of the 250 hectare Grade I-listed site. The park, located in Westminster, is the largest of London's Royal Parks and is one of the largest in the world.
We took a walk through the Rose Garden located in the south east corner of Hyde Park, which is designed in the shape of a horn, resembling the sounding of one's arrival into Hyde Park from Hyde Park Corner. The circular garden symbolises the 'mouth' of a trumpet or horn, the seasonal flower beds depicting the notes coming out of the horn. The centrepiece of the garden sees a marble structure called the Boy and Dolphin Fountain, which was made in 1862 by Alexander Munro, a friend of the Alice in Wonderland author, Lewis Carroll.
From here we walked north to The Serpentine, the spot which Jake had chosen to propose – the 40-acre lido was created in 1730 at the request of Queen Caroline. There are many recreational facilities around the Serpentine, as well as boating on the lake itself and costs less than £10 for half an hour. Given more time, Jake and I definitely would have hired one.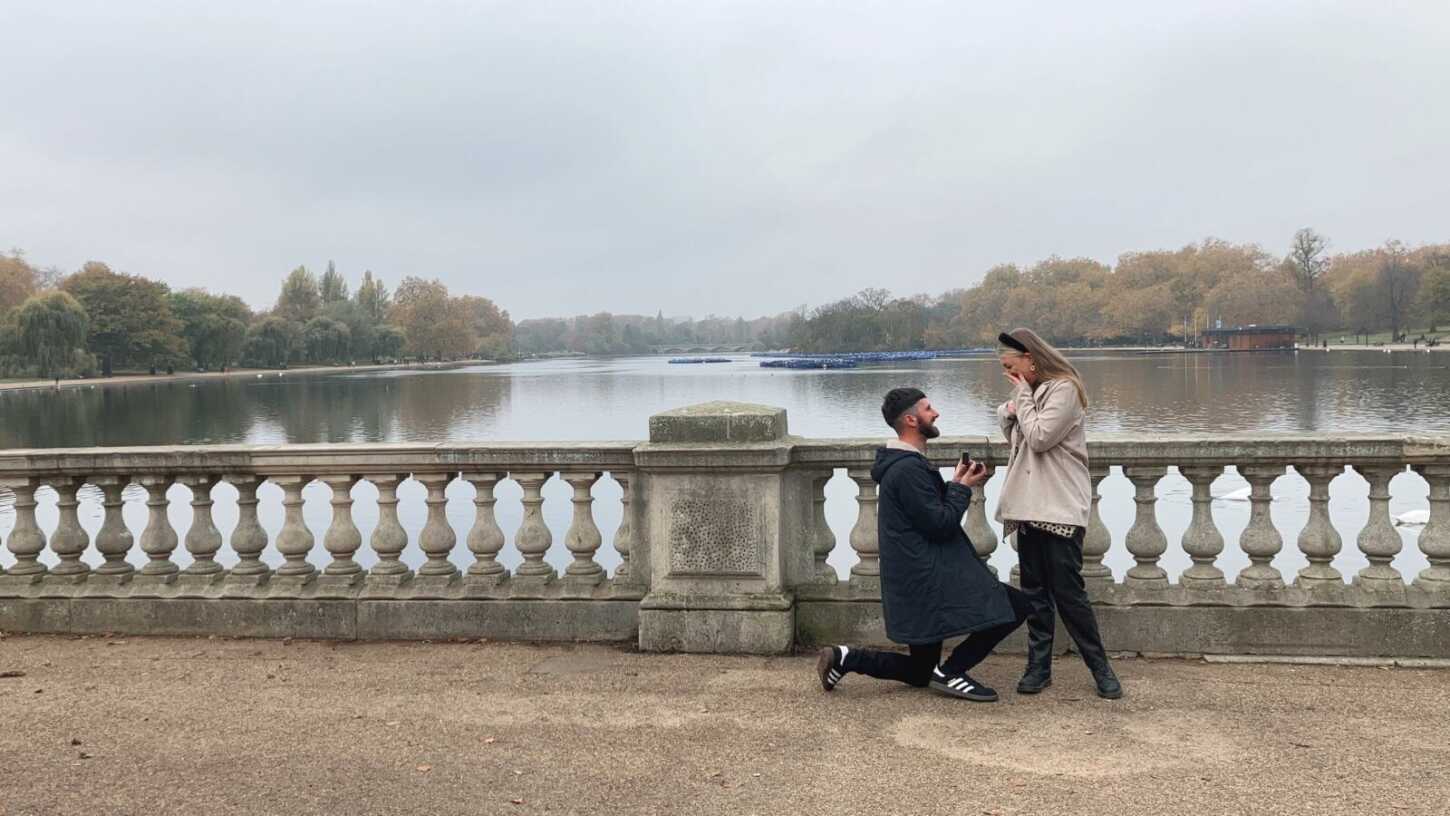 Instead, after our romantic proposal, we headed to Borough Market for some food. The historical Borough Market is now run by a charitable trust, and features dozens of traders selling everything from fresh produce, deli and groceries, to hot food and desserts to take away. The market is a beacon for sustainable food production, short supply chains and social connection, drawing visitors from far and wide – and the options of what to eat are seemingly endless.
Completely spoiled for choice, Jake and I wound up ordering two salt beef bagels from Nana Fanny's. Famous for it's delicous cured beef, Ivan Lester and his family have been in the business since 1944, perfecting the Jewish art throughout the decades – though quite what that process is will remain a closely guarded secred. The beautiful blush-pink beef is stacked onto bagels and topped with cheese, pickles and mustard, costing around £6 each.
The stall also offers deli classics such as potato latkes, schnitzels and freshly made falafels served in a wrap or salad box, as well as a number of dishes made in collaboration with fellow Market stallholders such as smoked salmon and cream cheese bagels made with fish from Shellseekers Fish and Game, and a Jumi Cheese raclette melt.
And how could I resist a trip to the Instagram-viral Humble Crumble, famed for their photo-worthy marshmallow-topped apple crumbles, served with hot custard and and array of additional toppings. Founded by Kim Innes, customers can pick from apple or berry crumble, personalising every step of the way, including the fruit to crumble ratio (50/50 every time, right?). You can then pick your crumble, with vegan options available, but their standard is the signature, twice-baked shortbread that is deliciously crunchy. Then you can choose additional toppings, including pillowy, torched meringue, a healthy dose of premium pure vanilla custard – or go all out and opt for both. It's delicious, nostalgic and perfect for the Autumn/Winter season.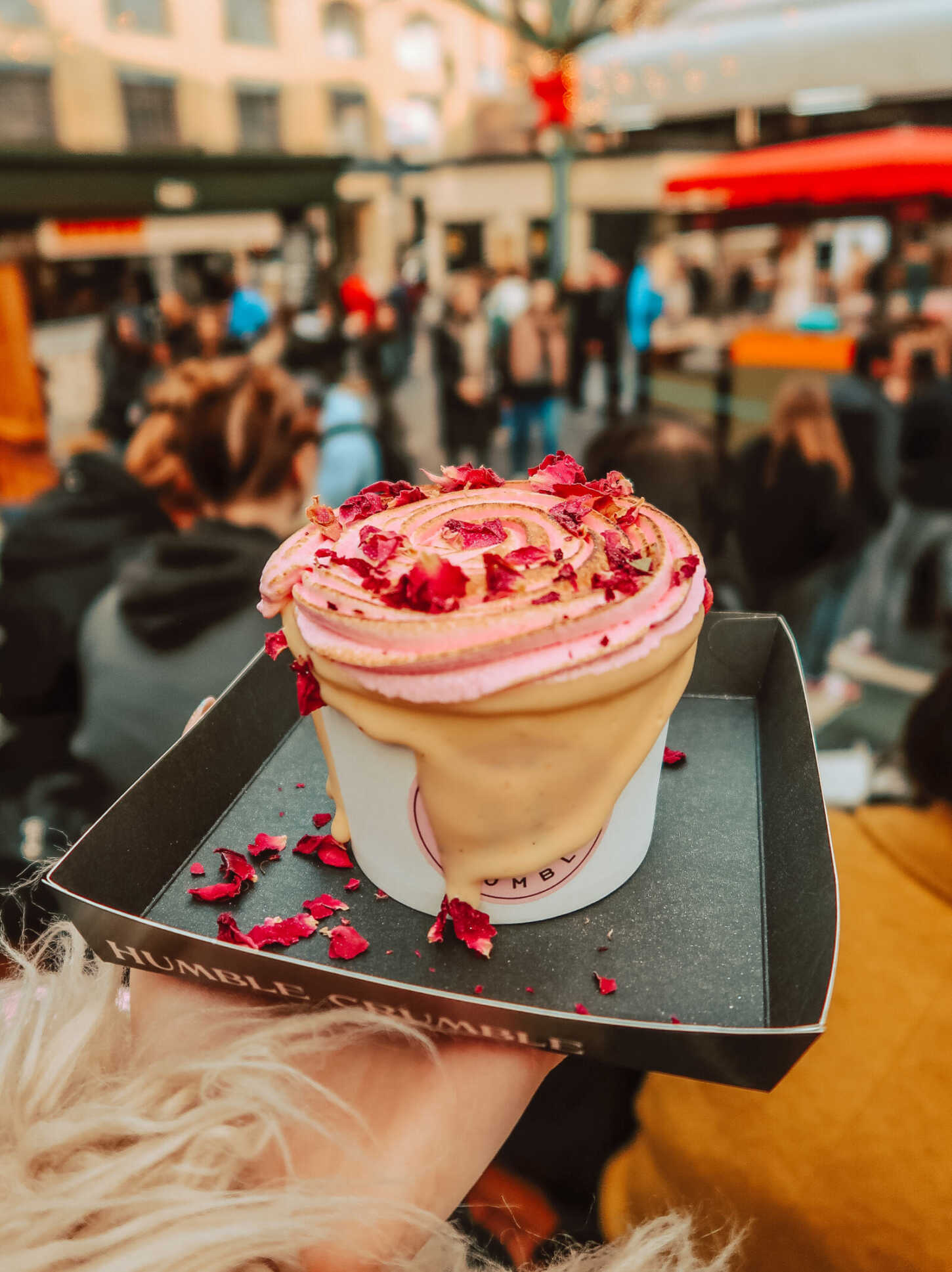 From here we got the tube to Statford to check into the Hyatt Regency London Stratford. I highly recommed downloading the TfL Go app, as you can input your current location and where you want to go, and it will tell you exactly which underground line to hop on, where to switch and how long it'll take you to get to your destination. For reference, it takes around 38 minutes to get from Borough Market to Stratford.
The stylish new Hyatt Regency London Stratford is set in the heart of Westfield Stratford's urban shopping and entertainment complex and is just one stop on the DfL away from the ABBA Arena. As our room wasn't quite ready, we had a celebratory drink in the Elondi bar before heading up to our room on the sixth floor, which overlooked the West Ham Stadium. The rooms are stunning, with big, beautiful bathrooms and the most comfortable feather pillows. We arrived to find balloons, a card, and a bottle of wine to congratulate us on our big news, which I thought was extremely thoughtful. They really pulled out all of the stops.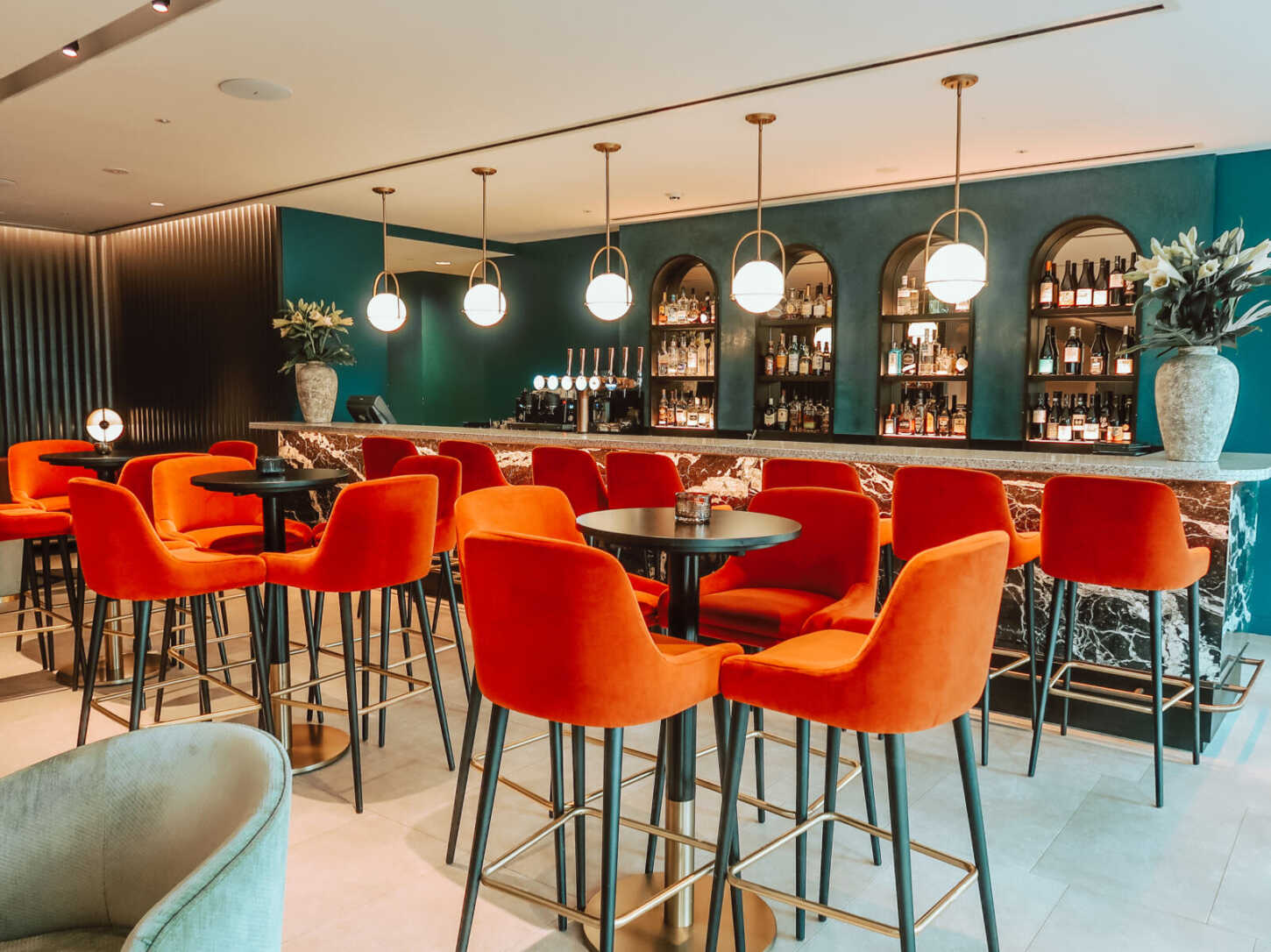 After dropping off our luggage and gushing over the bathroom tiles, we caught the tube to Covent Garden, popping into a couple of shops as we admired the multiple Christmas trees dotted outside shops and in the main courtyard. We had a table booked at Maxwell's for 4pm, arriving just in time for Happy Hour, which sees cocktails priced at £6.50 until 5pm.
Maxwell's Bar & Grill opened in the early 1980s and still remains a favourite amongst locals and tourists visiting London's West End. The all-American diner-style venue offers familiarity in the form of beefed-up burgers, seasoned fries, steaks and sides. I can certainly see why it was Jake's first choice. Both of us ordered Piggy Back burgers featuring pulled pork, bacon, cheese pickles and BBQ sauce for £15.95 each.
Service was fast and friendly, and we managed to get two cocktails each under the Happy Hour offer, meaning I can confidently recomment the Blueberry Crumble, Raspberrylicious and Sour Plum Fairy. After hearing of our engagement, our lovely server brought us over a dessert on the house to say congrats – it was a really nice touch, and made the night out even more special.
We had a little bit of time spare before we needed to be at the arena, so we walked over to Leicester Square and Trafalgar Square to take a peek at the Christmas Markets, dipping into The Nell Gwynne Tavern for a glass of wine. Built on the site of the Old Bull Inn, the Nell Gwynne Tavern was named after the infamous mistress of Charles II. The traditional pub is small and cosy, with dark wood decor, hanging lamps and a free jukebox packed with classics for the discerning ear. It's a real hidden treasure, tucked up a little alleyway, and they even serve little charcuterie and cheese boards for around a tenner.
Finally, we made our way to the ABBA Arena to witness the spectacle that was ABBAY Voyage, which celebrates the success of one of the most successful pop groups of all time in hologram form.
Agnetha Fältskog, Björn Ulvaeus, Benny Andersson and Anni-Frid Lyngstad perform digitally with a live 10-piece band, in their very own, purpose-built, ABBA Arena, making it the only place you can see ABBA in the world – and it is truly spectacular. The 95 minute concert sees ABBA re-imagined as 21st century pop stars, performing some of their greatest hits as well as songs from Voyage, the band's first album in 40 years. If you haven't booked your tickets yet, you absolutely should, because this next-level technology could be the future of concerts, resurecting past stars like David Bowie and Mick Jagger for performances that last longer than a lifetime. You can read my full review of the show over on the Manchester Evening News.
At the end of the night, we retired to our Hyatt abode for the night, taking advantage of the spacious shower before clambering sleepily into the huge bed for the most peaceful nights rest. In the morning, we headed down to the stylish restaurant for a continental breakfast complete with cereals, full English componants, deli options, pastries and yoghurts before checking out and heading back towards Euston to wave goodbye to an extra memorable weekend away.
Want more short staycation recommendations?